How L.A.'s Block Shop blends textile designs with a social ethos
If there was ever a model of a small-scale family business that embraces creative and strategic thinking in near equal measure while making beautiful, soulful goods, Block Shop is it.
Sisters Hopie and Lily Stockman's social media savvy, matched with their approach to making scarves, pillows, baby quilts and, most recently, dhurrie flat-weave cotton rugs, is a case study in how entrepreneurs can do well, and do good.
For starters, they took their time to see where and how their passions and opportunities best overlapped. Before beginning an MFA program in painting at New York University, Lily and her husband, Peter Brooks, lived in India for a year. There she met Vijendra "Viju" Chhipa, a fifth-generation master block printer who taught her the traditional technique of transferring designs from hand-carved wooden blocks to textiles and other surfaces.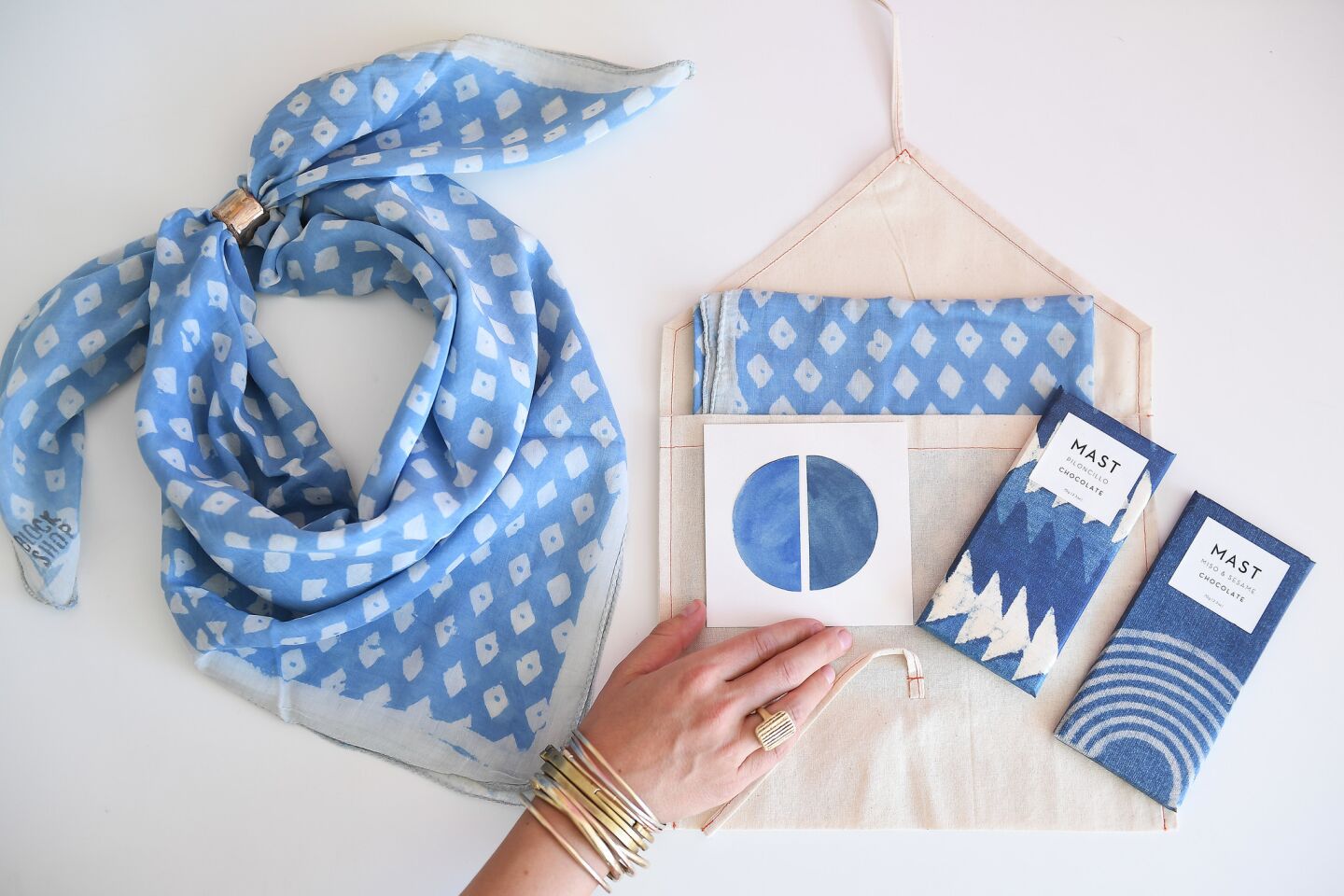 A scarf with packaging from Block Shop.
(Christina House / For The Times)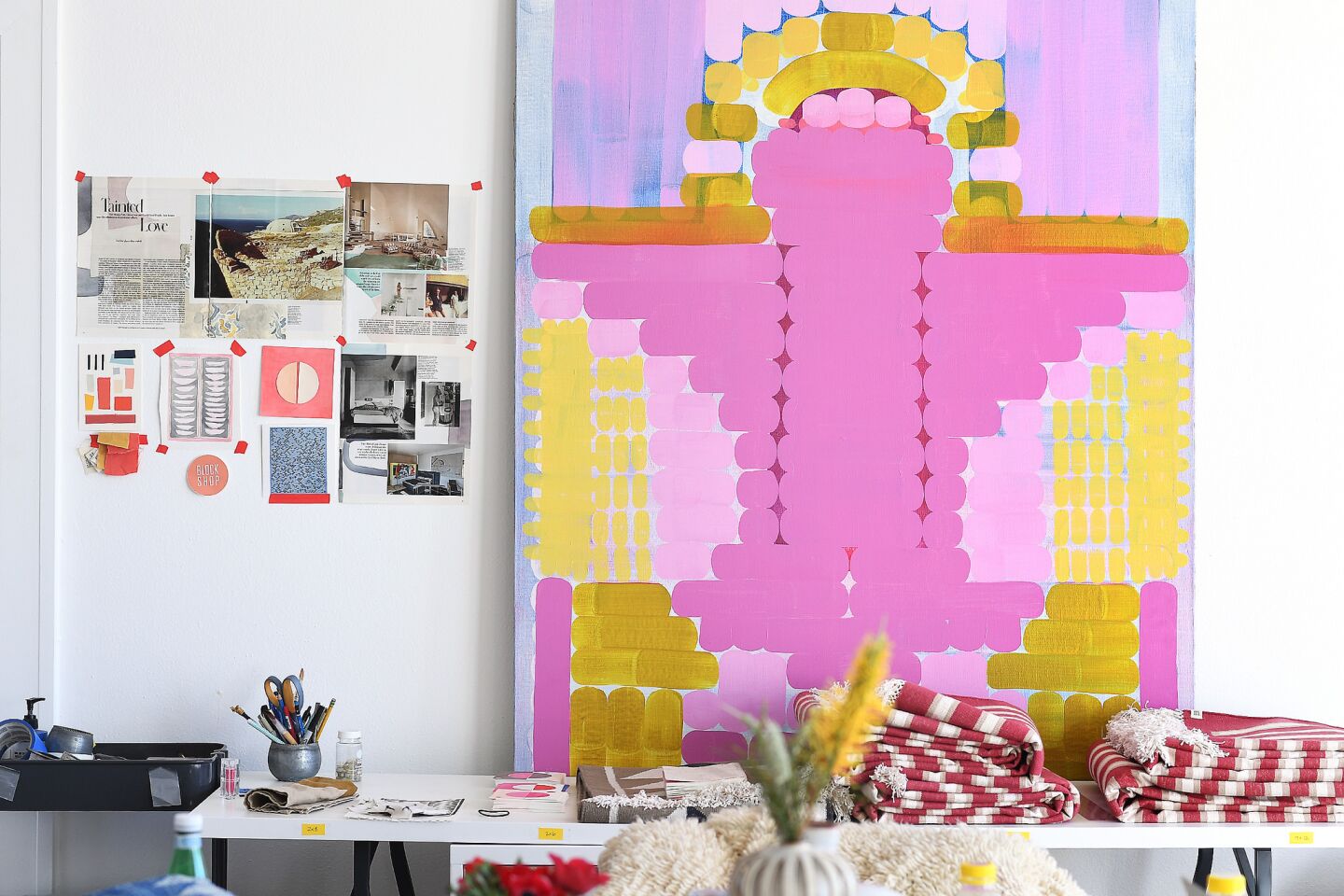 An inspiration wall at the Block Shop studio.
(Christina House / For The Times)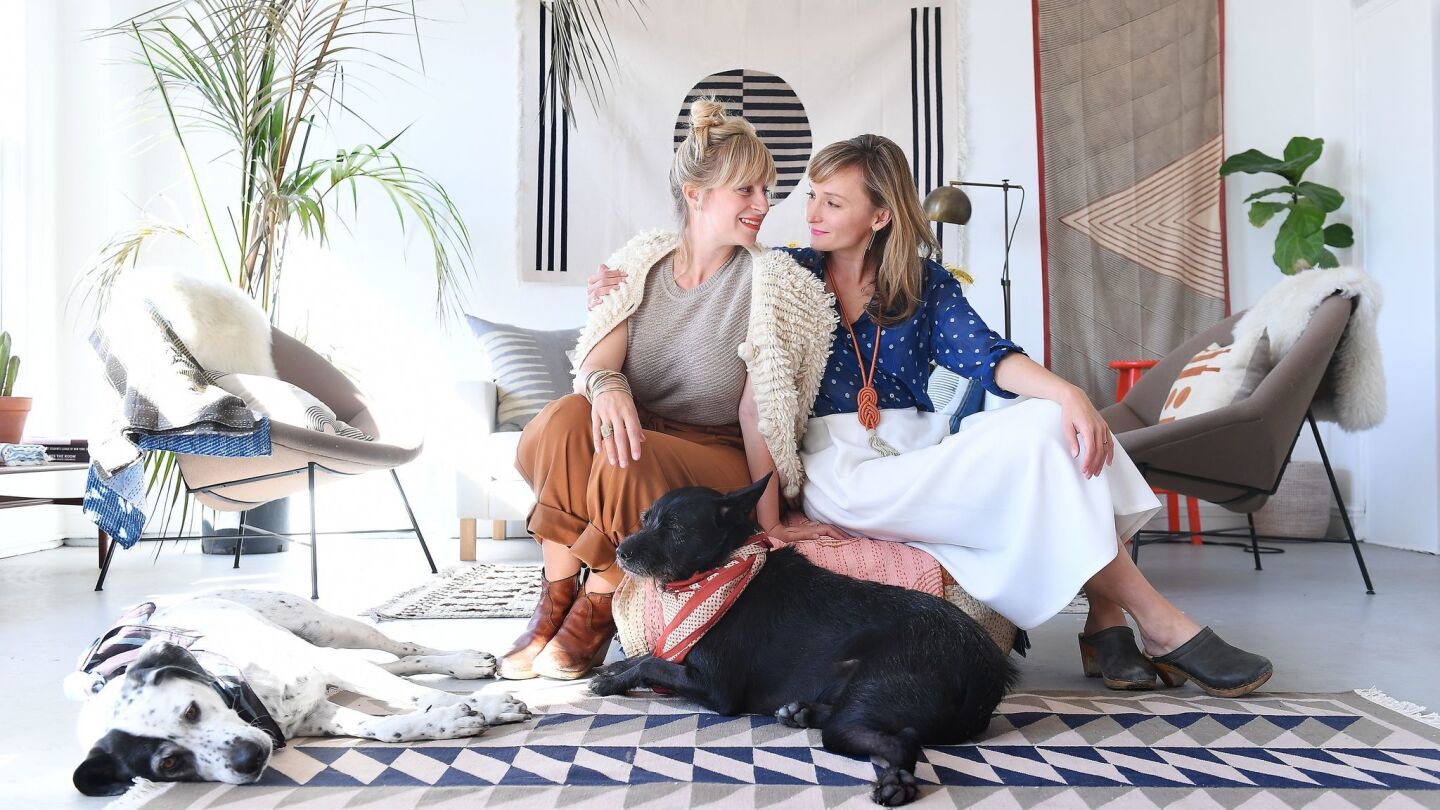 The sisters behind Block Shop textiles: Lily, left, and Hopie Stockman, with their dogs in their downtown Los Angeles studio.
(Christina House / For The Times)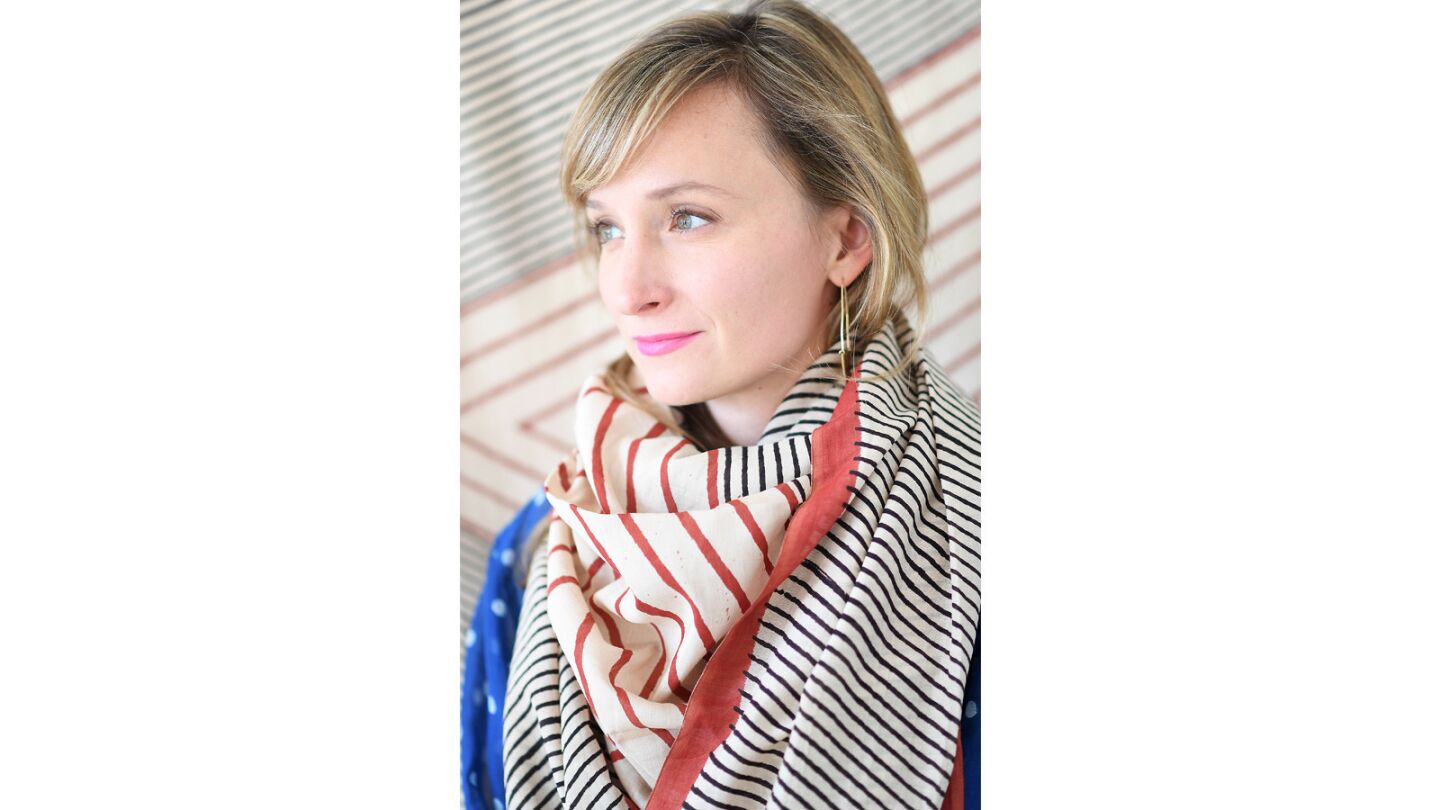 Hopie Stockman sports a tent scarf.
(Christina House / For The Times)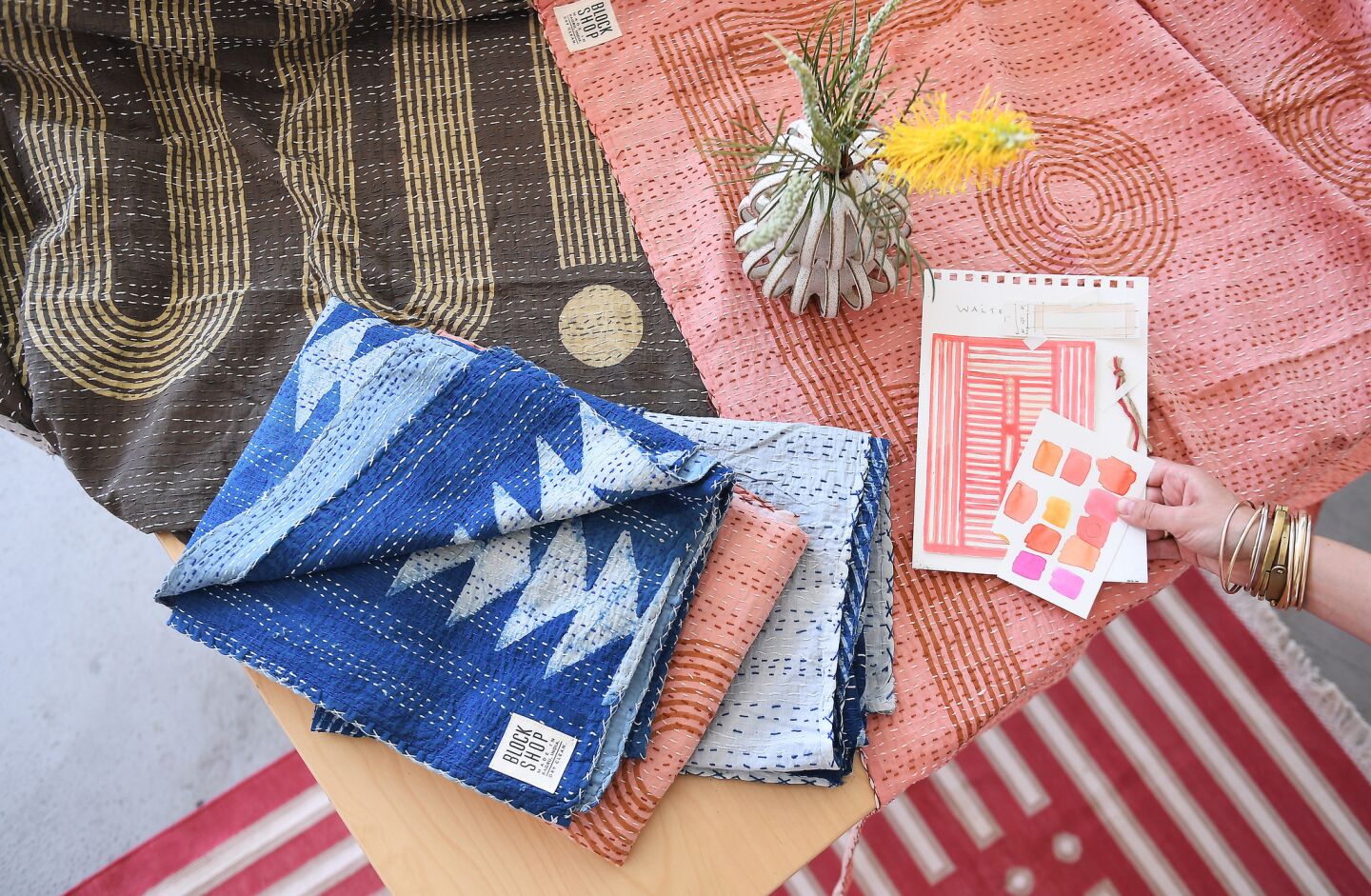 A collection of Block Shop baby quilts.
(Christina House / For The Times)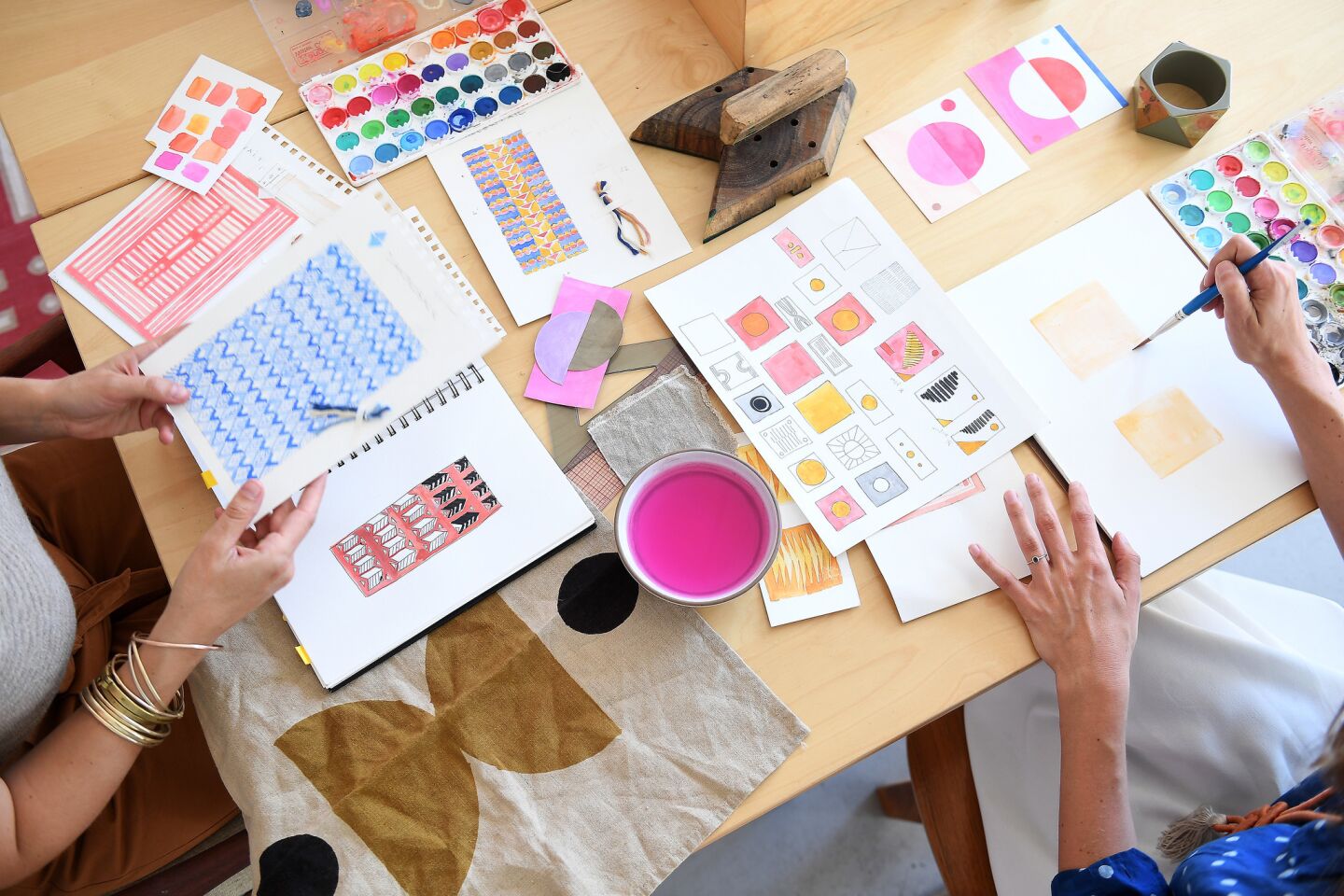 Lily, left, and Hopie Stockman work on designs at their downtown Los Angeles studio.
(Christina House / For The Times)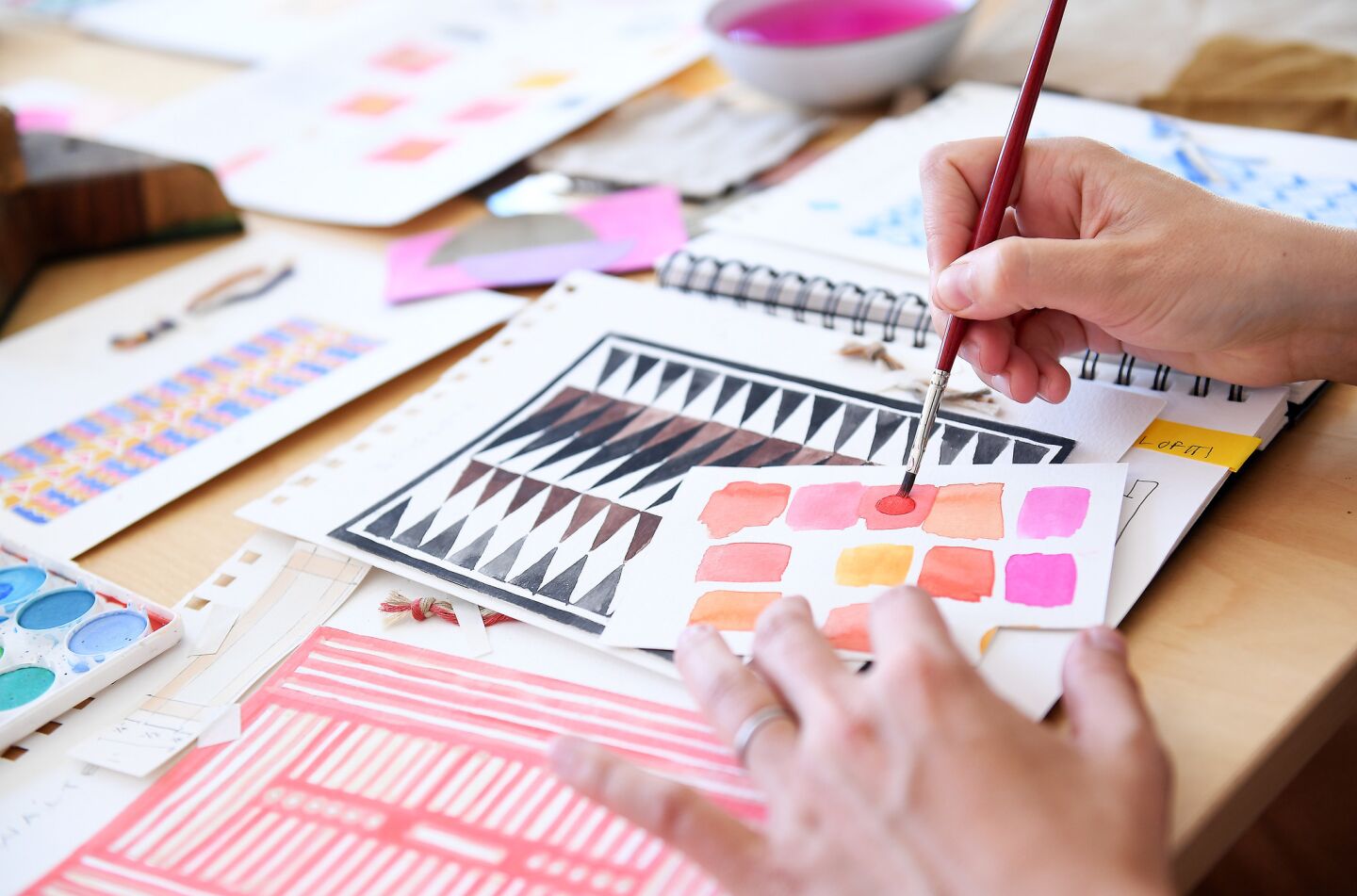 Lily Stockman works on designs.
(Christina House / For The Times)
Lily said that she and Chhipa "started collaborating and making what I thought of as paintings," which she'd mail to Hopie back in the U.S. When Hopie visited in 2010, they placed a small order of textiles and then let their idea for a business germinate.
When the Stockman sisters officially launched Block Shop 3½ years ago with a line of six scarves, Hopie was earning her MBA at Harvard, and Lily was also at Harvard for a teaching fellowship in the visual and environmental studies department. Lily's trained eye and relationships with makers in India dovetailed with Hopie's complementary business skills and specific interest in social enterprise.
Master printer Chhipa has since become the foreman at the printing co-op located in Bagru, outside of Jaipur, where more than 20 craftspeople create Block Shop wares. Everything — from the carved wood blocks, to the textile dying and the sewing — is done by hand. A team led by a master weaver makes Block Shop's rugs in Jodhpur.
The sisters, New Jersey natives, moved to Los Angeles two years ago, where they now run their operation from a light-flooded studio space on the 11th floor of a historic building on Spring Street downtown. They sell their products on their website, and locally at Individual Medley in Atwater Village, Venice's General Store and the Hammer Museum shop, among others.
"Most of our designs are done in a weird, shared 'sister brain' way, and are inspired by either architectural motifs in the two cities we spend time in: here and Jaipur," Hopie said. Colors rendered in natural dyes are "very much in the vernacular of the California desert landscape."
Because developing the line and figuring out how to translate their watercolor paintings to block prints and woven rugs requires face-to-face interaction with the makers, they both visit India twice a year. "It's such a collaborative, hands-on process," Lily said.
Hence, no PDFs are emailed in the process of making any Block Shop items.
Engaging with the co-op members and their families is also a key component of their ethos. Five percent of profits are reinvested in community health and well-being; a full-time employee, Sonia Jain, provides additional support by organizing workshops for women, in particular about issues such as financial management.
Hopie and Lily speak fondly of the welcoming community they've found in Los Angeles. Southern California collaborations have included blankets for the Ojai Rancho Inn, wrappers for Mast Brothers chocolates and textile designs for the L.A.-based Capsule Home design incubator and online retailer.
Textile block printing workshops they've held in Joshua Tree have all sold out too. (More are planned for the spring.)
It's part of an evolution that makes perfect sense in the context of a project that's been nurtured slowly and deliberately. They've traveled the world, but feel like they belong here.
Even before they arrived in L.A., "we were designing things for a modern, warm, cozy California home," Hopie said.
ALSO:
More Southern California home tours
This new guesthouse is a mere 380 square feet — but still feels sunny and spacious
They replaced the lawn with a gorgeous drought-tolerant meadow that doesn't need mowing
---