Cane & Basket Supply is full of dream weavers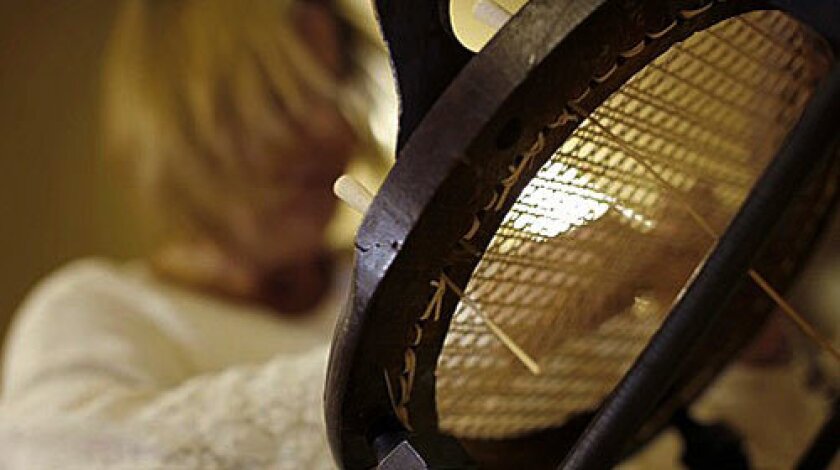 This is the first installment of a new feature profiling the Southern Californians who repair, restore and refurbish elements of the home.
---
FOR THE RECORD:
Cane repair: An April 11 article about Cane & Basket Supply Co. in the Home section reported the owner's name as Bill Finster. The correct name is Bill Fimpler. —

---
The chair with the brocade armrests is imposing, but somewhere along the line it sustained a rip in its flank. No surprise. With the back, sides and seat woven from decades-old cane, disaster was as close as a table corner or a toddler's shoe.
An owner surveying the pineapple-size hole might have assumed the damage was fatal, but the piece, sturdily patched, is recuperating at Cane & Basket Supply Co.'s Los Angeles warehouse. Both the chair and this building, whose ceiling is paneled with old garage doors, testify to a trait not always associated with Southern California: thrift.
Repairing the worn and restoring the frayed are activities with new cachet in a recession, and this stretch of Cochran Avenue just south of San Vicente Boulevard is a fine place to contemplate the charms of preservation. With its Deco stucco and modest storefronts, the street looks like a vintage postcard. When the crew of "L.A. Confidential" wanted to film a 1930s neighborhood liquor store, they rented one of the buildings that make up Cane & Basket's warren of storage and repair rooms.
Owner Bill Fimpler moved the 75-year-old business to its current premises in 1969. He'd grown up in an apartment across the street. His father, who trained as a furniture maker in his native Germany, had a shop on the ground floor. Now Fimpler, 79, still lives close enough to walk to work.
The first thing you notice entering the company's office is a smell like hay. Dried grass is everywhere: Baskets hang from the ceiling, and cream- colored coils of a round reed used in wickerwork and twisted ropes of Chinese sea grass fill bins that line two walls. Across the parking lot, stacks of giant bamboo -- popular with theme parks and set decorators -- are visible above a loading platform.
When Fimpler bought the business in 1964, he was thinking mostly about mail order. Rattan, imported from Southeast Asia, is a vine-like relative of the palm tree. Split or cored, it makes chair cane, binder cane, basket staves and wicker. Whereas bamboo is hollow, rattan is solid and more flexible, the whole canes used for fences and kung fu stick-fighting.
Today, though, an increasing number of customers bring furniture for repair. In a cramped passage behind the counter, Everardo Avelar is using a lull between customers to rout the remains of a pressed cane seat from an oak swivel chair. Susan Saldivar, Fimpler's daughter, explains: Traditionally, cane was woven onto a chair, strand by strand. Replacing a seat by this method costs between $125 and $225. Pressed cane comes in ready-made sheets that are cut to size and glued to the frame; a new pressed seat runs $55 to $75.
Saldivar's specialty is basket making, but, she says, "all of us here know how to cane." Besides the traditional hexagonal weave, there's a denser straight up-and-down pattern, useful for shelves and cabinet doors.
The complex feels like a village. In one workshop, wicker rockers and settees give the impression of a ghostly veranda. Across the street, in the building that had been Fimpler's father's showroom, Lalo Adame is weaving a chair seat.
Rush -- the dried leaves of bulrushes, cattails or tules -- has been used for centuries to make a durable, springy platform. Traditional rush seats require their makers to do two things at once: twist the inch-wide leaves into continuous skein while they are stringing it onto the chair.
When he came to Cane & Basket as a teenager 34 years ago, Adame says he knew nothing about rush or weaving. He's now the company's hand-twist specialist. The characteristic pattern, four interlocking triangles, is just beginning to take shape on the chair in front of him, but for this job he's using machine-made, pre-twisted rush. The finished surface may lack the nubby texture of hand-twist, but the method's quicker, cheaper and much easier on the hands.
Back in the main building, we pass a hamper Saldivar is restoring. Someone might wonder if it wouldn't make better sense to buy a new one, but the mainstay of this repair business is people who hate to say goodbye.
Saldivar lifts a mysterious object made of tubular metal. It's a car seat, she explains, from a Fiat Jolly, one of several the company has been asked to restore. Manufactured in the late '50s and early '60s, these fair-weather variants of Fiat's subcompact featured a fringed fabric top and wicker seats.
That description may ring a bell: A fleet of Jollies served as Santa Catalina Island's taxis. Nostalgia turns out to have a silver lining. In their heyday, the featherweight cars were symbols of frivolity. Celebrity owners such as Aristotle Onassis carried them on their yachts for portside jaunts.
Now the vehicles, which can get 50 miles to a gallon and fit in half a parking space, seem practical and modern. Even with the fringe.
Cane & Basket Supply Co., 1283 S. Cochran Ave., Los Angeles; (323) 939-9644; www.caneandbasket.com.
An earlier version of this story misspelled Bill Fimpler's name as Bill Finster.
Comments: home@latimes.com
---