Salvaged in style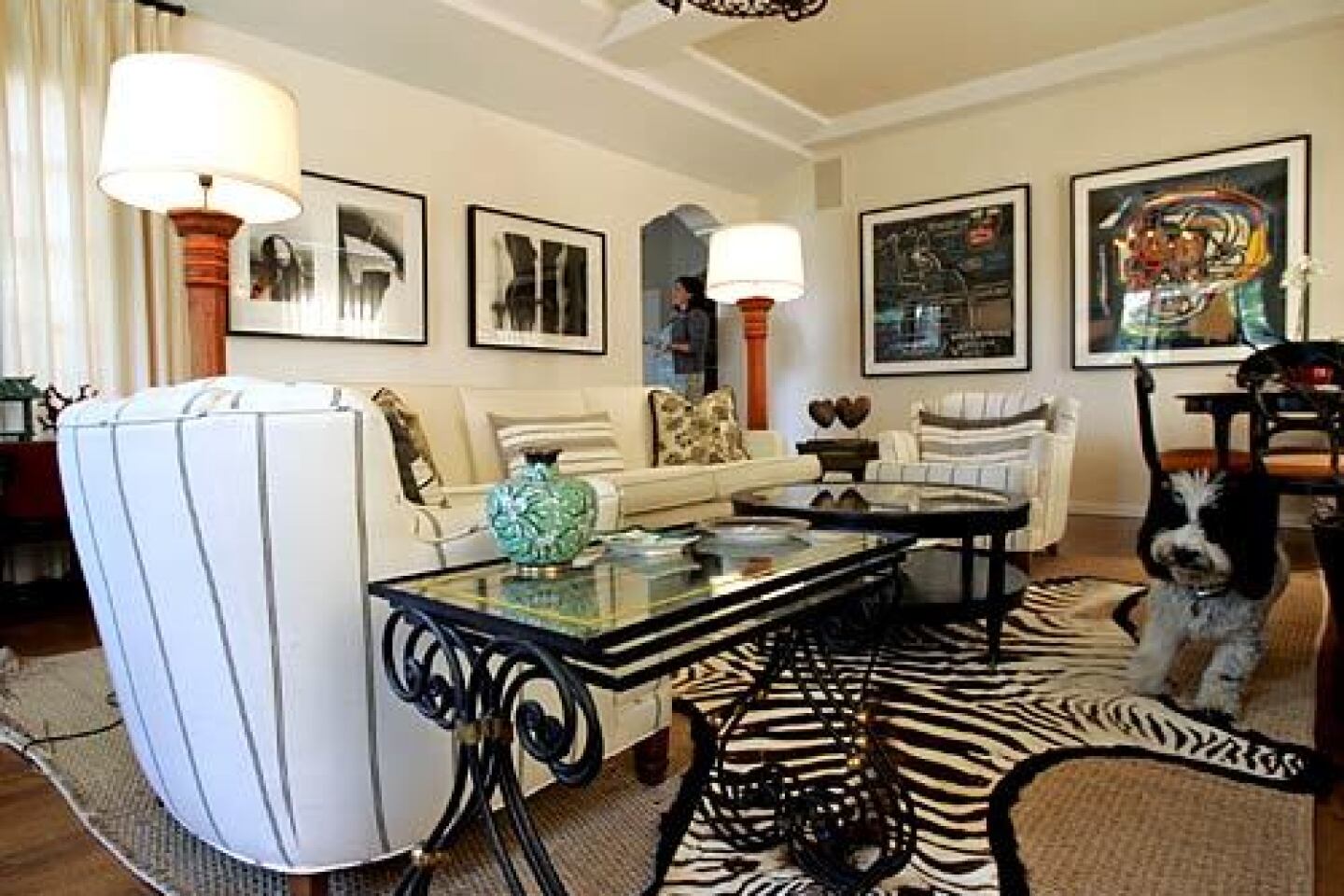 Carrie Carr has decorated her and husband Adam's Los Angeles home with a mix of refurbished castoffs and fine art pieces. In the living room, Ralph Gibson photographs, left, and colorful Basquiat prints set a sophisticated tone. Carr, a commercial talent agent, found the Baker armchairs at a garage sale and reupholstered them. The coffee table, rescued from an alley, sits atop a faux zebra rug.
(Stefano Paltera / For The Times)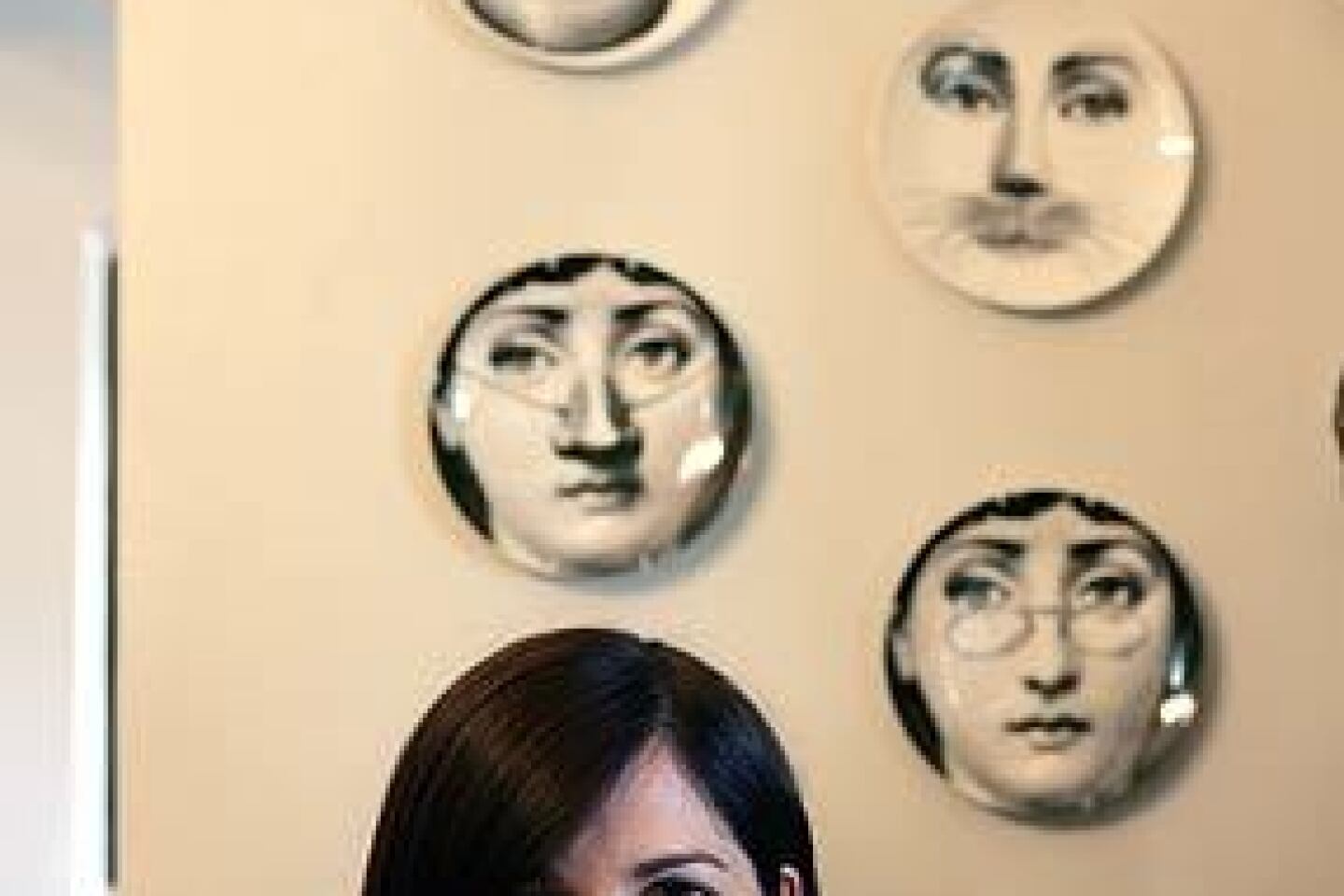 Carr's collectibles include the whimsical plates designed by one of her favorite designers, the late Piero Fornasetti.
(Stefano Paltera / For The Times)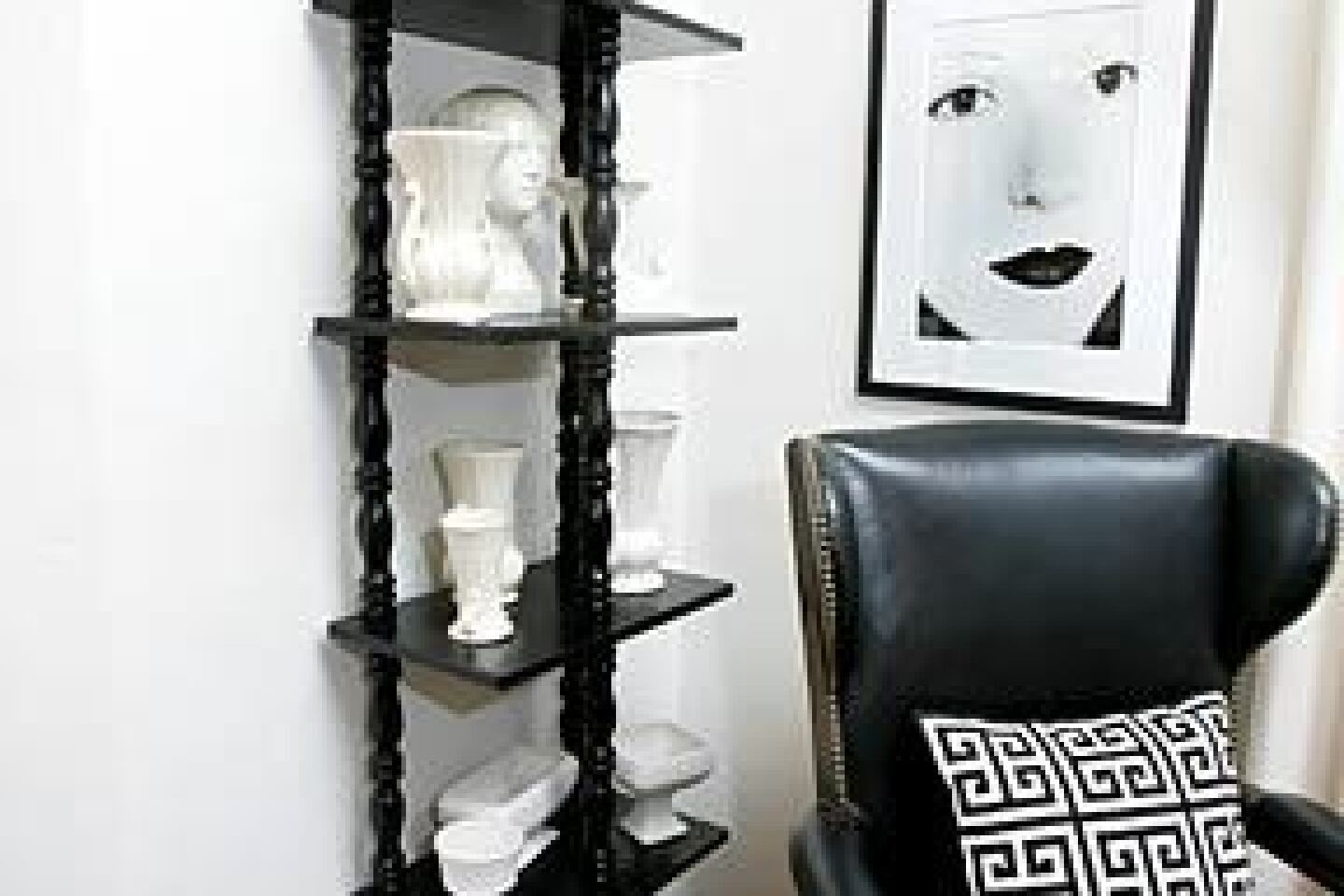 A tall shelf in the living room was rescued from an alley, then painted glossy black to set off Carr's white McCoy pottery. The frame photo at right is an untitled Ralph Gibson work.
(Stefano Paltera / For The Times)
A weathered table's Greek key pattern is repeated in the trim by Kneedler-Fauchere on Carr's $4-per-yard linen drapes.
(Stefano Paltera / For The Times)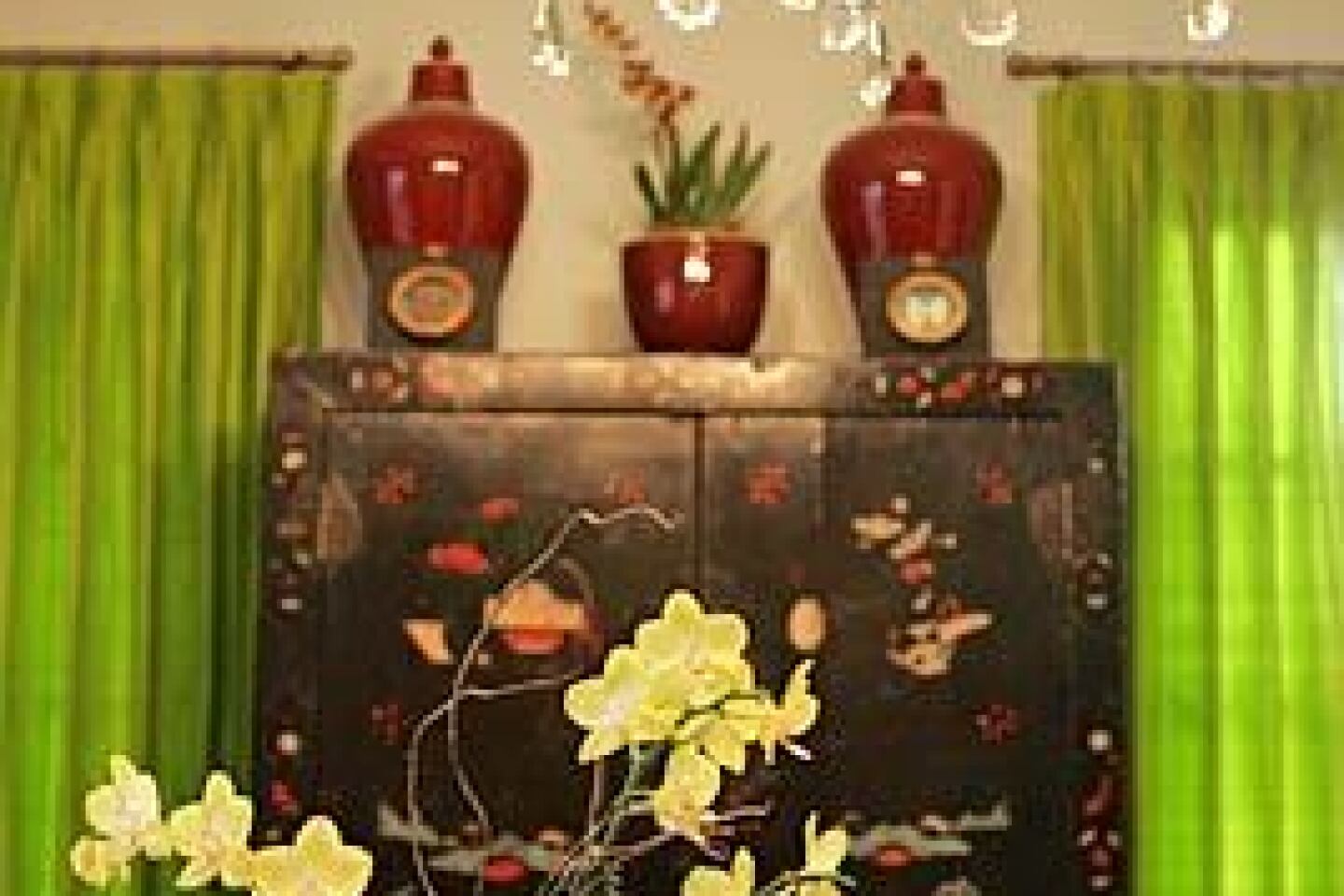 Decorative lighting shows off a floral arrangement and an ornate cabinet in the dining room.
(Stefano Paltera / For The Times)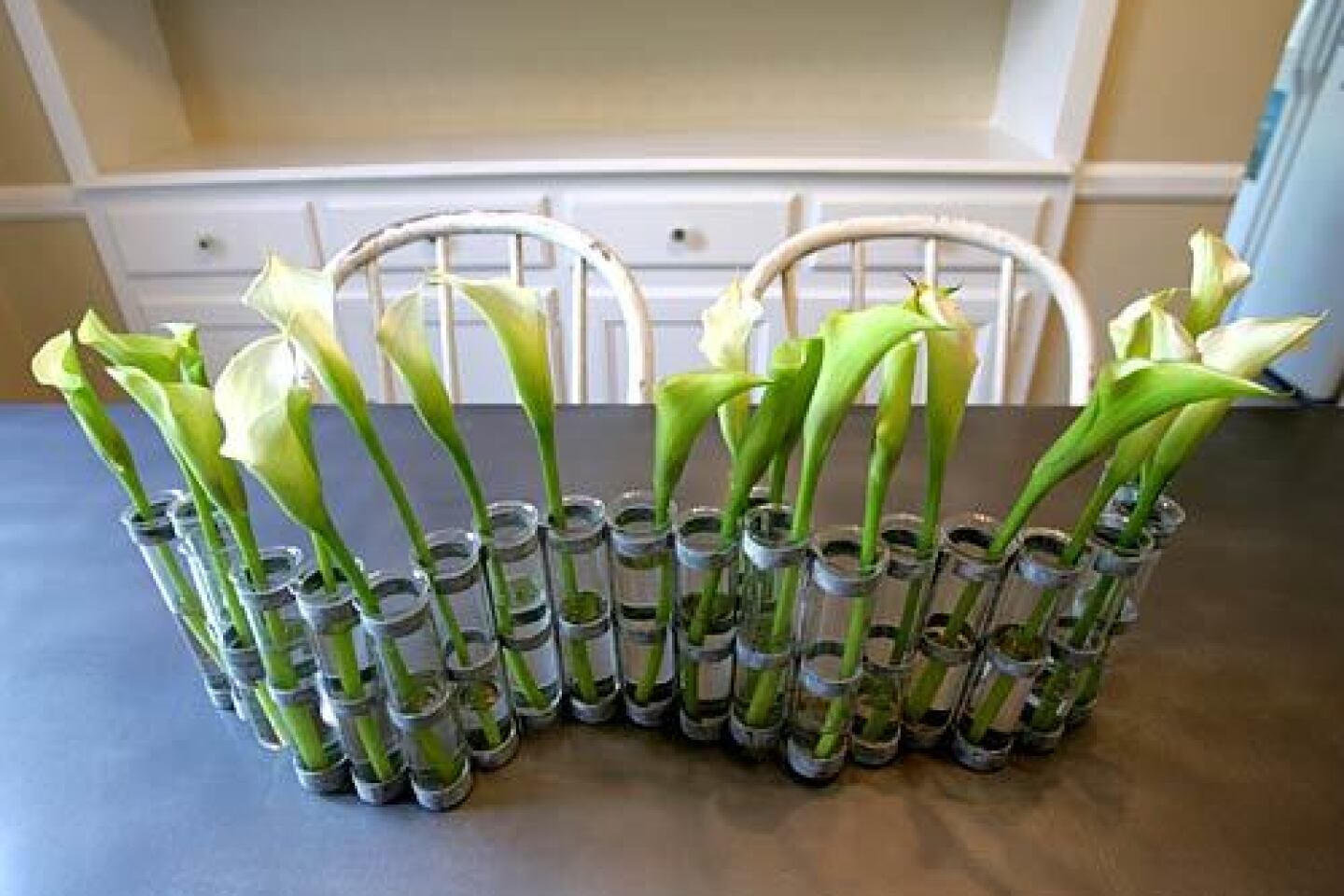 Botanical beauty adds a green accent to the neutral shades of the breakfast area.
(Stefano Paltera / For The Times)
Carr found the pair of lamps on the black buffet at a Wisconsin antiques mall. The shades match the diaphanous green drapes.
(Stefano Paltera / For The Times)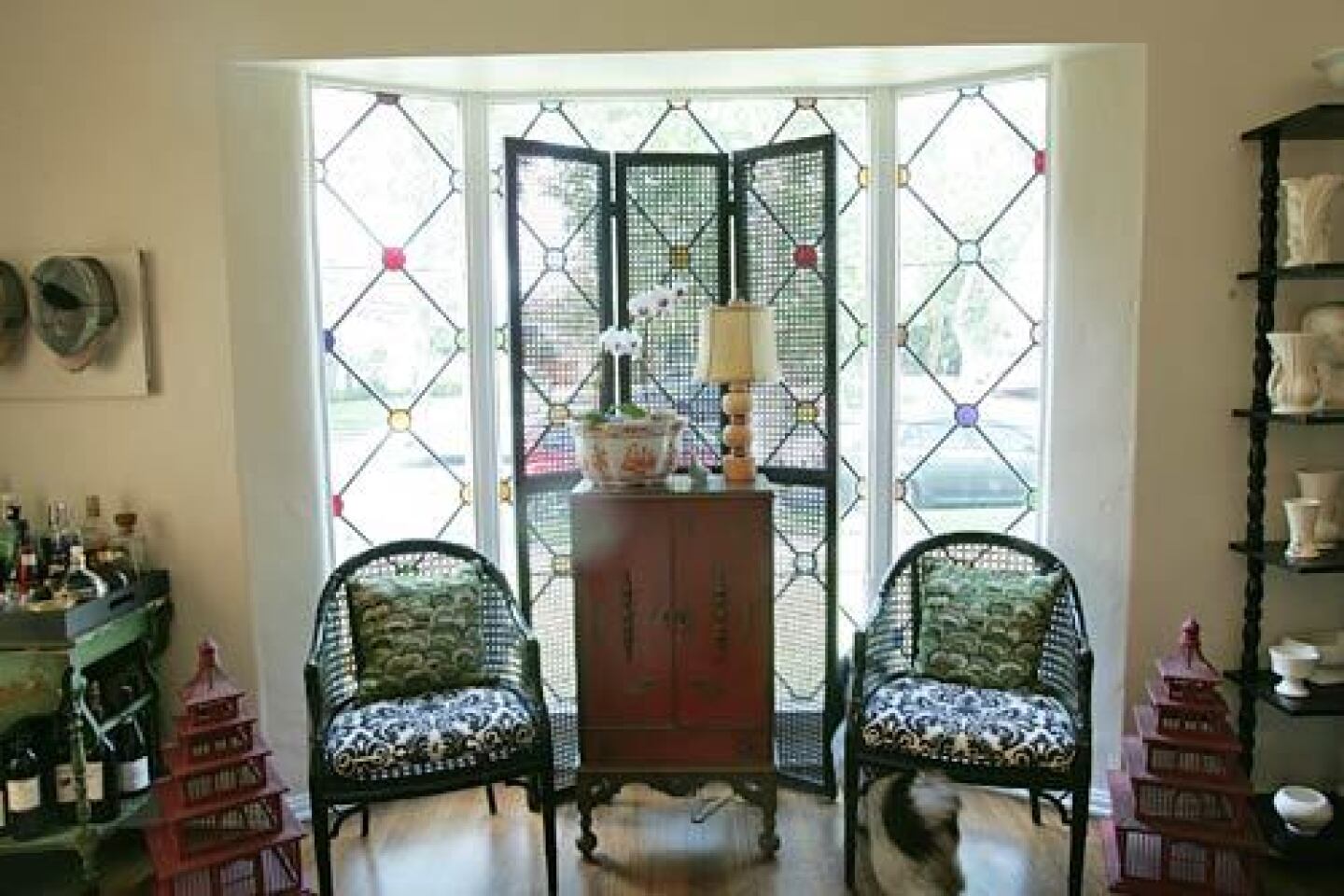 The two cane chairs are from Carr's parents' home; she painted them black and added Jonathan Adler pillows. The music cabinet was a gift from her great-grandmother to her grandmother. Atop it is a lamp from the Rose Bowl Flea Market.
(Stefano Paltera / For The Times)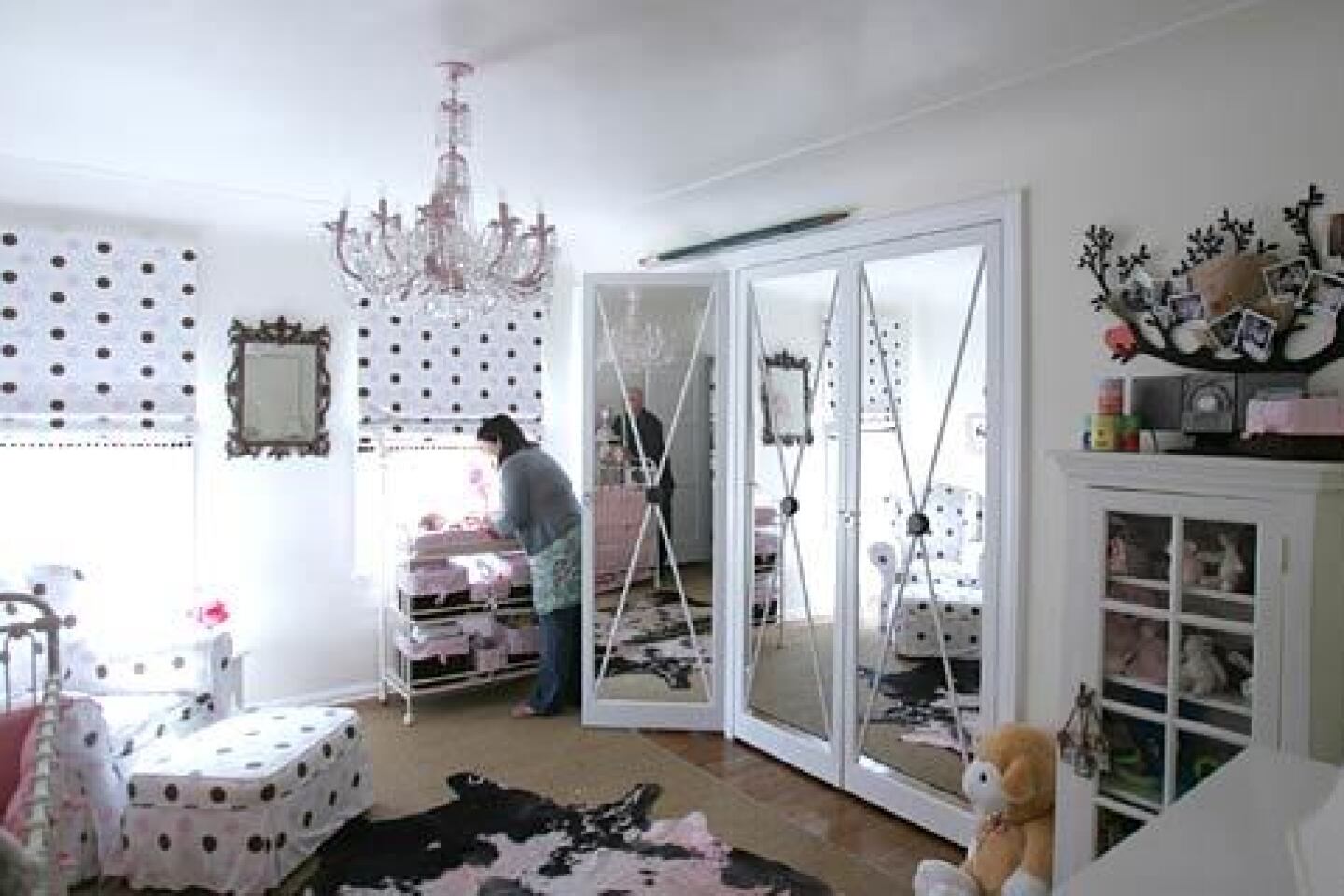 In baby Caroline's room, the color theme is brown, pink and white. Carr added mirrored closet doors and dyed the cowhide rug pink.
(Stefano Paltera / For The Times)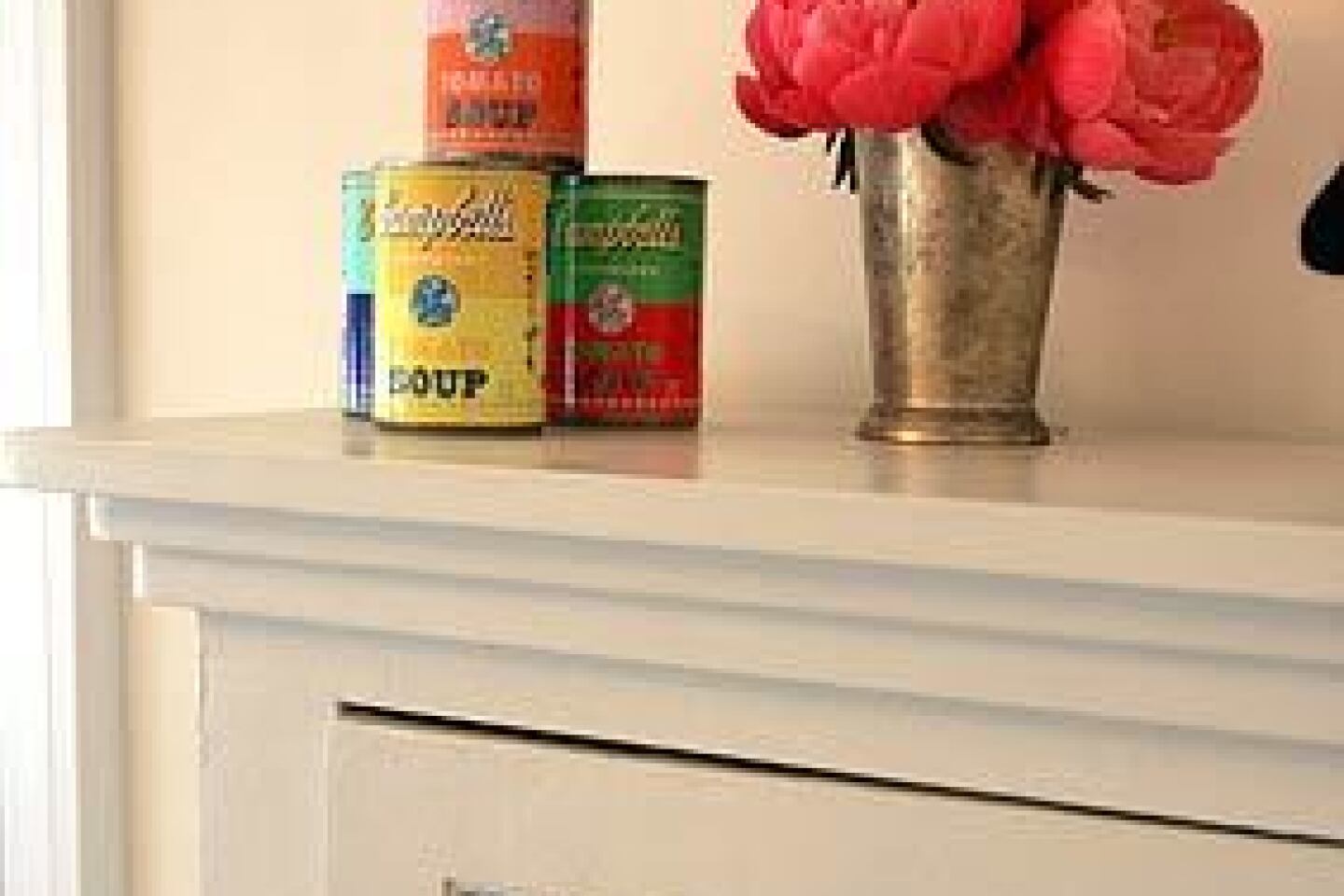 A discarded kitchen cabinet has become a storage unit for Caroline's toys. Carr added a mantel for playful decorative items such as the stack of soup cans commemorating Warhol's Pop Art works.
(Stefano Paltera / For The Times)
Light streams through long linen drapes trimmed with the distinctive Greek motif.
(Stefano Paltera / For The Times)
A vintage chest was transformed into a polished black-finish buffet with the help of interior designer Mary Luby. The two golden partridge figurines were garage sale finds; the mirror was bought on EBay.
(Stefano Paltera / For The Times)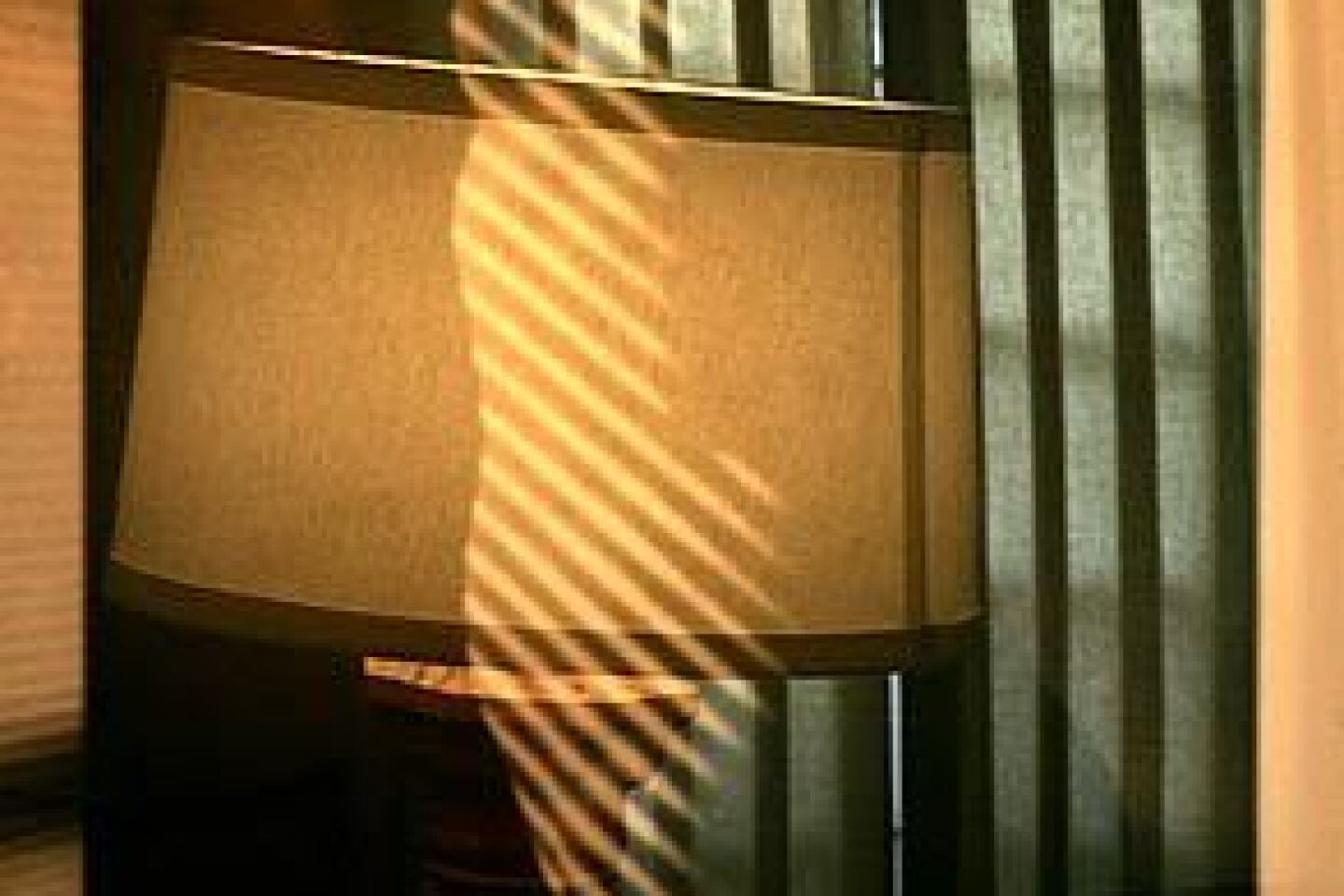 A lampshade and vertical drapery pleats are reflected in one of the living room artworks.
(Stefano Paltera / For The Times)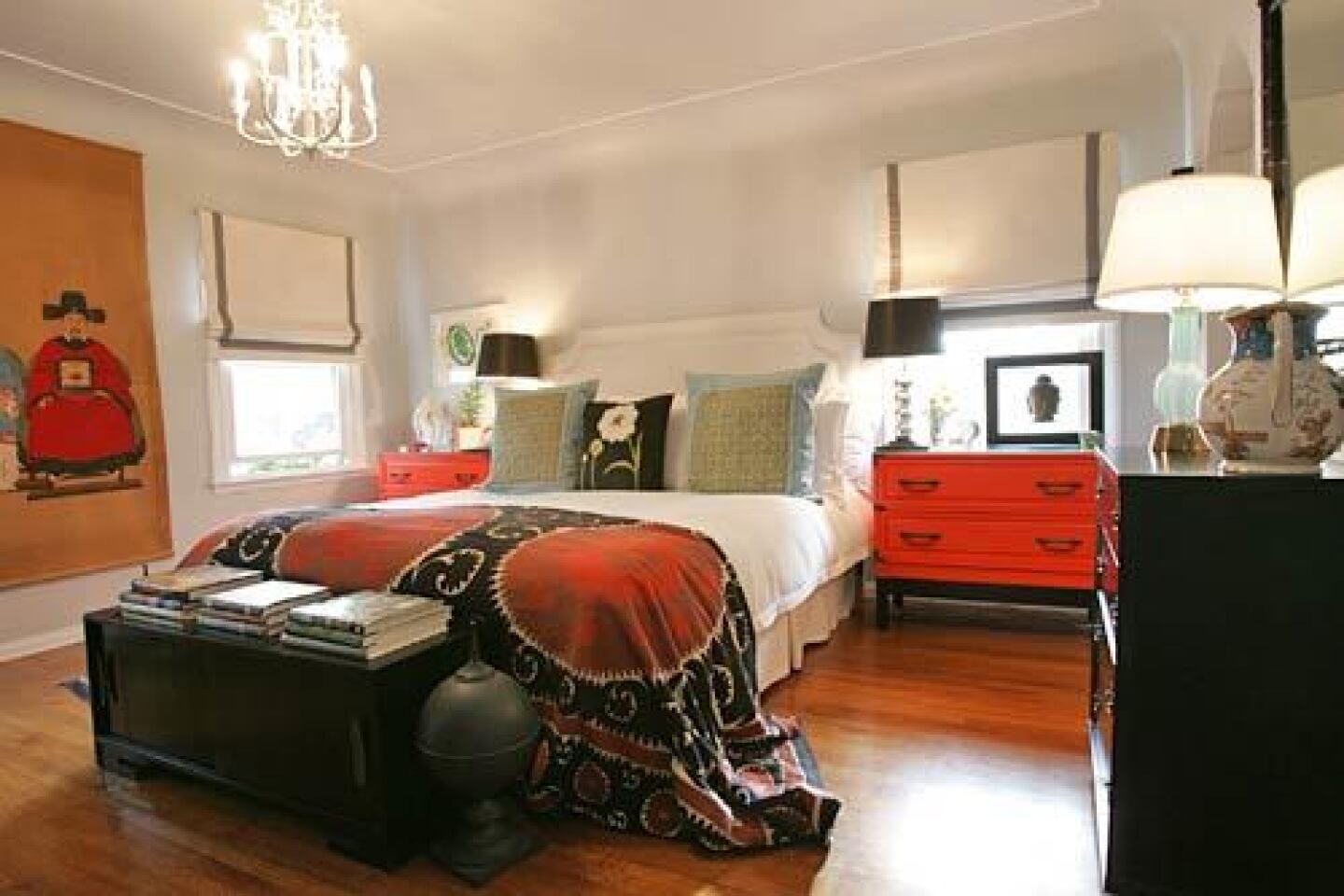 For the master bedroom, Carr found the nightstands at a Culver City thrift store, had mirrors cut for the tops and added custom bases. She bought the Suzani textile spread cascading off the bed from an Uzbekistan seller on EBay.
(Stefano Paltera / For The Times)
Times Staff Writer
CARRIE CARR knows a good piece of trash when she sees it. Take the kitchen cabinet that she salvaged from an apartment building under renovation and turned into a glass-fronted display case. Or the living room piece — "my gangsta coffee table," she says — that she found abandoned in a Chicago alley and repainted in a glossy, Regency-esque black. Or the humble shelf she scooped up off a street corner and now uses as a stage for her collection of McCoy pottery.
---
FOR THE RECORD:
Salvaged decor: In Wednesday's Home section, an article on the home of Carrie and Adam Carr included a photo caption identifying the couple's Spanish water dog as Paulo. The dog's name is Pablo. —

---
"Remember that chair we found on Cloverfield?" Carr asks husband Adam in a wistful voice, as though remembering a childhood pet or a first kiss.
One might wonder what would compel a smart, stylish, perfectly sensible woman to pull over her Lexus 330 and examine debris along streets and alleyways, then haul that debris back to her lovely tree-lined street in L.A.'s Beverly Grove neighborhood. But walk through Carr's house, and the answer is clear. All those discards — carefully refurbished and thoughtfully placed — have been given a second life amid flea market finds, new purchases and fine art.
Those armchairs in the living room? They're Baker, found at a church garage sale and reupholstered in a tasteful stripe. The drapes? They're $4-a-yard linen punched up with a fine Greek key trim from Kneedler-Fauchere. One of Carr's latest projects is a dresser she rehabilitated for her first child, Caroline, born 11 weeks ago.
"A lot of people are like, 'Oh, wow, you got that for your daughter's room — and it's from the trash,' " Carr says, smiling. "The grandparents weren't too pleased."
Indeed, as much as the do-it-yourself movement has become a revolution, Carr's quest to turn castoffs into keepers still raises eyebrows, not the least of which are her husband's.
Exhibit A: One decrepit wingback chair found on 2nd Street. When Carr stumbled upon it, the padding was shot and its upholstery was filthy. The mere reminder of the discovery spurs Adam to shake his head.
"I said, 'No way are you bringing that into the house. I think it has rats in it,' " he remembers. "I didn't even want that thing in my garage."
So the wingback was not allowed in the garage. It was allowed in the master bedroom. And Adam couldn't be more pleased. "I have to trust that she can see things that I can't," he says, motioning toward the chair, which now sports refinished legs, a new seat cushion and fabric from Michael Levine. "I just have to go with it."
--
DECORATING with secondhand pieces and budget buys, of course, is a matter of necessity for some. For others it's more about the hunt — the ability to spot potential, to craft a look that friends won't see in stores, to instill memories and histories in the everyday objects of home. When refurbishing pieces can cost as much as buying new, the process has to be a reward unto itself.
"It's a creative thing," says Carr, a commercial talent agent. "It's making something so much better than it was." Or to use one of her analogies: "I get much more satisfaction making a great meal than going out."
In many ways her house is a microcosm of the amateur decorator craze, the legions of DIYers who share the same passion, if not always the same keen eye. Forgot the old L.A. axiom, "You are what you drive." These days, you are where you live. No wonder one of the latest shelter magazine clichés is to equate any shopper of good taste with museum experts vetting art or artifacts. Yes, apparently you are the "curator" of your home.
Overwrought comparisons aside, consumers really do have more ways to express their individuality. The Internet has brought a world of choices. There's EBay, Craigslist, 1stdibs. Plus flea markets are fashionable again.
Though the mallification of America would seem to result in a homogenized marketplace, the reality is that even chain stores are pushing hard to give shoppers more options. IKEA introduces more than 100 new products every year — "a frequent infusion of fabrics, textiles and colors to encourage people to update their look at home," says Yumiko Whitaker, a Burbank-based spokeswoman for the furnishings giant. The company even has bought its own forests in Europe to fuel the production of new designs.
The rise of redecorating as American pastime has led to new retailers such as West Elm, the budget-minded contemporary furnishings chain whose quick turnover of styles is patterned after the fashion industry. Decorative accessories and color schemes evolve with remarkable speed, especially for an industry that once assumed consumers made purchases to last a lifetime.
"We dramatically change the palette every three to four months," says Alex Bates, the company's creative director and senior vice president of product development. New inventory lands every season, she says, and displays are changed every month — all to sate consumers' desire for a fresh look.
"Design really has become a hobby," Bates says. "You could draw some connection to the proliferations of all these shelter magazines that are really teaching people how to do it all themselves.
"There's this empowerment of the customer and a demystification of the process. You can do it yourself. As fast-paced and out of control as life can feel, there is this real desire to personalize your environment, make it your own and not look like everyone else."
Few would accuse Carr of being like everyone else. This is the woman, after all, who scheduled an interview to discuss her home for the very day her firstborn was due. "If my water breaks, I'll call," she said with typical irreverence.
That morning, the phone did ring. It was Carr, calling to say that her water, in fact, had broken. "But I'm not really having contractions yet. I can't make our 11 a.m. meeting, but perhaps we can talk this afternoon…. "
Just after little Caroline arrived into this world, Carr couldn't help but quiz her husband on her other delivery: a vintage chest of drawers that Mary Luby, a former roommate who's now an interior designer, had refashioned into a dining room buffet and was scheduled to drop off at the house. Yes, Adam reassured his wife, still in her hospital bed. That other baby was just fine too.
After disclosing that one of her favorite shopping resources is the 3rd Sunday Market in Bloomington, Ill., an antiques and collectibles extravaganza held near where Carr grew up and still has family, the inevitable question arises: Do you ever schedule family visits so they coincide with the 3rd Sunday Market?
"Oh, please, I arranged my wedding to be on a 3rd Sunday," she says, adding that the plan was to have breakfast with Adam, hit the market, then head for the ceremony.
Common sense kicked in and she skipped the shopping, but lest anyone question her devotion to the Bloomington event, Adam is quick to chime in: "She comes off the plane with shopping bags full."
What sets Carr apart isn't just the depth of her passion to rescue and reuse, to surprise herself with what can be done with new paint and fabric. It's also the way in which those money-savers have enabled the couple to develop an art collection started years ago by Adam, a real estate agent and longtime art enthusiast.
The gangsta coffee table and the church-sale armchairs take their place among limited edition Basquiat screen prints — two out of a set of four. Above a lion-shaped piano leg that sits on the floor as objet d'art, the Carrs have hung Ralph Gibson photography that constitute a two-piece portfolio.
Adam, a Gibson fan, got to know the photographer and even traded some of his art for some of Gibson's work. An untitled Gibson portrait hangs by Carr's pottery, and still more Gibson images are displayed in the main hallway, lighted by Murano fixtures that Carr nabbed on EBay.
The baby's humble dresser stands in good company too, beneath a 1964 Jasper Johns paper embossing of alphabet letters.
The true masterpiece, however, is not hung on a wall or set in a display case. It is carried with Carr wherever she goes and is referenced frequently — in showrooms, in antique malls, on sidewalks. It is the Book.
The Book is Carr's journal in which she tapes the business cards of glass cutters, hardware refinishers and other crucial resources, many gleaned from cocktail party chitchat.
"When you're in your 20s, you're talking about boys. When you're in your 30s, you're talking about upholsterers," Carr says. "The party conversation goes from, 'Oh, that boy is cute!' to 'Oh, that couch is cute!' "
Page upon page of the Book contains hand-written sourcing notes as well as detailed dimensions of her house, lest she come upon a mirror or side table for just the right nook. Along with the tape measure she takes everywhere she goes, the Book is her indispensable assistant, which explains why she also started the Backup Book — a duplicate set of decorating references, just in case the first got lost.
When sister Darbie McCollian, who lives near Milwaukee, is asked if there's any way to describe how Carr's personality is reflected in the look of her house, there is a long pause, then a simple response: "Pulled together, but not too tight."
--
HEAR Carr give her running commentary on the decor, and it's clear that many pieces are as much about family and life history as they are about style.
Remember that chair Adam swore would never be allowed in the house? Sure, it had good bones, but Carr mostly wanted the piece because she found it by her old "bachelorette apartment," as she likes to call it. "It was something from my old life," she says, "I was making it something for my new life."
Cane chairs in front of the living room window are from her parents' house and have moved with her since she struck out on her own; Carr painted them black and added Jonathan Adler pillows. A lamp from the Rose Bowl Flea Market and a glass bird that once belonged to Adam's grandfather sit atop a music cabinet originally owned by Carr's grandmother, who received it as a gift following her first piano recital at age 11.
The dining room buffet is illuminated by lamps that Carr found while shopping with her sister in a Wisconsin antique mall. A golden bowl that once held flowers sent by Adam's father as congratulations of his son's engagement now cradles a dozen or so artichokes as an inexpensive, organic sculpture. Two partridge figurines — also golden — were garage sale finds. "I saw those gold birds and I was like, 'Really, honey?' " Adam says, wrinkling his nose. "But they somehow look right in that space."
Each room carries fond reminders of specific times and places in the Carrs' lives, sweet memories that happen to come in the form of bargain buys and orphaned furniture.
"It's effortless," McCollian says. "It's not contrived, it's not themey. It has soul, and I don't mean that in a cheesy way, because Carrie's not like that either."
Sure enough, when a photographer arrives to take pictures, he has a hard time believing that so many of the pieces have such humble origins. "When I look in my alley," he says, "I don't see anything like what I see here."
"That," says Carr, ever the castoff queen, "is because I've already been in your alley."
--
---
craig.nakano@latimes.com
--
(INFOBOX BELOW)
Putting it all together
Carrie Carr and husband Adam can pull off their high-low mix without it feeling contrived because the house, like the couple, never takes itself too seriously. It doesn't try to impress, and humor shines through. Here's how:
The mix: The most amusing elements, of course, are the pieces of furniture that have been scored from unusual sources. Each is an instant story. Careful editing, however, prevents the house from feeling cluttered. Carrie Carr likes McCoy pottery, for example, but collects only white. The singular color allows the collection to make a strong visual statement without looking busy.
Rugs: Hides and faux skins, bought instead of pricey rugs, not only save money but also add a touch of irreverence. The cowhide in daughter Caroline's room has been dyed pink to match the decor.
Risks: Part of the fun of Carr's house, sister Darbie McCollian says, is seeing her experiment. "She was onto sisal carpet way before it was huge," McCollian says. "Then sea grass. I remember when she got bamboo blinds before anyone else."
Piero Fornasetti: The couple developed an affinity for the late Italian designer's work through Adam's mother, who carried it in her since-closed Melrose Avenue store, Pieces. Reminders of his sly wit are everywhere in the home: plates on walls, an art book in the master bedroom, chairs in Adam's home office. "He was a master comic," Carr says. "His pieces are fun and playful."
— Craig Nakano
--
More photos on the Web
For an expanded gallery of pictures from the Carrs' house, look for the Home section online at latimes.com/home.