The light's gone out on Silver Lake's chandelier tree — for now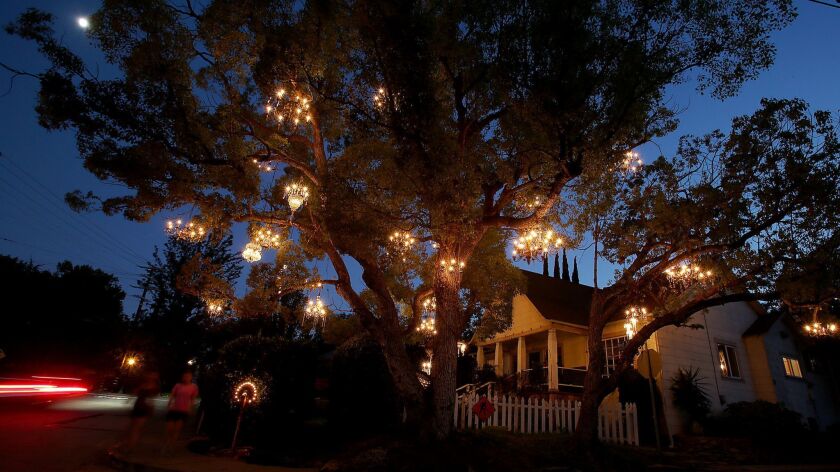 The plug has been pulled on Silver Lake's chandelier tree –– a century-old camphor hung with 34 vintage fixtures that for eight years was a neighborhood luminary and social media hit.
Turns out, the tree, which is rooted at the bottom of a front yard's slope, is actually on city property and, moreover, on a public right of way where a sidewalk should be.
The prospect of a weighty brass chandelier crashing onto a car, bicyclist or passerby is a scenario the Los Angeles city attorney's office would rather avoid. (Several chandeliers hover over the street and sidewalk.)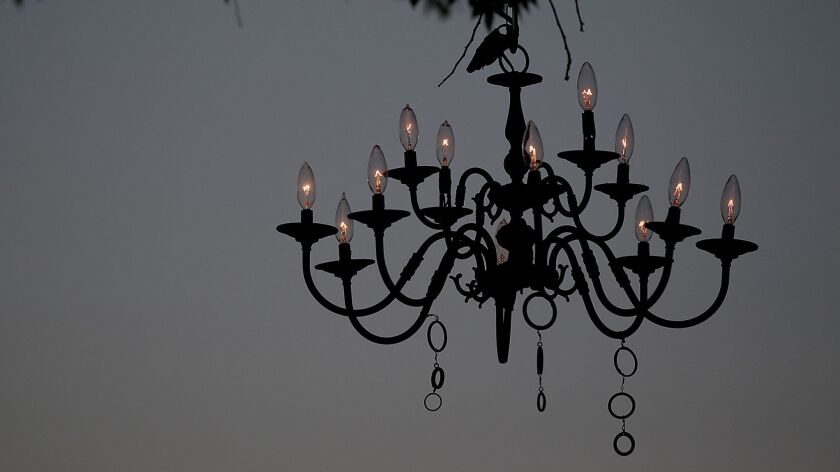 The tree's creator, Adam Tenenbaum, cut the power on his singular wonder last week after reaching a compromise with the Los Angeles Bureau of Street Services, which had ordered the tree's funky fixtures removed after a neighbor complained about risk.
But there may be hope.
Tenenbaum, who rents the 1920s home adjacent to the tree, is working with his local councilman's office to secure a permit that grants "conditional encroachment" on a public right of way. With such a permit, Tenenbaum would have to purchase insurance to cover potential injuries caused by the tree and waive his right to make the city pay for damages. The city may also place conditions on the tree's use, such as setting hours when the lights are powered, which might appease neighbors who don't like the public exhibition.
The city has "really stepped up and have been willing to work outside of the box to allow this landmark to continue," Tenenbaum said of Councilman David Ryu's office. The fixtures can stay while a permit is secured, but the tree must remain dark, said Tenenbaum, who works as an airbrush makeup artist.
Ryu said in a statement that he'll work with Tenenbaum to ensure visitor safety and address other neighbor concerns that include crowds of upwards of about 25 people, trash and some noise.
While the enchanted tree is beloved as a beacon of communal cheer (it has its own documentary and Yelp and Facebook pages), some neighbors say the tree's lure can be a drag.
"It's a beautiful thing, as long as your house is not sitting next to it," said Chris Strompolos 47, who lives up the block from Tenenbaum. Strompolos said he sees "both sides" since he enjoys the tree's charm from his porch, but when "there's a barrage of people annoyed at me when I want to get onto my own street –– well, that's annoying."
The tree has hosted engagements and weddings, as well as countless date nights and shoots for brides, fashion models and music videos. It's also been listed in film location scout books.
Sidewalk-adjacent signage fronts the tree: a tricked out 1970s parking meter with a fan of 17 bulbs. The outré meter accepts both coins and credit cards; the cash has helped pay Tenenbaum's $200 monthly electric bill.
The radiant tree is among numerous examples of Angelenos adding creative flair to public property, attracting both devotion and disdain.
The short list: homemade lending libraries erected curbside, murals, sidewalk stencil art –– and a wooden teahouse in Griffith Park that lasted for about a month in 2015 before the city removed it.
And the chandelier tree has seen its influence grow: Earlier this year, the master-planned community of Rancho Mission Viejo hired Tenenbaum to string three mature oak trees with a total of 56 chandeliers inside its 890-acre Esencia village.
Tenenbaum stressed that he doesn't promote the tree, takes pains to be a good neighbor by posting signs to dampen noise and refuses requests for the candescent camphor to be put on L.A. "must see" tourist lists.
"We have no endeavor to be the Hollywood sign," Tenenbaum said.
---