An Instagram-ready moment: SoCal's camellias and cherry blossoms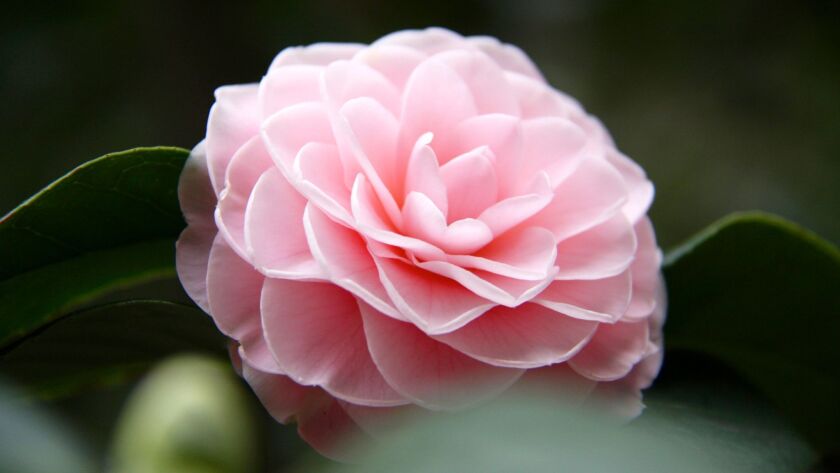 Here's one more reason to love Southern California: Instead of digging out from snow and sleet, we're getting ready to welcome stunning camellia blooms and cherry blossoms.
You can get a sneak peek at this floral ramp-up to spring at the Descanso Gardens in La Cañada Flintridge and the Huntington Library, Art Collections and Botanical Gardens in San Marino.
The Huntington hosts its 46th Camellia Show and plant sale Feb. 10-11, co-sponsored by the Southern California Camellia Society.
Descanso Gardens is hosting an entire slate of events to make it easier for visitors to take it all in.
The month of February is all about the Descanso Gardens' camellias — 600 varieties on 19 acres, the largest collection on the West Coast. "When the camellia forest is in bloom there is nothing else like it. There are bursts of white and pink and red," said Somer Sherwood-White, a gardens spokeswoman.
In March expect a riot of cherry blossoms, along with blankets of tulips and fragrant lilacs.
Planned weekend events include a camellia walk hosted by Wayne Walker, Descano's camellia horticulturist; the Ensemble Shakespeare Theater performing some of the Bard's most famous love scenes and sonnets in the Camellia Forest; spring bloom walks; an exhibit of Japanese woodblock prints; and a Japanese garden expert discussing the evolving role of cherry blossoms in Japanese art.
For those looking for a little more DIY, there are flower arranging and origami demonstrations, as well as a tea mixology workshop. A cherry tree sale is planned for mid-March.
Celebrating camellias and cherry blossoms
Where: Descanso Gardens, 1418 Descanso Drive, La Cañada Flintridge
When: Throughout February and March
Cost: Most events free with admission.
Info: descansogardens.org
46th Camellia Show and Sale
Where: The Huntington Library, Art Collections and Botanical Gardens, 1151 Oxford Road, San Marino
When: 1-5 p.m. on Feb. 10, 10 a.m.-5 p.m. on Feb. 11
Cost: Free with admission.
Info: huntington.org
For an easy way to follow the L.A. scene, bookmark L.A. at Homeand join us on our Facebook page for home and garden design, Instagram, Twitter and Pinterest.
ALSO:
Before & After: A massive front lawn is transformed into an inviting, low-water landscape
Photos: Ready to scratch the grass? Here are 27 inspiring lawn-free yards
These 7 fire-retardant plants may help save your home
A whimsical, magical fairy tree brings smiles to an L.A. neighborhood
---