9 Images
Gerard Colcord's 20th century homes still beloved in these modern times
Colcord 1
Though not as well known as Wallace Neff or Paul Williams, architect Gerard Colcord has a passionate following for classic Southern California homes he designed from the 1920s till the 1980s. For his new book "Colcord Home," author Bret Parsons delved into Colcord's archive, looking at the detailed plans that Colcord drew up for each client as well as photographs of the architect's work. The 1939 Barnett house, shown here, was classic Colcord: a comfortable and unpretentious family home, in this case
Pennsylvania
Dutch in style. Great attention was paid to giving the house a historical appearance. It's built at various elevations with side wings to simulate a small core house that had been expanded over the years. Although located on a busy
Beverly Hills
street, the interior feels private and intimate - qualities that drew so many clients to Colcord.
(Maynard L. Parker)
Colcord 2
Connie Wald and her husband, legendary movie producer Jerry Wald, purchased the Barnett house in 1943. While Jerry worked at Columbia, the studio offered to build him a home screening room. In 1952 the Walds hired Colcord to convert a morning room into a screening room. The architect cleverly disguised the space so that when is wasn't being used to screen movies, it doubled as a cozy library. The screen is hidden by carved panels, and the projection booth and projection windows are hidden behind a wall of books.
(Mary E. Nichols)
Colcord 3
Unlike many of his contemporaries, Colcord tried to keep the scale of his interiors intimate and cozy. This den, with its low ceiling and walk-in fireplace, is typical. The beam over the fireplace is a Colcord signature. "If there's one single, signature aspect of Colcord's design, it's the long wood beam over the fireplace," author Parsons says, adding that the beam may look like wood but is actually concrete. "They made a cement log, cured it and then used a veneer of wet cement to make the textured wood pattern. When it hardened, knotholes and splits were driven into the cement to give it an authentic, aged wood look."
(Maynard L. Parker)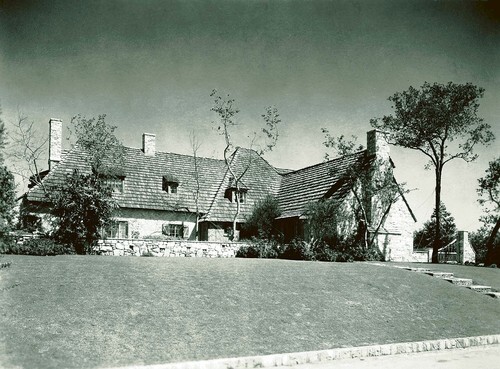 Colcord 4
Colcord was only 29 when he designed the Trippet House in
Pacific Palisades
in 1930. Inspired by farm houses in the Normandy region of France, its exterior is rough field stone masonry. A dramatic high-pitched roof drives the design. One departure from its French counterparts is the use of wood shingles for the roof instead of the traditional slate or red clay pantiles. Thick stone walls lend an air of stolidity and give the impression of a house built to last for generations.
(The Mott Studios)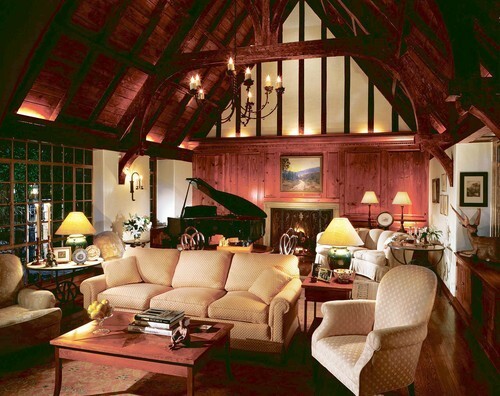 Colcord 5
Although a traditionalist, Colcord was flexible on materials. In the Trippet living room, he used modern steel framed windows instead of wood casements that would have been more typical of the farmhouse style. The soaring cathedral ceiling impresses visitors, as do the quality and detail of the woodwork and framing. Colcord insisted on the Old World appearance of woodwork in his houses. The same crew was instructed in time-intensive procedures, including hand-planing timbers using antique round-nosed instruments.
(Mary E. Nichols)
Colcord 6
The 1932 Horton House was nearly 7,000 square feet and was a significant commission for Colcord when he was still in his early '30s. Also built int he French farmhouse style, this house was one of the first in Bel-Air Estates. Colcord freely mixed styles; the Gothic arches on the front of the house were usuually reserved for churches and cathedrals, and the half-timbered area above was decorative feature common in barns.
(W.P. Woodcock)
Colcord 7
The rear of the Horton house embraces a substantial backyard. The home passed through several hands; its most famous owners were Bob and Ginnie Newhart, who lived there for nearly 20 years.
(W.P. Woodcock)
Colcord 8
At nearly 12,000 square feet, the 1940 Harris house in Bel-Air is Colcord's grandest design, with a square central tower and entrance that resemble a battlement. Colcord's design, however, assumes that Bel-Air is in little risk of invasion, so crenelations are replaced by decorative brickwork. Defensive slit windows are replaced with conventional windows. The decorative brick work on the tower - called quilting or "diapering" - adds a whimsical touch to an otherwise daunting structure.
(Maynard L. Parker)
Colcord 9
The lavish Louis XV staircase may seem at odds with the somber, fortress-like Tudor exterior, but Colcord was famous for his flexibility and willingness to accede an owner's design preference, even if it didn't jibe with his own taste. The Harris house has passed through the hands of several of celebrities including
Dean Martin
, who had Colcord add a massive entertainment area in 1974. The home belongs to Nicholas Cage, who recently listed it for sale at nearly $30 million. For more information on Parsons' book, go to the Angel City Press website at www.angelcitypress.com.
(Maynard L. Parker)