Concrete moves inside the home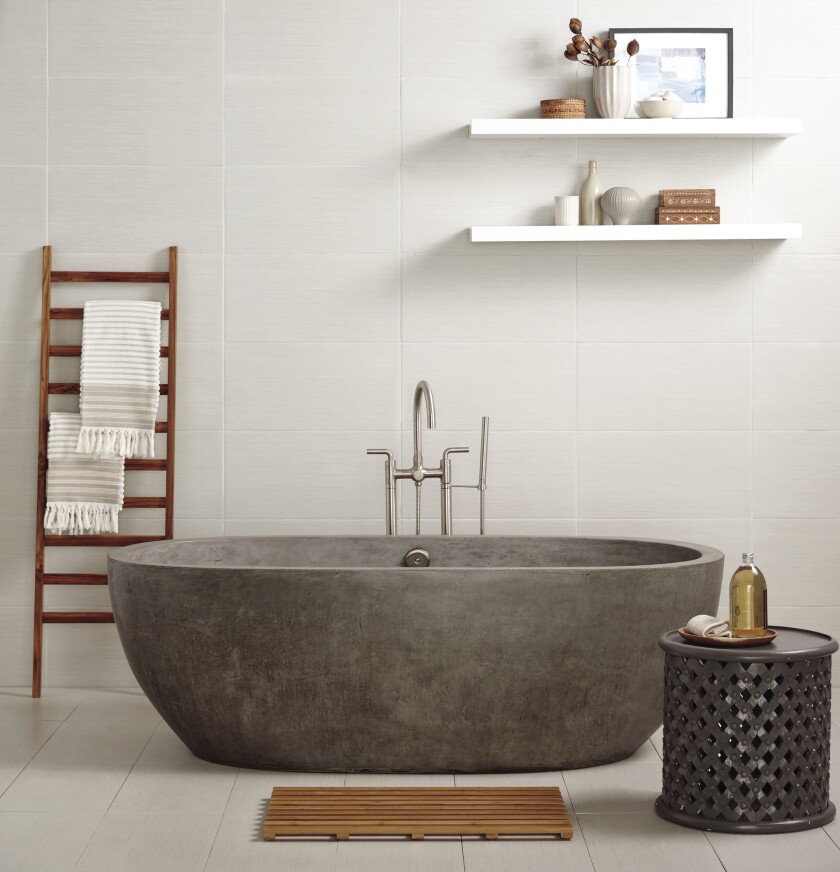 Concrete — the composite building material made from stone, sand, cement and water — is having a bit of a moment in the home design world. Used to create everything from book ends to home furnishings, concrete fits in especially well with modern, contemporary, rustic and industrial architectural design.
Rock of ages
"We've seen the use of concrete growing quite a lot in contemporary architectural building," said Joseph Di Benedetto, executive director and product designer at Designer Doorware in Altona, Australia, who launched the Bullet + Stone collection of contemporary concrete door fixtures, attributing the trend in part to a resurgence of interest in mid-19th century Brutalism, the 1950s and '60s style of architecture that celebrated block-like forms of concrete and steel.
Although the material has been around literally forever (some people believe the Great Pyramids may have been built with a combination of limestone and concrete), building with composite has cycled in and out of favor. "I think architects have always loved concrete on some level," said Abeer Sweis, design partner at the Los Angeles-based firm Sweiskloss. "In regard to buildings it felt like the use of concrete did go away because there was something about it that made it more of a political statement [in the Brutalist era], with a very powerful look that was not friendly, but that was more in the design than the material because there are a lot of beautiful churches that are incredibly inviting and made of concrete as well."
The power of touch
Today, contemporary concrete design has shifted from its formerly formidable and imposing aesthetic to embrace the material's organic roots in a modern collaboration of earthy elements.
Using concrete in combination with wood, warm-toned metals and tactile materials creates a sense of nature and balance in both product and building design.
"There's something really peaceful about [concrete]," Sweis said, "and yet it's very powerful, strong and permanent. If you buy something made out of concrete, it feels like it's been around awhile … it feels like it has just existed."
In addition to an inherent sense of soul and design gravitas, concrete has a surface "you just want to touch," Sweis said. "I feel like it absorbs its surroundings, it absorbs heat if it's warm, and if you touch it in the morning it's cold. It emanates different things, and I think it does the same thing with light … it just feels alive, in a way."
"The touch of it is amazing," Di Benedetto said. "You may think of it as cold and rough, but it's not; it's very smooth and pleasant to use."
T.J. Eads, lead industrial designer for Indianapolis-based luxury faucet and fittings manufacturer Brizo, believes the longing for substance and style is a reaction to our increasingly virtual landscape. "Millennials, and [people] younger than that, have been raised in a tech world," Eads said, "where there are a lot of flat screens and glass surfaces, and they want that tactile feel. … They want those elements, like concrete, within their house — whether it's a drawer pull or a faucet … they want texture."
Even faucets? Yes
"I think it's often perceived as a more functional, utilitarian type of material for sidewalks, driveways." Eads said. "But right now, people really appreciate the aesthetic, the imperfection. Imperfect is the new perfect."
For his part, Eads recently debuted a sculpted, limited-edition Vettis concrete faucet for Brizo. "It was inspired by a waterfall," he said, "the pairing of the water and the stone."
The material's popularity was equally motivating.
"There are [concrete] countertops, sinks, all kinds of home-good products; you can find them at Target, you name it," Eads said. "It's everywhere."
"People hop on the trend train," said Los Angeles-based Homepolish interior designer Mandy Cheng. "They see it, they love it, they want it, and it's affordable. It looks cool, and you can implement it in any type of space, really. The longevity is really appealing."
DIY design
"It's just so versatile," Sweis said. "You can be really creative with all the different things you can make out of it, which is why you're seeing more and more of it."
Cheng installed a custom concrete sink in a client's home — "navy blue with stripes carved into it," she said. "The fact that you can mold a stone that way is crazy."
Cheng said concrete offers endless potential for creativity, making it a current favorite on the DIY home-improvement scene.
"You can make really cool shapes out of it," she said, "and the fact that you can pour a lamp with it is pretty cool."
Both slick, highly coated, epoxy-finished concrete as well as roughly finished stone with exposed rebar and aggregate are in demand.
"You'll see both ends of the spectrum," Eads said, "but I really think people love the rawness of it; they want to see and touch and feel it now."
"It just feels nice, solid," Cheng said. "It feels natural and real."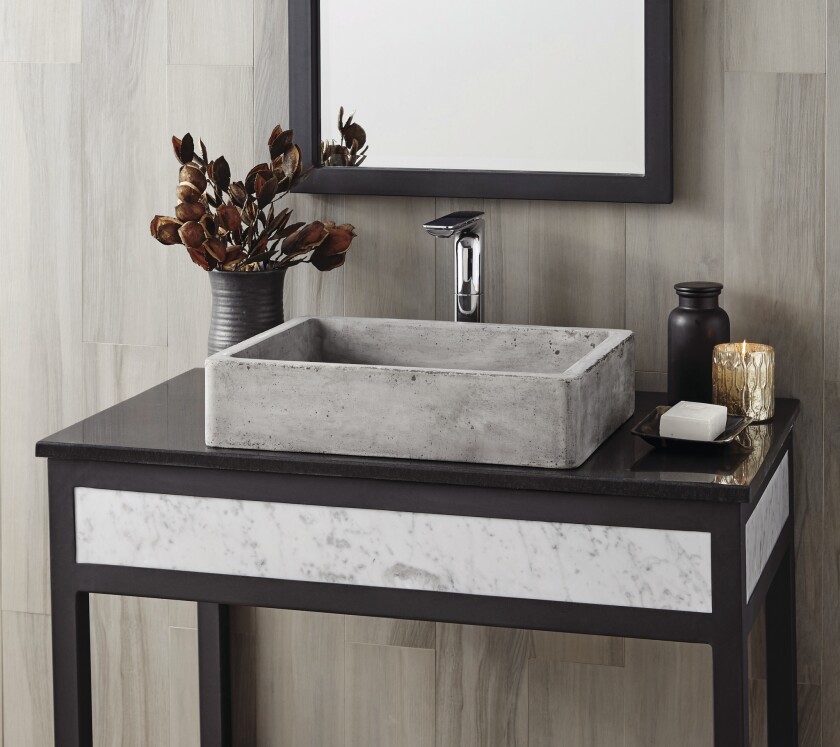 Caring for concrete
To care for concrete, Cheng suggests treating it like you would any natural stone surface. "Some people like the rustic effect of a weathered, worn look," she said, "but if you want your furniture to last without cracking, then you should treat it like you would a marble countertop."
If the porous surface has been sealed with a wax or finish, treating it with an abrasive cleanser will break down the protective barrier. Instead, clean concrete with a pH-neutral cleaner like a solution of liquid dish soap and water, working up to harsher solutions as needed.
Bonnie McCarthy contributes to the Los Angeles Times as a home and lifestyle design writer. She enjoys scouting for directional trends and reporting on what's new and next. Follow her on Twitter @ThsAmericanHome
---