14 Images
Photos: Breaking up concrete can transform a drab backyard
By
Debra Prinzing
What to do when your yard is an unwanted sea of concrete? Landscape designer
Stephanie Bartron
offers a solution. For about $1,000, you can hire a concrete saw operator for a day and cut out sections of patio or driveway to create eye-pleasing patterns filled with ground cover or decorative rock. The technique not only can yield eye-pleasing results, but also can reduce rainwater runoff.
(Irfan Khan / Los Angeles Times)
Cross sections of the concrete reveal aggregate-like detailing when sanded to a smooth texture.
(Irfan Khan / Los Angeles Times)
Yoga instructor Lucy Bivins and cinematographer Eric Schmidt inherited a gray slab when they purchased a Mt. Washington house designed by architect Barbara Bestor. The concrete had been installed by a previous owner as part of a carport, Bivins says. "It was very bleak and unattractive," she says. "A real eyesore." At Bestor's suggestion, she and Schmidt contacted Bartron for design help.
Bartron chose a rectilinear motif to echo the architecture's lines, slicing the patio into 1 1/2-by-4-foot sections. She stacked the cutout concrete slices four levels high, forming a contemporary fountain and koi pond.
(Irfan Khan / Los Angeles Times)
The removal of concrete left planting strips to accommodate low-growing, drought-tolerant dymondia, a silvery ground cover.
(Irfan Khan / Los Angeles Times)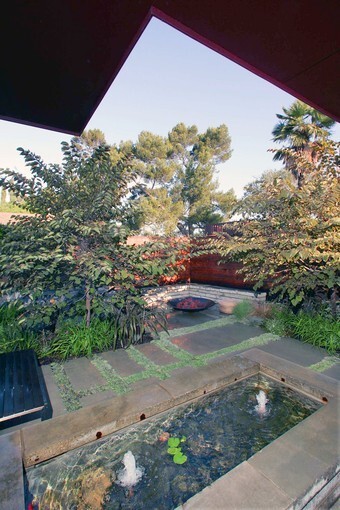 "We asked for shade trees, an outdoor gas fireplace and some type of fountain," Schmidt says. "Stephanie turned the unused space into our outdoor living room, which in just a few years has been filled by a canopy of shade trees. It's a favorite place to sit with our newborn son, Hugo, listen to the fountain and watch the trees move in the wind. It calms him down every night before bedtime."
Bartron also removed enough patio to create two large planting beds for Eastern redbud trees, carex and fescue grasses, and New Zealand flax. Evenly spaced concrete bands serve as a walkway from the front door to the seating area, which has a gas-piped steel fire bowl designed by New York artist
Elena Colombo
. More cutout concrete is layered in the form of an L-shaped seating area, and the bench is backed by a horizontal-plank fence.
(Irfan Khan / Los Angeles Times)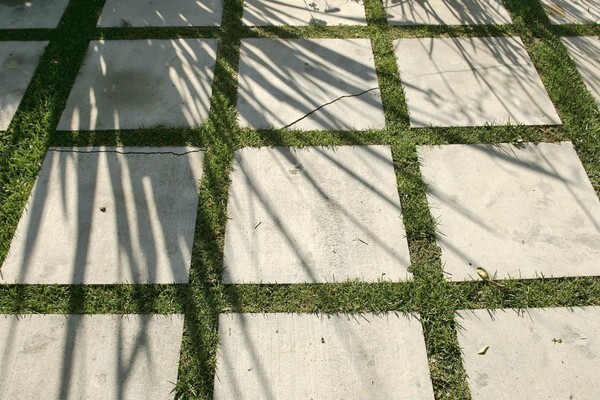 When it rains, storm water now percolates into the ground rather than streaming down the driveway and into the street. Little material had to be thrown away. But the biggest impact was aesthetic. The repurposed patio no longer resembles a basketball court, nor does it dominate the tiny lot. "By cutting it up, I changed the scale of the concrete from a big slab into an attractive backyard feature," she says.
Owner Caleb Dewart, a television producer, likes to lounge beneath the mature orange tree saved during the project while his two children play nearby. "We're really happy we didn't have to tear this up and start over," he says of the patio. "And we like using what we have rather than being wasteful."
(Irfan Khan / Los Angeles Times)
For another client in Atwater Village, Bartron considered replacing a driveway with plants and new hardscape, but digging out all that paving was costly, and the pieces would just end up in the landfill. So she hired a professional industrial saw operator to slice up the 20-by-20 foot space into a grid of 18-inch squares, leaving 4-inch spaces of soil between them.
(Irfan Khan / Los Angeles Times)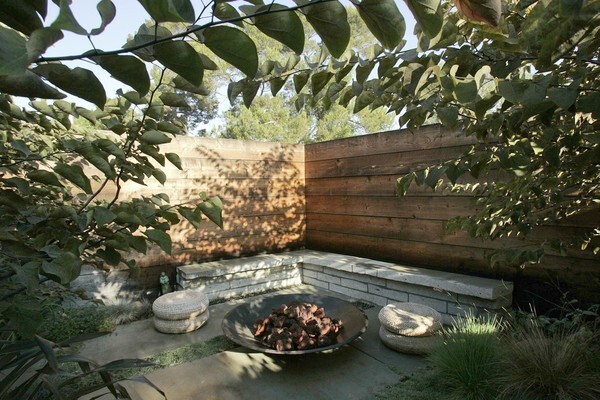 "It's a very sexy entertaining space," Bivins says. "Whenever we have people over, we end up around the fire bowl. There can be 10 of us here, and it still feels intimate." She praises Bartron for coming up with a money-saving design that also enhances the architecture. "It was very crafty of her," she says. "She took our lemon and made lemonade."
(Irfan Khan / Los Angeles Times)
Kenny Grimm, sales manager for Oxnard-based
Independent Concrete Cutting Inc
., says an experienced saw operator cost $140 per hour, plus travel charges.
"We're seeing more people reuse their existing material because recycling your paving is an affordable alternative to hauling it away," he says. "You can get a lot of cutting done for around $1,000."
One of Bartron's recent projects involved cutting bands into this driveway in Glendale. This is the "before" photo.
(Allen J. Schaben / Los Angeles Times)
Cesar Turcios, left, and Mario Alvarez mark their cuts on the driveway.
(Allen J. Schaben / Los Angeles Times)
Turcios uses a sledgehammer to break up a section of concrete and pull out the pieces.
(Allen J. Schaben / Los Angeles Times)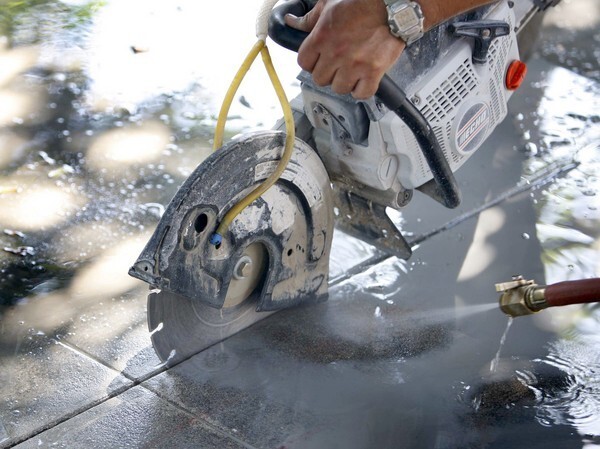 The saw is next.
(Allen J. Schaben / Los Angeles Times)
The resulting band is then filled with rock, creating a more permeable surface that will reduce rainwater runoff.
(Allen J. Schaben / Los Angeles Times)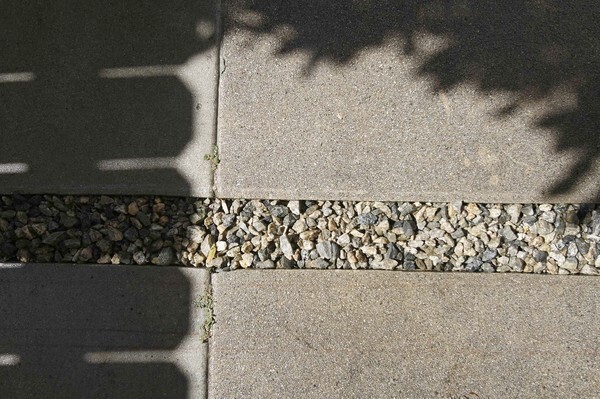 The result is more pleasing to the eye – a more affordable way to soften the look of large expanses of patio or driveway.
(Allen J. Schaben / Los Angeles Times)