Home designs with pet projects: dog doors, built-in bowls and more
Westlake Village homeowner Gayle Plessner sits with her dogs Lucy, left, Snoop and Hermione in their Shannon Ggem-designed mud room with water-resistant flooring.
(Gina Ferazzi / Los Angeles Times)
Lucy, a 2-year-old golden retriever, carries her blanket behind Hermione, a 5-year-old pug. Their dog door leading to the backyard is under the shelf at right.
(Gina Ferazzi / Los Angeles Times)
Gayle Plessner's 2-year-old golden retriever, Lucy, sporting her summer cut, enters the dog room through the doggie door.
(Gina Ferazzi / Los Angeles Times)
Golden retriever Lucy enjoys the cool floor in the dog room of Gayle Plessner's home. Plessner is at left with pug Hermione.
(Gina Ferazzi / Los Angeles Times)
Snoop, left, Hermione and Lucy, right, lie in their beds in the dog room, where they spend time when guests to the home are arriving.
(Gina Ferazzi / Los Angeles Times)
Lucy, left, Hermione and Snoop wait for owner Gayle Plessner under family photos at their Westlake Village home.
(Gina Ferazzi / Los Angeles Times)
Interior designer Shannon Ggem gets dog food out of a specially designed drawer in her Agoura kitchen as dogs Pickle, left, and Foots anticipate being fed and Mayonnaise the cat surveys the scene.
(Lawrence K. Ho / Los Angeles Times)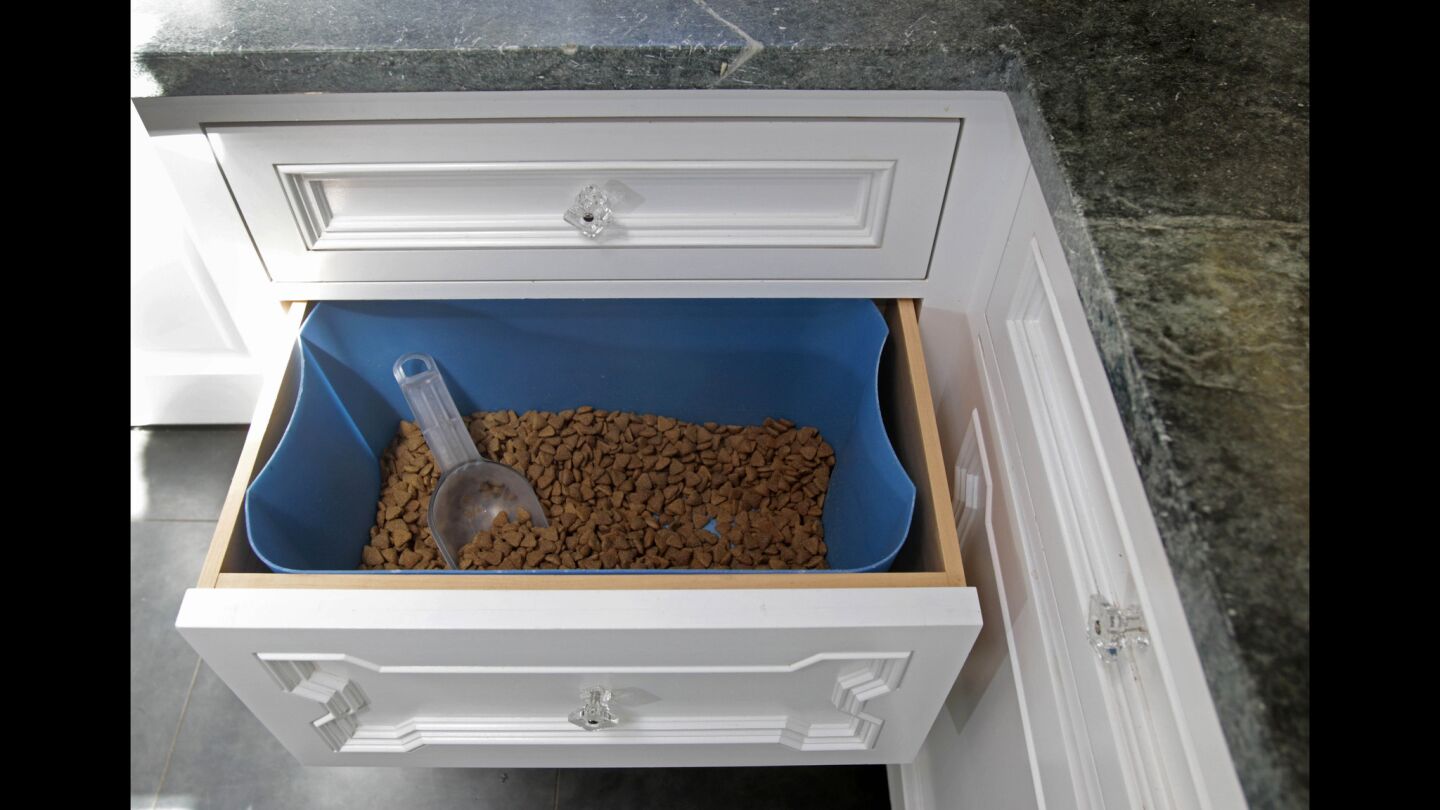 A customized dog food storage drawer in interior designer Shannon Ggem's Agoura home.
(Lawrence K. Ho / Los Angeles Times)
A countertop water spigot feeds water down to a customized drinking and eating station for Shannon Ggem's dogs.
(Lawrence K. Ho / Los Angeles Times)
Gayle Plessner and her husband love their dogs, but the sound of the rain on the roof of their Westlake Village home made them lament winter, the season of muddied paws, in 2012.
"I remember thinking that it would be great if we had a mud room for the dogs," Plessner said.
So when the couple decided to remodel their six-bedroom contemporary home in April 2013, Plessner turned a 10-by-12-foot room off the laundry room into a pet zone, adding a water-resistant polka-dot floor and a separate dog door with access to the backyard for Lucy, a 2-year-old golden retriever; Hermione, a 5-year-old pug; and Snoop, a 6-year-old Chihuahua mix.
Plessner was going to eliminate the bathtub in the bathroom adjoining the dogs' room but instead removed the glass shower doors and made the tub more accessible for bathing them.
Designers say more dog owners are considering their pets' needs when building or remodeling their homes: asking for pooch-friendly spaces, ordering specialized cabinets for pet bowls and food, and adding canine-only showers and tubs.
"Pets and children are very important to our homeowners. So whether it's dogs or cats or gerbils or fish, we need to include them in the design process," Los Angeles architect Tim Barber said.
Marc Bekoff, author of "Why Dogs Hump and Bees Get Depressed," said pets want to feel at peace and safe. "Animals are smart and emotional, and people are now factoring that into a lot of things. And a place in the house where a dog can get away from it all is really important."
Whether with people or their environment, dogs also crave contact. "They love the feeling of their back or their butt against a wall or a corner," Bekoff said.
Pacific Palisades resident Pam Fillo considered the need for contact when designing a breakfast nook in 2008. Taking her cue from a magazine article that featured a window-bench-style seat with a single carved opening for a pet, Fillo hired Barber's firm to design a built-in dining bench with three arched openings for her dogs. Each nook provides room for a dog bed and a four-legged occupant. And the matching material on the dog pillows and the bench cushions adds visual continuity to the space.
"People think we're crazy dog people, but they think it is clever and cute too," Fillo said.
Shannon Ggem, an interior designer who worked with Plessner, said smart changes save time and money — minimizing damage and the need for aftermarket products — and make life easier.
Tired of tripping over the dog bowls in the kitchen of her 1,000-square-foot Agoura cabin, Ggem built a pet-friendly feeding station for Foots, a 1-year-old shelter mutt, and Pickle, a 7-year-old golden retriever mix, when she remodeled in 2011. The custom cabinet includes a countertop spigot that feeds water down to a shelf with artificial turf, a waterproof underlay and two freestanding dog bowls.
The cabinet houses two custom-built drawers. One is a charging station for electronics. The other holds a bag of dry dog food. To size the drawer, Ggem took a 15-pound bag of dog food to the cabinet maker. The cabinet upgrade (without plumbing or the countertop) cost about $500.
Barber said shelves with built-in dog bowls that slide out from cabinetry cost about $200, not including installation.
Designers are finding creative ways to hide dog doors. In a Brentwood laundry room, Barber's designers installed a dog door in an exterior wall and hid the pass-through beneath an ironing cabinet.
In addition to increasing home safety (think burglar access and wiggly puppies underfoot) and convenience (not having to feel like a doorman), experts say installing a pet door can minimize wear and tear on the entry door. An electronic smart pet door, such as the SureFlap model (www.sureflap.com) that links to a pet collar tag or a microchip and unlocks automatically, costs about $250 with the wiring.
::
Design ideas with dogs in mind
When designing spaces for your dog, look for opportunities to repurpose unused areas.
Trust your animal's instincts. Not sure where to begin? Follow your pet to see where it goes. "They might like a sunny spot. They might like to rest in a corner," said animal expert Marc Bekoff.
Don't make it feel too confining or like a punishment. If you install a solid door or fence, consider adding a small cutout that lets your dog see what's happening on the other side.
Think long term. Design for the life of your pet and your family, and factor in ways to protect your home's value.
Keep the dog bed and other familiar touches. "The dog prefers the old, smelly pillow," Bekoff said.
Let your pet adjust to changes. "Dogs are just total sensory monsters. And it's very unsettling to them when they move to a different place," Bekoff said.
---