Hey, California, you can still have a lawn! Here are five water-wise alternatives
The poor traditional Southern California lawn. Our flat green grass turfs have been beaten up and bullied with calls to replace them.
But how many people know there are numerous drought-tolerant grass species well suited for the Southern California climate that still have the general look and feel of lawn as we know it?
"Too few," says Robert Sjoquist, director of Soils Solutions, a native seed and sod company in Camarillo. "It's really about education and availability at this point." Homeowners might have to tweak their concepts of a perfectly green, manicured lawn some, "but a green grass lawn in drought conditions is possible. It doesn't have to look like Arizona with cactus everywhere. Or even grass-less."
Urban hobby farms are a growing trend | Raising goats as a hobby farm
"Los Angeles is full of wonderful, diverse architecture and people, yet it's always surprised me that every home has the exact same green lawn," says Cassy Aoyagi, president of FormLA Landscaping, a Tujunga-based native landscape design firm. "I'd love to see more creativity in lawn design, and native grasses provide that well."
The following are just a few grasses that work well as alternative Southern California lawns, with extensive water and maintenance savings.
See these and more photos in a gallery
UC Verde buffalo grass (Bouteloua gracilis): "It's soft, green and quite lawn-like," says Aoyagi of the UC Riverside-researched grass. With an underground drip irrigation system, it can save about 50% of water usage, she adds. It's tough enough for hard use and requires few chemicals and little maintenance, and it can be mowed or left un-mowed. It's purchasable in plugs or as sod, approximately $3 per square foot installed. Armstrong Garden Centers, (800) 55-PLANT, www.armstronggarden.com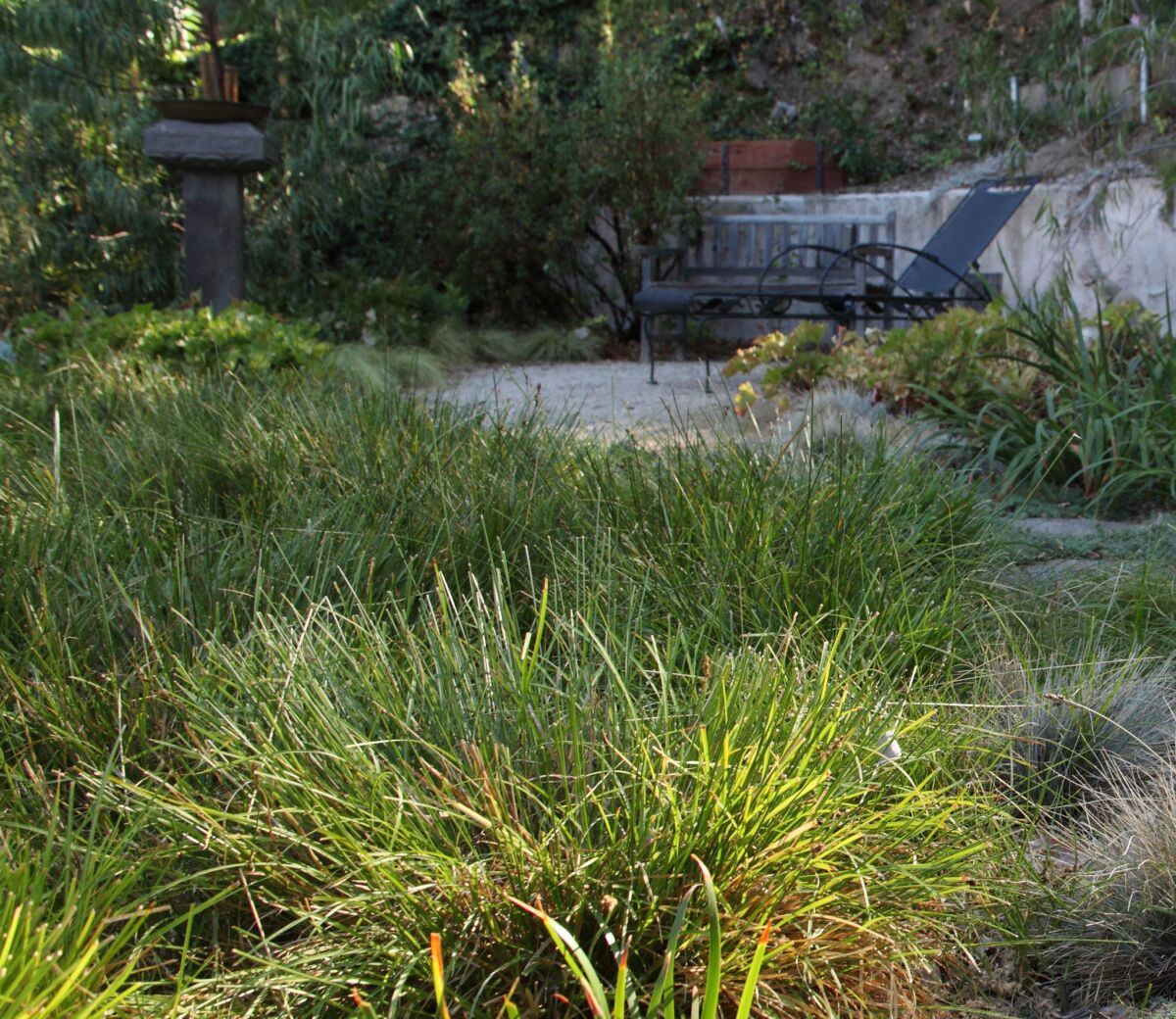 Dune sedge (Carex panza): A green clumping sedge grass, Dune sedge tolerates shade, sun and many soil types, and once established it can thrive under a good deal of wear. The grass can be mowed once a month or can be left long. Savings are 50% to 70% for water, depending on the irrigation system. It's installed in plugs and takes about four to eight months to fully establish. It costs $4 per square foot installed. Theodore Payne Foundation, 10459 Tuxford St., Sun Valley, (818) 768-1802, TheodorePayne.org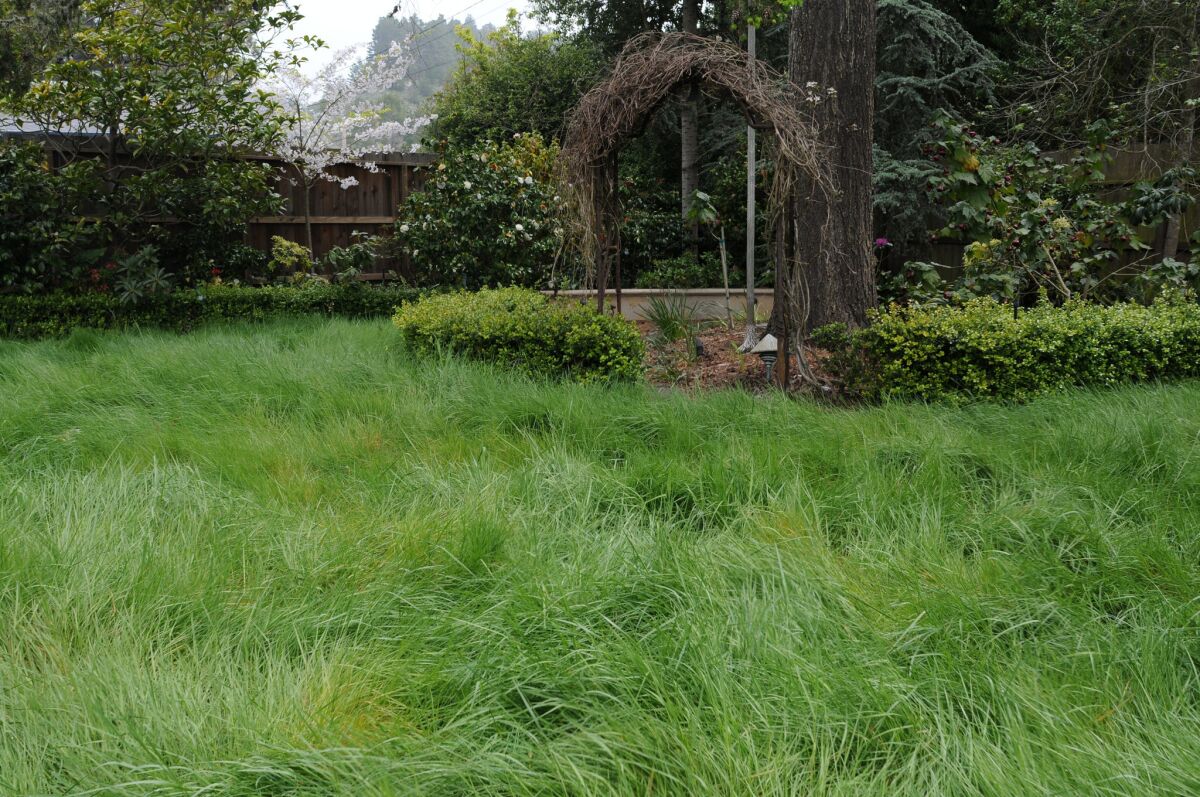 Native California bent grass (Agrostis pallens): "This is our No. 1 selling native grass," Sjoquist says. It's a bright green cool-season grass that withstands foot traffic and requires half the water and mowing maintenance of traditional turf. Left unmowed to flop, it creates the look of a natural, informal meadow. It's purchasable in sod for about $3 a square foot installed. Soils Solutions, 212 Hidalgo Court, Camarillo, (805) 236-9272, www.SoilsSolutions.com
Yarrow (Achillea millefolium): Yarrow is not an actual grass but is useable as an alternative to a lawn. It can be mowed or left long to flower. It can be grown from via seed, and with the right underground drip irrigation system it can save up to 70% in water. It's also is purchasable in plugs for about $4 to $8 per square foot installed. Theodore Payne Foundation.
Native Mow Free: A trademarked grass grown by Delta Bluegrass Co. in Stockton, the Native Mow Free blend uses a trio of grasses: Festuca idahoensis (Idaho fescue), Festuca rubra (Molate fescue) and Festuca occidentalis (Western Mokelumne fescue). "The Huntington Library has Mow Free now installed in all new construction," says Sjoquist. It can be mowed for use as a lawn or left unmowed for a meadow look. It costs about $3 a square foot for installed sod. Soils Solutions.
Are you a real estate junkie who likes luxury homes and celebrity cribs? Sign up for our Hot Property newsletter
MORE
43 ways to save water during the drought -- while still keeping the lawn
Photos: How to landscape with pavers that are low on water, high on appeal
How one L.A. couple ripped out the grass -- and created a drought-tolerant dreamscape