The Middle Ages: Went to a tailgate party to reminisce with my old friends...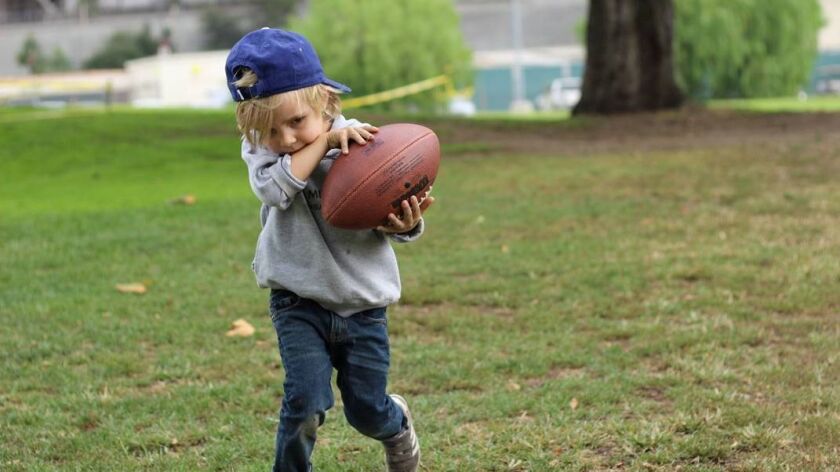 Stacking logs and fattening the calves for the onset of winter. Harsh conditions are certain to prevail. In no time, the 405 will be a blizzard of sheet metal and ill will. On L.A. freeways, one in 10 drivers is a complete idiot, which can sometimes make for pretty rough sledding.
At this time of year, we appreciate a little rain. Not too much, because that's when the hills start to slip, and the goo flows like pancake batter. As you've noticed, there is no stopping Mother Nature. When she sobs, she sobs.
The last of the autumn traditions is beginning to play out. Things are tough at home, so my sick wife, desperate for a dose of normalcy, sent me off to the Rose Bowl for one last tailgate of the season, in thanks for taking care of her these last few weeks. It was like sending an eager child off to kindergarten.
Thanks, baby, I needed that. For half a day, the world seemed a bit brighter.
You know, I've been thinking lately how this is the most interesting food era in human history. Dining has never been more intriguing than now, particularly on the West Coast, but really everywhere.
There are strange spices and farm-to-table ingredients. Fusions. Mad-inventive chefs. Craft beer. Aged manchego. Glazes. Dips. Sauces. Smoked quail eggs. Food trucks. Fried chicken. Kimchi.
They've even found a way to make Brussels sprouts taste good.
And why did it take so long to smear avocado onto a simple piece of toast?
Absolutely none of that creativity (or fussiness) was in evidence at our tailgate. Like Thanksgiving, we stuck to the classics. Fat sandwiches and a big, silver keg of beer, which one young lady thrust over her head in triumph once it was empty.
Honestly, this whole "We're No. 1!" stuff has bored me since high school.
For a moment, it wasn't just a tailgate party. It was "Game of Thrones."
"Let's love each other today," her neck tattoo said. "For we don't know what tomorrow will bring."
Yikes.
These autumn celebrations are important on some spiritual level that eludes me. Maybe it's the silly party games, maybe it's the way the Chardonnay Moms wiggle when Elvis sings "Blue Suede Shoes."
Most likely, it was the simple conviviality of it all. A perfect party — brimming with flawed and interesting people —has a range of ages, tastes and temperaments.
I am never more bored than when standing around with a bunch of people who look almost like me. Mix it up a little. A good party resembles Times Square on New Year's Eve, as if a bunch of strangers got off the bus and suddenly became war buddies.
But the real magic, for my co-hosts and me, was that many of our grown children came by the tailgate — not because their parents insisted but for other reasons.
Free beverages for one. Piles of free grub for another.
For another, here we were — fresh friends and ancient pals — in a generational fall festivus that wasn't the usual celebration of football or conquest or belittlement, which is what sports has become lately.
Honestly, this whole "We're No. 1!" stuff has bored me since high school. It's in our nature, sure, and preys on our insecurities. But this need to be No. 1 is fool's gold — divisive and stupid. It's tribal in the worst ways and creates enemies and battle lines when kinship is way more fun.
You're No. 1? Wow, so what. How many rules did you break to get there? When do the sanctions kick in?
On this day, neither team was battling for a national title or even a major Bowl berth. Still, there was spectacle — a flyover, great marching bands and robust Bloody Marys that nipped you on the lips.
In the background, as if in some Thornton Wilder play, was the Rose Bowl, in the beery glow of a California fall.
Mostly, there was camaraderie, a few laughs and some major memories.
The youngest tailgater was 3; the oldest, Mike Michael, was 97 — a year older than the stadium itself.
"Know who my favorite tailgater was?" my daughter Rapunzel asked when it was over.
"Me?"
"No."
"Brian Ulf?"
"Mike Michael," she said. "He always remembers my name."
Goodbye, autumn. Hello, holidays.
Twitter: @erskinetimes
---