Thanks, Dad: We've got 10 great ways to say Happy Father's Day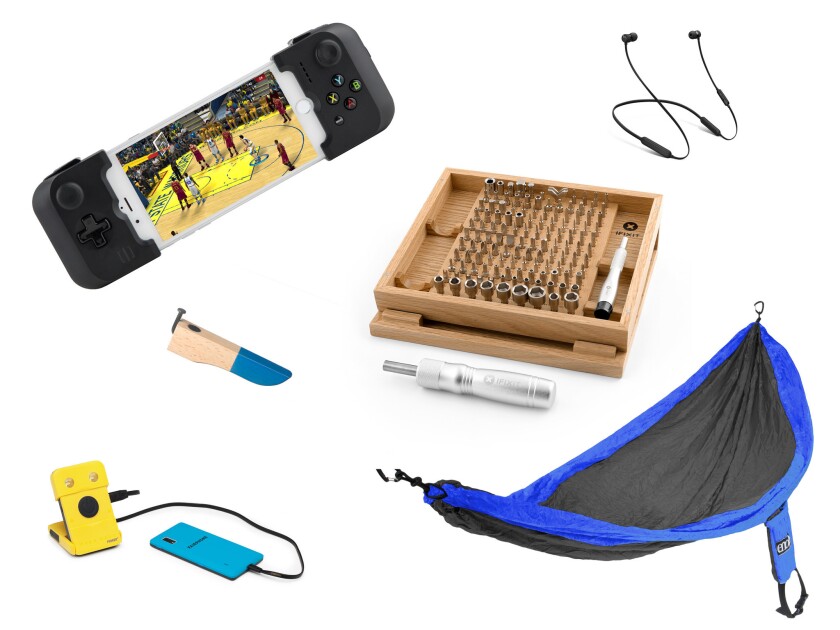 Want to hear a joke about paper? Never mind, it's tear-able.
Ah, dad jokes. Reason No. 2,149 to celebrate the guy who now carries your photos where his money used to be.
He's the family handyman. Or, not. The monster hunter, spider catcher, teller of tall tales and sometimes violator of the family anti-flatulence policy. Your very first superhero, with a cape cleverly disguised as a bathrobe and the kind of caffeinated courage required to take on the rewarding-but-daunting task of fatherhood. He is an ATM with car keys, the one who cheered loudest at your sporting events and who gives advice that sounds better with every passing year.
This Father's Day, we've rounded up a variety of gift ideas aimed at feeding Dad's craving for adventure and his possible interests (Is he a gadget guy? Craft beer connoisseur? Fire tender with flair?). And if he's just in need of a nice, long nap, we've got that covered too. (See: hammock).
And yes, you could get him a new wallet. If so, just tuck in a coin for good luck and a picture of yourself:
The action hero RinseKit Lux soft tote with heater is a soft-sided, portable, pressurized shower designed for cleaning up after outdoor activities,$159.95 at RinseKit.com.
(RinseKit )
Forget flowers, think salami... as in Salami Bouquets, starting at $50 at OlympiaProvisions.com.
(David Reamer)
Pair a six-pack of his favorite beer with a natural beech bottle opener by Brendan Ravenhill for Areaware, from $10 at Areaware.com.
(Areaware )
Music to his ears (or for that favorite podcast): BeatsX wireless earphones, $149.99 at T-Mobile.
(T-Mobile )
Game on: Ready player one Gamevice Mobile Controller for iPhone, $79.99 at T-Mobile.
(T-Mobile)
New toys, er, tools: The 128-piece steel universal bit kit, $99 at ifixit.com.
(ifixit )
To sleep perchance to dream: The lightweight ENO SingleNest hammock, $59.95 at REI.
(ENO )
Playing with fire: Powder-coated stainless steel Barrow fire pit and barbecue by Konstantin Slawinski, $925 at store.moma.org.
(Konstantin Slawinski )
Make him laugh: "One Day You'll Thank Me: Lessons From an Unexpected Fatherhood" is a poignant, funny book about the life of a modern-day dad by David McGlynn, $25 at Barnes & Noble.
(Counterpoint Press)
Harness the sun (gadget alert!): WakaWaka power + portable solar charger, $59.99 at Waka-Waka.com.
(Cas Van Kleef )
Bonnie McCarthy contributes to the Los Angeles Times as a home and lifestyle design writer. She enjoys scouting for directional trends and reporting on what's new and next. Follow her on Twitter @ThsAmericanHome
ALSO
How designer Nate Berkus blended old and new in his L.A. kitchen remodel
They found a real estate unicorn: A house with great 'bones,' ready for decorating
You've never seen a kitchen island sink like this
How online art galleries are serving up talent — and sales — without the 'tude
---