How to help fireproof your home before the next big wildfire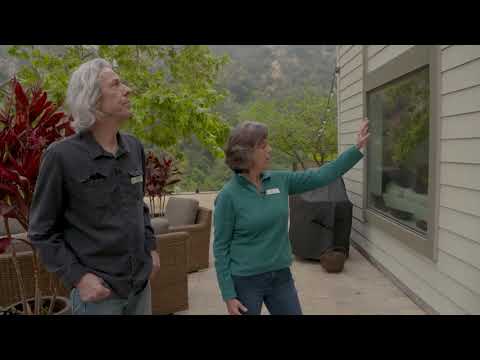 L.A. Times Today airs Monday through Friday at 7 p.m. and 10 p.m. on Spectrum News 1. 
As Los Angeles homeowners prepare to trim grass, weeds and trees for the annual brush clearance inspections in May and June, the L.A. County Fire Department's Forestry Division advises moving beyond standard procedures when it comes to reducing wildfire risk.
"The state is trying to pull away from the term 'brush clearance' and change the mind-set," says Assistant Chief J. Lopez. "Clearing brush is going to help, but that puts the blame on brush only."
So what should homeowners do? "Harden your homes," Lopez says. "The best chance for a home to survive is by protecting the first 30 feet surrounding the home. We know it works."
Lopez suggests removing nearly all vegetation and trees next to dwellings and windows. Bougainvillea vines thrive in the California sun, but dead flowers can become fuel when hit by raining embers. Similarly, juniper trees can generate tremendous heat, causing single-pane windows to break.
But to thoroughly "harden" their homes against wildfire, homeowners need to think beyond greenery — to windows, fencing, roofs and vents.
Landscape designer and native plant advocate Cassy Aoyagi, who gives lectures on fire-resistance strategies, agrees that brush clearance is not a silver bullet. "An 'inside-out' way of thinking is going to protect your home the most," she says.
Ryan Ulyate, co-president of the North Topanga Canyon Fire Safe Council, recommends neighbors band together and form a local fire safe council. "If you've done your homework and your best to harden your home, you're going to be more than OK if you get the call to evacuate," he says. "Everyone can do something to lessen the vulnerability of their home."
The good news: With smart design and landscaping, homeowners can create plenty of "defensible space" around their homes. Here, Lopez offers tips for doing just that, mixing proven results with common-sense basics. "The No. 1 thing anyone can do to protect their home is simple: Maintenance."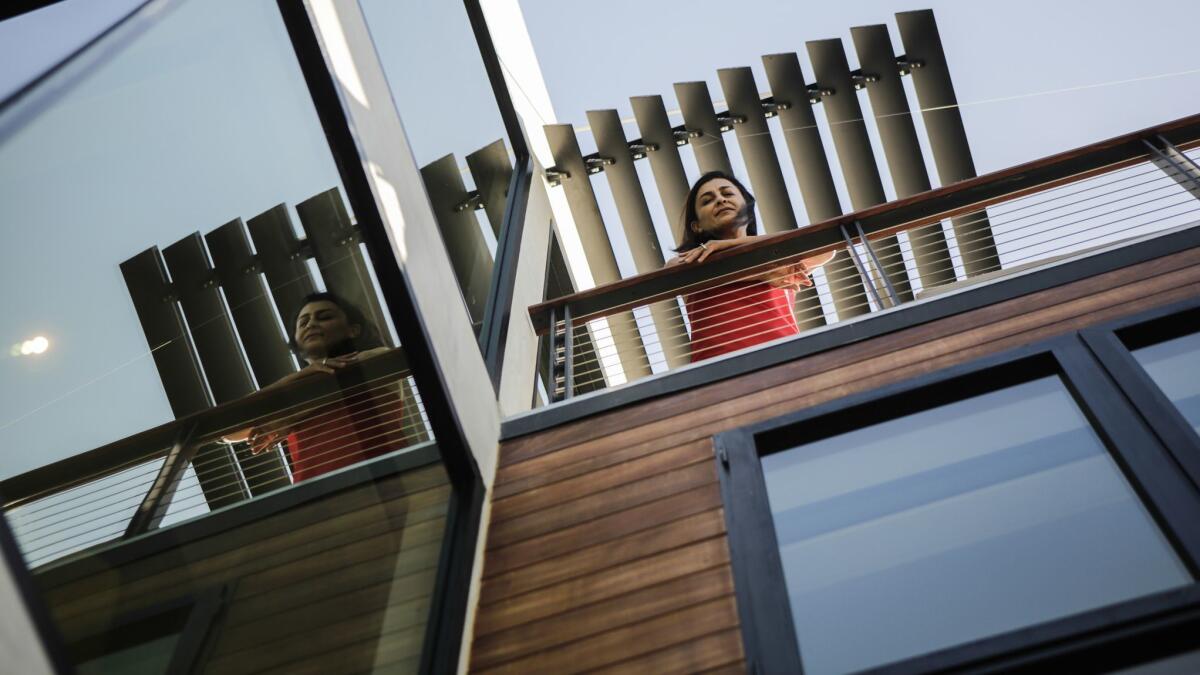 WINDOWS
Single-pane windows, skylights and large windows can break in fires, allowing embers into the house. To prevent breakage, install dual-pane windows with tempered glass on the outside. Los Angeles architect Cory Buckner blames the loss of her home in the Woolsey fire on the structure's windows. "What I know now is that the window type has a lot to do with whether a house will weather a firestorm or not," Buckner says. "I had hopper windows in the main house that burned and there was one wall remaining with the hopper blown open. That may have been the reason why I lost it." Fifteen of the 22 homes in Buckner's Yellow Hills neighborhood were lost in the firestorm, but the fireproof studio that Buckner and her husband had designed survived.
FENCES
Wood fences can easily ignite. If you can't install iron, brick, concrete or other nonflammable fencing, Lopez advises installing a protective barrier made of stone or metal between any wood fencing and your house. Breaking up the continuity of fuel will slow the fire as it approaches your home. "Maintain your fence," Lopez says. "And keep vegetation away from it."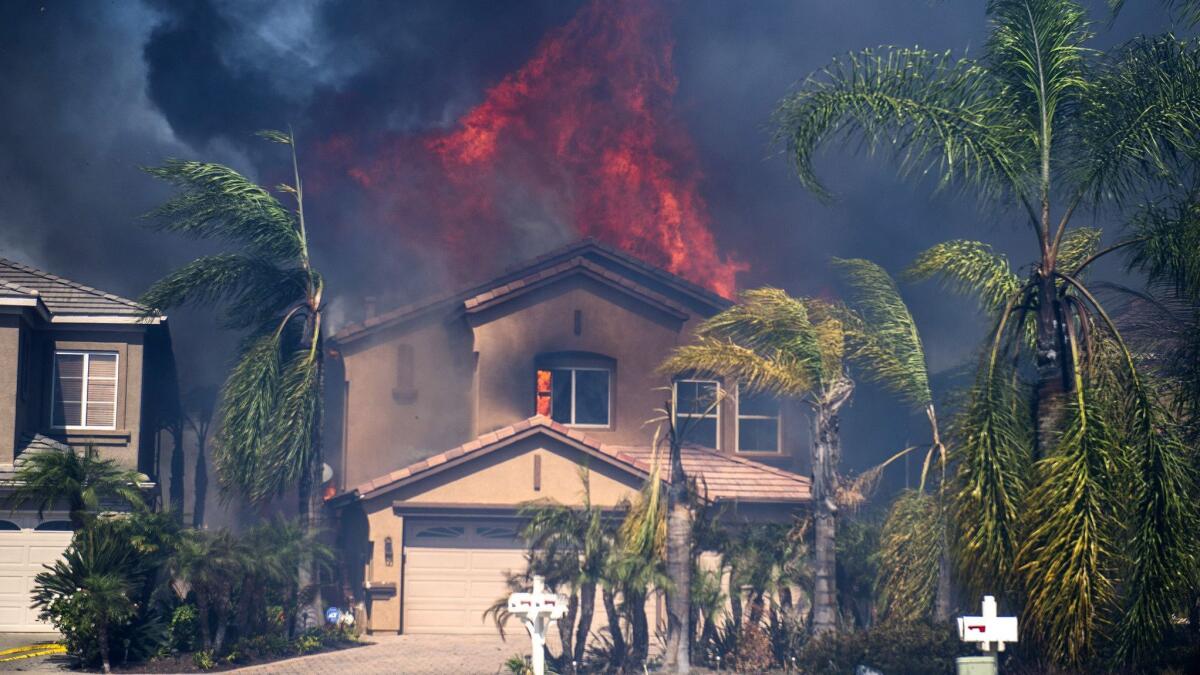 ROOFS
Replace wood shake and shingle roofs with coverings that are Class A fire-rated, such as asphalt composition shingles, tile or steel. If you have a Spanish tile roof, seal any dry crevices and remove any birds' nests you may have acquired near the edges. "People have to be vigilant about sealing gaps that exist at the end of their roofs," Lopez says. "That is where embers can enter."
VENTS
Research shows that one-eighth-inch wire mesh placed over basement openings and gutters can protect homes. Mesh comes with an added bonus, Lopez: "It is also impossible for a raccoon to try and pry apart." Attic vents should also be covered. "They are like the filters you see in restaurants," he says. "Embers go in there and bounce so hard that they break apart."
LANDSCAPING
Creating breaks and walkways between plants can disrupt the path of a fire. Breaks will also provide critical access for firefighters. "If you can have three to five feet of space, especially from the wall out, it will help firefighters walk through there, especially if they have hoses and disposables," Lopez says. Thinning trees and shrubs will ensure that fire stays on the ground. Both the Fire Department and Aoyagi recommend planting California natives that retain moisture and hold hillsides well. "Native plants are going to be less likely to burn and will stay cooler," says Aoyagi. Dispose of invasive plants, such as Washington fan palms, that often grow in sidewalk crevices. And when it comes to gravel, balance is key. "Permeable surfaces will hold water better when it rains," Lopez says.
GUTTERS
Regularly clear gutters of pine needles, leaves and other debris that can ignite. Screen or enclose gutters to prevent them from becoming clogged.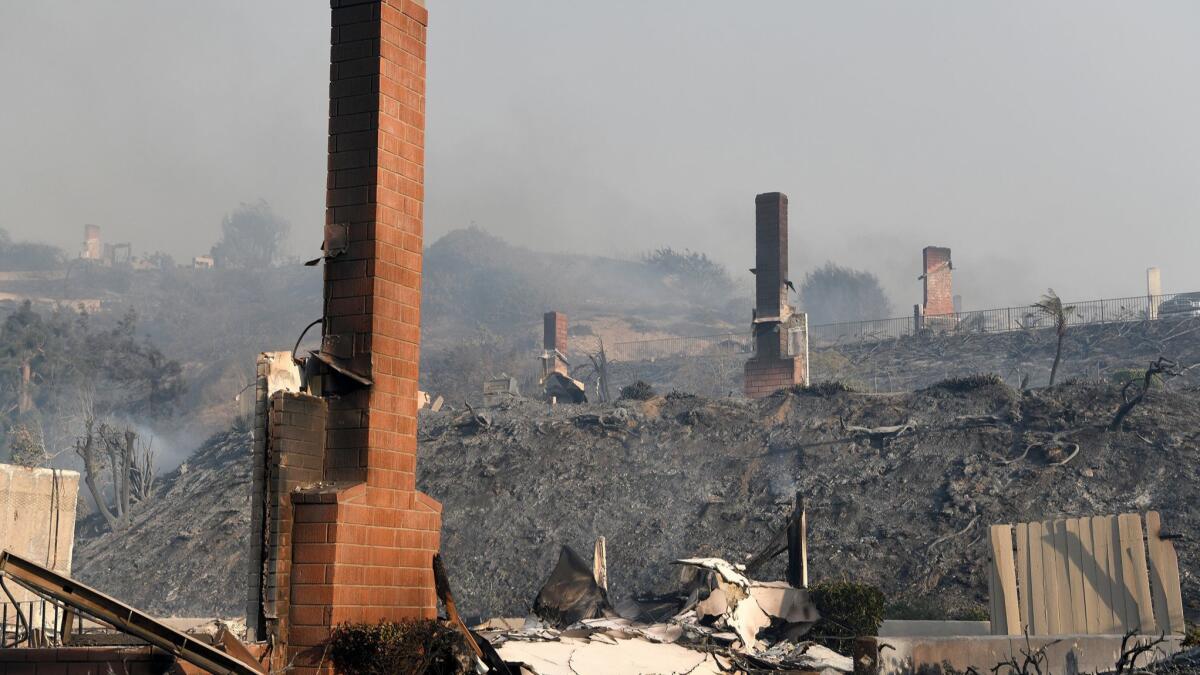 CHIMNEYS
Trim tree branches so that they are 10 feet away from the chimney. If you are in a fire zone, Lopez recommends installing a spark arrester.
MULCH
Mulches cut down on water needs, but they are flammable. A 2008 evaluation of mulch combustibility found that shredded rubber mulch burns most easily, while composted wood chips burned the least. "Wooden mulch that has some moisture in it is much better than having rubber mulch, which is highly flammable," Lopez says. He recommends keeping mulch two to three feet away from your house — and well irrigated. "The moisture is going to be your best friend."
DECKS
Keep decks clear of debris, baskets, dried flowers, flammable cushions and propane tanks. Enclose the area underneath decks with fire-resistant materials.
MORE TIPS
The Los Angeles Fire Department provides more details on brush clearance, including requirements, a list of contractors, the inspection process and how to report a hazard. The University of California Fire Information Center maintains a checklist for creating fire-resilient homes. The L.A. County Fire Department's fuel modification webpage includes plant selection guidelines and the Ready! Set! Go! wildfire action plan. The University of Nevada Living With Fire program has a helpful interactive feature on its Be Ember Aware page, illustrating the many ways that embers can ignite a house. And the North Topanga Fire Safety Council offers more details on how to harden your home.