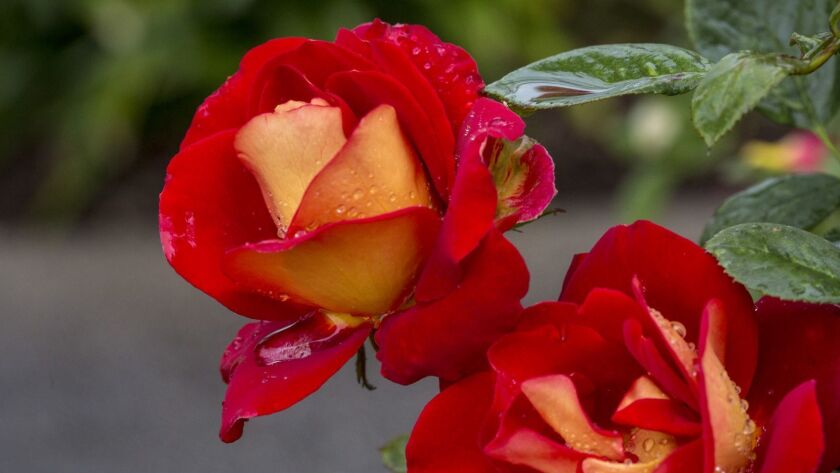 It may be cold outside, but January is prime rose-pruning time in Southern California, so bundle up, don some thick, preferably elbow-length gloves, and get snipping.
Not sure how to start? Luckily, there are a plethora of rose-pruning classes at local nurseries, arboretums and botanical gardens. Check out the offerings below.
Have an item for our gardening datebook? E-mail us at home@latimes.com — please give us plenty of advance notice! — and we may include it at a later date. For a primer in rose care when water is scarce, read this article from 2018.
Saturday, Jan. 5
Rose pruning and care with instructor Jill Morganelli, horticultural supervisor of the Los Angeles County Arboretum, 301 North Baldwin Ave., Arcadia. This two-hour workshop starts at 9 a.m. and includes tips on soil building, disease control and proper pruning. $35 for non-Arboretum members (includes price of admission). arboretum.org/events
Sunday, Jan. 6
Rose pruning demonstration by the South Coast Rose Society, for hybrid tea, floribundas, climbing, miniature and old garden roses followed by a hands-on workshop with tips about proper pruning tools and preparing the rose garden for spring bloom. 1 to 4 p.m. at the South Coast Botanic Garden, 26300 Crenshaw Blvd., Palos Verdes. Demonstration free with $9 admission ($6 students/seniors). southcoastbotanicgarden.org
Saturday, Jan. 12
Rose pruning and planting demonstrations at most of the 31 Armstrong Garden Centers in Southern California, from 9 to 10 a.m. Classes are free; contact your local store to ensure they are offering the class. armstronggarden.com
Sunday, Jan. 13
Rose pruning demonstration in the rose garden of UC Riverside's Botanic Gardens, 1 Botanic Gardens Drive, Riverside (on the UCR campus), 1 to 3 p.m. Demonstration is free; suggested $5 donation to enter the gardens. gardens.ucr.edu
Saturday, Jan. 19
San Marino City Arborist Ron Serven leads his 26th annual rose pruning workshop at Crowell Library, 1890 Huntington Drive, San Marino, discussing optimum pruning techniques and how to keep your roses healthy in drought or cold. The 90-minute workshop starts at 9 a.m. and is free. No reservations required. cityofsanmarino.org
Rose pruning seminar by Laura Weaver and Lynn Hillman, the rose experts at Roger's Gardens, 2301 San Joaquin Hills Road, Newport Beach, demonstrating best pruning techniques, how to manage those long thorny canes, maximize blooms and reduce disease. Seminar starts at the center's amphitheater at 9 a.m. and then moves to the rose garden for hands-on experience. Admission free. rogersgardens.com
Thursday, Jan. 24
Rose pruning workshop by Tom Carruth, the E.L. and Ruth B. Shannon Curator of the Rose Collections at the Huntington Library, Art Collections, and Botanical Gardens focuses on the tools and techniques for "tackling this thorny task." Participants get to practice their new-found skills in the Huntington's rose garden, 1151 Oxford Road, San Marino. 9:30 a.m.; advance registration required. $45 for non-members.To be added to the wait list, call (626) 405-3457. huntington.org. For tickets visit brownpapertickets.com
---