Cocoa mix, icebox cookies and preserved lemons: Holiday gifts from our Test Kitchen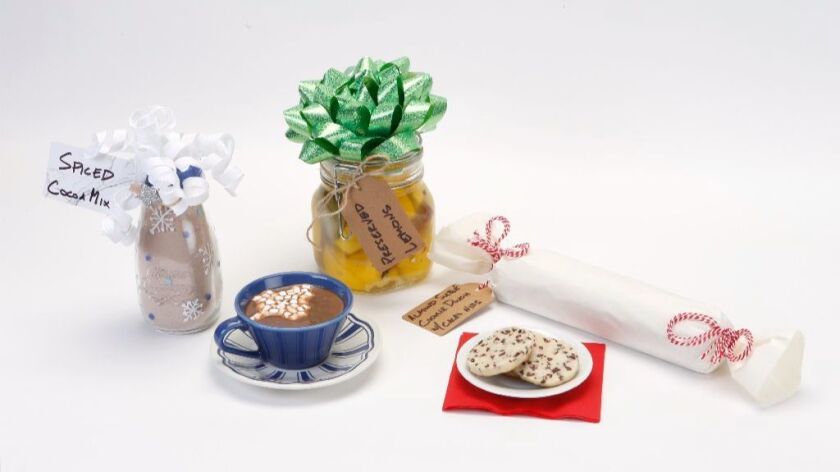 Looking for homemade holiday gift ideas? There are so many ways to get crafty in the kitchen. Not only are handmade gifts a great way to stay on budget during the holiday season, they're a creative and thoughtful way to show how much you care.
From a batch of freshly made caramels to a bowl of homemade granola, gifts can range from ideas that come together quickly to more involved recipes. Homemade gifts also make great projects for kids.
The following are three unique gift ideas, each tailored to specific tastes:
Please the early morning riser in your life with a batch of homemade cocoa, tailored to their tastes with ground cinnamon, marshmallows or chiles — or even ground coffee for a needed jolt of caffeine. Give the busy entertainer a log of icebox cookies — ready to bake at a moment's notice, they make the perfect snack or gift. And for adventurous cook, a jar of preserved lemons to bring the taste of the Middle East home for tagines and other delicious recipes.
5 minutes. Serves 6 to 10
1 cup unsweetened cocoa powder, preferably Dutch process
Makes a generous 3 cups cocoa. To serve, stir 1/3 to 1/2 cup mix with each cup of hot water.
Each of 10 servings: Calories 132; Protein 3 grams; Carbohydrates 32 grams; Fiber 3 grams; Fat 1 gram; Saturated fat 1 gram; Cholesterol 1 mg; Sugar 26 grams; Sodium 144 mg
Note: From Noelle Carter. To customize each batch, flavor to taste with ground coffee, chile powder, cinnamon, cloves or allspice.
ALMOND SABLE ICEBOX COOKIES WITH CACAO NIBS
Total time: 45 minutes, plus cooling times | Makes about 1 1/2 dozen cookies
2/3 cup plus 2 tablespoons refined coconut oil or butter, at room temperature
1/3 cup vegan or standard granulated sugar
1 teaspoon vanilla extract
1/2 teaspoon almond extract
1 cup (4 1/4 ounces) flour
1. In the bowl of a stand mixer fitted with a paddle attachment, or in a medium bowl using a hand mixer, beat together the coconut oil, sugar, vanilla extract, almond extract and salt until well combined, 1 to 2 minutes.
2. By hand, stir in the almond meal and flour until thoroughly incorporated. Use your hands if needed to knead the ingredients, still in the bowl, together to form a uniform dough. Stir or knead in the cacao nibs.
3. Form the dough into a log approximately 2 inches in diameter and roll in a sheet of plastic wrap (the dough will be crumbly, and the plastic wrap will keep each cookie in place as it is sliced). If the dough is too soft to slice, refrigerate the log to firm it up, 10 to 15 minutes.
4. Heat the oven to 350 degrees. Cut the log, still in the plastic wrap to support the dough, crosswise into slices 1/4-inch thick. Remove any pieces of plastic wrap and space the slices 1 1/2 to 2 inches apart on parchment-lined baking sheets. Tip: Rotate the log one-quarter turn in between slices to keep the round shape of the cookies as they are sliced.
5. Bake the cookies until set and very lightly colored, 16 to 20 minutes, rotating the cookies halfway through for even baking.
6. Place the baking sheets on a rack and cool the cookies completely before removing.
Each of 18 cookies, made with coconut oil: Calories 177; Protein 2 grams; Carbohydrates 11 grams; Fiber 2 grams; Fat 14 grams; Saturated fat 10 grams; Cholesterol 0; Sugar 4 grams; Sodium 33 mg.
Note: From Noelle Carter. Sugar is often processed using animal bone char, which is unacceptable to many vegans. Vegan sugar (animal-free processing) is generally available at health food markets, as well as online.
10 minutes, plus 30 days ripening time. Makes 10 preserved lemons
1/2 cup salt, more if desired
Freshly squeezed lemon juice, if necessary
1. If you wish to soften the peel, soak the lemons in lukewarm water for 3 days, changing the water daily.
2. Quarter the lemons from the top to within 1/2 inch of the bottom, sprinkle salt on the exposed flesh, then reshape the fruit.
3. Place 1 tablespoon of salt on the bottom of a sterile 1-quart mason jar. Pack in the lemons and push them down, adding more salt, and the optional spices between layers. Press the lemons down to release their juices and to make room for the remaining lemons. (If the juice released from the squashed fruit does not cover them, add freshly squeezed lemon juice — not chemically produced lemon juice and not water.) Leave some air space before sealing the jar.
4. Set the lemons aside to ripen in a warm place, shaking the jar each day to distribute the salt and juice. Ripen for 30 days.
5. To use, rinse the lemons, as needed, under running water, removing and discarding the pulp, if desired — and there is no need to refrigerate after opening. Preserved lemons will keep up to a year, and the pickling juice can be used two or three times over the course of a year.
Each 1/4 lemon: Calories 4; Protein 0; Carbohydrates 1 gram; Fiber 1 gram; Fat 0; Cholesterol 0; Sugar 1 gram; Sodium 698 mg
Note: Adapted from a recipe in "Couscous and other Good Food from Morocco" by Paula Wolfert.
---
Please consider subscribing today to support stories like this one. Already a subscriber? Your support makes our work possible. Thank you. Get full access to our signature journalism for just 99 cents for the first four weeks.
---