Holiday gifts that say: I love you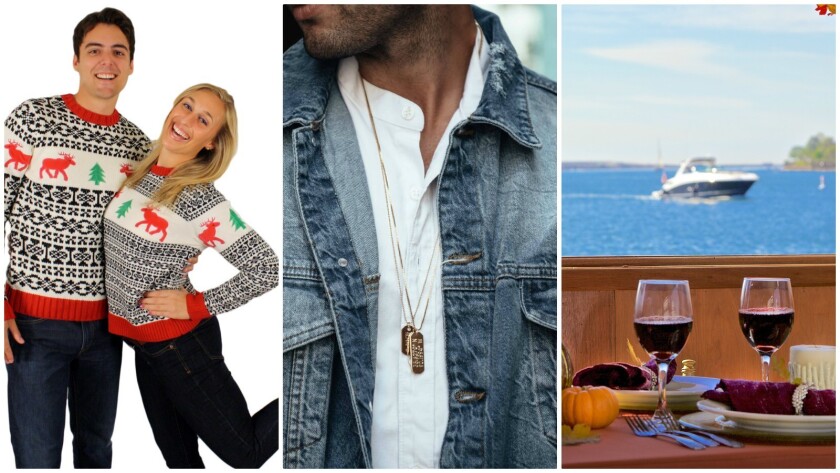 Romantic gifts for Christmas? Do you really have to ask? Everyone knows the most romantic thing you can find under the tree is a rock. (Like… the kind you find at Tiffany's!) Here are other gifts that say, "I love you lots."
Pronoun glasses
Add a personal touch to sharing a drink with that special someone. The 8-ounce glasses come in hers/hers, hers/his and his/his hand-engravings. Don't see your preferred pronouns? As long as this part of your identity can be expressed in 13 characters or fewer, you can customize for a set of four. $44. loveandvictory.com
Dated photo frame
Was 2017 one dumpster fire after another for you? No matter your answer, pick out a photo that represents a silver lining moment spent with your partner this year. Celebrate it with this monogrammed enamel frame that comes in red or white. Starting at $29.50. potterybarn.com
Coordinates necklace
Commemorate the location of where you met, got married or a special moment with minimalist jewelry. After selecting the necklace style, metal, finishing color and coordinates, you can engrave an optional message or date. Coordinates Collection also offers bracelets, cufflinks and rings. Necklaces start at $160. coordinatescollection.com
Matching ugly sweaters
Strut around in a public display of cheesy coupledom. At least, you will be warm, in good company and easy to spot in a crowd. Dog and kid versions are available for sweater options. Adult sweaters start around $34.99 each. festified.com
Illustrated cards
Hear us out: A card can be a great place to actually say what you're thinking and — gasp! — feeling. The wordplay and pop culture references in these are a step above most holiday cards. But if you can't find one to your liking and aren't crafty enough to make it yourself, email the independent company for a custom design. $5. tayham.com
Streaming service gift cards
Worn out as the Netflix and chill phrase may be, it remains a go-to pastime. Help your significant other catch up with the fragmented media consumption landscape that is 2017 with a subscription to Netflix, Hulu, Amazon Prime or HBO Now. $15 and up. You can go straight to the source to buy or drive-by a CVS, Best Buy or Walgreens.
Luxury blanket
Cozyville — that's how Dev from Master of None describes a fur blanket during cuffing season. Give in to the melatonin in your bodies and indulge winter grogginess in this faux fur chinchilla blanket. Pairs well with streaming service gift cards. $79.95. pier1.com
Keep it all together
Help your favorite traveler keep essential items organized in this leather passport cover and luggage tag. It comes in 13 colors with an option to monogram for an additional $20. Nice, sure. But how is this romantic? Surprise them with a vacation by putting flight tickets into the passport case, of course. Starting at $50. Flight tickets not included. leatherology.com. We also like the one from Nordstrom.com, shown here, $73.
Updated Nov. 10, 5:02 p.m. An earlier version of this post failed to include the Nordstrom purchase information.
Holiday brunch cruise
Ever wonder what yacht life is like? Hornblower cruises have seven ports along the California coastline, including San Francisco, Marina del Rey, Long Beach and San Diego. Enjoy the buffet and free-flowing champagne with holiday music and ocean views on December weekends. Plenty romantic. $67.95 per guest. hornblower.com
Couples massage
When you shop for a partner, sometimes you end up buying a gift for yourself too — as is the case with a couples massage. The Tomoko Spa in Beverly Hills offers three packages with your choice of massage treatment combining Swedish and Japanese techniques. All packages come with a private suite and shower, detox foot soak, organic green tea and Japanese sweets. The most expensive package comes with a 30-minute bath treatment and sushi. To place an order, call the spa and choose a gift certificate in PDF form or a gift card package via mail. For two people, $360-$870. tomokospa.com
---
Please consider subscribing today to support stories like this one. Already a subscriber? Your support makes our work possible. Thank you. Get full access to our signature journalism for just 99 cents for the first four weeks.
---