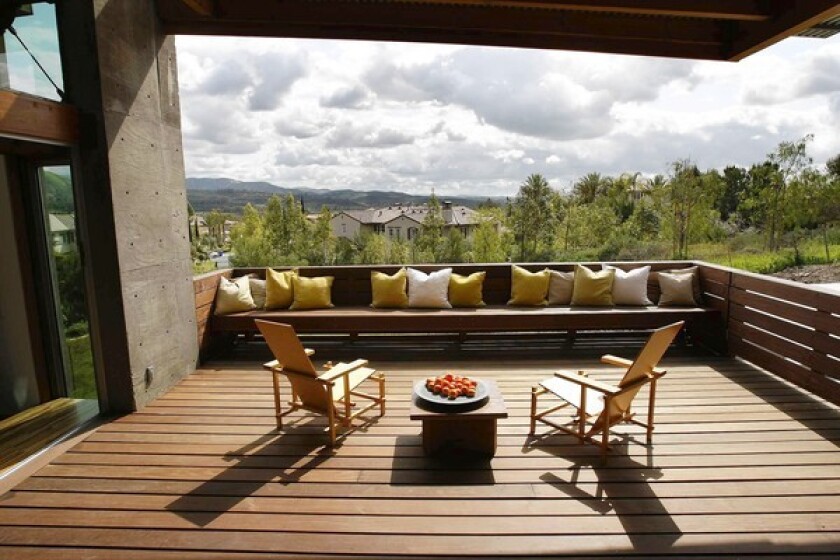 Poured-in-place concrete walls. Glued, laminated Douglas fir beams. A galvanized steel roof. Architect Ruth Hasell's emphatically modern home in Orange County isn't just a rejection of the phony French castles and wannabe Tuscan villas proliferating in nearby housing developments. It's also her vision of what more homes in Southern California could — and should — look like.
"I wanted the house to be a vivid reflection of built work that was Californian and a direct response to our time and to this place," she says, "not a dim reflection of a misremembered style from another lifetime and another continent."
Hasell, who served as project architect for surfwear maker Quiksilver's headquarters in Huntington Beach, embraces the kind of Southern California design pioneered by Rudolph Schindler and Richard Neutra and refined by the likes of Cliff May. Her home also was shaped by the two-story dwelling she lived in as a girl in Canada, where her immigrant parents rented out the top floor to scrape by, and a stint living in space-challenged Japan with husband Gary, who leads the planning and building of hotels in Asia for Walt Disney Imagineering.
Another powerful influence: raising two children in a tract house in Tustin.
"Now I understand what makes those houses unlivable," says Hasell, who left the Newport Beach firm of Bauer & Wiley and started her own firm in 2002. "Ours had a vaulted ceiling and was always either too hot or too cold. Spaces morphed into each other and had no definition. The orientation, light and acoustics were bad. Living there was a visceral reminder of what I needed to pay attention to when designing houses."
Such poor design is all too common, says Dana Cuff, a professor of architecture and the director of the urban-design think tank CityLab at UCLA. Some developers consider historically reminiscent architecture a safe commodity, and they tend to offer little more than plain boxes gussied up with shutters and red tile, Cuff says.
"The building industry is tied to the lending industry, so when real estate values or mortgage defaults go up, the investment is greater and the more risk-averse everyone becomes," Cuff says. "The irony is that people have an emotional association with traditionalism, but it's a traditionalism based on invented traditions and invented interpretations. If you go to Spain or Italy, you won't find anything like what passes for Spanish Colonial or Tuscan here."
Equally discouraging, she adds, is the disconnect between how contemporary architecture is embraced in the public sector versus how it's regarded in residential communities.
"Southern California is known for its adventurousness, its offbeat ideas and creative industries," Cuff says. "But while people might like the way Walt Disney Concert Hall looks, they don't necessarily want it in their neighborhood. For some reason, contemporary design feels like a stranger in their midst. Any change is inherently threatening."
When the Hasells decided to build their dream home, they searched for a location where they could indulge their taste for modern architecture. They settled in the unincorporated area north of Tustin known as Lemon Heights because the quiet neighborhood of renovated 1960s ranch houses has no design-review board.
Free from constraints, Hasell designed a three-bedroom, three-bathroom house that harnesses natural light, conserves energy and enhances comfort throughout 3,300 square feet dug into the eucalyptus-shaded slope.
"The place feels large but is actually much smaller than a lot of the houses around us," says Hasell's husband, Gary. "It fits the site really well and feels like it belongs."
In developing a floor plan, Hasell divided the building. She and her husband live upstairs, which contains the library, kitchen and dining and living areas on one side of a thick concrete wall, and the master bedroom on the other. In winter, the wall absorbs the sun's heat through a central skylight and warms the house at night. In summer, the concrete cools overnight and helps to keep indoor temperatures comfortable during the day.
The lower floor, which has a separate entry, can serve as guest quarters for the couple's visiting children or, during the economic downturn, as an office for Hasell's firm.
Exterior materials protect against wildfires, and interior finishes were selected for visual interest and continuity. The floors are tiger bamboo, a vividly patterned type of the sustainable material, and countertops and bathroom walls are the same earthy Peruvian travertine.
Hasell positioned the house to avoid the worst summer sun while framing views of the backyard pool and Saddleback Mountain. The covered ipe porch off the master bedroom faces southeast, affording front-row seats at sunrise.
"The house is like a landscape- and weather-viewing instrument," she says. "We watch the light and shadows change during the day and from season to season. We open the doors, and breezes come through. When it rains, we watch water bubble off the roof. From the moment we wake up, we feel directly connected to the environment."
Throughout the house, structural elements become decorative features. Exposed steel tie rods that stabilize walls also look good. Glulam columns form open bookshelves, so that favorite titles are visible upstairs and down.
"People go to a lot of lengths putting in crown molding to make their homes look like something else," Gary says. "But our beams and struts are an important and elegant part of the design."
One of Hasell's trademarks is streamlined, multifunctional storage. In the kitchen and dining area, white lacquered pivot doors open to reveal an illuminated buffet for entertaining.
For the master bedroom, she borrowed ideas from Japanese homes, where every inch counts. Storage behind the bed conceals a pullout vanity and mirror. In the master bathroom, sink, shower and toilet are compartmentalized.
"The Japanese usually have only one bathroom, but they separate everything," Hasell says. "So, like they do, one of us can use the shower while the other uses the toilet."
Around another corner of the master, the washer and dryer are tucked behind convenient slide-away panels. "Designing the laundry area into the walls was a way to make what would have been just circulation space functional space," she says.
Such practical style is meant to lend the kind of timeless appeal that Hasell admires in the 1922 Schindler House, the West Hollywood landmark that looks as though it could have been designed yesterday. Like modernists before her, the goal is clear: "I wanted to build what's appropriate for our climate, our latitude, our expansive way of living that is Californian."
---