Brian Grazer sells to Ben Affleck, Jennifer Garner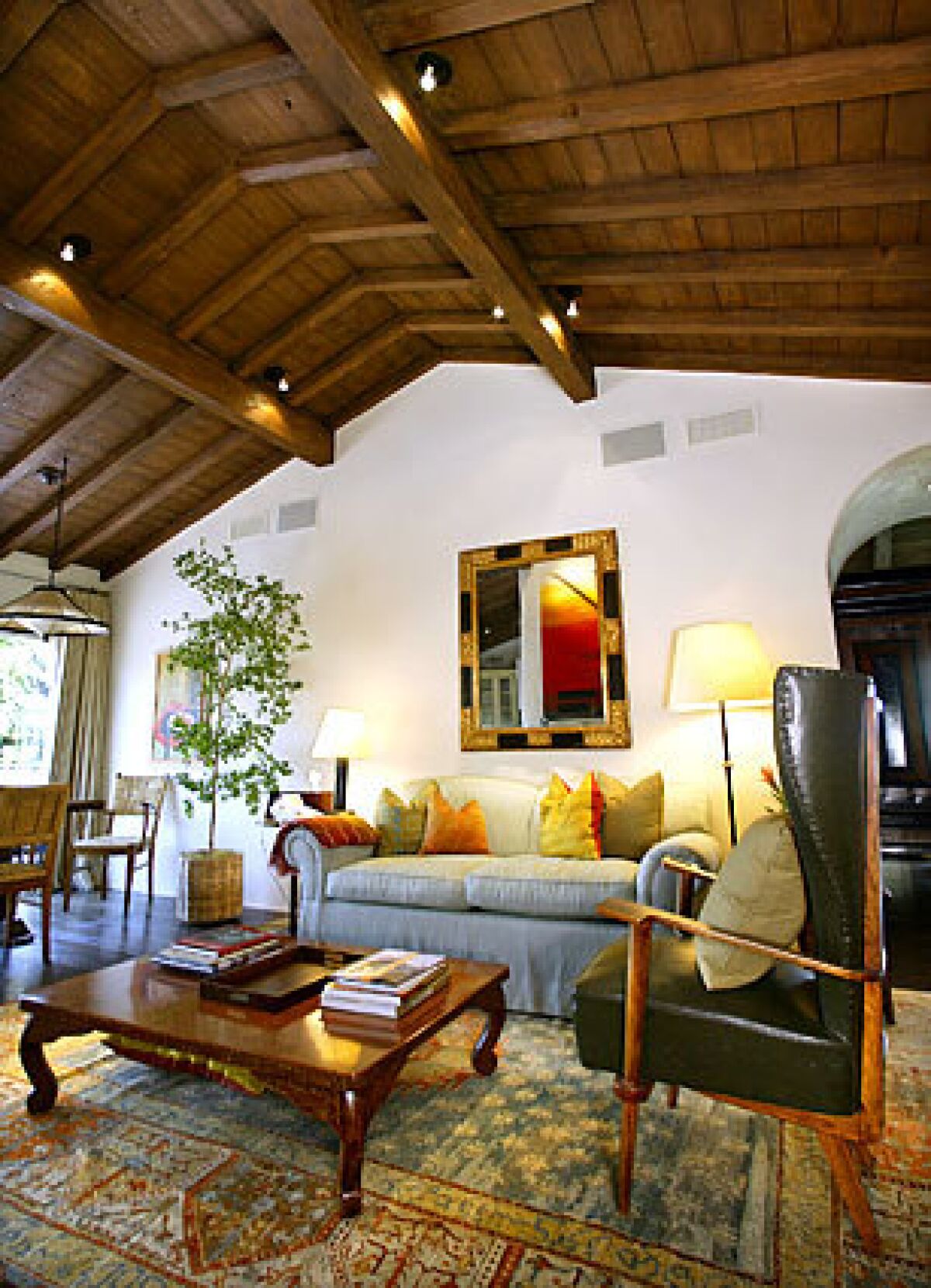 Acting couple Ben Affleck and Jennifer Garner are the latest owners of a California ranch house in the Pacific Palisades that has been capturing the imagination of A-listers since Gregory Peck bought it in 1947. The pair recently purchased the nearly 8,800-square-foot home from producer Brian Grazer for $17.55 million, according to public records.
Built in the late 1930s, the Cliff May-designed low-slung house was innovative for its time and today is considered typical of his trademark designs. Rooms flow easily from one to another or onto patios, allowing for the passage from indoors to outdoors without stepping down. Large picture windows take in the views.
Peck, who lived in the one-story home until 1952 with his first wife, Greta, favored the den as his retreat. A Life advertisement for Pabst Blue Ribbon beer shows the couple at the room's bar.
After a series of owners, the home was brought back to life by Grazer in the mid-'90s -- updated, expanded and rebuilt to keep the structure intact and maximize the canyon, city and ocean views. In addition to the five-bedroom, eight-bathroom main house, there is a swimming pool, a guesthouse and an office/gym/art studio, according to the Multiple Listing Service description.
The 3-acre, cliffside compound had been listed at $27.5 million.
It's not likely Affleck and Garner will be making beer commercials in their new home. Affleck, 36, who stars in the recently released drama "State of Play," had his breakthrough role in "Good Will Hunting" (1997), for which he shared a screenwriting Oscar. He appeared in such blockbusters as "Shakespeare in Love" (1998) and "Pearl Harbor" (2001).
Garner, 37, rose to stardom on the TV series "Alias" (2001-06) and plays opposite Matthew McConaughey in the new "Ghosts of Girlfriends Past."
Grazer, 55, shared a best picture Oscar with Ron Howard, his partner at Imagine Entertainment, for "A Beautiful Mind" (2001). The prolific television and film producer also worked with Howard on "The Da Vinci Code" (2006) and "Angels & Demons," in release May 15.
State's priciest home sale for '09
The high-water mark for California home deals on the public record so far this year has been set with the sale of a Beverly Hills mansion for $31.5 million.
The 27,000-square-foot French Normandy on 2 acres has 10 bedrooms, 14 bathrooms and 7 fireplaces. The newly built Richard Landry-designed home had been on the market for 255 days, according to the MLS, and had originally been listed at $45 million.
What does one get in this price range? For starters, a waterfall running down the side of the three-story mansion, a circular library with a glass floor revealing a 2,500-bottle wine cellar below and an indoor swimming pool with a gym. There's also an outdoor pool with spa and outdoor living and dining areas. Bearing some resemblance to a castle, the house even has a plank "bridge" over a water element that gives the appearance of a moat.
Mauricio Umansky of Hilton & Hyland, Beverly Hills, had the listing, and Simon Darvish of Audrey Max Estates, Beverly Hills, represented the buyer, according to the MLS.
There's no place like home, after all
Having taken a look at what else is available, Phoenix Pictures chairman and co-founder Mike Medavoy is pulling his custom-built Beverly Park mansion off the market.
"We can't find anything we like out there more than where we are now," he said of his six-bedroom, 10-bathroom East Coast Traditional, which had been listed at $19,995,000.
In addition to being the Medavoys' family home for the last decade, the 11,769-square-foot residence on 2 acres has been extensively used for entertaining, including hosting Golden Globe parties. "Nine hundred people can come to this house for a party."
Medavoy, 68, has a book out this month on how the media affect foreign policy -- "American Idol After Iraq: Competing for Hearts and Minds in the Global Media Age" co-written by Nathan Gardels -- and movies later this year including "Shutter Island," directed by Martin Scorsese and starring Leonardo DiCaprio, and "Shanghai," with John Cusack, Jeffrey Dean Morgan and Chow Yun-Fat.
Buying and selling a house just wasn't fitting into the picture as well as staying put.
"At the present moment," he said, "it makes more sense."
Olympian hopes to sprint to finish
Yes, there's a pool. Backstroker Lenny Krayzelburg had perfect timing setting world records, but he has been slow off the block selling his Sunset Strip area home.
The 2000 and 2004 Olympic gold medalist listed the three-bedroom, 3 1/2 -bathroom contemporary last September for $5,675,000. In keeping with the realities of today's market, however, he now has relisted the newly staged 3,750-square-foot residence for $3,995,000.
Krayzelburg, 33, bought the Doheny Estates house in March 2007. He hired Beverly Hills architect Roy Sklarin to design it and discussed his views on modern architecture.
"Once he came up with the plans," Krayzelburg said, "it was a perfect match of his vision on my love for modern architecture."
Appropriately, the home's entry is flanked by a waterfall; other water elements are incorporated into the outdoor living spaces.
Rory Barish of Keller Williams Realty, Beverly Hills, has the listing.
---