Learn how to raise backyard chickens in L.A. (without making the neighbors hate you)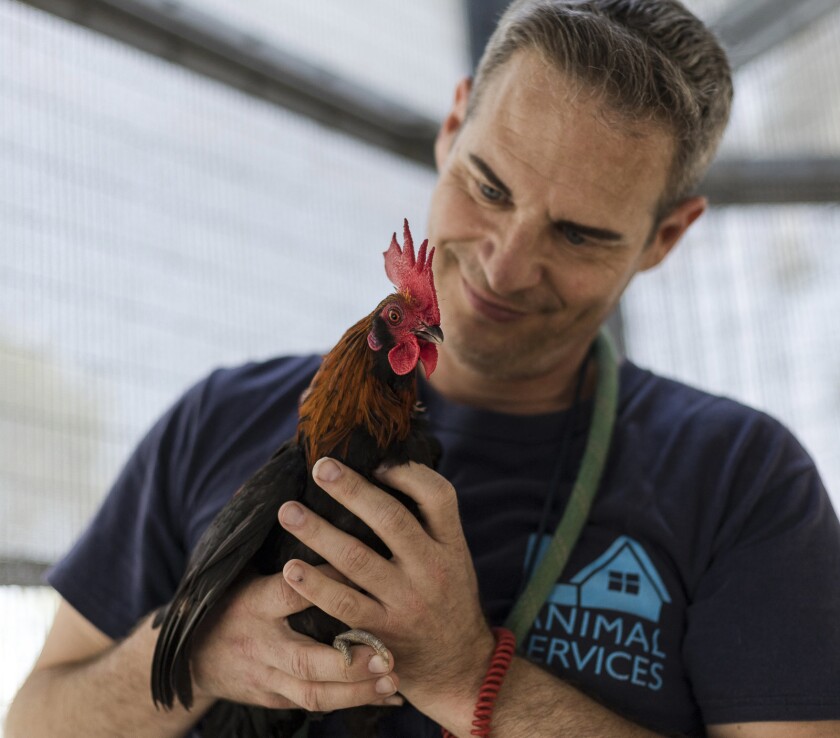 Backyard chickens mean super-fresh free-range eggs, and their poop is pure gold for organic gardens. But for many backyard poultry ranchers, chickens are a clucking, purring joy in themselves.
The city of Los Angeles is holding its first Backyard Chicken Keeping Workshop. It's free and will include information about breeds, chicken care and disease prevention, proper care and feeding, building your own chicken coop and combating chicken aggression.
Chickens are permitted in most Los Angeles backyards, said Ashley Rodriguez, spokeswoman for L.A. Animal Services, as long as they are kept at least 35 feet from a neighboring structure.
That mandatory buffer zone expands to 100 feet for roosters, and there's a limit of one rooster per household, she said. But before getting started with backyard poultry farming, contact your local City Hall zoning office just to make sure you're in compliance.
And it can't hurt to check in with your neigmhbors, too: Chickens are sensitive creatures that run the risk of being neglected or abandoned by people who become enamored by the idea of chicken farming, only to give it up because of the work involved or conflict with neighbors. Think it through.
If you're serious about raising chickens, though, L.A. Animal Services has about 18 chickens — mostly roosters — available for adoption in its six shelters. Several are housed at the East Valley Animal Shelter in Van Nuys, Rodriguez said, where the Backyard Chicken Keeping Workshop is being held.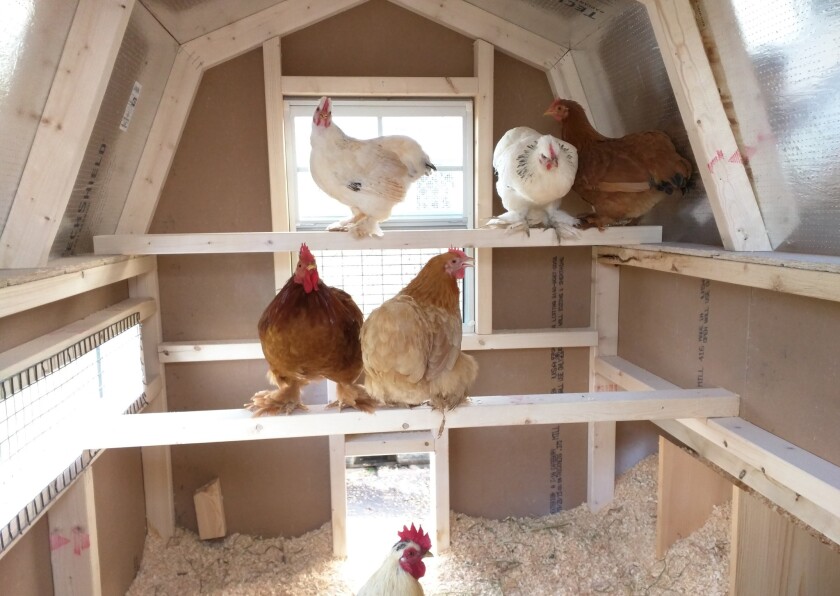 The workshop leader is a kind of chicken evangelist: Kelly Rutkowski of Ashburn, Va., has 16 chickens of her own and travels the country championing the care and rescue of abandoned poultry. (She created the Adopt a Bird Network to raise awareness about abandoned animals and help people find adoptable poultry.)
"I love them because they are enchanting creatures," she said. "They are smart, very affectionate and just as much fun as a dog or cat. I don't care about the eggs…. I give all of mine away."
Rutkowski had this advice for people who want to raise chickens: They need space and, believe it or not, a stimulating environment to stave off the common problem of chicken aggression.
Chickens get nasty like everybody else if they're crammed into a small, boring space, she said. "They need different enriching activities to take their mind off hurting each other, like creating perches at different levels so they can move around and get away from each other."
Chickens, it seems, also like wading pools and playing with balls and other toys, which Rutkowski rotates in and out of her coop to keep things interesting.
Backyard Chicken Keeping Workshop
When: 10 a.m. to noon, Aug. 4
Where: East Valley Animal Services Center, 14409 Vanowen St., Van Nuys
Cost: Free and open to all ages. Parking available at the shelter or on the street.
Info: laanimalservices.com
---