Photos: Tongva Park in Santa Monica proves a paradise can grow from a paved parking lot
Native and drought-tolerant plants complement the clean lines of bridges and pathways in Tongva Park. The landscape design is by James Corner Field Operations, based in New York City, which also designed Manhattan's High Line park.
(Anne Cusack / Los Angeles Times)
Plant shapes are echoed in the cages that jut out from the western edge of the park with platforms for viewing Santa Monica Bay and the pier. The park opened in October 2014.
(Anne Cusack / Los Angeles Times)
Plants that flower in different seasons keep the park colorful and visually interesting.
(Anne Cusack / Los Angeles Times)
In what was once a paved parking lot, now gardens of agaves grow.
(Anne Cusack / Los Angeles Times)
Fiery bitter aloe blooms amid a variety of succulents.
(Anne Cusack / Los Angeles Times)
Plants form patterns within a design that incorporates pathways, fountains and sculptures.
(Anne Cusack / Los Angeles Times)
Vibrant bougainvillea 'James Walker' pops out against native grasses and agave.
(Anne Cusack / Los Angeles Times)
The design team added hills and hollows to the flat surface. Within the park, the foliage and a sunken throughway mute the noise of the 10 Freeway as it curves into Pacific Coast Highway.
(Anne Cusack / Los Angeles Times)
Red Peruvian lilies grace the park. The city spends about $100,000 per year on maintenance.
(Anne Cusack / Los Angeles Times)
Recirculated water is used in this waterfall the forms a shallow stream in Tongva Park.
(Anne Cusack / Los Angeles Times)
Black tree aeoniums surround a northern sharkskin agave in a hilly section of the park.
(Anne Cusack / Los Angeles Times)
Tongva Park is a real-life reversal of Joni Mitchell's familiar lyric, "They paved paradise and put up a parking lot."
What was once a large, flat parking lot opposite Santa Monica City Hall is now a garden paradise thriving as an ecologically smart community park, with hills, winding paths and a mix of drought-tolerant and native plants.
The roughly 6-acre oasis, which was one of six finalists for this year's prestigious Urban Land Institute global Award for Urban Open Space, was transformed by landscape architects James Corner Field Operations, the New York-based design team behind the High Line in Manhattan. As Tongva Park marks its second anniversary this month, we turned to company head James Corner to talk about the place of green space in community life, what drought-stricken California residents can learn from this park's design and why it and the adjacent Ken Genser Square were worth the $46.1 million investment of city redevelopment funds.
You've mentioned that Tongva Park is one of your organization's favorite projects and that it helped revitalize the surrounding Ocean Avenue area as a "game changer." Having worked on so many public spaces, why does Tongva have such meaning for you?
I'm delighted with and very proud of how Tongva Park turned out; it's exceptionally well done. Not all projects turn out so well. Projects can easily suffer from too much compromise, lack of clarity, budget cuts, shoddy construction and so many other challenges. [This park] turned out just as I hoped it would. It is beautifully designed, sculptural and dramatic, and is built to an exceptionally high quality; the planting and water features and other elements all are well done and together work.
But more than just the park's aesthetic finish is the way it's been embraced by the community and is used by so many different types of people. You see folks strolling hand-in-hand, lovers sitting, joggers running, children playing, families picnicking, groups touring the gardens, visitors in the overlooks — people everywhere doing all sorts of activities, all enjoying the ambience of the place and the spectacle of being with other people in a civic garden.
The surrounding community had a good deal of say in the process. What was the park's concept that was accepted and worked so well?
The design was inspired by the original arroyo [wash] that historically underlaid the site and is seen in the stone conglomerates of the Palisades escarpment. We also shaped it from a flat parking lot to a sculpted topography, with hills and hollows, which let us create various enclosures in the park, protected from the sight and sound of the adjacent streets. It also allowed us to create raised hills where views to the ocean, the pier and other features in Santa Monica could be made visible.
Existing trees were protected or transplanted, and then a significant number of new trees were brought in to create a green garden, with shade. [There are more than 300 trees from 21 species.] We also planted a wide variety of shrubs, grasses, succulents and flowers to create a soft, lush series of textured gardens. [There are more than 30,000 plants from more than 170 unique species.] And we created a water feature, beginning from the front steps of City Hall and running across the site to its opening on Ocean Avenue.
What has Tongva done for the Santa Monica community?
A well-designed park, especially one that feels unique and special to its place, helps to enrich a sense of community. In Santa Monica, Tongva Park has become the beating heart of the community, and a broad cross section at that. It appeals to individuals and families, to young and to old, to everyday uses and to special events and festivals. It's instilled a new pride-of-place and created a new center in the psyche of the community. It's brought nature, greenery, flowers, shade and water into the center of the city — a sensuous oasis that captures ocean breezes, mists and varied forms of weather. It's added value to the city, with adjacent mixed-use development and many surrounding hotels and buildings upgrading and re-branding.
We're in a long, serious drought here in L.A. How can Southern California residents use the park's ideas for their own homes and yards?
This park uses many plants that are drought-tolerant. Some are native, but many are not. People can be inspired by these plant palette choices and see how they've been mixed to such good effect. Many are drawn from similar climatic areas in the Mediterranean, South Africa, Chile and New Zealand.
The palette and mix is a bit unusual with many different kinds of plant types that at first one might think don't necessarily blend so well together, but they do. We thought when looking at the variety, why not? And they do work beautifully together. Succulents provide texture and color, and a variety of grasses soften the overall feel, and provide movement with air and breeze.
What are Tongva Park's challenges moving forward?
It's important to understand that a lot of care, attention and money went into the design and construction of the park and that, now that the park is open, the same level of care, attention and money must continue to ensure that the park is well maintained, creatively programmed and properly looked after. This is no easy task: Parks are living ecologies that need constant care, and they can be both expensive as well as technically challenging.
The city of Santa Monica has done a great job so far [the city spends about $100,000 per year on maintenance], but it's important that measures are put in place to ensure the park is maintained long into the future. Here, philanthropy can play a huge part, with individuals, foundations and corporations donating funds to ensure that the park remains world class.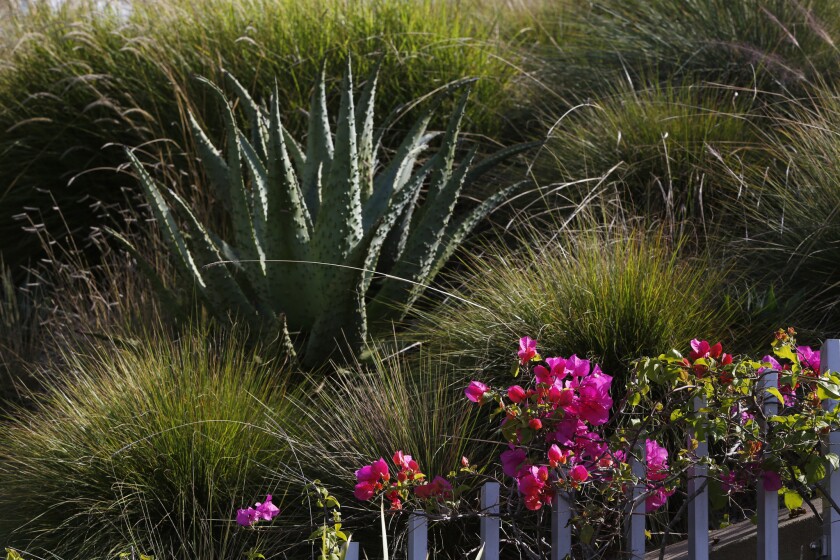 The Friends of the High Line in New York have been very successful in raising funds over the years to build a healthy endowment fund (in the tens of millions of dollars), the proceeds of which guarantee high-quality maintenance, top-class operations and creative programming in perpetuity. I'd hope that Santa Monica too might be able to seek philanthropic support at a generous enough scale to do something similar.
::
How a Santa Monica park can inspire home gardens and yards
Parks are great places for homeowners to find inspiration for their own yards and gardens, says landscape architect Sarah Weidner Astheimer, senior associate at James Corner Field Operations, who worked extensively on the Tongva Park project in Santa Monica. Here are her top takeaways for ideas to use in your own outdoor space.
Include the unexpected
"An element of surprise makes gardens happy places," says Astheimer. Naked-lady bulbs in pink (Amaryllis belladonna) and white (Amaryllis belladonna 'Alba') were peppered throughout Tongva Park, jumping up without notice. "You can't help but smile when you see them popping up in unexpected places."
Mix in multiple grasses
Combining succulents and tropical plants with a variety grasses, rather than just one single grass, is a great way for homeowners to experiment with texture and flow, says Astheimer. Try the grasses cane bluestem (Bothriochloa barbinodis), blue grama (Bouteloua gracilis 'Blonde Ambition'), Pacific reedgrass (Calamagrostis nutkaensis), Berkeley sedge (Carex divulsa) and California dune sedge (Carex pansa).
Not everything has to be native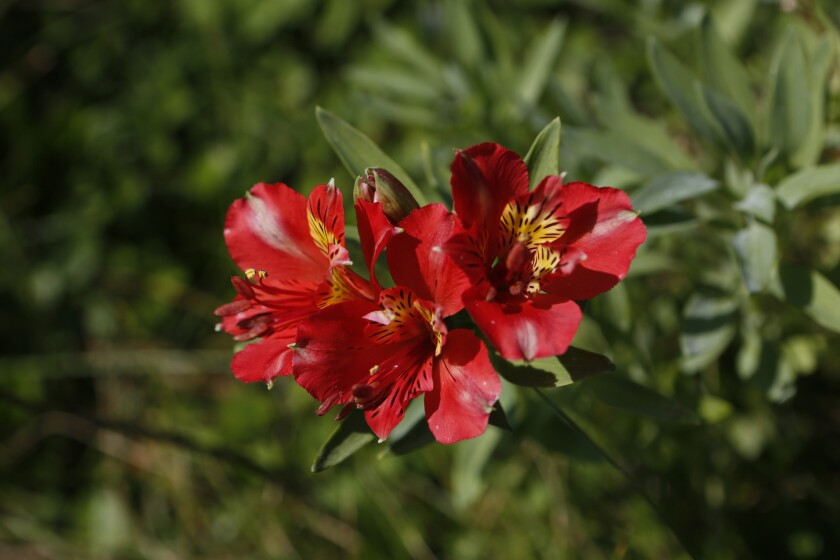 Don't limit the palette to native plants. Adding similar-climate plants makes for a denser and more exciting garden.
"At first, we had to educate people that strictly native plantings here would mean a coast scrub palette, which is limited," says Astheimer. Adding plants from like climates — such as New Zealand, the Mediterranean, Australia, South Africa and Chile — meant much more effective and sophisticated groupings.
Think seasonally
"We didn't want just a lime-green garden year-round," which can easily happen in Southern California, explains Astheimer. Plant selections were carefully made to showcase changing seasons, making for a more dynamic garden.
Find Tongva Park's complete plant list at tongvapark.smgov.net/plant-life.
ALSO:
The 5 biggest misconceptions about watering your lawn and garden during a drought
See how this Los Feliz yard was transformed into a low-water oasis where it's fun to garden again
28 things to do to prepare for El Niño rains this season
---