L.A. Affairs: Why I've been dating the same girl for 26 years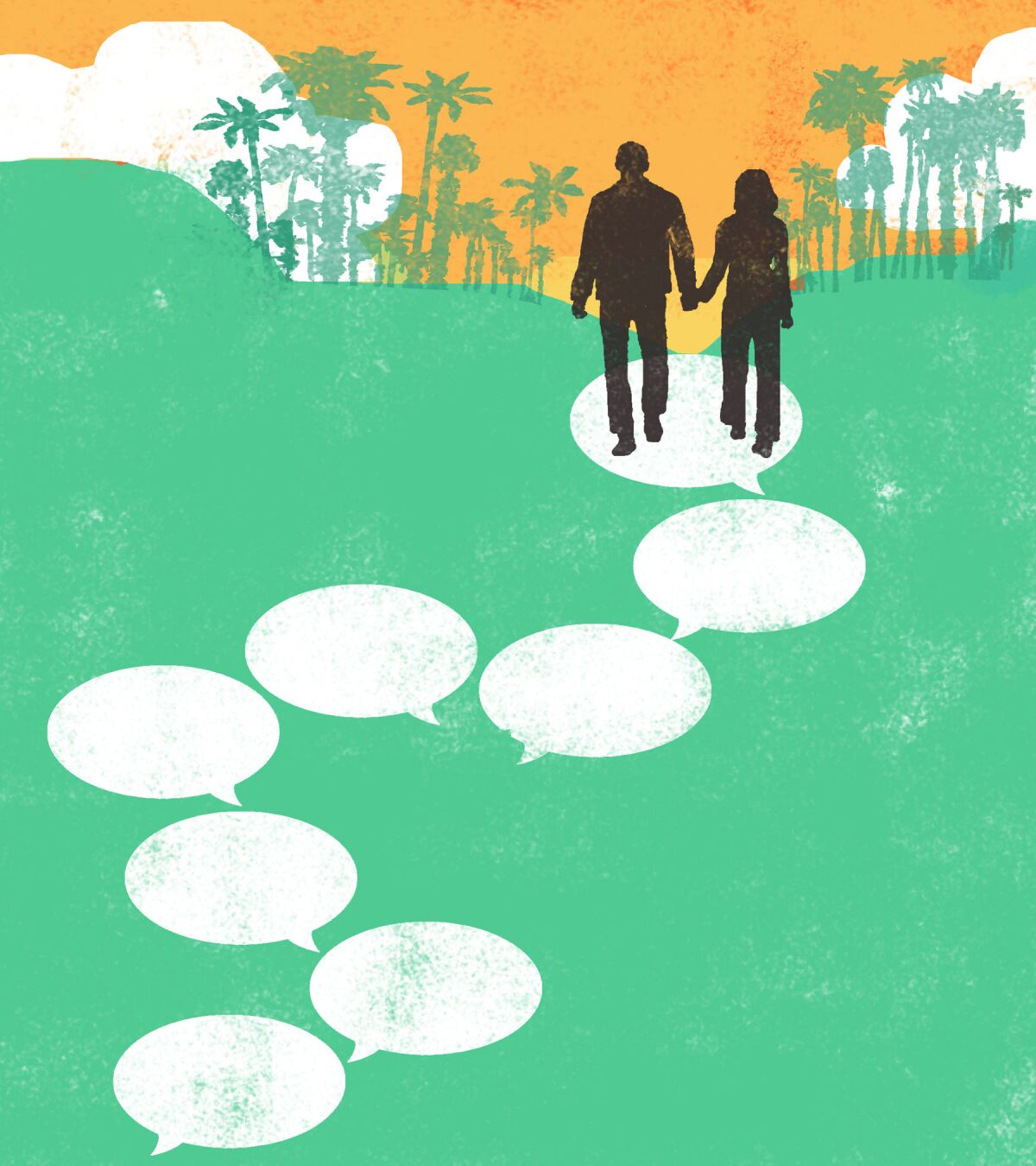 I don't go on a lot of dates. It's hard to make time in between work, kids activities, travel and other obligations, but when I want to go out I ask the same girl every time – and she says yes almost every time.
It's the same girl who I took on a first date to a surprise party on Dec. 15, 1989, while we were undergrads at Cal State Northridge, on a second date a week later to mediocre Mexican food, and who made me the luckiest guy in the world by saying, "I do" in front of our friends and family 24 years ago.
Now when I want to go out, I ask, "Hey, Love, do you want to out tonight?" Most of the time I get a warm smile back and a reply of, "Sure."
Are you a veteran of L.A.'s current dating scene? We want to publish your story
Sometimes we head to the Sagebrush Cantina in Calabasas where we sip margaritas, share fajitas and sit outside, and sometimes we just stroll through the hills of our West Valley neighborhood. We still love to watch movies – be it on our couch at home or in the theater – with popcorn and sharing a Dr. Pepper.
>>>Our 2016 holiday gift guide is here, over 200 gifts for everyone on your holiday shopping list>>>
Our dating over the years has shown us the best of our city. After taking Elena to her first Dodgers game, a Lakers game soon followed.
We played a round of golf in North Hills, and had some really good dinners, from Malibu to Hollywood. We were among the first to dine at Roy's when it opened in Newport Beach – having loved the food at its flagship location in Maui – and frequented BeauRivage in Malibu before a fire forced it to close in June 2012.
Our dates today aren't much different than they were when we began. The common thread to each of them was, and is, talking. That ruled out clubs then and now, but opened many new places for us to explore.
In our first few weeks of dating, we took the train to Santa Barbara and walked along State Street for a day. Another time we strolled through the Renaissance Fair in Riverside, and on a few occasions we picked up food to eat on the beach in Santa Monica. We saw "Singin' in the Rain" at the Hollywood Bowl, and talked most of the time. Where some people see parking at the Bowl as a headache, for us it was part of the date – and a chance to talk.
Today, we'll probably go to Coffee Bean or Corner Bakery. Occasionally, we make the 3.5-mile walk to each place for breakfast. My favorite "date place," however, is still our backyard on a Sunday morning. I make coffee, she grabs the Sunday Los Angeles Times, and we relax on our patio.
We did this the first weekend we became homeowners, almost every weekend with our daughters when they were young, and we do it again now that our girls are in college. We talk about everything from families to pets, from sports to politics, and from the heat of the Valley to the congestion in Mid-City.
I'm the last person to offer any dating advice because every relationship is different, but I'm lucky that the girl I asked out on a date many years ago wound up looking at life through the same lens as I did most of the time.
We're not in sync all the time, of course, but we've built a foundation of talking and listening that continues to anchor everything we do. I don't always agree with her, and she doesn't always agree with me, but that's OK. We respect and we grow, we listen and we learn. Through it all, she still laughs at some of my corny jokes, and about once a month I bring her flowers – red roses will forever be her favorite — because I love to see the look on her face when I walk in the door.
What makes dating – and ultimately a marriage – work is having fun together. Laugh with each other, and sometimes at each other, but always talk about what makes you happy. And just as important, talk about your dislikes. Nothing is too petty. Put those issues on the table, talk through them, and you'll grow closer to each other and have a relationship that evolves and strengthens.
It's amazing to me that Elena and I still walk and talk, but we do, and I'm sure we always will. The trick is always finding a place to walk and talk – and it helps that L.A. has a million of them.
------------
Ron Epstein is the publisher of L.A. Parent magazine.
L.A Affairs chronicles the dating scene in and around Los Angeles. If you have comments, or a true story to tell, email us at LAAffairs@latimes.com
---