Will this be the color of 2017?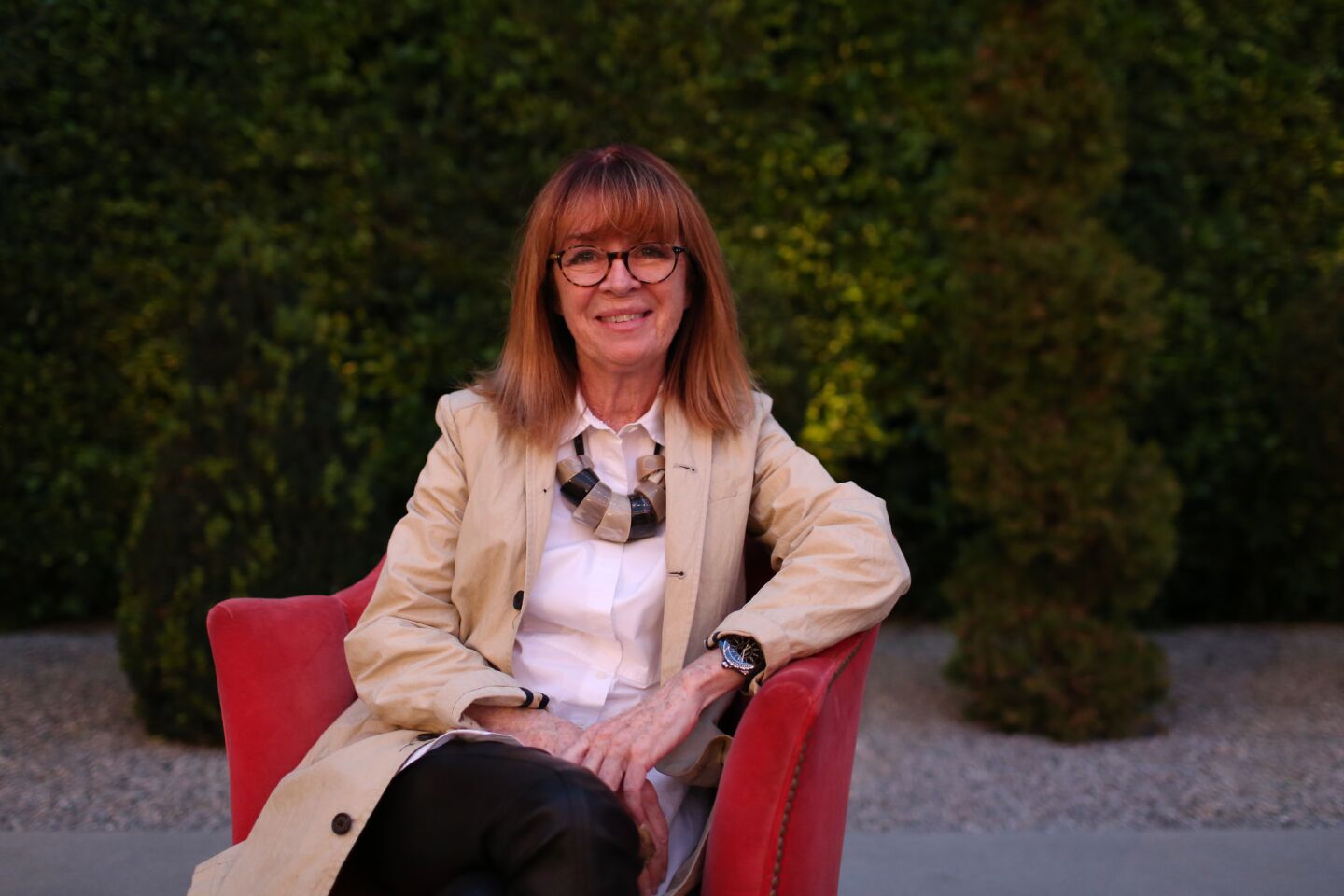 Benjamin Moore creative director Ellen O'Neill is shown at the Benjamin Moore Color of the Year Event in Los Angeles.
(Katie Falkenberg / Los Angeles Times)
Welcome to the dark side.
According to the color clairvoyants at Benjamin Moore, the Scandinavian cafeteria look is out and the opulence of the Russian Tea Room is in
The paint giant has anointed Shadow (chip no. 2117-30) as its 2017 color of the year. The deep, dark purplish hue — think eggplant — is in stark contrast to last year's top color selections. (Benjamin Moore chose Simply White, while color tastemaker Pantone chose a baby-pink-and-blue combo.)
It's a 180-degree pivot, admitted creative director Ellen O'Neill, who made the announcement last week in Los Angeles, getting a jump on other color gurus who have traditionally waited until closer to year's end to unveil their dueling predictions for what color will dictate design, style and decor trends in the months ahead. "I think the fact that we championed white for the past 12 months has made us a little color-deprived. You know, everybody thinks there's some big science around [choosing a directional color], but it's gut."
Well, that and a whole lot of frequent-flier miles.
O'Neill and a team of color specialists determine trends through forecasting research and culture-seeking style safaris that take them around the globe.
The inspiration for the selection of Shadow was everywhere: black booths at a Paris flea market, charcoal-colored shopping bags in France, the light and dark at play in the chiaroscuro backgrounds of Flemish paintings, street life in South Korea, window displays and restaurant design.
This year, O'Neill said, a trip to the Thorvaldsen Museum in Copenhagen was especially formative. In a space dedicated to the works of Danish neoclassicist sculptor Bertel Thorvaldsen, darkly painted galleries appear to recede behind gleaming white marble and plaster artwork. "It was incredibly peaceful," O'Neill said, "there is just something about an object of beauty in a dark space."
She added: "I remember a very dramatic room at the Kips Bay Show House in New York about two years ago, and one of the walls in the dining room was [painted] Shadow but it was lacquered, and the other three walls were white. It was a showstopper."
Sure, but will it play in L.A.?
The forecaster said the answer is yes, adding that Southern California's Arts and Crafts bungalows would present a natural canvas: "That kind of architecture with colors that are more moody and muddy would be stunning."
"It's layering and a wealth of palettes and patterns and textures that I feel people are kind of craving," O'Neill said.
Interior designer Alison Glen of LA Dwelling, who was in attendance for the Benjamin Moore unveiling, said that although it's not for everyone, the darker palette will definitely play a role in refreshing home decor.
"I think [Shadow] is going to work with the grays we have now and the taupes that are coming in. … It will add the wow factor."
Home@latimes.com