'70s style is back at the new Nico & Bullitt boutique in Echo Park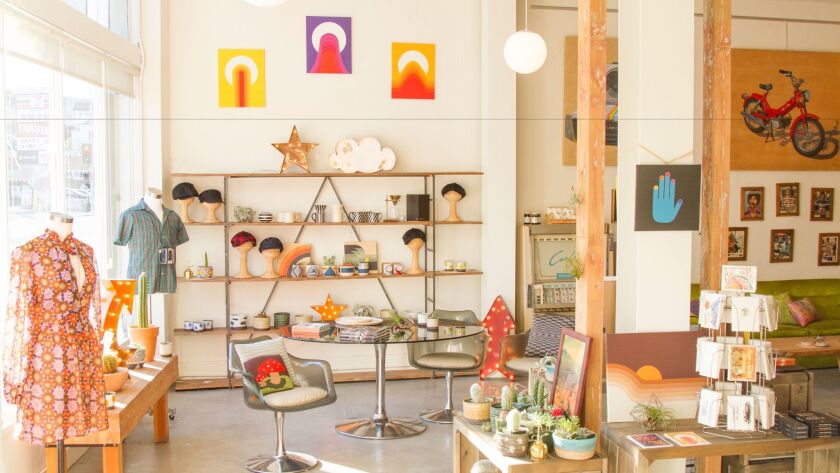 Angela Clement, who grew up in the 1970s, refers to the era as a warm and fuzzy time.
"We love '60s and '70s rock 'n' roll, fashion and design," said Clement, who with husband Edwin Gomez sells vintage-inspired goods at Nico & Bullitt, their new store and gallery in Echo Park. "We are inspired by the whole laid-back California vibe."
Housed in an airy former Pilates studio, the showroom mixes one-of-a-kind pieces by local designers with works by independent artists from around the world. Among them: pottery by Echo Park artists Jen King Studio and Black Mountain Ceramics.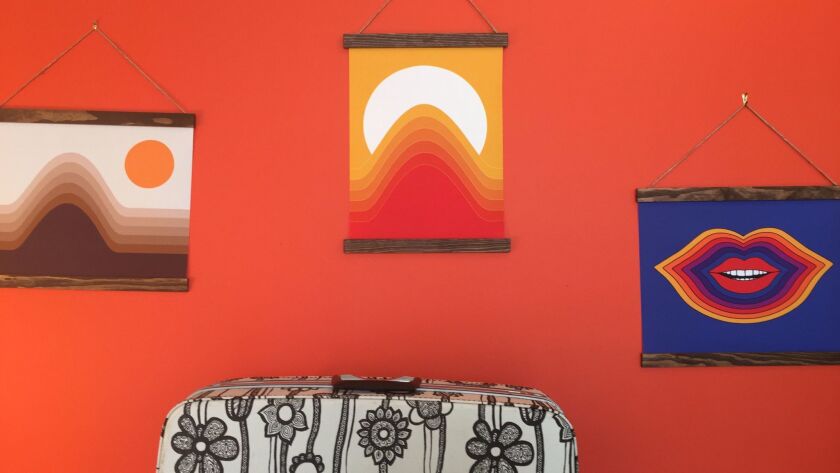 Women will find racks of bohemian clothing by local designers Lykke Wullf, Miracle Eye, Cameo Clothing, Stoned Immaculate and Top Knot Goods, while men will find mod knit polos and button-downs by Merc Clothing, Art Gallery (think: what you'd picture a guy riding a vintage Vespa or Lambretta scooter to be wearing) and C+ Head Wears from Japan.
The showroom is filled with planters, books, retro clocks, botanical candles by Hi Wildflower, vintage-inspired lights by JunkArtGypsyz and Mexican carry blankets by Nipomo. The walls are covered with paintings on wood by Catherine Kaleel, framed psychedelic prints by Olivia D'Orazi and colorful linen wall hangings by Circa 78 Design.
So far, the neighborhood has embraced the San Francisco transplants.
"We are really digging the vibe in Echo Park," said Clement. "We started off carrying our friends' goods that are made locally. But we keep meeting new people who come in and the store just keeps growing and evolving."
Nico & Bullitt
2205 W. Sunset Blvd., Echo Park. Open 11 a.m. to 7 p.m. Tuesdays through Sundays. nicoandbullitt.com
Twitter: @lisaboone19
For an easy way to follow the L.A. scene, bookmark L.A. at Home and join us on our Facebook page for home design, Twitter and Pinterest.
ALSO:
Vintage, modern and more on display at new deKor showroom in Atwater Village
Shopping on Sunset Boulevard in Silver Lake
---