10 Images
Photos: Muralist Paulin Paris' whimsical illusions
Artist Paulin
Paris
was raised in France, but five years ago he moved into a Venice cottage, and the change in scenery couldn't have been more jarring. So the homesick Paris did what he does best: He took out his paintbrushes and went to work. Today the drab bungalow is full of storybook character. Paris met actress Carmen Thomas, now his wife, in a snow-covered cabin in Aspen years ago, which explains the amusing handiwork in their bedroom. "At night, with candles glowing," Thomas says, "golden light reflects off the walls, and the room really does look like a cabin." To see other rooms in the house, including murals for the couple's two children, keep reading.
Read Emily Young's full story on
Paulin Paris
.
(Ricardo DeAratanha / Los Angeles Times)
Paris painted the dresser and the back of bedroom door to complement the murals on the walls. "The shape of the room helped us decide that it would be a warm log cabin," he says, referring to the walls painted to resemble chopped timbers and a pitched ceiling painted to look like rafters. "Since the bedroom used to be the garage and is always a bit colder than the rest of the house, the idea was perfect."
The painter attended the Ecole des Beaux-Arts in Paris and trained in faux painting at the Van der Kelen-Logelain institute in Brussels, Belgium. He is a descendant of the early 20th century French portraitist Carolus-Duran, whose work hangs in the Louvre and the
Metropolitan Museum of Art
. Now a recognized artist in his own right, he has been sought out by top designers such as Adam Tihany, Robert Couturier and Christian Liaigre. High-profile clients include Cartier, Valentino, the Sultan of Brunei and Bouchon, chef Thomas Keller's new restaurant in Beverly Hills.
(Ricardo DeAratanha / Los Angeles Times)
The log cabin motif serves as a backdrop for more original artwork, including an oil painting (top) by Paulin Paris' great-grandfather Carolus-Duran, who taught John Singer Sargent.
(Ricardo DeAratanha / Los Angeles Times)
The upholstered headboard is a high-end
Robert Couturier
design. "The combination of rustic and sophisticated is what creates a spark," Paris says. He made the bedside lamp, which is plaster and gold leaf, and painted the acrylic acrobat on the wall. The night stand is a vintage Chinese fish barrel.
(Ricardo DeAratanha / Los Angeles Times)
Nine-year-old Sabine, an animal lover, requested a horse, so Paris painted the lilac silhouette of an English race horse alongside her canopy bed.
(Ricardo DeAratanha / Los Angeles Times)
For 4-year-old Georges, who likes to play with a toy pirate pistol, Paris came up with the dark purple silhouettes of antique firearms. "I know guns are not politically correct," Paris says, "but it's what he wanted. He'll outgrow it and want something else later. Sabine is already asking for
John Lennon
because she loves the Beatles."
To make his murals, Paris prefers Benjamin Moore latex house paint from
Cox Paint
. If a project calls for a more transparent finish, he relies on Liquitex and Golden Artist Colors acrylic paints and glazes from the
Pearl
art supply store in
Los Angeles
. Paris starts with a scale drawing, eventually expanding that to actual size. Then, after outlining the design on the wall in chalk, he completes the painting freehand.
(Ricardo DeAratanha / Los Angeles Times)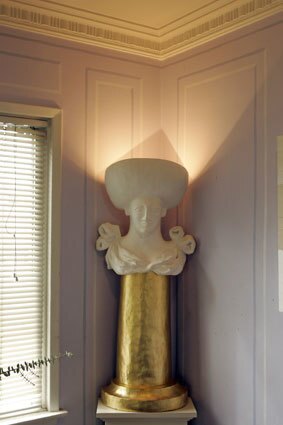 Plaster, gold leaf and paint: In the dining area, a light that Paris made stands in front of walls that glow pale lavender. Faux highlights and faux shadows create a storybook-like depiction of an 18th century wood-paneled chamber. "My idea was to create an image of French sophistication in the simplest, most economical and minimalist way," he says. "Right away, it made the house feel much more familiar."
(Ricardo DeAratanha / Los Angeles Times)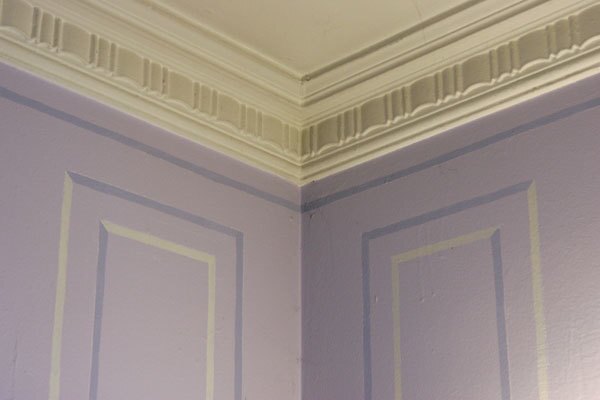 "A lot of people thought we added decorative molding in the front rooms, but it was always there," Carmen Thomas says. "It's just that no one ever noticed it before Paulin did the painting."
(Ricardo DeAratanha / Los Angeles Times)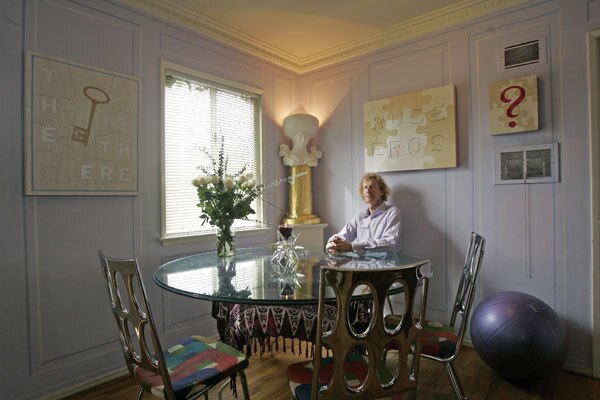 Paris sits in the dining room, surrounded by his work.
The artist was part of a two-man show with artist Ed Moses at Caché in Santa Monica this past winter.
Frank Pictures Gallery
at Bergamot Station in Santa Monica is planning a solo show of his marquetry-style artworks opening April 11. Paris also showcases some of his work on his
New Marquetry
website.
Read Emily Young's full story on
Paulin Paris
.
To see more home tours from the Los Angeles Times, click
here.
(Ricardo DeAratanha / Los Angeles Times)