Behind the scenes: The making of the Pasadena Showcase House of Design
When the wide, wooden door on the storybook Tudor home swings open to the public on April 23 for the 53rd annual Pasadena Showcase House of Design, visitors won't know about the chandelier that crashed to the floor after installation, nearby bridge work that stymied access during renovation or the Maalox moments that arose while transforming the 100-year-old home on a tight deadline.
What they will see instead are flawlessly designed interiors, enviable gardens and an atmosphere of ease and luxury.
------------
For the Record, April 24, 11:50 a.m.: This story identifies the designer from Ederra Design Studio as Cynthia Ederra. Her name is Cynthia Lambakis. This story also identifies the company that designed the Bee's Bliss Gardener's Retreat as Rose Ticket: Botanical Design House. It is Rose Thicket: Botanical Design House.
------------
Recognized as one of the oldest and most successful not-for-profit showcase houses in the country, the showcase will see more than 35,000 visitors. It's a chance for the public to see what's on the style radar in the months to come and meet and speak with the designers about their work.
Ticket holders will review (and shop!) the latest directions in interior design and the signature styles of 29 Southern California design firms, all while raising money for local arts and music programs.
Getting to opening day required the effort of a proverbial village, and thousands of hours of work that began more than a year ago.
Here's a behind-the-scenes look at how it all came together:
"We stand on the shoulders of the person who has gone before us," said Dana Marevich, chairwoman of this year's event for the non-profit, volunteer organization, Pasadena Showcase House for the Arts. "This is definitely an organization that learns from what was done in the past."
House hunters
It begins with the hand-off of Pasadena Showcase House for the Arts' little black book of Pasadena-area homes that has been compiled over decades.
"It's a book of potential houses with the names and addresses of the owners and notes about what their feelings are regarding showcase participation." Marevich said notations range from "might be interested in the future" to "never… please don't contact."
Show house criteria necessitates at least two acres of property and, ideally, 9,000 to 10,000 square feet of living space. "It also needs two staircases," said Marevich, "and it needs to be accessible. By that, I mean it can't be on a narrow dirt road that our shuttle buses can't get to and turn around on. It can't be too remote."
Showcase houses cannot be listed for sale during the event. "Last year's house had been on the market, it went off the market, and was back on the market as soon as showcase was over," said Marevich.
Most importantly, it has to be available.
Homeowners are required to move out of the home for six months and pay to put the entire contents of their property into storage.
They are also responsible for finding temporary digs. Some folks relocate to their second or third residence, others choose to travel or rent in the interim.
This year, the chosen home is a 1916 English Tudor designed for Samuel Hinds, the lawyer-turned-actor best known for playing Peter Bailey in "It's a Wonderful Life." It has also been cast in movies and TV shows such as "La La Land," "Beaches," "Parks & Recreation" and "Mad Men."
The Pasadena Showcase House for the Arts officially rents the property for $10 per month.
The truth is, it's a sweet deal for both sides.
Calling all designers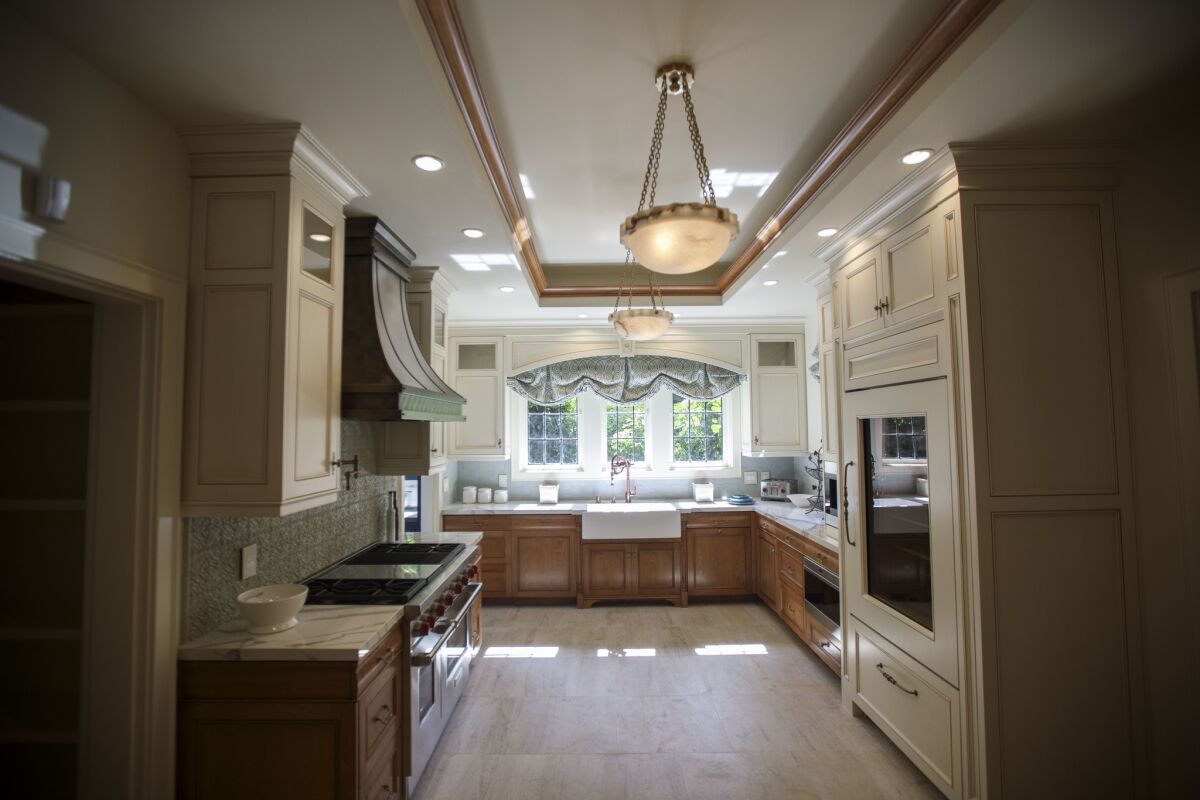 "Once we have selected the house we have an event called the designer walk-through," said Marevich. Invitations are sent to designers who have participated in the past and those who have expressed interest.
On that day, designers tour the spaces designated for transformation and determine whether or not to bid on a project.
"We usually ask them to pick three rooms," said Marevich, "so they give their proposals of what they would do in those rooms and then we have a committee that reviews their bids and makes a selection."
If a designer isn't awarded their first choice, their second and third choices will then be considered.
"It's a really wonderful opportunity for designers to unleash their imagination and let their creativity guide them while supporting an amazing cause," said first-time participant, designer Suzy Kloner of Marina del Rey, who renovated the upstairs nanny/nursery bathroom. "It's a very prestigious event...To be a part of it is really an honor…for me it's a milestone."
Design advisers
Prior to the walk-through, the PSHA committee chooses two designers to act as advisers for the showcase house. These volunteers research directional trends and establish a unifying palette of colors, textures and finishes to guide design decisions.
For the third year in a row, Jennifer Bevan Montoya and Denise Ranalli of South Pasadena-based Jennifer Bevan Interiors have been tapped for the role.
"I think we have proven ourselves that we know what we're doing," said Ranalli, "and that we get along well with our peers, other designers."
The duo also works with color specialist Sara McLean from sponsor Dunn-Edwards Paints to determine trends and designate what colors will be utilized throughout the house. The company then donates all paint.
This year, look for lots of white with dark, contrasting shades of charcoal, black, smoky gray, blue, teal, rose and gold.
"It's important for us to make sure the designers follow the palette and the paint colors," said Bevan Montoya, "and the committee expects us to police that…because our goal is to have a cohesive looking showcase."
The advisers also act as diplomatic liaisons. "We are there to offer guidance and sometimes be a buffer between the showcase committee and the designers," said Bevan Montoya, "sometimes we have to reassure [the committee]… that it really is OK to do a modern piece of art in an old English house. We can say, yes, this is fine, it is good, let's go with it."
In fact, it's not the style of the showcase house, but trend direction that is really on display. "For instance, even if it's an English house we don't [tell the designers] it has to be an English style on the inside," said Ranalli. "It's absolutely about the trends because the public comes here to get an idea of what is happening right now."
Homeowner input? Not so much…
For the homeowners, input on what the finished designs will look like is limited.
When it comes to colors, "sometimes we will ask if there is a color that they hate," said Marevich, "so it is not used as the main color of the house, but that's pretty much it. We're trying to show what is most current today, and that might not necessarily be a color the homeowner really likes."
The homeowners do preview the finalized concept boards, and designers are required to present no-cost options in addition to any ideas that ask for financial investment.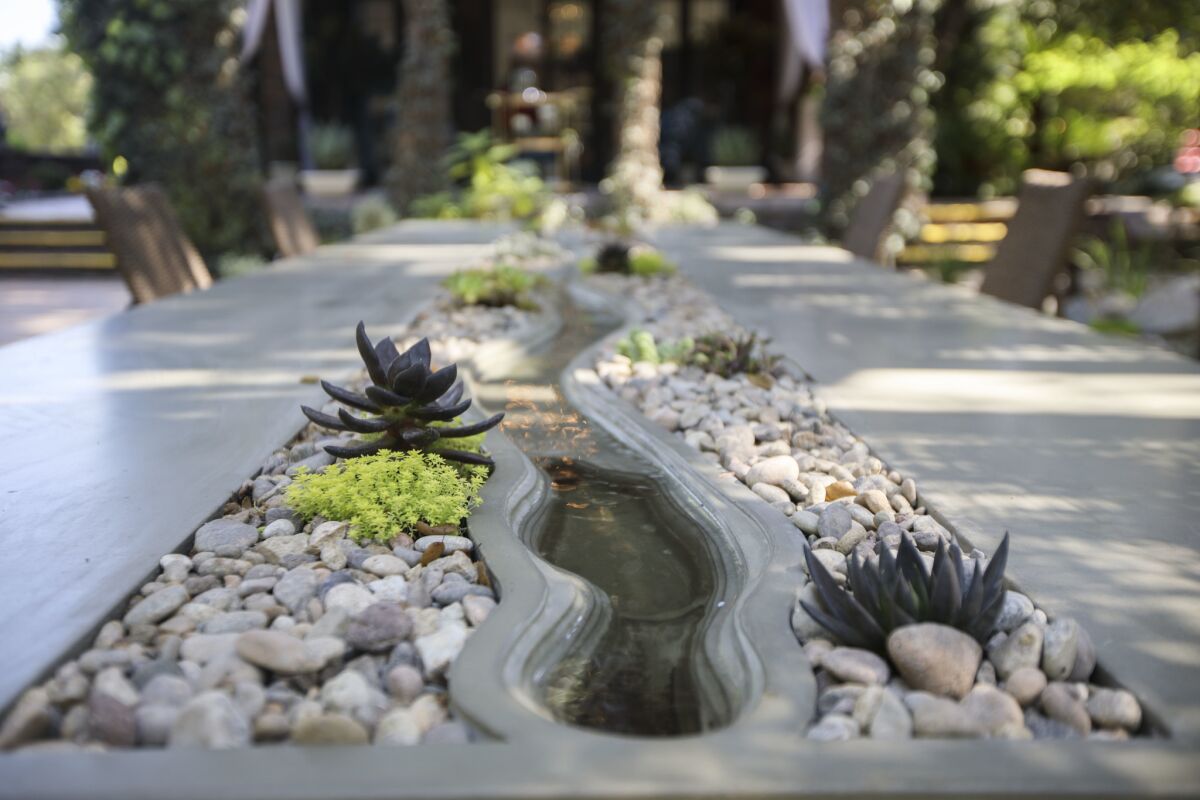 What stays
For the most part, however, building materials, appliances, fixtures, furnishings and labor are donated, discounted or paid for by the designers themselves, leaving the owners with a low-or-no-cost home transformation.
Marevich said companies like Ferguson, Snyder Diamond, George's Pipe and Plumbing, Walker Zanger and Foothill Tile & Stone are among many who donate products and often introduce new models at the showcase. "From faucets to kitchen ranges," said Marevich, "these are opportunities for those manufacturers to show the newest, most exciting products, so we get those donated."
When it's all over, the furnishings go back out the door, and the homeowners get to enjoy what is left behind.
"I liken it to a box," said Marevich, "if you take a box and turn it upside down what falls out doesn't stay [with the homeowner], what stays in, stays."
This year, Phil Vonk, owner of Ontario-based D Christjan, estimates he and his crew spent more than 800 hours renovating the main kitchen area to open it up and create a larger space with better work flow. "We basically stripped the entire kitchen down to the studs, put up new drywall, all new electrical, all new plumbing, all new sub flooring and did the asbestos abatement."
The transformed space features new appliances and lighting donated by Ferguson including an armoire-style built-in Sub Zero refrigerator with glass door, a new microwave drawer from Wolf, a brand new espresso machine and more.
The owners keep it all.
Footing the bill
Denise Ranalli said in previous years when she and Bevan Montoya participated as designers in spite of donations and reduced rates from valued resources they still spent at least $30,000 of their own money on each space. "That was our advertising budget for the year," said Ranalli.
For most, however, the investment means new clientele. "There's really not a greater branding opportunity for a business like ours," said Samantha Williams, of Ederra Design Studio in Pasadena, responsible for this year's outdoor loggia, "to get to design something and then have 30,000 to 40,000 people experience it in person…it's an opportunity that is fairly rare to have."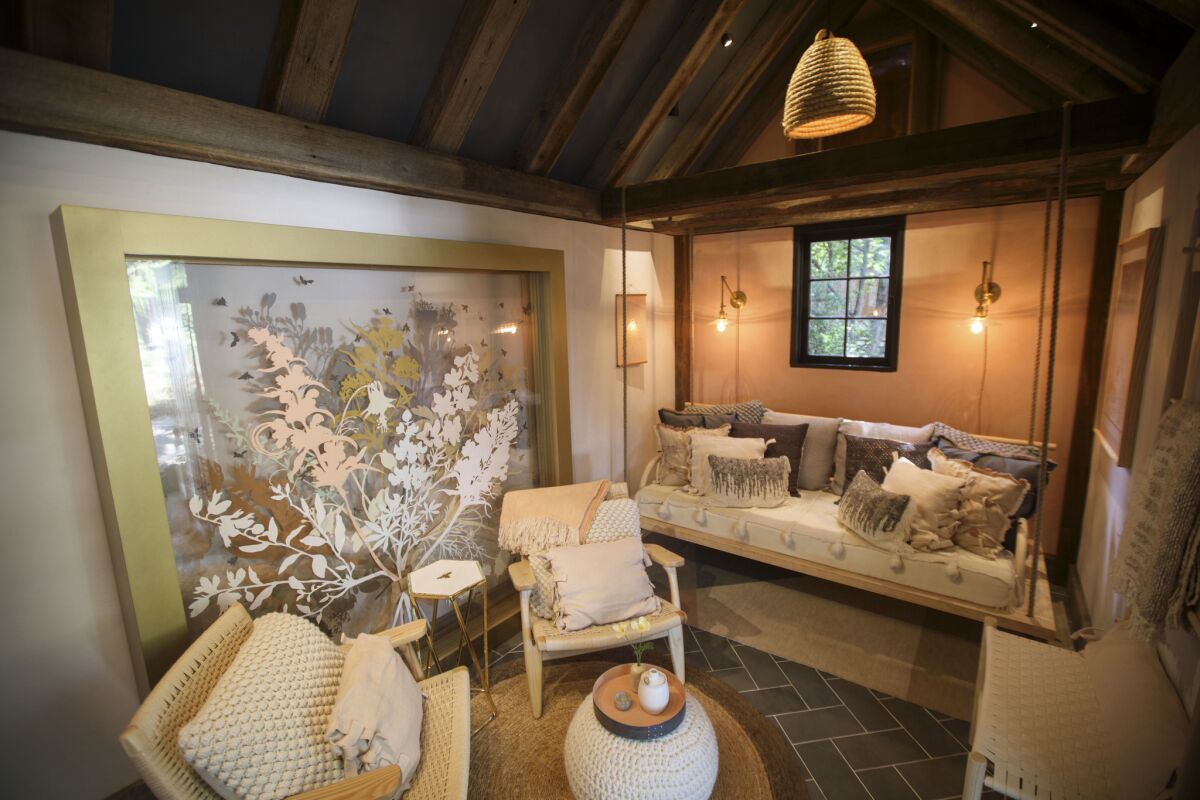 Shopping the showcase
All of the furniture and décor is also for sale. The homeowners can opt to buy the new furnishings and decor, and so can the guests.
"Not everyone knows things are available for possible sale," said Williams, "I always tell my friends if they see something they love they should contact the designer at the space, or use the contact information in the [program]."
"Sometimes people will call us later," said designer Cynthia Ederra of Ederra Design Studio, "and say, I really like this piece. If it's already been sold, we'll purchase another one for them… I think last year we sold our chandelier from the master bedroom four or five times."
Giving back
To date, proceeds raised from the event since its inception in 1965 total more than $20 million and have benefited music programs in the San Gabriel Valley as well as the Los Angeles Philharmonic.
Pasadena Showcase House of Design 2017
When: April 23-May 21
Cost: Tickets start at $40.
Info: PasadenaShowcase.org
Bonnie McCarthy contributes to the Los Angeles Times as a home and lifestyle design writer. She enjoys scouting for directional trends and reporting on what's new and next. Follow her on Twitter @ThsAmericanHome.
ALSO
You've never seen a kitchen island sink like this
Is it time for America to embrace smart toilets and bidets?
---