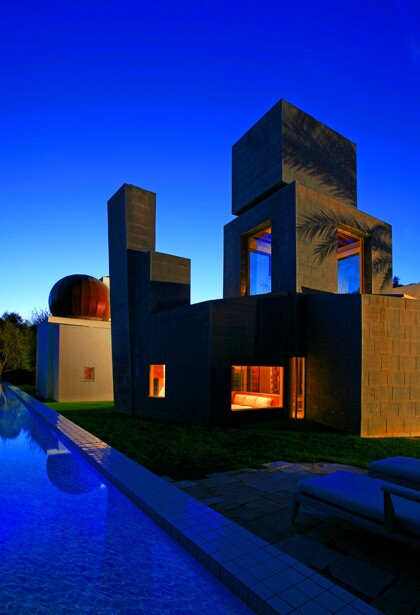 11 Images
Photos: Frank Gehry's Schnabel House updated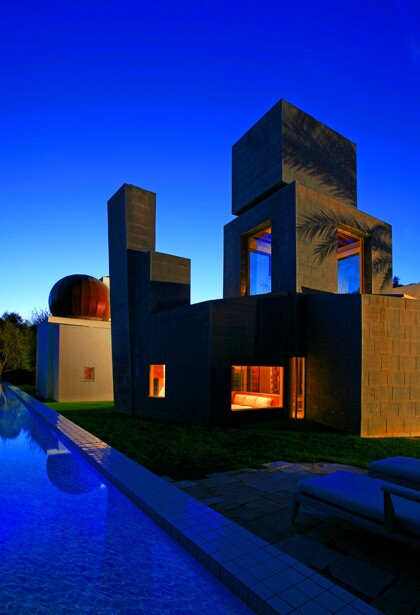 By Lizzie Garrett Mettler
Frank Gehry's Schnabel House in Brentwood has been called many things: deconstructivist design (which Gehry says is inaccurate), free-form architecture, career watershed, status symbol, family home, sculpture. When Jon Platt,
Tony Award
-winning producer of "Angels in America" and a current producer of "
Wicked
" on Broadway, moved into the 5,700-square-foot residence in 2006, it became something else: passion project. He went on to spend four years "invisibly shepherding this house into the 21st century." His mission was to "take this gorgeous piece of art that happens to be a home" and equip it with features expected of a high-tech residence in 2010. Oh, and do it in a way that pleased Gehry.
(Nick Springett)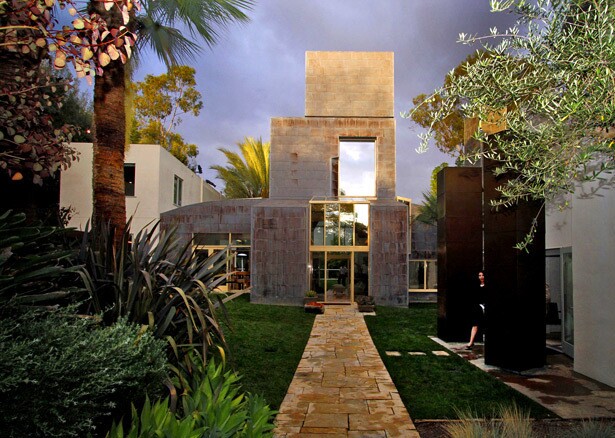 Despite the complexity of the design and variations in form and volume, the materials are consistent, a repeating palette of stucco, wood, glass, lead and copper. The exterior here is lead-covered copper. The colossal 40-foot-tall entry provided one major challenge. Abundant glass made the entry inefficient to cool, even with seven separate A/C systems throughout the property. Platt's solution: Install a temperature sensor to the skylight, which automatically opens to let hot air rise out like smoke through a chimney. "Every time the room gets warmer than 75 degrees, the house takes care of it," Platt said. After he left town with the skylight open and rain poured onto his
Alvar Aalto
armchairs, he added precipitation sensors too.
(Lawrence K. Ho / Los Angeles Times)
At first glance, the vision is controlled chaos: abrupt juxtapositions of spheres, trapezoids, cubes, pillars and pools in harmonious balance. The "house" is actually composed of four buildings on a 100-by-250-foot lot. The office, guesthouse and garage/gym stand alone. The main building, pictured here, includes living room, library, family room, kitchen, dining room, media room, study, sauna, plant room and three bedrooms. At far left is the raised lap pool, visible in the foreground of the preceding photo.
(Nick Springett)
Homeowner Jon Platt, left, sits with architect Frank Gehry during a recent party at the house. Preserving the integrity of the Schnabel House, built between 1986 and 1989, is also preserving what amounts to a time capsule of an important era in Gehry's evolving career. "The design is one I had fantasized about for my own house," Gehry said. "I had wanted to build it for myself, but I didn't have the money."
For Platt, the house holds a different kind of allure. It's theatrical. The play of fantasy and illusion, of perspective and perception — walk through the front gate and it's hard to deny. But updating the home's technology wasn't easy. Something as simple as a wireless Internet signal proved to be a challenge given all the copper, lead and concrete. "We now use something from
Cisco Systems
that they also use at the
CIA
headquarters in Langley, Va.," Platt said.
(Lawrence K. Ho / Los Angeles Times)
The main building, viewed from another side.
(Nick Springett)
Simple tasks such as replacing fluorescent light bulbs with LEDs were accompanied by massive undertakings, such as centralizing and consolidating the home's climate controls, TVs, lighting and security cameras onto one technologically advanced system, now managed by eight iPads. Here, Platt shows Gehry how the house's functions can be controlled via tablet computer.
(Lawrence K. Ho / Los Angeles Times)
Gehry's original design called for a wading pool, or "pond," around the master bedroom. Original owners Rockwell and Marna Schnabel jettisoned that idea, planting grass instead. Platt has added the pool back and included steps that seem to float on the water.
(Lawrence K. Ho / Los Angeles Times)
One day at the architect's office in Venice, Gehry and Platt were speaking about the sunlight that pours into the diamond-shaped master bedroom, which original owners Rockwell and Marna Schnabel affectionately called "the aquarium." Platt wanted to block some of the morning sun, so he asked Gehry for advice. Gehry's response: Install electric shades.
"That's great at night, Frank," Platt recalled saying. "But looking at those wires during the day — it'll just scream at you." Gehry turned to Platt and replied: "Oh, Jon, you're such a purist."
Platt pressed for solutions, eventually tracking down a company in Taiwan that makes a thin film that can render windows less transparent on demand. Controlled by
iPad
, the technology blocks glare while leaving the room's aesthetics untouched.
(Nick Springett)
The master bedroom and wading pool at night.
When Platt executed any changes to the original design, he called upon the same vocabulary, whether that meant matching outdoor patio railings to the indoor stair railings or repeating the tiles from the Olympic-length lap pool when adding a hot tub. (Gehry told Platt that the one thing he wished had been added to the original design was a hot tub, to which Platt happily replied, "The hole's already dug, Mr. Gehry.")
The wading pool underwent multiple transformations before emerging as a tiled pond with platform for lounge chairs and built-in umbrella bases.
(Nick Springett)
Platt has declined to disclose how much he invested in updating the house or how much he stands to profit if he were to sell. He admits to have entertained thoughts of putting the Schnabel House on the market. He said he has put too much of himself in the project to sell, at least at this point, but he coyly added, "Never say never."
(Nick Springett)
Marna Schnabel wanted the copper dome that sits atop the office. It reminded her of one of her favorite buildings in
Los Angeles
. "When I was a little girl, my grandmother used to take me to Griffith Park Observatory, and I just thought it was the greatest thing I'd ever seen. As a kid, I fantasized about living in an observatory," said Schnabel, whose family eventually moved to a nearby house after the children had grown.
During the home's three years of construction, the dome caused a stir among neighbors. Schnabel joked that she would field questions about what was inside the dome by answering, "My husband is with the government, and I'm not at liberty to say."
(Nick Springett)