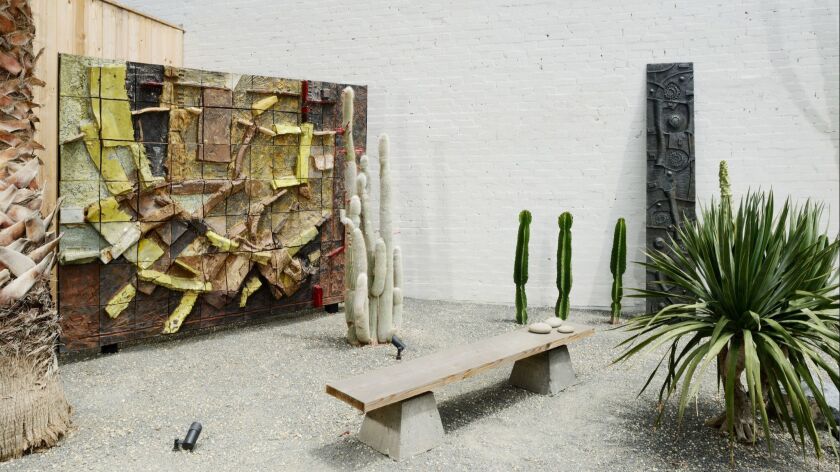 The breathtaking works of one of California's leading ceramists is taking up residence among the cactus and aloes in an outdoor desert garden in Santa Monica.
Fresno artist Stan Bitters, 82, is well known for the raw and rugged environmental ceramic installations he has created for the ACE hotel in Palm Springs, as well as banks, restaurants, industrial complexes and private homes throughout the country.
His newest exhibit, "Visuals in Clay" — which is free — takes place in the desert garden adjacent to Mohawk West general store, a mashup that came about through a collaboration between Bitters' dealer Scott Nadeau of the Los Angeles-based furniture design company Ten10 and Mohawk West.
Now, Bitters' large-scale ceramic murals, terracotta birdhouses, ceramic hanging lanterns and stacking formations can be viewed in a Japanese-inspired garden designed by Terremoto Landscape.
Want to experience more of Bitters' work? Head to the Westfield Century City Mall, where his most recent commissions, "California DNA," 2016, and "White Water," 2017, are on permanent display.
'Visuals in Clay,' by sculptor Stan Bitters
Where: Mohawk West, 2929 Main St., Santa Monica
When: 11 a.m. to 7 p.m. daily; ends Aug. 31
Info: (323) 522-6459; mohawkgeneralstore.com; ten10site.com
Twitter: @lisaboone19
For an easy way to follow the L.A. scene, bookmark L.A. at Home and join us on our Facebook page for home design, Instagram, Twitter and Pinterest.
ALSO:
A ceramics artist channels these divisive times into works of art
Juggling kids, dogs and a rock band, an L.A. ceramist creates one-of-a-kind objects at home
---