At home for Christmas in 'The House With the Three Bears'
Christmases in this 1930s storybook-style home in Brentwood are a deeply ingrained tradition. Jan Stanton Holz and her husband, Richard, live here now, but the traditions began when her parents were in residence.
(Myung J. Chun / Los Angeles Times)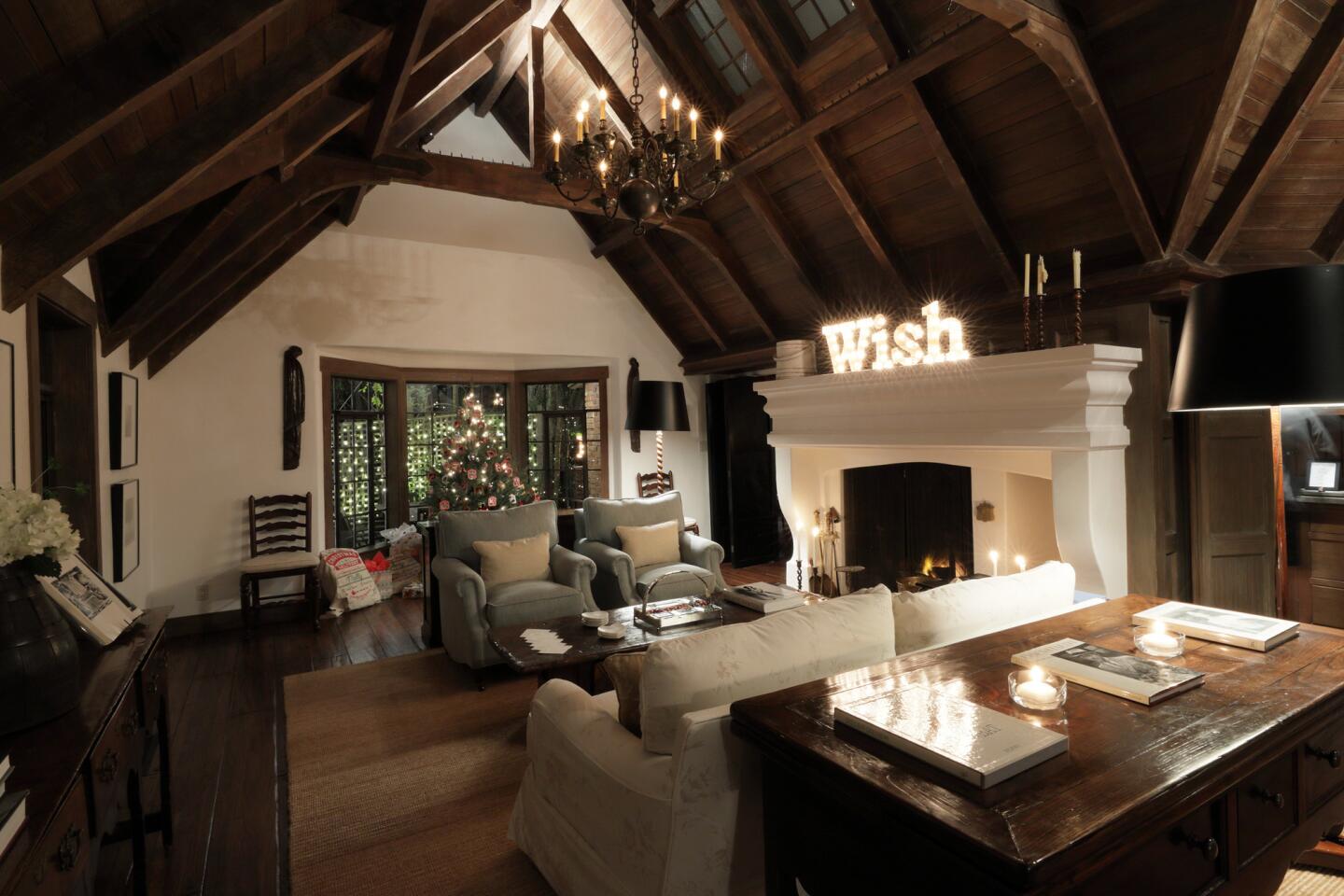 In the baronial living room, a blue spruce has pride of place in a bay window.
(Myung J. Chun / Los Angeles Times )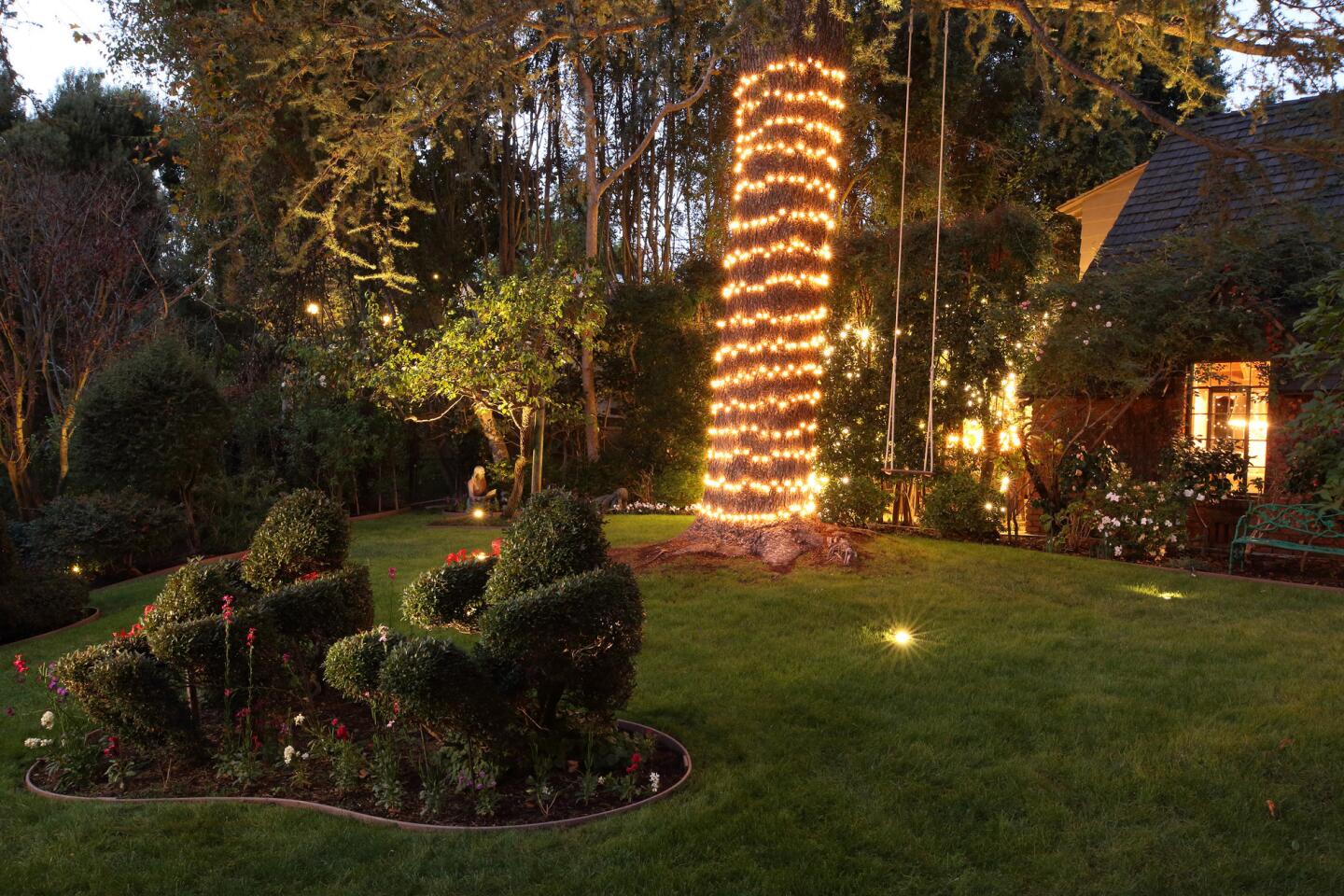 The topiary Topiary in the shape of bears at the home makes it a neighborhood landmark. It's known as "The House With the Three Bears."
(Myung J. Chun / Los Angeles Times)
Christmas lights add sparkle to the patio.
(Myung J. Chun / Los Angeles Times)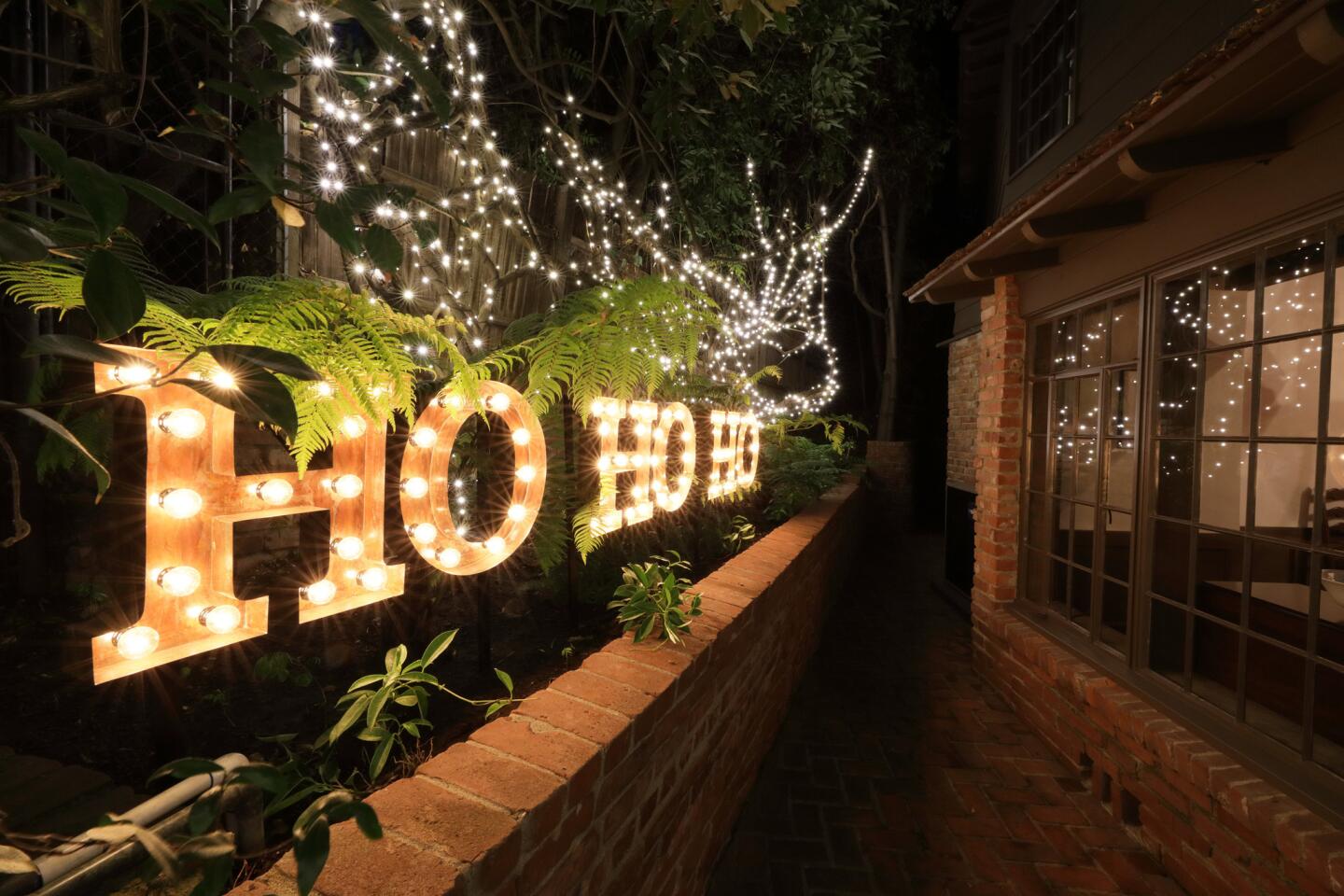 Inside and out, holiday cheer fills the 1930s storybook-style home in Brentwood.
(Myung J. Chun / Los Angeles Times)
The candy closet.
(Myung J. Chun / Los Angeles Times)
A dessert table holds sweets for post-Christmas Eve family dinner.
(Myung J. Chun / Los Angeles Times)
Brownies for post-Christmas Eve family dinner.
(Myung J. Chun / Los Angeles Times)
Jelly filled cookies.
(Myung J. Chun / Los Angeles Times)
A trompe-l'oeil by Garth Benton.
(Myung J. Chun / Los Angeles Times)
A chocolate cake topped with red and green candy.
(Myung J. Chun / Los Angeles Times)
The Christmas tree is decorated with photos of four generations of family.
(Myung J. Chun / Los Angeles Times)
Jan Stanton Holz and husband Richard will entertain family members on Christmas Eve. Custom gift bags hang above the table.
(Myung J. Chun / Los Angeles Times )
Once upon a time, snug in "The House With the Three Bears," an old toy peddler tinkered in his workshop …
Sometimes fairy tales do come true.
That elderly toy wholesaler and his wife –– Bert and Barbara Kirshner –– are now deceased. But the fabled Christmases staged in their 1930s Brentwood storybook cottage live on.
Those three bears? They frolic (topiary style) on the home's knoll set before a wooden bridge, their necks decked for December with crimson bows. Neighbors long ago nicknamed the property "The House With the Three Bears."
"The feeling in this house has always been one of infinite warmth," said Amy Stanton, one of the Kirshners' grandchildren. The Kirshners bought the two-bedroom cottage in 1975, and it has remained the center of family holiday functions ever since. (The Kirshners' daughter and her husband — Jan Stanton Holz and Rick Holz — moved into the home in 2013.)
Jan Stanton Holz continues her mother's role: a merry matriarch who masterminds an ethereal Christmas that plumbs deep connections.
Begin with a twinkling blue spruce that towers before a living room bay window –– framed by a pitched 14-foot Douglas fir ceiling that evokes a baronial lodge. Four generations are depicted in scores of small framed photos that decorate the tree, including the owners' five children and two grandchildren.
The clan gathers Christmas Eve, continuing Barbara Kirshner's tradition of playing games (everyone's required to invent one). Blindfolded teams guess scents and flavors, the grandkids are mummified in toilet paper fashions, and toys race across plank oak floors.
The contests ring with "laughter, sometimes to tears," said Stanton Holz, a screenwriter and producer. "It's all-consuming, in the most wonderful way," she said of preparations that launch four months out –– from scouring Etsy decor to gift-wrapping.
Christmas Eve dinner, a smorgasbord, is served. The sealed dining room doors open to an ethereal sight: starry lights swirl amid the candle-lighted room, the table strewn with white roses, peonies and hand-painted ornaments. Custom gift bags cascade from the rafters above each place setting, a Kirshner tradition. A lighted "ho ho ho" sign hovers outside the multi-paned windows.
The storied home is worthy of any Dickens novel –– enhanced by a 2012 Thomas Callaway Associates renovation. The overstuffed 4,900-square-foot cottage was given a bracing young look while retaining its architectural genesis. Holz's Brentwood-based firm, Richard Holz Inc., executed the plans.
Callaway ingeniously added and subtracted wood elements –– accenting vaulted ceiling beams by plastering inset dark boards, and half-timbering the two-story master bedroom and gallery (while banishing floral wallpaper), further intensifying a 23-foot pitched ceiling. Other additions: four skylights, staircase wainscoting, and a living room archway's peaked wood inset.
All four fireplaces blaze on Christmas Eve; of note is the master's 8-foot Vermont stone hearth, installed by the Kirshners. Chiseled on the mantel's edge: "Home is our garden –– children the flowers."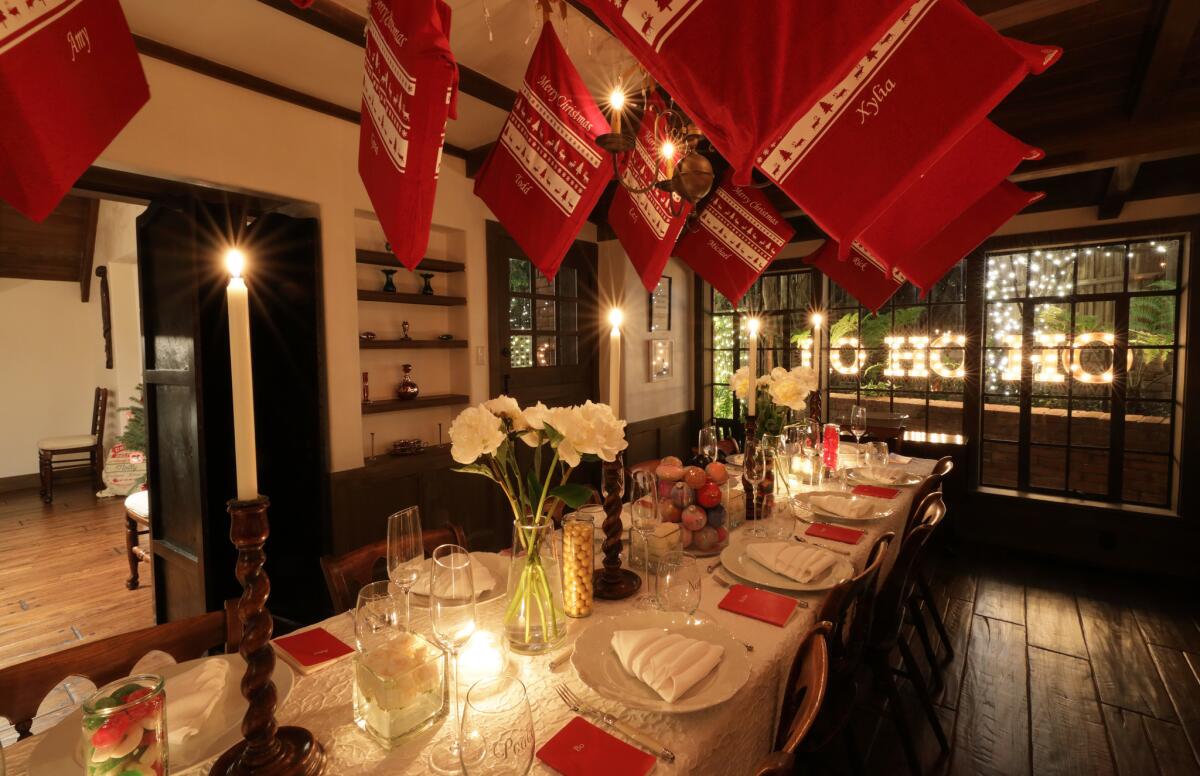 Bert Kirshner built toys for three generations of children in his garage workshop, and annually took his grandkids to a toy factory –– "the best day of my life," remembers granddaughter Molly Stanton, an actress-aesthetician who lives in Santa Monica Canyon.
"My grandfather had a Santa-esque vibe," said Venice resident Amy Stanton, who heads a marketing and PR agency. "We're all wired that way –– it's about surprise and delight." Kirshner lived the part, dressing as Santa Claus in the 1950s when delivering toys and food to impoverished families on Christmas Eve.
A few Christmases were celebrated bedside, Barbara Kirshner's later-life cancer confining her until her death in 2003; her husband died in 2010. "We did all the games around her bed, and Christmas went on," said Stanton Holz, a 25-year Cedars-Sinai Medical Center volunteer.
Barbara Kirshner "held a black belt in shopping," said Stanton Holz, scouring London's famed Bermondsey Street markets by flashlight before dawn. Mother and daughter finds from Paris and London antique shops still fill the home; 19th century furniture and fixtures predominate.
Ultimately, Christmas is about kids. Grandchildren Xylia, 8, and Eli Holz, 12, are amped –– and not from the groaning dessert table (chocolate predominates), or the home's pink and green candy closet stocked year 'round.
Both love the made-up games. (Xylia plans to premiere "Trivia About Me" this year. Shhh!)
Christmas at the cottage "is unlike anything," Amy Stanton said, "especially considering that we're Jewish."
For an easy way to follow the L.A. scene, bookmark L.A. at Home and join us on our Facebook page for home and garden design, Instagram, Twitter and Pinterest.
ALSO:
Dress your tree in style this year, with ornaments that are sparkly, sophisticated, traditional and quirky