Dress your tree in style this year, with ornaments that are sparkly, sophisticated, traditional and quirky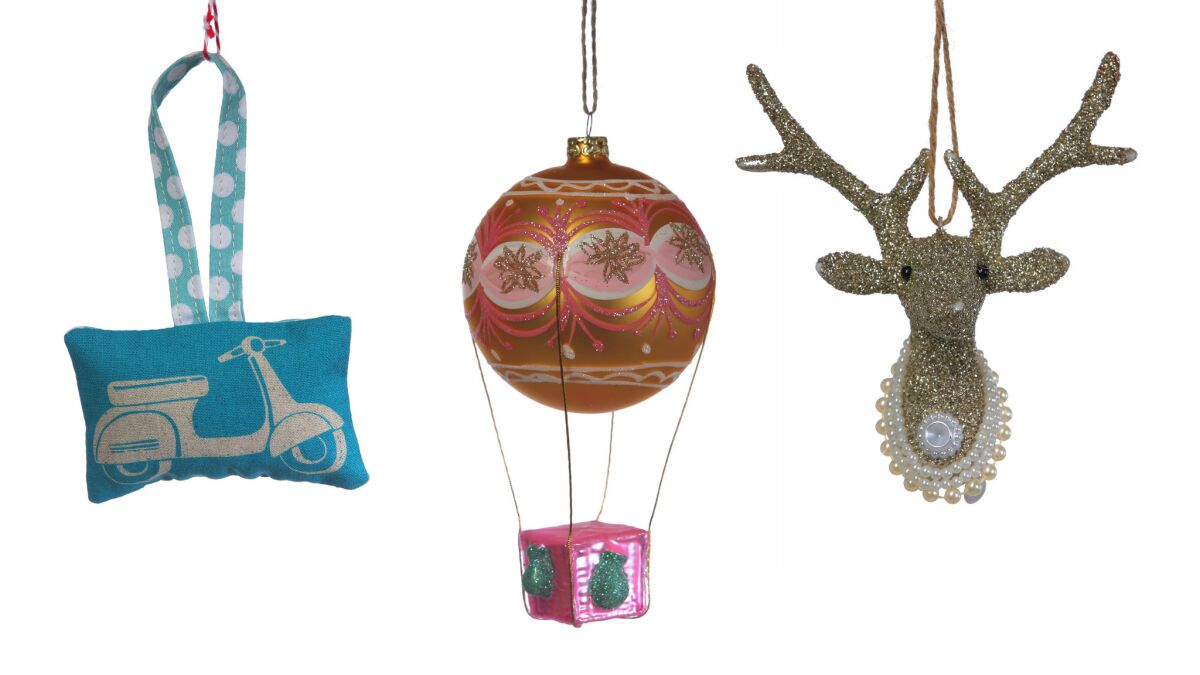 Feeling a little overwhelmed as you contemplate the holidays? The gift lists and the gifts, the parties and the guests, the cards and the decorations — we are flooded with products and messaging about how to celebrate the season.
Many of us pledge — in July or August -- that this will be a year of moderation, but come the fall, the word "reduction" seems to disappear from our vocabulary, especially when it comes to decorations that reflect our personality types or interests or philosophies.
This season you can, if so desired, purchase a "Make America Great Again" hat ornament (several versions, actually), a porcelain disk printed with the words "I Voted for Her," wrinkly slices of bacon to drape on your tree, ornaments inspired by the August solar eclipse, glass hand grenades, and a miniature aluminum Kalashnikov.
There are ornaments that give back (supporting animals or UNICEF or forestation efforts). And who wouldn't want to hang that little pink brain topped with a Santa's hat next to a sparkly microbe?
The display space for ornaments seems to be keeping up with the growing number of offerings. At the end of last year, a MarketWatch headline read: "Here's why Americans spend over $1 billion a year on Christmas trees." The article stated that "some 78% of U.S. households will display Christmas trees this year."
And consider this: The U.S. Census Bureau reports that we imported more than $1 billion in ornaments from China between January and September 2016 (China accounted for 92% of total imports).
There's no getting around the enormity of the marketplace, but we can offer a few suggestions about sourcing. Home decor shops, department stores, Amazon and the seasonal displays that pop up at businesses such as Roger's Gardens in Corona del Mar are a good place to start. Small specialty and gift shops and museums sometimes offer unusual adornments, and if you start to explore Etsy, you will see almost 600,000 listings for Christmas ornaments.
Or you can peruse our list of suggestions, which could very well ease some of that seasonal anxiety -- until you turn your attention to, say, the guest list for your "holiday cheer" cocktail party.
Blue scooter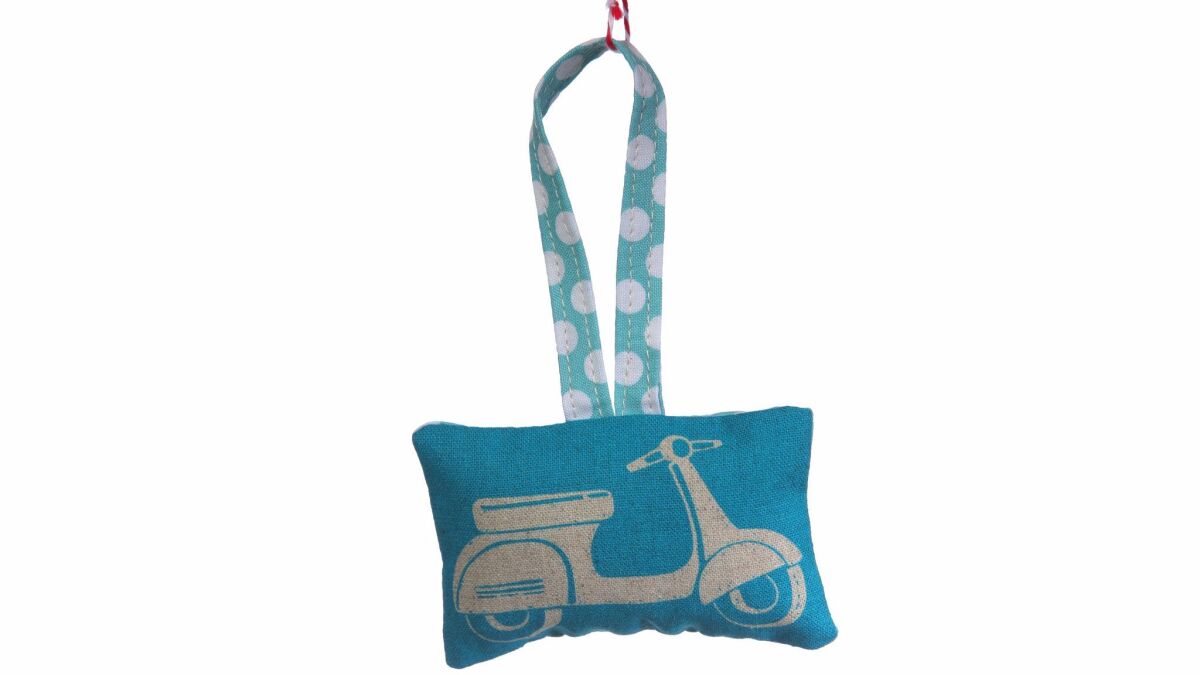 Who says a blue scooter doesn't say "holidays"? This one, a print on a small pillow made with Etsuko Furuya fabric, is 2½ by 3½ inches and is one of a series of whimsical decorations (and bags, wallets, cards and fabric) from Etsy's Sharon Mathieu (SBMathieu). $6, www.etsy.com
Glass blowfish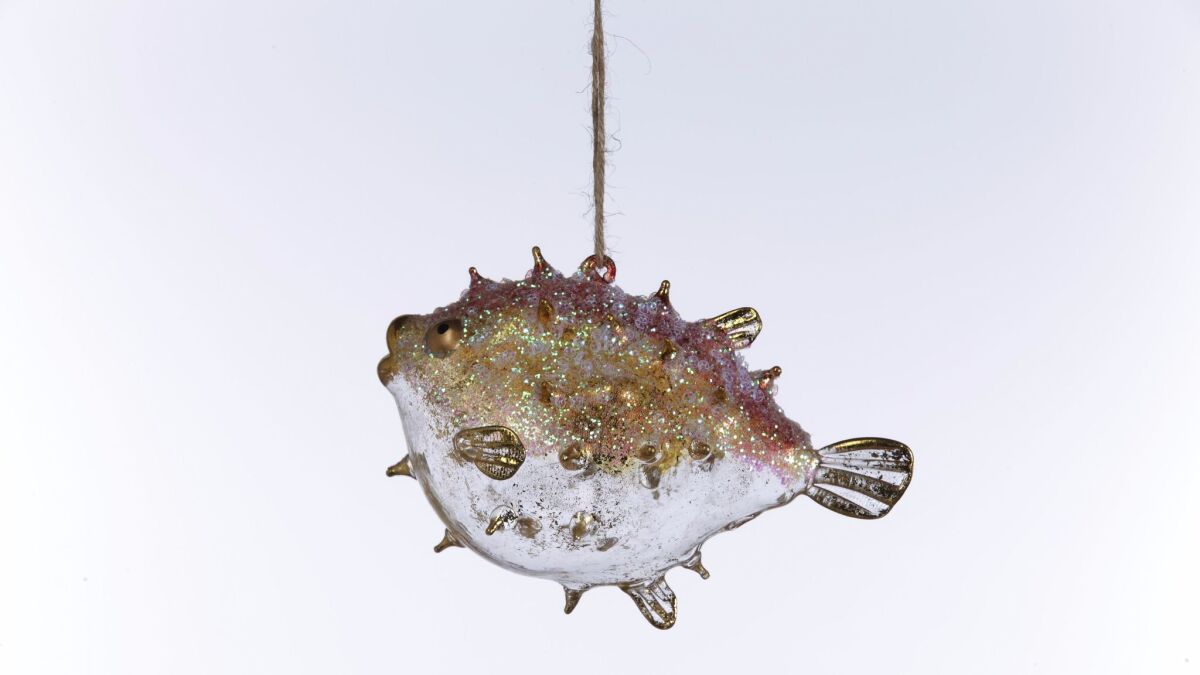 You've undoubtedly heard the warnings about eating blowfish, but hanging a glass replica on your tree might bring a sense of whimsy to your holiday. $12.50, Pottery Barn, www.potterybarn.com
Hot air balloon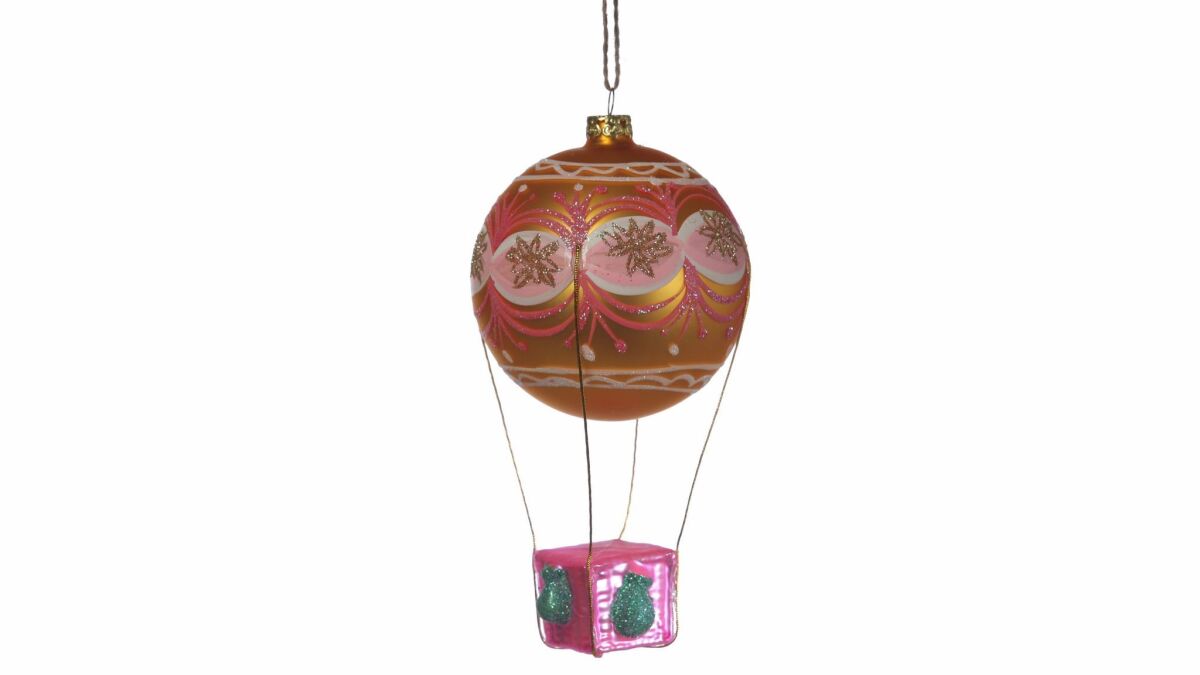 "The Wizard of Oz." "Up." "Casanova." If you've watched the movies, you've seen the occasional hot air balloon, a "lighter than air" aircraft that first transported humans in the late 18th century. Celebrate with a glass version for the holidays. $24, D.L. Rhein, 3303 Motor Ave., Los Angeles, (310) 280-0474
Ombre copper ball
This ornament is a sleek addition to any collection, with its large scale-like paillettes layered to create an ombre look. If it's good for your hair, it's good for your tree, right? $5.95, www.cb2.co
Age of aquarius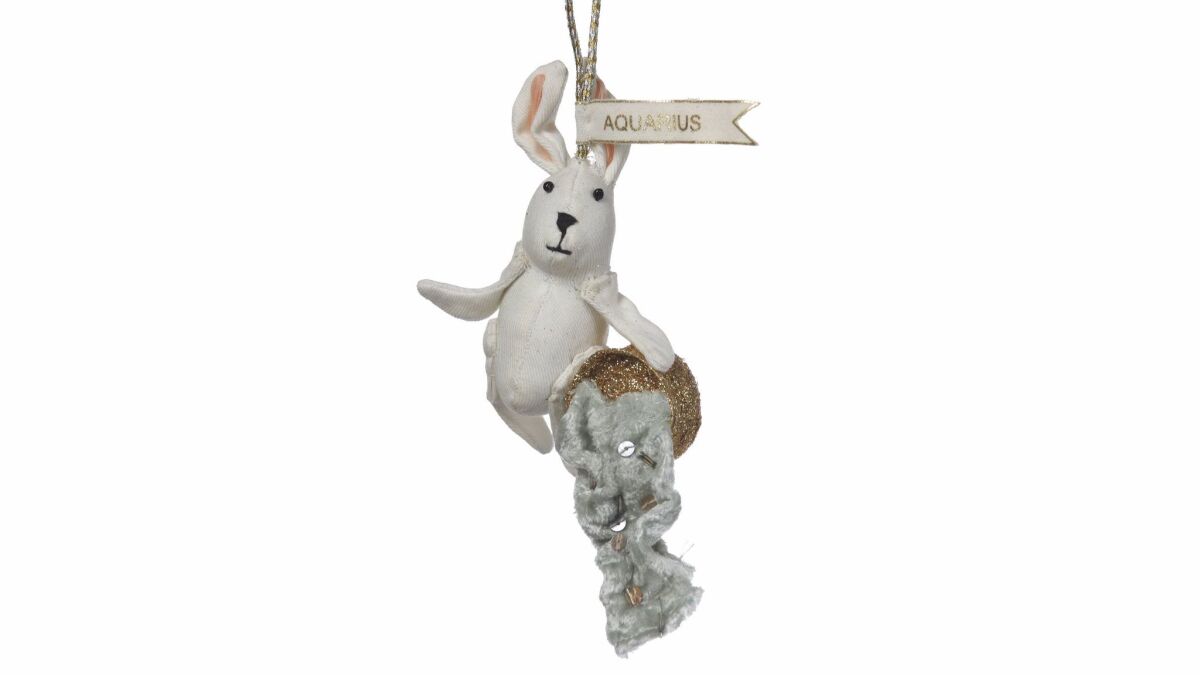 If you pay attention to your horoscope, you may have read that an Aquarius (born Jan. 20-Feb. 18) can be original, progressive and kind. We'd like to suggest that some sort of representation on the tree is in order — and there are ornaments representing the other Zodiac signs as well. $20 at Anthropologie, www.anthropologie.com
Jeweled beetle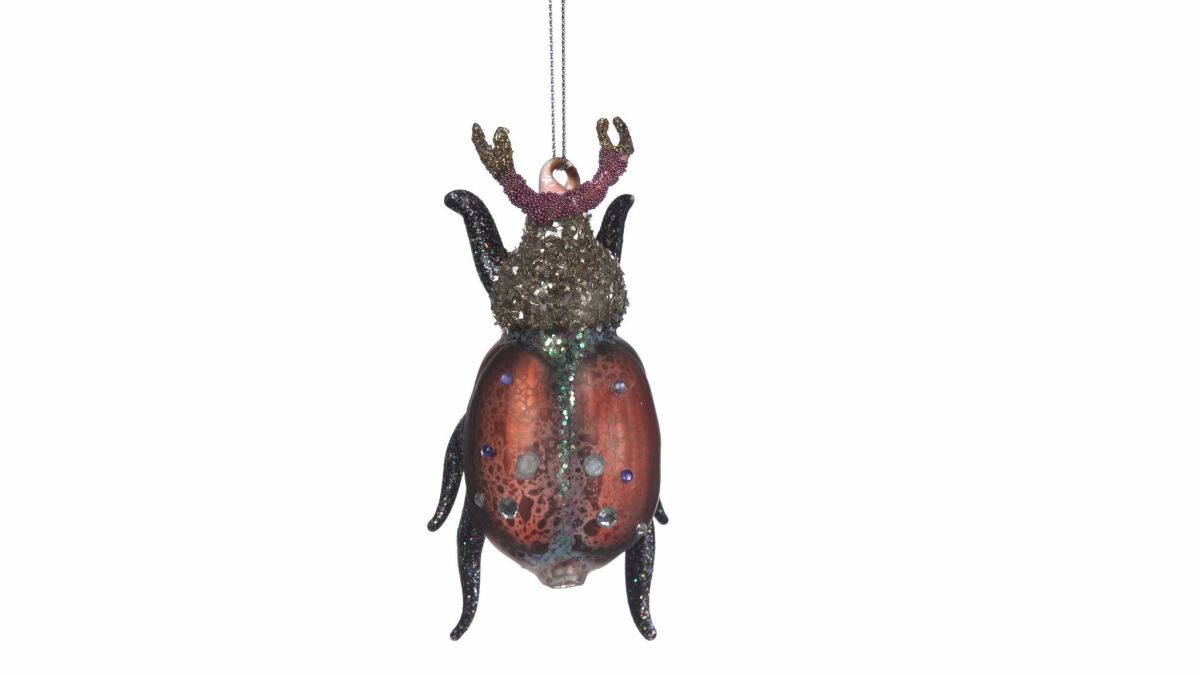 Insects are probably not the first thing you think of as you anticipate the holidays, but this sparkly creature can hold its own next to the Santas and bells and angels you are about to unpack and display. $18, D.L. Rhein, 3303 Motor Ave., Los Angeles, (310) 280-0474
Fishing ornament
It's a little something for the angler in your life — even if that angler happens to be you. It's made of blown glass, with a bit of glitter thrown in. $8.50 at Pottery Barn, www.potterybarn.com
Cannabis leaf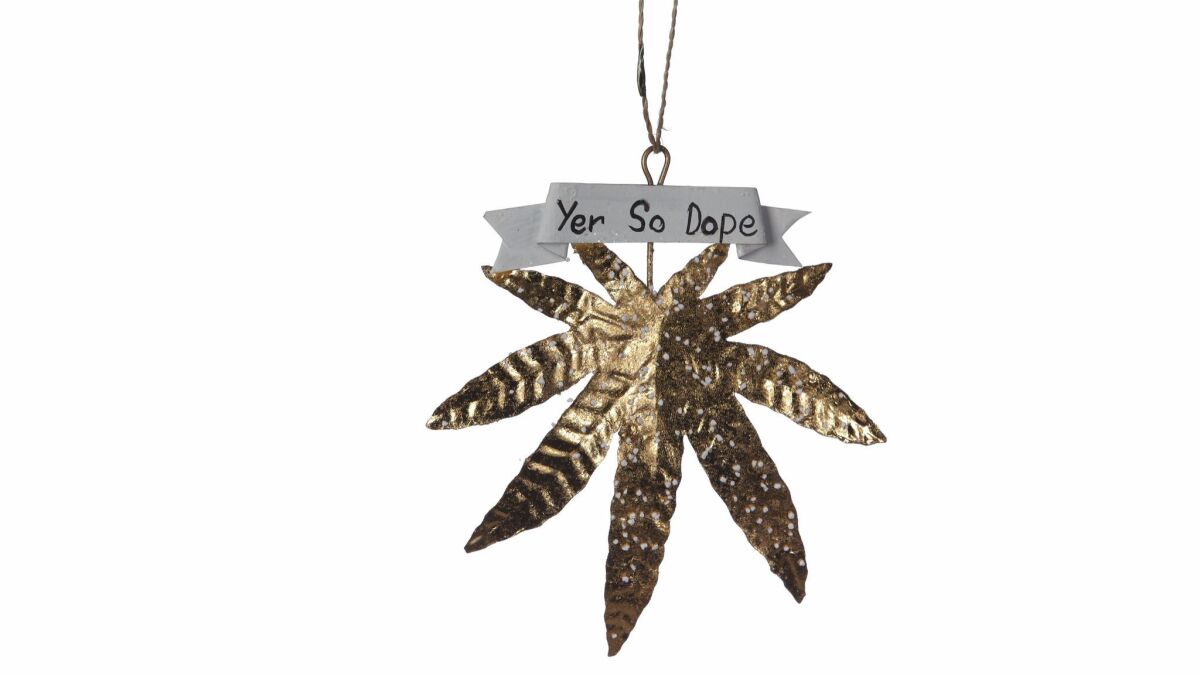 Some of you may be anticipating 2018 and the possibility (for adults ) of buying recreational marijuana — legally. This gold leaf is newsworthy and, perhaps, tree-worthy. $15, D.L. Rhein, 3303 Motor Ave., Los Angeles, (310) 280-0474
Frida Kahlo
Her image is everywhere --hanging on the walls of museums, printed on pillows and purses and T-shirts, gracing the backs of iPhone cases. Perhaps there's a place for Kahlo in your ornament collection? $14.95, Zinc Cafe & Market, 580 Mateo St., (323) 825-5381, www.zinccafe.com
Glass stegosaurus
Do you remember the 4-year-old boy who loved dinosaurs so much that he refused to talk about anything else? This one's for him — whether is he now 6 or 36. $9.95, www.cb2.com
Glass carrots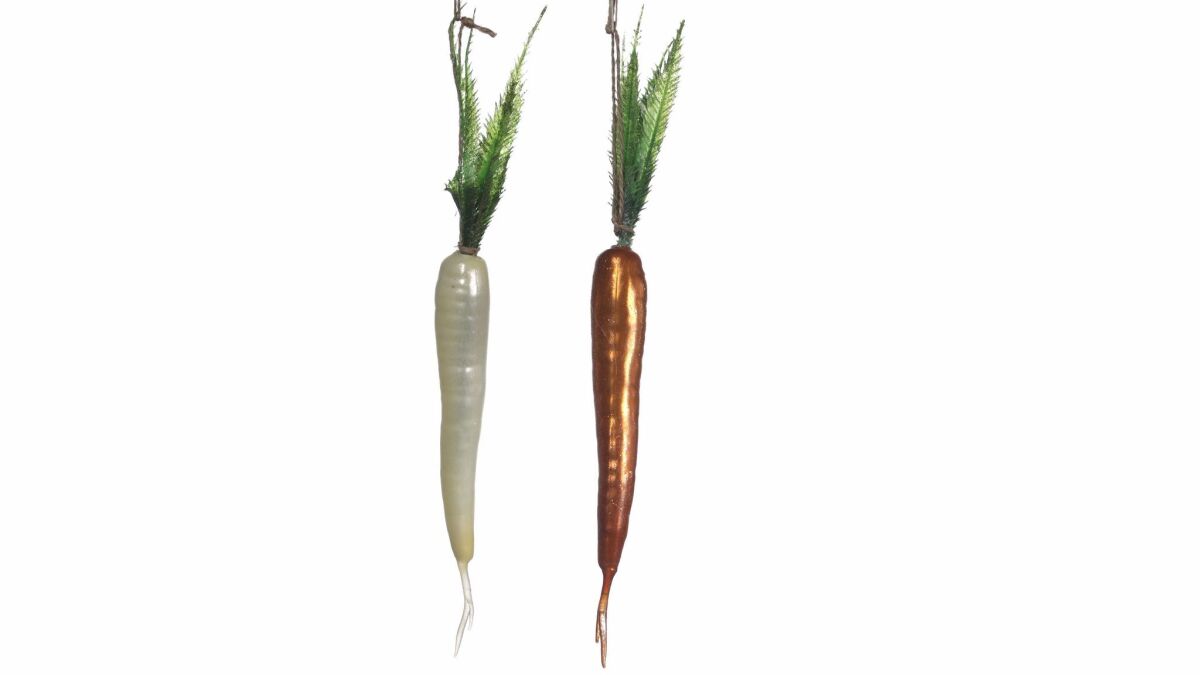 The trend of food-as-holiday ornament isn't going away anytime soon. You can hang sushi, oysters, chunks of blue cheese and guacamole bowls on your tree, but sometimes it's best to go back to basics — like carrots. $16.95 each, Zinc Cafe & Market, 580 Mateo St., (323) 825-5381, www.zinccafe.com
Ornaments for the cook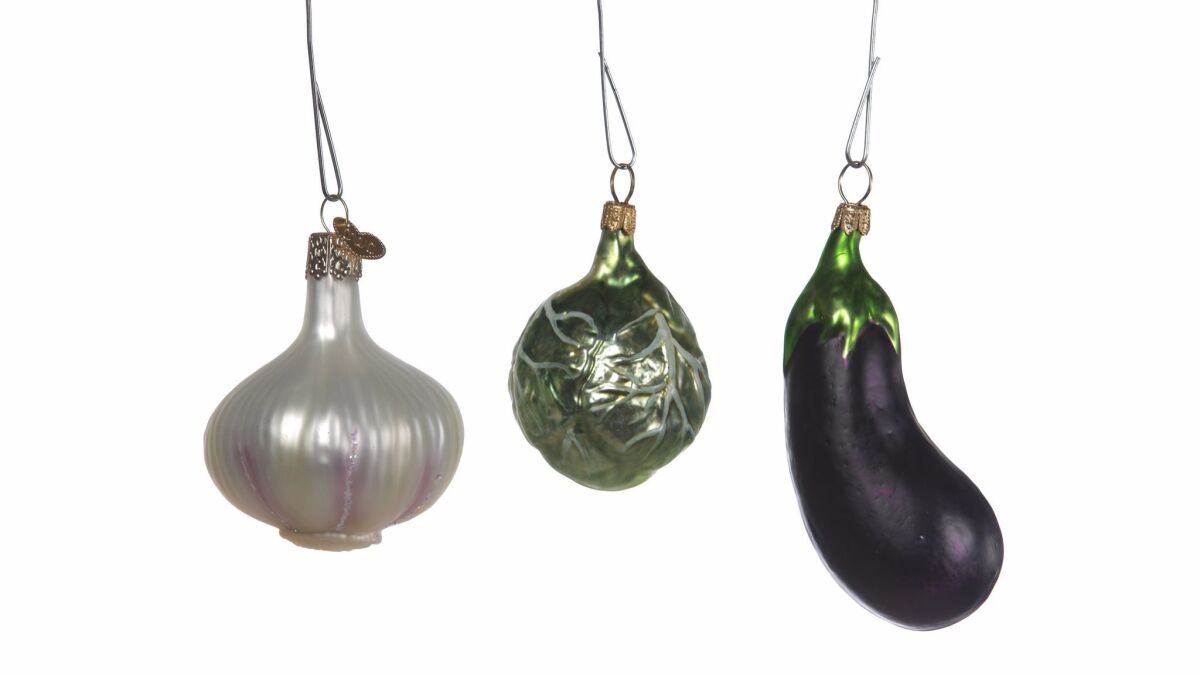 Speaking of food-related ornaments, this holiday season you can ensure that some of those vegetables you've spotted on your favorite brew-pub menu are represented in your collection. Eggplant, $9.99; cabbage, $8.99; garlic, $9.99, Roger's Gardens, 2301 San Joaquin Hills Road, Corona del Mar, (949) 640-5800
Sparkle reindeer
Is this ornament a tribute to the countless restaurants and pubs where the decor includes mounted animal heads? Or just a bit of fun? Only you can decide. $7.50 at Pottery Barn, www.potterybarn.com
Piñatas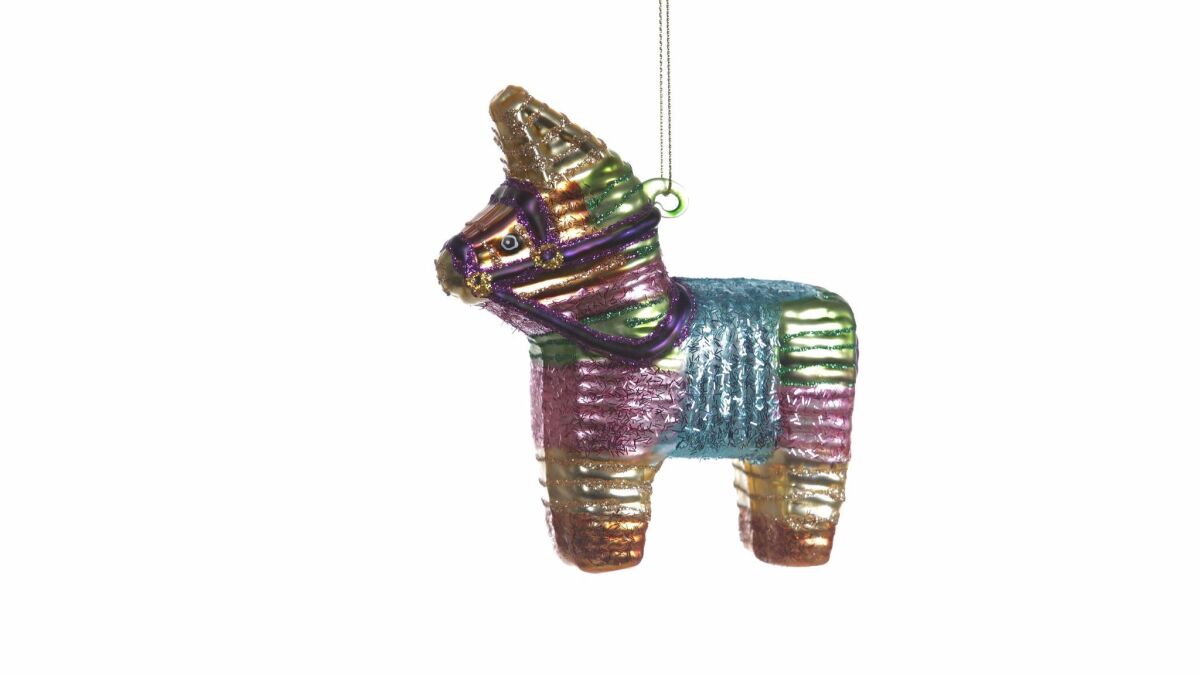 We respect your memories of being blindfolded at a party, being handed a stick and attempting to break a piñata to load up on treats, but this one is made from glass. Put the stick down and pick up an ornament hook. $20 at D.L. Rhein, 3303 Motor Ave., Los Angeles, (310) 280-0474