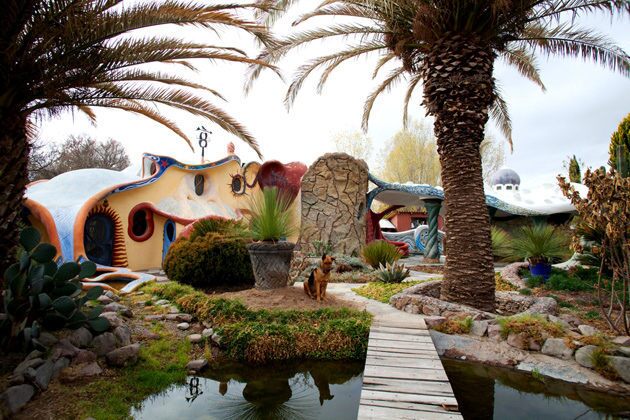 25 Images
Ranchito Cascabel, a.k.a. Timmyland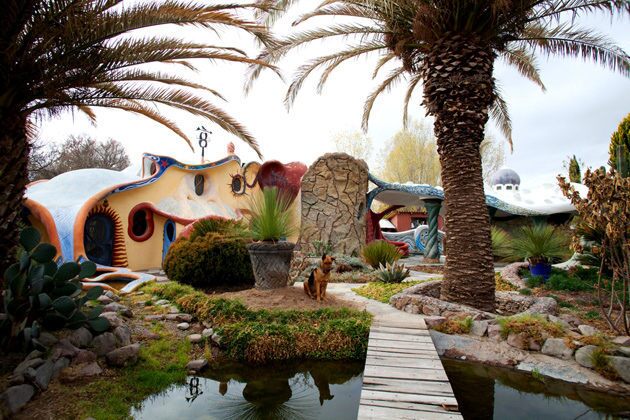 We asked Ann Summa, a regular contributor to our
L.A. at Home
blog, to report on a house a little farther afield. She starts the tour on the north side of building, which has fewer openings because of winds from the north. The rock wall has bits that Sullivan has collected with his kids. He says it's meant to be a "Jesus wall" with a painted crown of thorns and a large bleeding heart on the front of the building.
(Ann Summa)
To the left is the self-composting toilet, to the right is the laundry room. Straight back is the kitchen, entered through the blue bubble door.
(Ann Summa)
Double doors lead into the main part of the house, a living area that doubles as a bedroom.
(Ann Summa)
An outdoor eating area is shaded by the form of a morning glory flower. The stamen is a light.
(Ann Summa)
The sauna was a gift from Sullivan's neighbor, Steve Kornher, who also shared ideas about how to build with lightweight concrete.
(Ann Summa)
Interior of the sauna.
(Ann Summa)
Lupita and Bici stand in a tiny door leading from a pond to the driveway.
(Ann Summa)
Timmyland is crawling with snakes. This was the first, a classic west
Texas
rattlesnake.
(Ann Summa)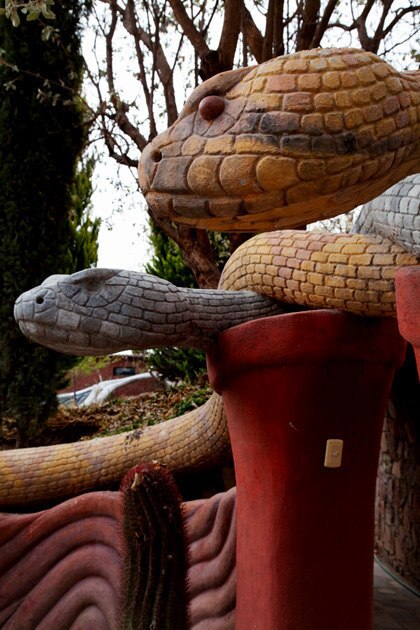 The snakes were designed by Bill Montgomery, a
Texas
artist and a herpetologist, an expert in reptiles. Sullivan wanted snakes represented in an artistic, not fearful, way. "The forms are interesting because they are curvy and artistic but with a lot of messages to them," he said.
(Ann Summa)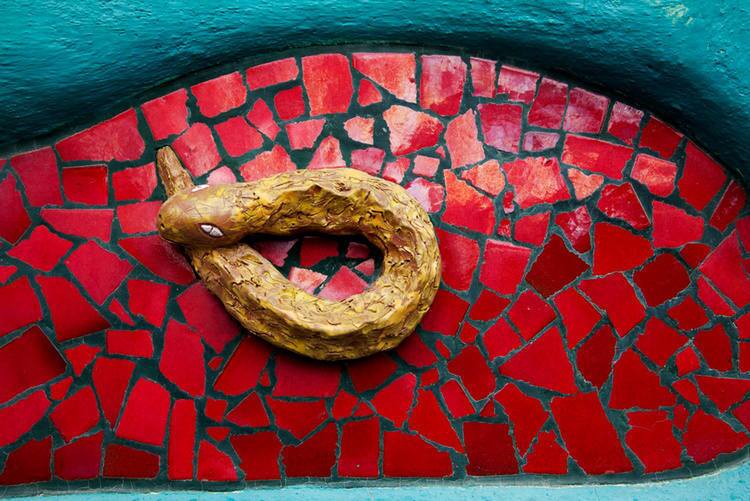 A local potter's ceramic piece was placed in the wall.
(Ann Summa)
Doors were a big focus during the infancy of the project.
(Ann Summa)
One of the doors, in detail.
(Ann Summa)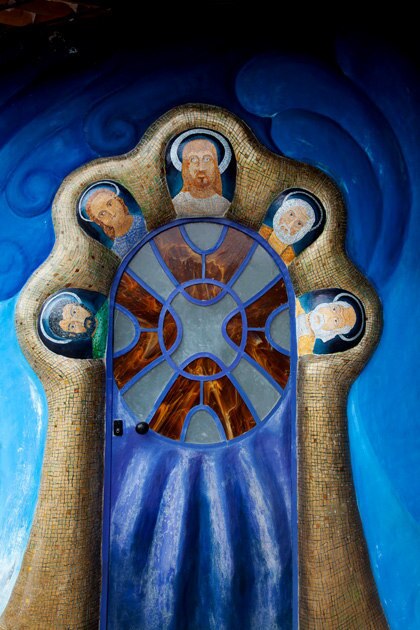 Heads of saints, designed by Robert Freedman, surround a doorway. Sullivan says he let Freedman "run with it."
(Ann Summa)
The interior: at once retro and a bit futuristic.
(Ann Summa)
Windows provide daytime reading light for a built-in day bed.
(Ann Summa)
Sullivan bought tile seconds, imperfect pieces that be broken up for use in mosaics.
(Ann Summa)
The kitchen and dining area.
(Ann Summa)
The kitchen's stairs lead to a loft space, deck and solar panels.
(Ann Summa)
The kitchen has one sink to wash hands, and one sink to wash dishes.
(Ann Summa)
The countertops are poured concrete, and the floor is mosaic tile. At every turn: an arched ceiling and amorphous windows.
(Ann Summa)
Jennifer Haas, a neighbor, did the tile work over the stove top.
(Ann Summa)
The sink at the far end of the kitchen.
(Ann Summa)
"Most of the forms are very organic," Sullivan said, citing mushrooms, lettuce and some very personal parts of the human anatomy as inspiration for Timmyland's architectural lines. "They are interesting to build, they are pleasing to the eye and very structurally sound. A good combination, so why not?"
(Ann Summa)
Sullivan calls the living room his man cave: It's a warm space with starry tile work and a fireplace tucked under a staircase leading to a sleeping loft. The tiled floor design? "Random madness," he said.
(Ann Summa)
Glass blowing is a specialty in San Miguel de Allende, and local artisans' work is incorporated into Timmyland. "Once you decide you want a window, you look at amorphous shapes, and then it's just a question of options," he said.
More houses:
Homes of the Times
(Ann Summa)