As 2017 was coming to a close, Reva Choi was starting a new job, planning a wedding and moving from Pasadena to Santa Monica to begin a new life with her fiancé, Abraham Flinders. But that didn't stop her from adding one more item to her agenda: remodeling the one-bedroom condo, just five blocks from the beach, that she and her new husband would soon be making their new home.
"I wanted to change up the vibe of the whole unit," Choi said. That included the condo's 40-square-foot bathroom.

"We wanted it to be beachy but modern," Choi said. "My husband and I had a term for it: Midcentury Modern meets beach cottage." The mission: maximize available space.
But she knew she needed help. "I didn't have time to do all the research and figure out the design elements, nor do I have the eye for it," Choi said, "and I was getting overwhelmed." Her contractor and friend from college, John Choi (no relation) of Lord & Sons Builders, suggested hiring West Hollywood-based interior designer and project manager Amalia Gal.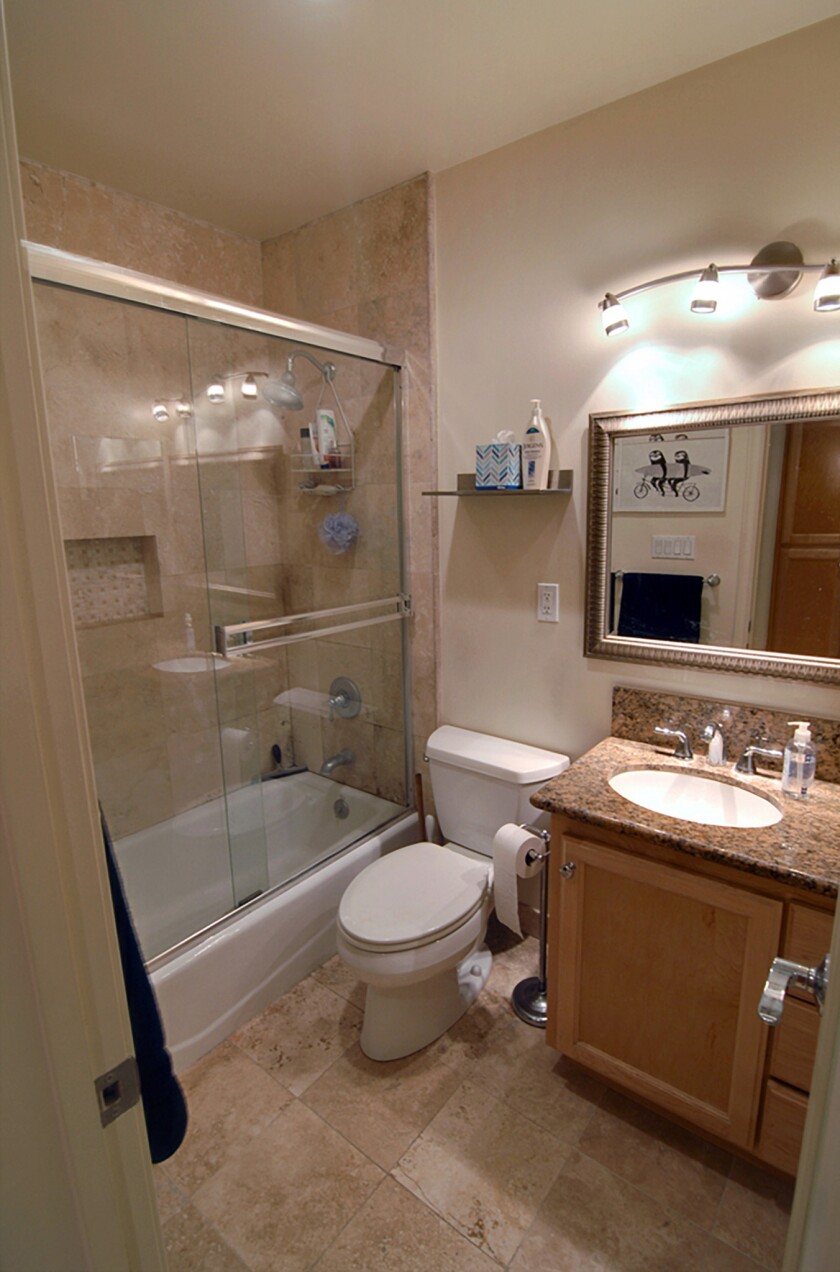 Reva Choi showed the designer inspirational imagery she had collected for the bathroom, and the two hit it off.
"My goal was to make it useful," Gal said, "squeezing every inch of the products I put in there, plus every square inch of aesthetics."
But first they had to agree on a budget. "When you start off, you have no idea how expensive it's going to be," Choi said, who initially guessed remodeling a small bathroom would cost around $10,000, "but that's not really how a remodel works." Although a small space may need less material, it still requires the same new fixtures, design elements, plumbing and labor as a larger space. Choi estimates her project came in closer to $30,000. "Amalia was very sensitive to my budget," Choi said. "She would warn me, 'This is going to make it go up in cost.' But once you get started you realize the value of all the additions and small touches."
The entire process took about six weeks. Here is how they did it.
Going big
On the walls and shower surround, Gal used oversize ceramic tiles with a Carrara marble-look finish from Daltile. "I often use large-scale tile on the wall," Gal said. "It gives a sense of expansiveness with fewer interruptions." Gal also tiled the wall behind the vanity for continuity.
Making maximum use of minimal space
A one-piece San Souci toilet from Kohler is a floor-mounted, low-profile design that takes up less visual space and makes the room seem bigger. "The tank is quite low and it's connected to the bowl," Gal said, "as opposed to having a higher, separate tank." Other space-saving measures: The shower door handle doubles as a towel bar and shower hooks hold towels or robes on the bathroom wall. "The shower hook was genius," said Choi.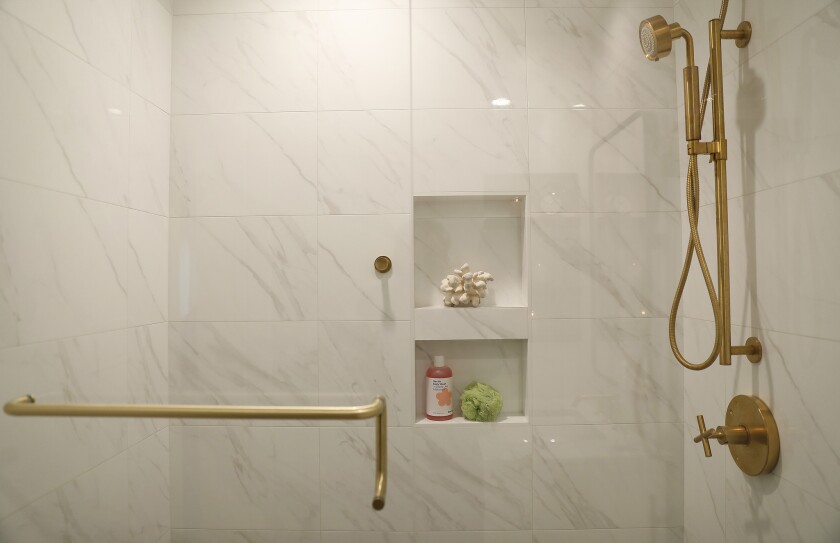 Opting for transparency
Since Reva didn't want to keep the tub, Gal installed a frameless glass shower wall. "When you're standing in the room, you're seeing wall to wall," Gal said, "instead of having something blocking where the tub would be. Using open, clear glass makes it look bigger."
Asking the right questions
Although the new vanity (a 40-inch Kohler Tresham in linen white) is the same size as the one it replaced, there is more visual space beneath the piece and a lighter, polished slab of Qortstone's Masis on top. Choi's advice for choosing the right cabinetry: "Look at your current space and think: Where is this going to go? How are my towels going to sit? Make sure the cabinet you're looking at has enough space for the pieces you need."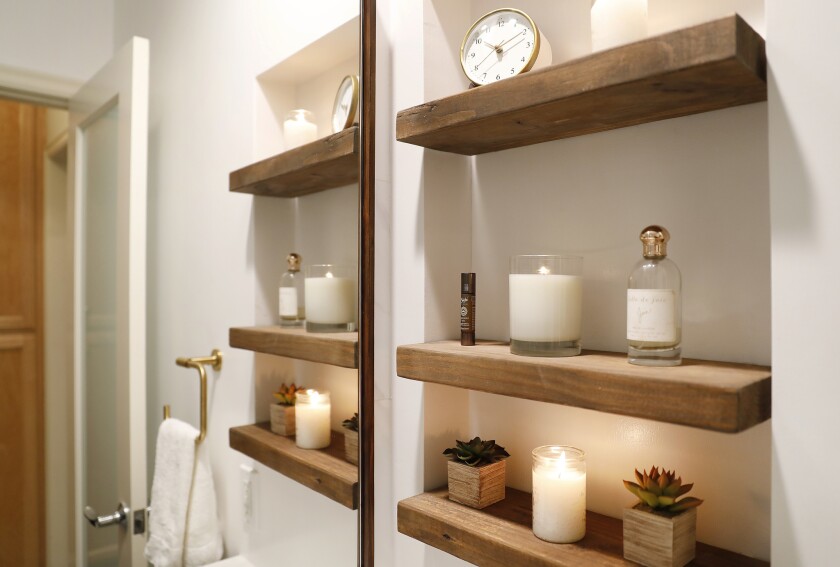 Creating balanced style with texture
Gal replaced the medicine cabinet with a decorative mirror with walnut frame from Rejuvenation, and wooden shelving was added for open storage. "The wood accents give a little bit of warmth to the very sleek glass, polished porcelain tile and polished fixtures," Gal said. "The shiny, hard surfaces get softened a little bit with the introduction of wood."
Repositioning the lighting
Gal removed a dated light fixture and placed sleek, recessed lighting over the shower and above the sink. "I put [the light] directly over the sink … so it would reflect on the mirror and back" at the viewer. When looking in a mirror, the light should either be slightly behind the viewer's head or positioned just in front. "Not directly overhead," Gal said . "No one wants to look bad when they're putting on makeup."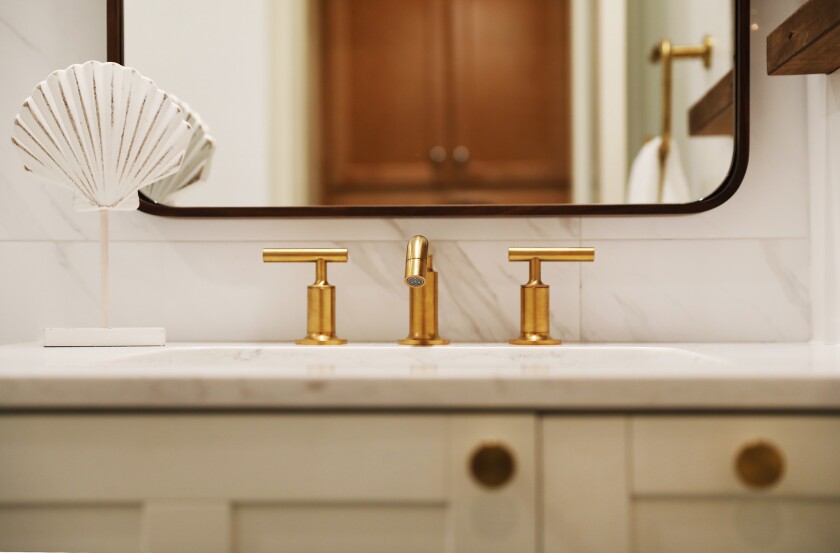 Using color strategically
Gal said the trick to designing with color is using dark colors to visually ground the space on the bottom (i.e. floor) and lighter shades as your eye travels upward. "It makes it feel lighter and more open." (They used a Cool December semi-gloss from Dunn-Edwards.)
Splurging a bit on style
The cubed porcelain floor tiles in wood-grained, wire-brushed balsam fir from Daltile were one of the design elements that hiked the budget. "The wood look brings in a little bit of warmth with the color and texture," Gal said.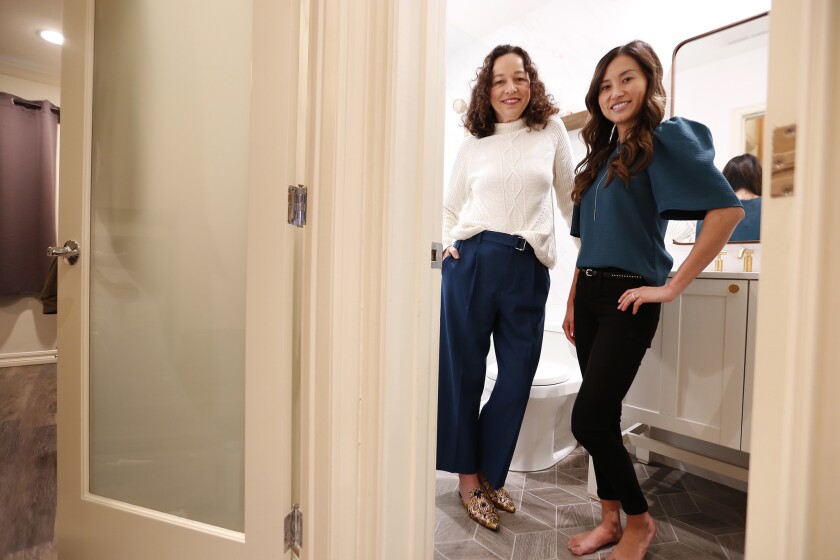 In the end, Choi got the look she and her husband wanted, which Gal said should be a key part of any renovation. "Homeowners are always thinking about what the next person will want instead of making it for themselves," Gal said . "The next person could love it, but they might also hate it, so you've just wasted your money and your personal preferences. You should definitely live with something you love."
Bonnie McCarthy contributes to the Los Angeles Times as a home and lifestyle design writer. Follow her on Twitter @ThsAmericanHome
ALSO
How designer Nate Berkus blended old and new in his L.A. kitchen remodel
They found a real estate unicorn: A house with great 'bones,' ready for decorating
You've never seen a kitchen island sink like this
How online art galleries are serving up talent — and sales — without the 'tude
---