Go behind the scenes of the 'Trading Spaces' makeovers in Burbank
Long before hits like "Fixer Upper" and "Property Brothers," there was "Trading Spaces," TLC's popular makeover show where pairs of neighbors swap homes and redo a room in each other's home assisted by a designer, carpenter and a tight budget. Each episode ends with a reveal, and some tension-filled "will they like it or will they hate it" drama.
The series returned last year following a 10-year hiatus and scored record ratings thanks, in part, to the return of original cast members like Vern Yip, Hildi Santo-Tomas, Frank Bielec, Douglas Wilson and carpenters Ty Pennington and Carter Oosterhouse.
Set the DVR, because the new season starts today. Last year, we went behind the scenes of a makeover in Burbank that audiences will see this season — and find out what twists are in store for viewers:
Surrounded by cameras and the production crew, Steve Millunzi and his wife, Margi, were busy remaking the living room of their neighbors' home in Burbank in a style they hope their neighbors will enjoy. "It feels like Christmas," Steve said of being on the show, which returns for its 10th season on Saturday night. "It's nice to have the time to spend on the house. Our television has been in a temporary place for six years."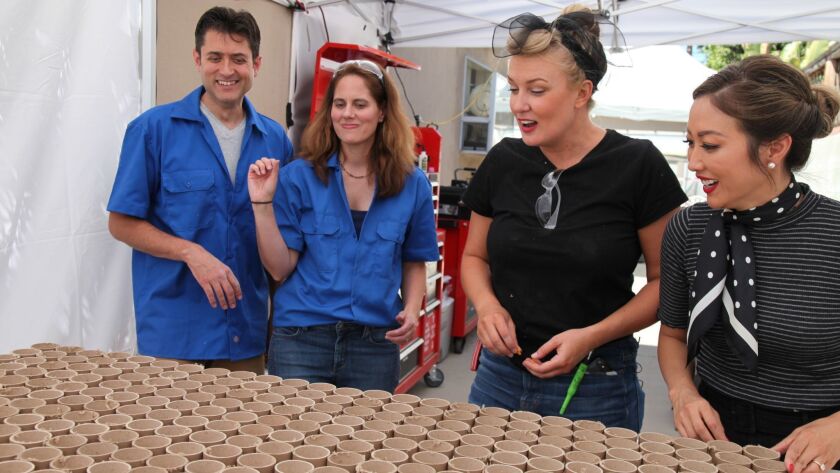 So what's new for 2019?
An inflated budget, for one. While the show used to limit the fledgling designers to $1,000, that budget has now doubled to $2,000 — which is a nice raise but still requires thrifty decision-making, which is really what the show is all about.
"You can still do a lot with little money," said the upbeat host, Paige Davis. "We're trying to let people know that good design is attainable. Your house can be a springboard into a new life."
But ultimately, Davis adds, contestants sign up for the show because they crave an adventure. "You have to want to do it," she says. "Even after our most infamous reveal aired, the homeowner said he'd go through it again just for the experience."
While the Millunzis were busy at work, a few doors down, their neighbors Jenny and Kash Kashola inspect lead designer Carter Oosterhouse's paint choices for the Millunzis' living room.
"They're obsessed with the 1970s," Kash says of his friends, so they hope their choices will be met with approval. (An announcement on a Burbank Moms Group Facebook page led them to try out for the show.)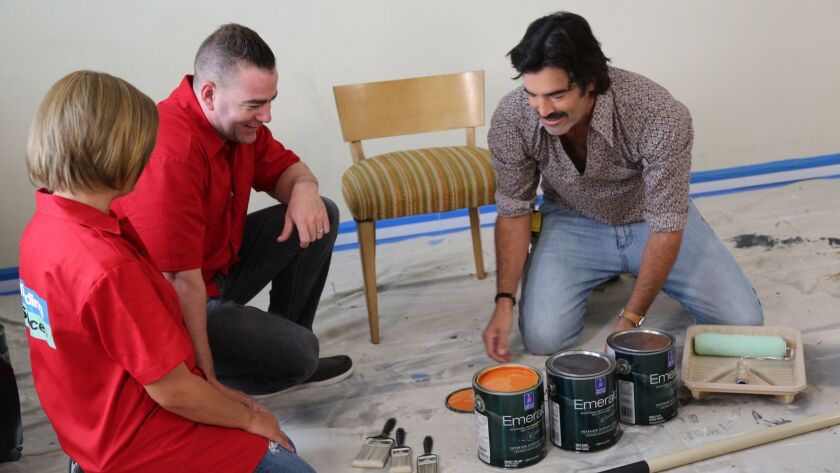 "I want to do a fresher '70s, vibe," Oosterhouse explained. "They have four kids. Let's figure out a way to make it a little more grownup. Instead of using avocado green, I'm going to go for brighter colors and brown and brass accessories."
Back in the show's early days, Oosterhouse said, it was like "TV Design 101." No more. "We live in an era where you can find anything online. And in Los Angeles, you can find great pieces from every era. A little love can go a long way — I found things on Wayfair, Overstock, the Goodwill and estate sales."
While Oosterhouse was implementing his color choices, designer Kahi Lee had instructed the Millunzis to paint the walls of the Kashola's living room white and slate blue. Unable to afford expensive vintage furnishings given the budget limitations, Lee bought Midcentury Modern-inspired furnishings and accessories at Walgreens, Target and Marshalls. She also added an 8-by-10 rug — a must, she says — that she bought for $125 from Wayfair. "Pretty is pretty," Lee says of her inexpensive finds.
While drapes were sewn on the set, or in this case, the backyard, Lee created things for free with paint stir sticks and cardboard fabric tubes from Home Fabrics in downtown Los Angeles.
This being a television series about friends and neighbors, the show's trademark levity is genuine when the cameras aren't rolling, even when things go wrong.
"Sometimes you have to make alterations," says producer Tess Gamboa. "Even Vern, who is our most meticulous designer, has to make changes sometimes."
Although makeover shows have increased in recent years, the premise behind "Trading Spaces" still resonates today because it is based on our universal attachment to our homes and our friends.
Davis summed it up this way: "We really want to inspire people to make a change."
But did the Burbank neighbors create too much change for each other?
Tune in Saturday to find out.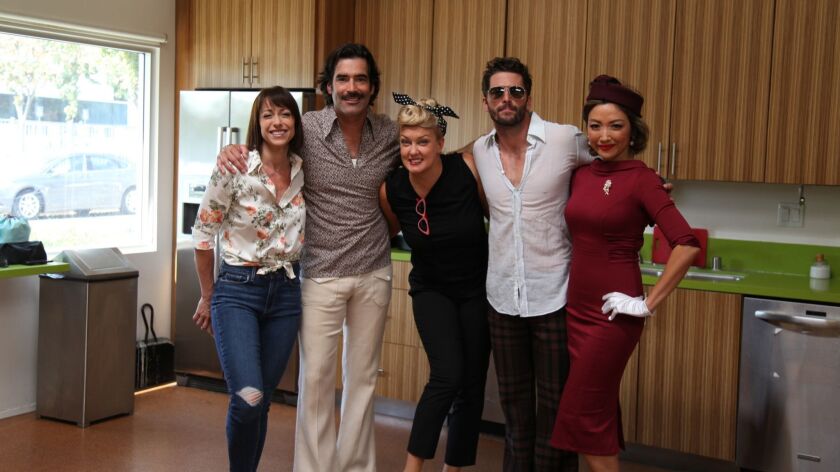 ---