This Mid-City nursery – open to the public this weekend — is one of the last of its kind
Jo Anne Trigo, co-owner of Two Dog Organic Nursery, rests in the middle of rows of tomato plants with her dogs Lalo, foreground, Jake and Charlie in back of her home.
(Genaro Molina / Los Angeles Times)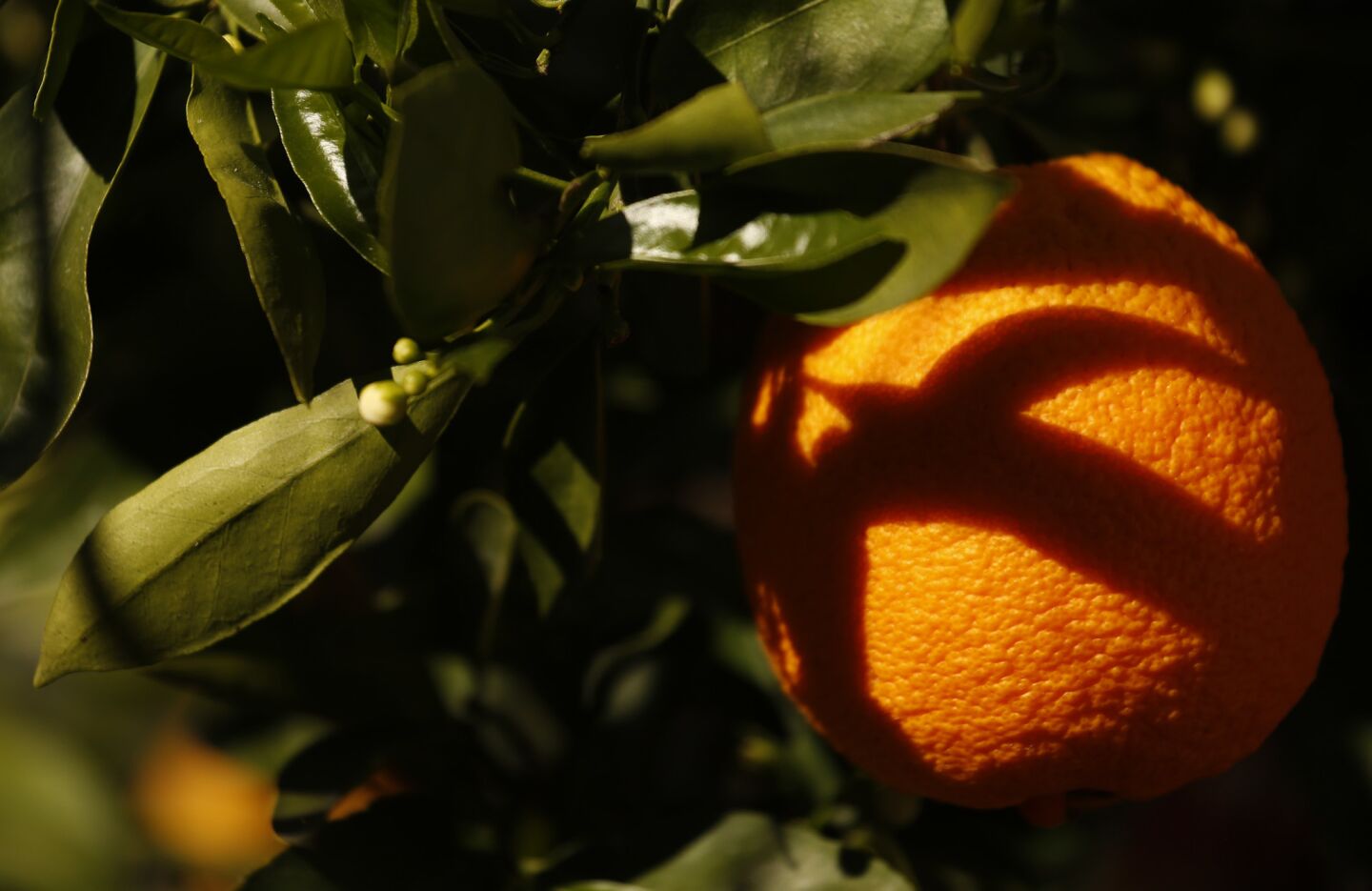 Leaves cast a shadow that looks like a bird on a Cara Cara orange at the Two Dog Organic Nursery.
(Genaro Molina / Los Angeles Times)
Parris Island romaine at the Two Dog Organic Nursery.
(Genaro Molina / Los Angeles Times)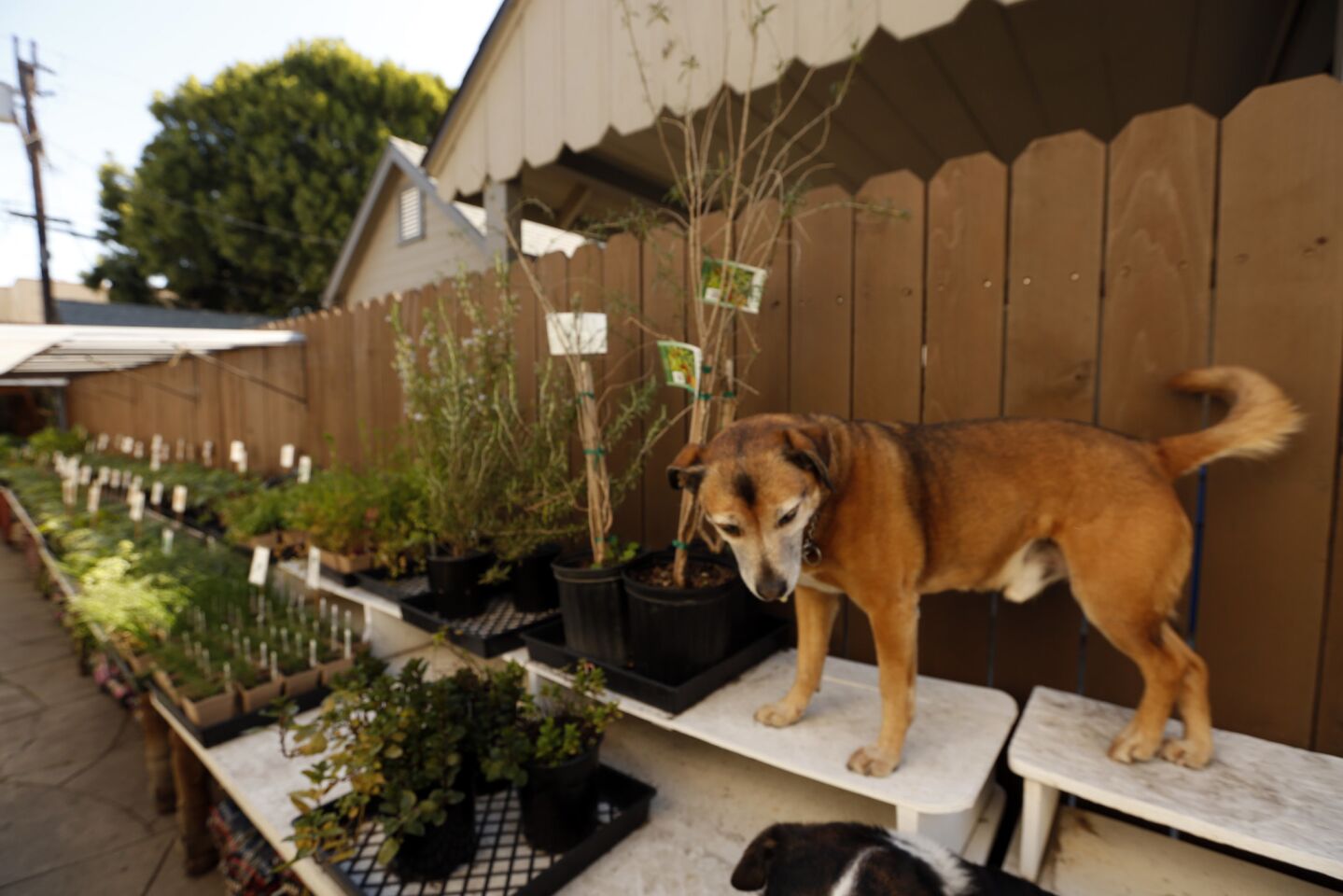 Lalo is ready to greet customers for the spring sale at the Two Dog Organic Nursery.
(Genaro Molina / Los Angeles Times)
Maxxe Sternbaum replants tomato plants at Two Dog Organic Nursery.
(Genaro Molina / Los Angeles Times)
The planter boxes brimming with greens that punctuate the front yard of this modest house in a quiet Mid-City neighborhood are the first clue that you might be in the presence of avid home gardeners. Jo Anne and Alejandro Trigo are indeed avid gardeners, but they are not just growing produce for themselves.
Their house doubles as Two Dog Organic Nursery. Fully licensed as a nursery and certified by the California Certified Organic Farmers agency, Two Dog is one of the handful of mom-and-pop nurseries left in the city and one dedicated to the production of certified organic, and non-GMO, produce for planting.
Past the driveway gate, the nursery offerings, an astonishing 350 varieties of organic vegetables, herbs and edible flowers per year, reveal themselves on tables set up down the driveway, over the patio and across the entire backyard. The garage functions as potting shed, seedling incubator and product storage.
The inventory doesn't stop there. Inside the house, seedling racks have invaded living room, dining room and even the master bedroom, all in preparation for this weekend's annual Spring Kick-Off Sale and benefit for the Los Angeles Regional Food Bank. (People who bring a food donation receive a 10% discount.)
Of great interest to Two Dog's customers this weekend is the debut of 47 varieties of organic tomato plants — many unusual heirlooms —ready to go into the ground, but showstoppers abound. The 25 pepper varieties range from mild to blistering, from sweet chocolate and corno di toro rosso to Caribbean fish peppers and smoking hot Trinidad scorpions. The dozen bean selections are a rainbow of choices, from brilliant Chinese red noodle to deep purple Royal Burgundy and speckled Rattlesnake. There are washed-lavendar Rosa Bianca eggplant and globular Lemon cucumber, specialty greens such as Belle Island Upland Cress and Serafine endive, Carnival, Purple Dragon and Atomic Red carrots and a myriad of squashes.
And that's just the start.
Surveying the array, Jo Anne shakes her head. "This just happened," she says. "The universe threw us a ball and we just ran with it."
How this pair, who successfully ran their custom furniture business La Paloma Design on Beverly Boulevard for 18 years, became urban gardeners has a lot to do with a collapsing economy and loss of their retail shop, but also the two rollicking bundles dashing up and down the driveway. Jake and Lalo, a pair of rescue dogs whose ability to make mincemeat of the garden Trigo was attempting to plant drove her to invest in Earth Box planters, which they now distribute.
So successful were they with the Earth Boxes, the Trigos began selling their seedlings at local farmers' markets seven years ago, a practice they just discontinued to concentrate on bigger projects, such as an 89-fruit-tree installation at UCLA and tending the rooftop garden at the Peninsula Hotel.
Shopping forays to Two Dog are by appointment except for these special events, but clients follow the latest plantings through the nursery's extensive website and monthly newsletter that goes out to 1,800 customers.
And while the couple seem to be bursting at the seams, they have no interest in moving to a bigger space.
"We want to keep doing it from here," Jo Anne says. "To us it's very personal, and people tell us all the time they love coming to our home."
Next-door neighbor Laurie Schechter wouldn't have it any other way. The couples get together for potlucks, the Schechters bringing the fish and the Trigos everything else.
"They are such creative people," Schechter says. "It's beautiful when they have everything growing."
Two Dog Organic Nursery Annual Spring Kick-off Sale
When: 10 a.m. to 4 p.m. March 11-12.
Where: 914 S. Cloverdale Ave., Los Angeles.
Benefits: The L.A. Regional Food Bank: 10% off purchases for those who bring a non-perishable food donation.
Contact: twodognursery.com, (323) 422-3835
≈≈≈
Of all the offerings at Two Dog Organic Nursery, "Tomatoes are No. 1," says Jo Anne Trigo.
Here are some of her top picks to plant this summer:
Aunt Ruby's German Green: "A gorgeous midseason heirloom beefsteak, emerald green inside and out."
Black Krim: Mahogany-toned beefsteak with intense smoky/slightly salty flavors, tolerates cool weather.
Good Old-Fashioned Red: "Highly productive beefsteak, with rich, intense flavor for sauces, sandwiches and salads."
Pink Berkeley Tie-Dye: Perennial early to midseason favorite beefsteak, with complex flavor and stunning coloring in port wine with metallic green stripes.
Solar Flare: Bright red with gold striping, this sweet and tart mid-season beefsteak is "a true showstopper" with fruits topping one pound apiece.
Amos Coli: "This is a fabulous and rare paste variety, a 110-year-old California heirloom with large meaty, well-balanced red fruits perfect for sauces."
Brown Berry Cherry: Abundant yields of tiny fruits, dark mahogany and smoky-sweet flavor. "The first truly dark cherry tomato," easy to grow for midseason harvest.
Brandy Sweet Plum: "An accidental cross" between the Brandywine and Sweet 100, these "jade-pink, elongated cherries grow abundantly on compact plants."
Amy's Apricot Cherry: Pretty early season variety producing "loads of small, robust apricot-colored fruit" and "rivaling our bestseller, Sungold."
Rosella Purple Dwarf: "Part of the exciting Dwarf Tomato Project," this variety, one of five dwarfs Two Dog grows, produces full-sized heirloom fruits on dwarf plants reaching no more than 5 feet tall.
Aunt Molly's Ground Cherry: "New and different to us," this early season Polish variety that is akin to a tomatillo "bears tons of little fruits in papery husks whose taste is a delicious combination of pineapple, vanilla and tomato." High pectin content makes them great for pies or jams.
For an easy way to follow the L.A. scene, bookmark L.A. at Home and join us on our Facebook page for home design, Twitter and Pinterest.
ALSO:
This family is creating a zero-waste homestead in Altadena with goats, chickens and bees
Record drought + record rain = toppled trees. How do you know if your tree is in trouble?
How a Hollywood set decorator channeled movie magic into her Altadena garden
---