Live small, think big: MINI LIVING unveils latest tiny Urban Cabin atop Row DTLA
The third Urban Cabin in a series of inhabitable temporary cabins is designed by MINI LIVING to create a global village themed around "Big Life, Small Footprint".
(Myung J. Chun / Los Angeles Times)
The simple kitchenette in the Mini Urban Cabin.
(Myung J. Chun / Los Angeles Times)
The bedroom doubles as a dining room with a fold out table, in the Mini Urban Cabin, the third 160-square-foot Tiny Home in a series.
(Myung J. Chun / Los Angeles Times)
The bed in the Mini Urban Cabin slides out through opening walls.
(Myung J. Chun / Los Angeles Times)
Is it possible to live with less and have more?
A new 160-square-foot cabin installed on the roof of ROW DTLA proves it is.
Built as part of the MINI LIVING Urban Cabin program, which aims to create a "global village" of thoughtfully executed Tiny Houses in dense cities, and designed in collaboration with Los Angeles architecture firm FreelandBuck, the latest micro-cabin is bright and fun with colorful interiors, inventive green spaces and an impressive connection to the city of L.A.
"Outdoor-like qualities are things you rarely find in tiny housing," said architect David Freeland. "Those are the first things you lose when you have a tiny space. We are trying to think of new ways to apply interesting ideas to small spaces."
The three-volume cabin includes two main living areas by the Living branch of the Munich-based car brand MINI and a center "experience space" designed by Freeland and Brennan Buck as a place for contemplation. The bedroom doubles as a dining room, polycarbonate panels can be disassembled and reused while three-dimensional graphics create kaleidoscopic reflections. The cabin also features a toilet and shower and a simple kitchenette with pegboard walls for easy storage.
"Visiting the project, visitors will get a sense of how it is possible to live in a compact space," said Buck. "It will also show how small spaces can be exciting visually by referring to art and bold graphics and colors and plants."
MINI LIVING unveiled the first Urban Cabin at the London Design Festival in September 2017, and a second in Brooklyn, New York, in October. Look for more MINI LIVING Urban Cabins in the coming months.
The MINI LIVING Urban Cabin is presented in conjunction with the LA Design Festival and is on view Friday, 11 a.m. to 4 p.m. and 7 to 10 p.m.; Saturday, 11 a.m. to 10 p.m. and Sunday, 11 a.m. to 5 p.m. Row DTLA, 777 S. Alameda St. downtown Los Angeles, Admission is free. Info: ladesignfestival.org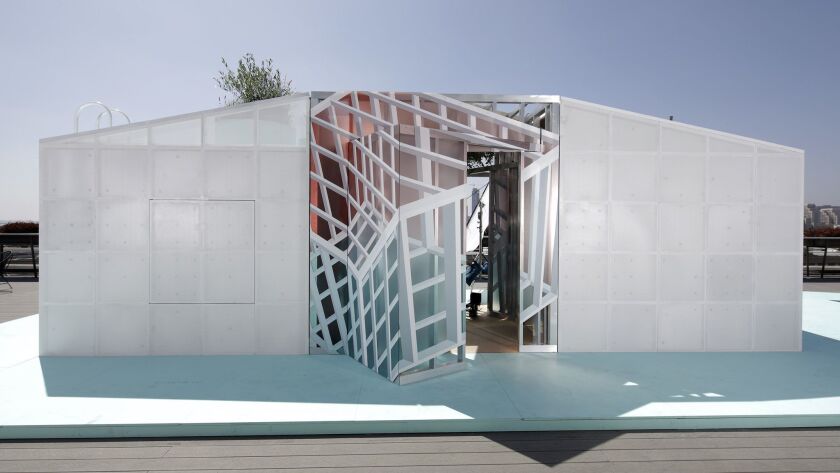 Twitter: @lisaboone19
For an easy way to follow the L.A. scene, bookmark L.A. at Home and join us on our Facebook page for home design, Instagram, Twitter and Pinterest.
ALSO:
They ditched pricey home ownership for a small house on wheels — and they love it
Small-space living: 18 interiors to inspire
Let's get creative: LA Design Festival showcases L.A.'s imaginative community
---