Story of Fritz Haeg's Wildflowering L.A. blooms in Pasadena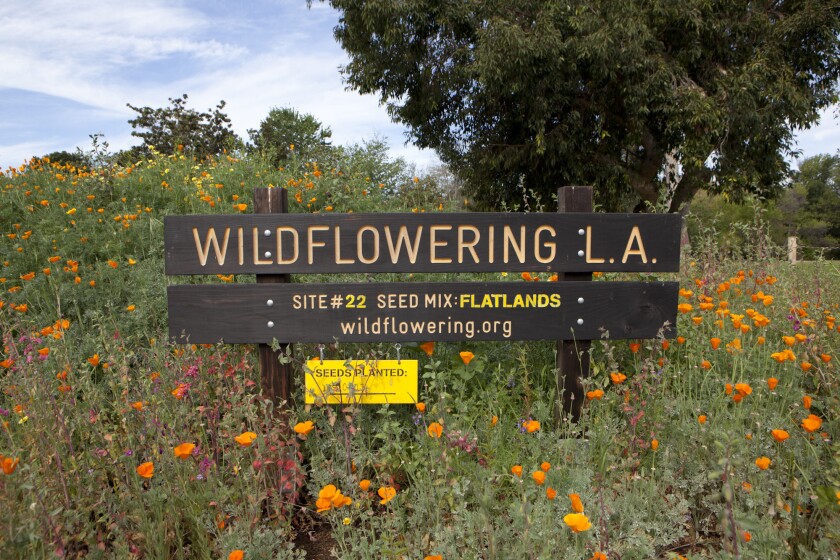 What would Los Angeles look like if it were a landscape of ever-changing native plants instead of one composed of evergreen lawns and shrubs?
L.A. artist Fritz Haeg set out to help people visualize Southern California this way.
"In Los Angeles, we've tended to promote landscapes that look the same all the time," Haeg says. "Not only the same within radically different landscapes from the coast to the desert but also looking the same throughout the year."
Last October, Haeg launched Wildflowering L.A. Working with the Los Angeles Nomadic Division, or LAND, he recruited participants to plant wildflowers on 50 diverse, viewable sites countywide. The Theodore Payne Foundation gave growers native plant seed mixes specific to their area and offered advice on soil preparation and planting.
As the wildflowers germinated in the fall, grew in winter and bloomed in spring (and continue to bloom), the project was documented on social media (#wildfloweringla) and on Wildflowering.org. When the plants dry up this summer, their seeds will be collected and shared.
The story of Wildflowering L.A. will be on view Saturday and Sunday in an exhibition at the Shed in Pasadena. Visitors can take a "walking tour" of the sites on a 40-by-50-foot interactive floor map with fresh wildflower cuttings and other materials. Garden experts will give talks, and there will be nature-based activities for children.
Wildflowering L.A.
When: Noon to 6 p.m. April 26 and 27
Where: The Shed, 1355 Lincoln Ave., Pasadena
Price: Free
Info: (646) 620-8289, www.wildflowering.org
ALSO:
Seven tips for a water-wise lawn

Architect Polly Osborne's philosophy: Green is good
Ellen DeGeneres to launch furniture design challenge series for HGTV
JOIN THE CONVERSATION: @latimeshome | pinterest.com/latimeshome | facebook.com/latimeshome | facebook.com/latimesgarden
Twitter: @acolby

---