25 years in the making, a dream house rises in Laguna Beach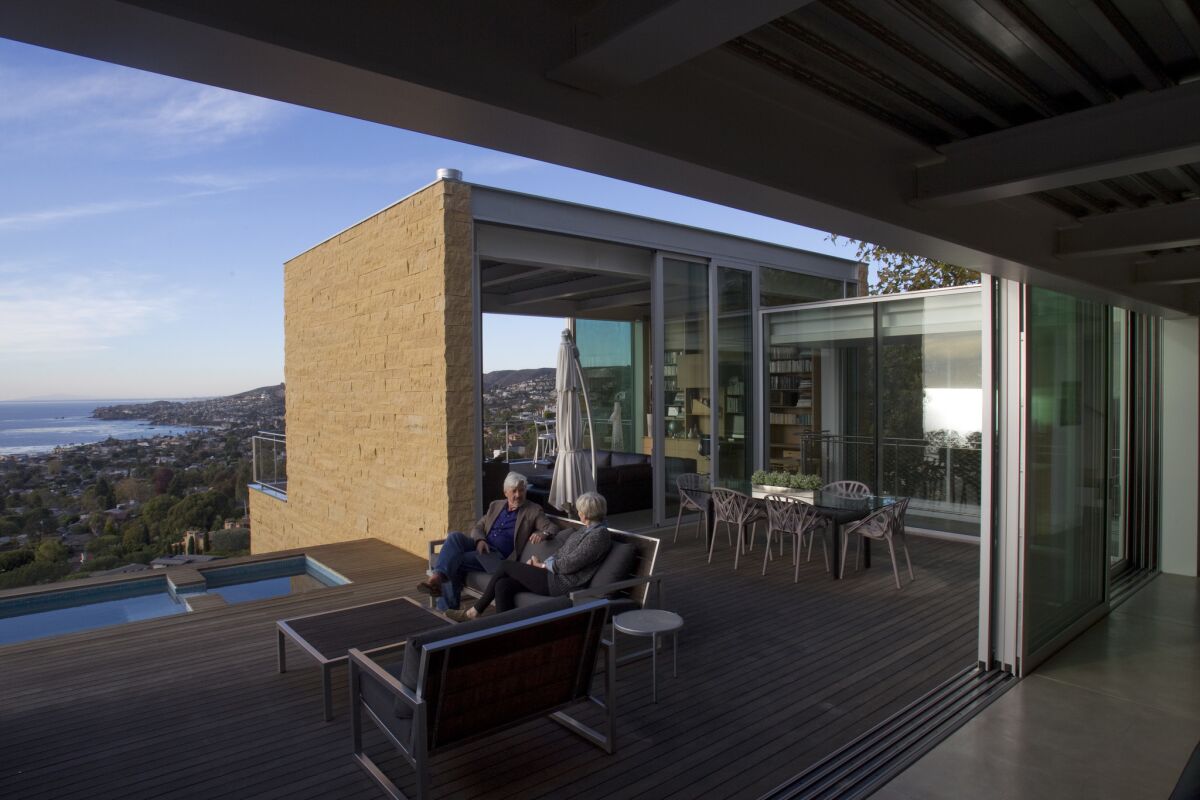 If you worked on a house for five years, you'd call it a labor of love, right? What if that process took 25 years? Is there a name for that?
This is the story behind architect Paul Zajfen's epic quest in Laguna Beach.
Zajfen, a design principal at the Los Angeles firm CO Architects, bought an ocean-view site on the steep, winding bluffs of Laguna in 1989. His dream was to create a modern oasis, hugging the landscape and opening to the elements. Then things got messy.
First, a lawsuit by locals to ensure that lots on Zajfen's street were buildable held up the project for about five years. Next came changes to the neighborhood's specific plan, which delayed construction for several more years. Around 2000, the architect began the painful slog through the local design review committee, a process that lasted until 2007.
Zajfen still grimaces at the thought of neighbors fighting his contemporary structure because it didn't fit into the local guidelines calling for "rustic" architecture. In Laguna, that means re-creations of New England, Italian or Spanish Colonial designs.
PHOTO GALLERY: Paul Zafjen's Laguna Beach house

"Even though I've done this stuff a ton of times for big clients, the process was physically affecting me more than anything I'd ever experienced," Zajfen said. "I thought I was going to die."
The review committee reacts to neighbors' concerns, and there were plenty: the home's size, its openness, its lighting, the large amount of glass.
After half a dozen trips to the board, Zajfen finally got the city's blessing. He started construction in 2010 and recently completed the house. It displays some of the compromises necessary to get approval, including a lower profile and a discordant brown stucco entryway on the top floor that does indeed look almost "rustic."
But his dream has been realized, somehow. Visiting the house can be nothing short of magical.
Stepping down a series of concrete slabs, the four-level home is supported by caissons dug as deep as 60 feet, with tied-back retaining walls to keep the hill in place. The house is mounted on a steel frame and clad with Vetter Stone limestone, a rich, golden rock from Minnesota. And in front: lots and lots of glass.
Telescoping glass doors open the kitchen and dining room to a 30-foot-long, 18-foot-wide, open-air courtyard on the second floor, clearly the home's heart. The space, fitted with modern outdoor furniture, also contains a hot tub, a barbecue and a fireplace. The courtyard then flows toward an indoor living room, whose front and back walls are all glass — pure transparency so that one can stand in the dining room, look across the courtyard and still see the Pacific through the living room walls.
"The biggest thing was the idea of outdoor living," Zajfen said. "The idea of an outdoor space shaped by a building. I wanted to see if I could do that on a hillside property."
The architecture provides a unique frame for the mesmerizing view of Laguna, hugging the crescent-shaped Pacific coastline. It's not so much a frame, which suggests two dimensions, as it is a view that you can walk into. The glass-walled living room is like stepping inside a picture.
"Seeing the view through these layers of space changes your perception of the scene and makes it something special," said Zajfen, whose grown children and their families come to visit frequently. Dinners on the courtyard deck last for hours.
Other levels of the house are hardly afterthoughts. Two first-floor guest bedrooms, a third-floor master suite and a top-level entryway, gym and garage all have magnificent ocean views thanks to floor-to-ceiling glass. Sliding doors allow spaces to flow seamlessly. Exposed steel, oak finishings and concrete floors juxtapose the coolness of contemporary design with some natural warmth.
A highlight is the view down from the third-floor master bedroom onto the green roof over the second floor. Designed by Whitin Design Works, the succulent garden is a swirling, multicolored composition inspired by the contours of the hills around it.
Rooftop photovoltaic panels and a solar hot water heater keep energy bills near nothing. At the base of the long, narrow property is a zigzagging landscape planted with olive and citrus trees.
Of course, one might think that the finished design would have convinced neighbors to come around, but that hasn't happened. Many are still unhappy. However, visitors in town, Zajfen said, have begun making pilgrimages to see the house, which stands out in a sea of neo-traditional design.
"I'm not all concerned about how different it looks," Zajfen said. He laughed when he remembered one neighbor complaining about the home's stone walls, which didn't match the local aesthetic.
"What's wrong with a stone wall?" the architect said. "People go to the Grand Canyon to look at stone walls."
ALSO:
Acorn home and garden store opens in Eagle Rock
Bubble lamp brouhaha: Legal battle over a midcentury icon

In the Hollywood Hills, remodeling the ultimate tree house
@latimeshome | pinterest.com/latimeshome | facebook.com/latimeshome | facebook.com/latimesgarden