'La Boheme': Hillary Danner's vintage Craftsman in Highland Park
Framed by a stone arch lining the front porch, the family's17-year-old Shar-Pei and Lab mix, Lucy, seems the perfect fixture for the 1904 Arts and Crafts house.
(Francine Orr / Los Angeles Times)
An arched window at one end of the porch seemed like the ideal place to hang an unusual metal bicycle. "I bought it from an antique store when I first moved to Los Angeles," Hillary Danner says. "It was way over my starting actress [salary] range, but I've learned that if something is really hounding you after a week, you have to do something about it." Below is her grandmother's long table and bench.
(Francine Orr / Los Angeles Times)
The covered front porch serves as the outdoor family room, large enough for a dinner party and casual enough for the children to do their art projects. "We're so blessed in California to spend time outdoors, and the porch is a huge part of this house," Hillary Danner says. Wood-and-leather armchairs came from a Warner Bros. prop sale; Danner says they were just "a few bucks apiece." Later, she realized they came from the set of "The Goonies."
(Francine Orr / Los Angeles Times)
A table on the porch displays a vintage train set, which belonged to Hillary Danner's father, Harry, when he was a child. A Roderick Smith painting of Olvera Street rests against the wall between two small Christmas trees.
(Francine Orr / Los Angeles Times)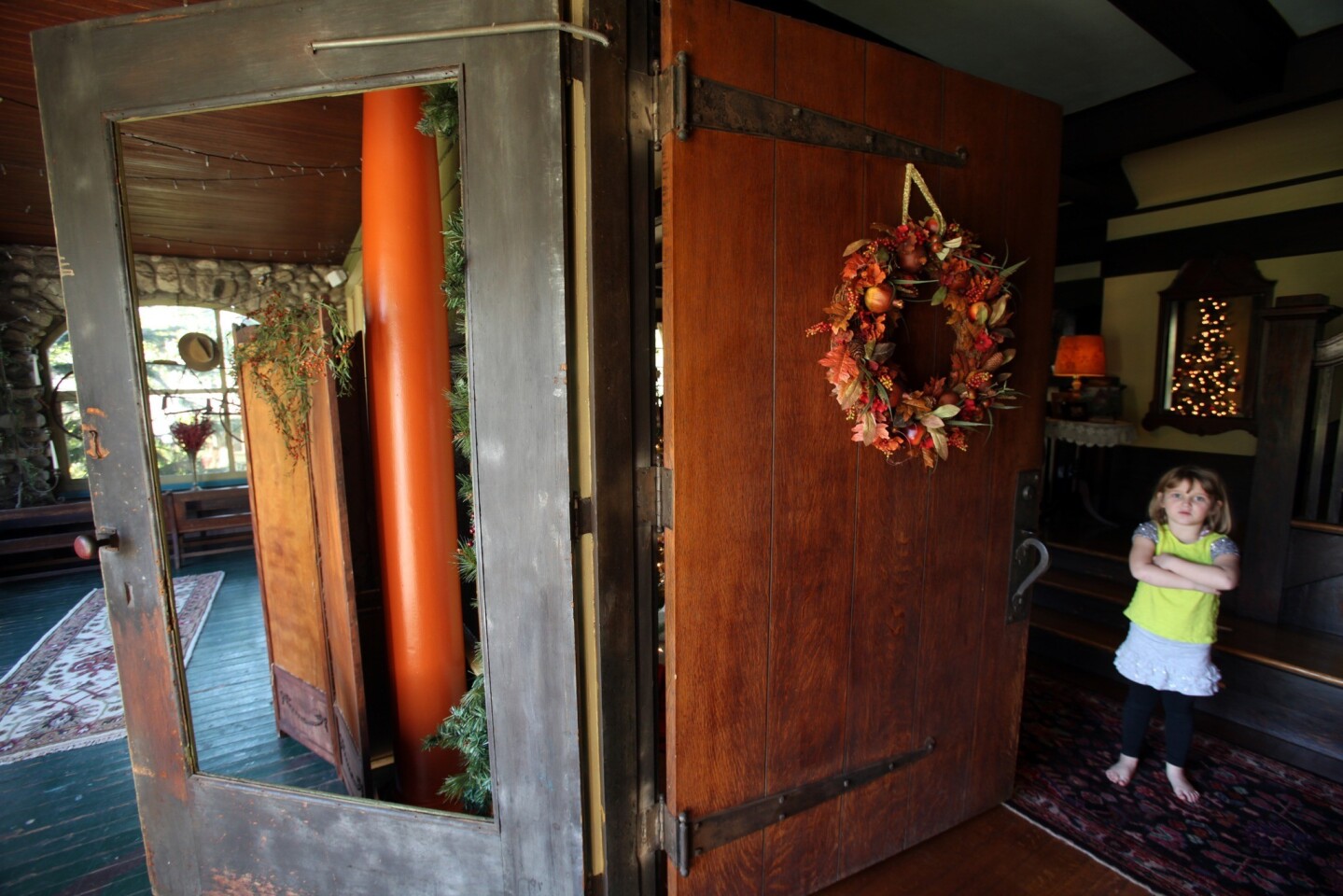 Emma Jo Renfro, 5, stands in the doorway of the Liddell "La Boheme" House. The original plank door has attractive iron strap-hinges.
(Francine Orr / Los Angeles Times)
Demonstrating the utilitarian beauty of Arts and Crafts architecture, the wood wainscoting is finished with contrasting butterfly joinery.
(Francine Orr / Los Angeles Times)
A leather satchel rests on the edge of the staircase landing, lending another layer to the patina of the home.
(Francine Orr / Los Angeles Times)
When she first saw the words "La Boheme" inscribed above the fireplace, Hillary Danner knew this home was meant to be hers. The massive mantel is a place for her favorite artwork, including a sailboat watercolor by her grandmother, center, a Roderick Smith painting of the Huntington Botanical Gardens, right, and a heart drawing by Danner's daughter that's taped to the mantel and reads: "Dear Santa, please can you wake me up? From Emma."
(Francine Orr / Los Angeles Times)
An inlay accent table, also from Hillary Danner's grandmother, is on display in front of the gray brick fireplace. "This is one of my favorite things of hers," Danner says.
(Francine Orr / Los Angeles Times)
A view across the living room takes in the front windows, the sparkling porch lights and the Christmas tree. Original boxed beams cross the ceiling, echoing woodwork around the windows. "It's hard to find places to put things in this house, because there really isn't much wall space," Hillary Danner says. "It's as if each window is a picture frame, with its own scene outside."
(Francine Orr / Los Angeles Times)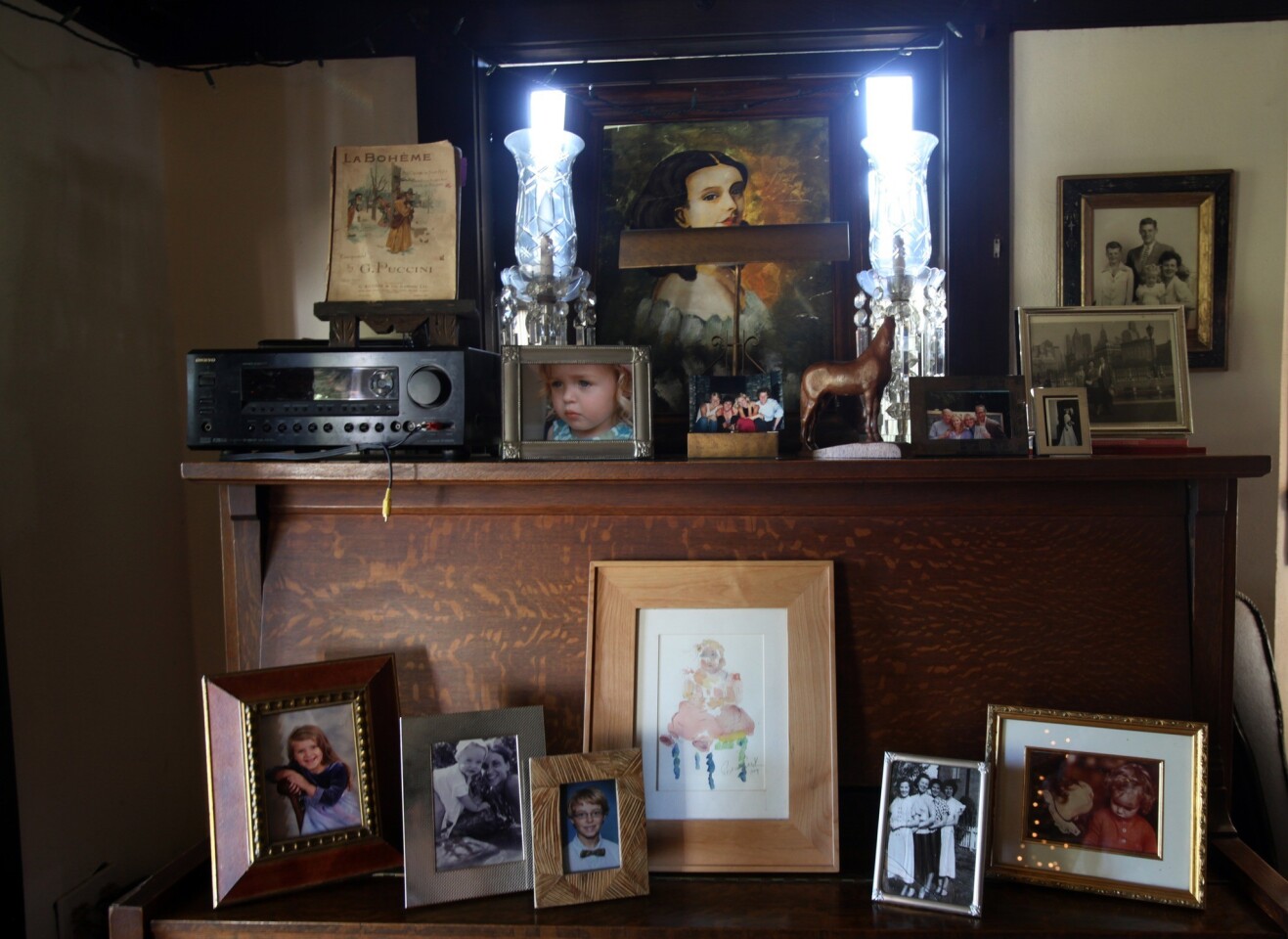 Hillary Danner inherited the piano from the home's previous owner. "Once my dad arrives for the holidays, we'll start playing music and I'll move the family photos," she says. There's a framed picture of the Danner and Paltrow cousins and a watercolor of daughter Emma, painted by a neighbor, artist Roderick Smith.
(Francine Orr / Los Angeles Times)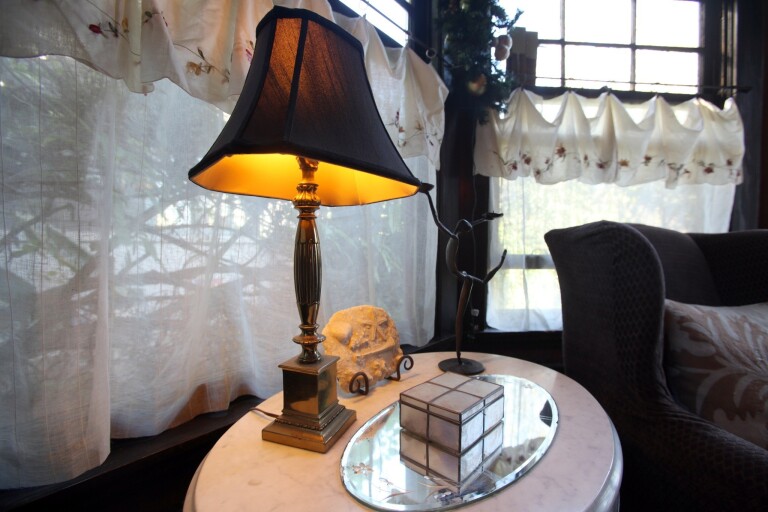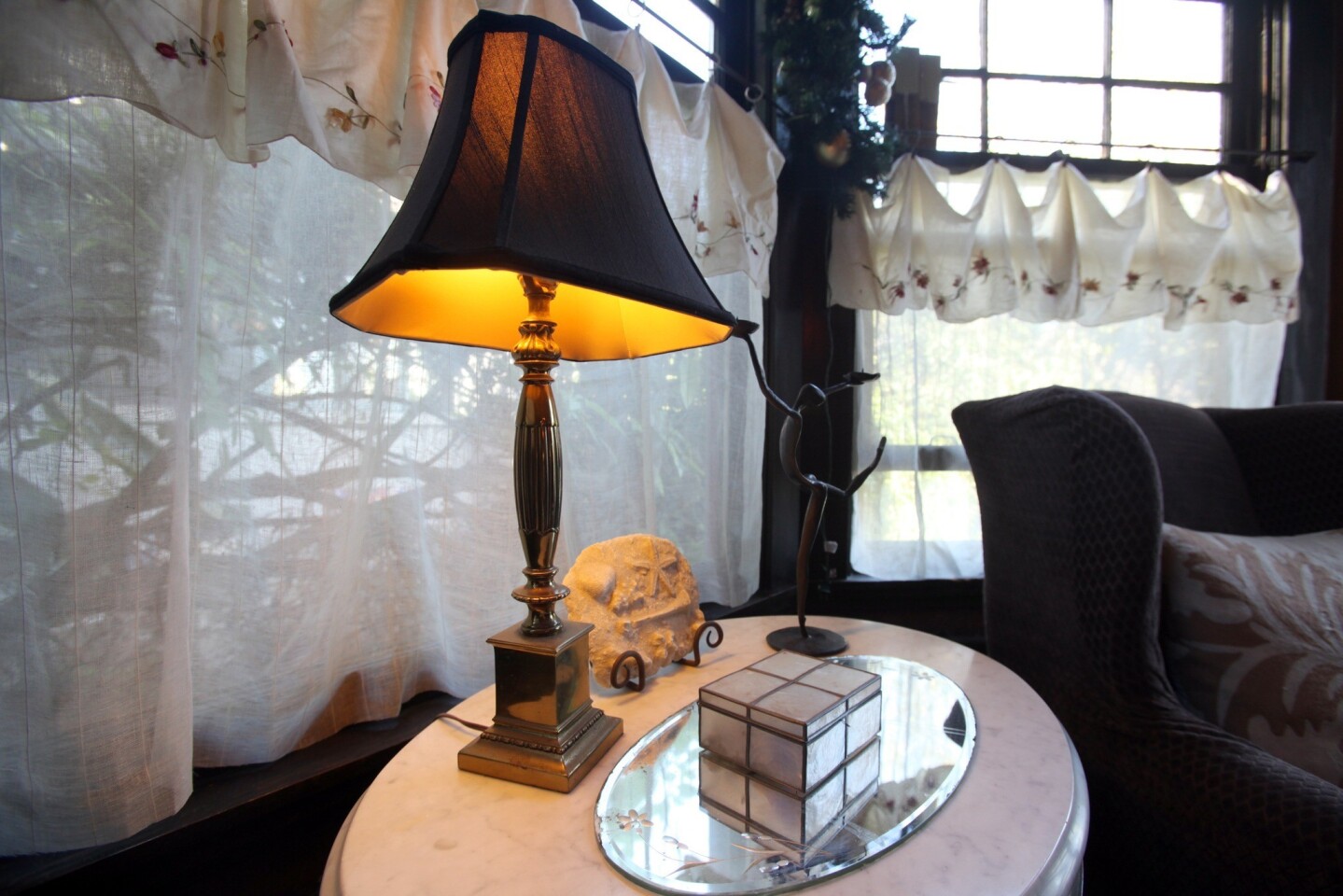 Hillary Danner recently replaced the living room's dark red velvet draperies with a DIY curtain that combined an altered Ikea window panel and sections of a patterned bed skirt. "This house is dark by nature, and I've been trying to bring more light inside," she says. The armchair, mirror and lamp base came from her grandmother. "Whenever anyone in the family has something old, they say: 'Oh, give it to Hillary. She'll take it.' "
(Francine Orr / Los Angeles Times)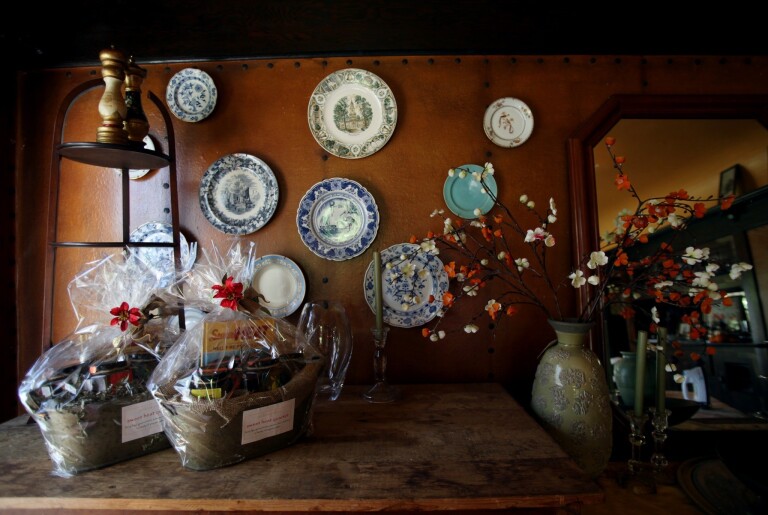 Dishes from Hillary Danner's grandmother, Katharine, adorn the dining room wall. Hillary thought the wall was upholstered in leather until a visiting child tore off a corner of the material. "I realized that it's actually a leather-like wallpaper finished with brass fittings," she says. In the foreground, gift baskets with cookbooks and jars of Hell Fire Pepper Jelly are ready for Danner's holiday show.
(Francine Orr / Los Angeles Times)
The dining room is home to a fireplace with a hammered iron hood and an iron light fixture that Hillary Danner found in the basement after she moved in. "I had it rewired and hung -- and I think it looks much better with the room than the chandelier that was here," she says. The trestle table was one of Danner's first Los Angeles acquisitions when she arrived from the East Coast.
(Francine Orr / Los Angeles Times)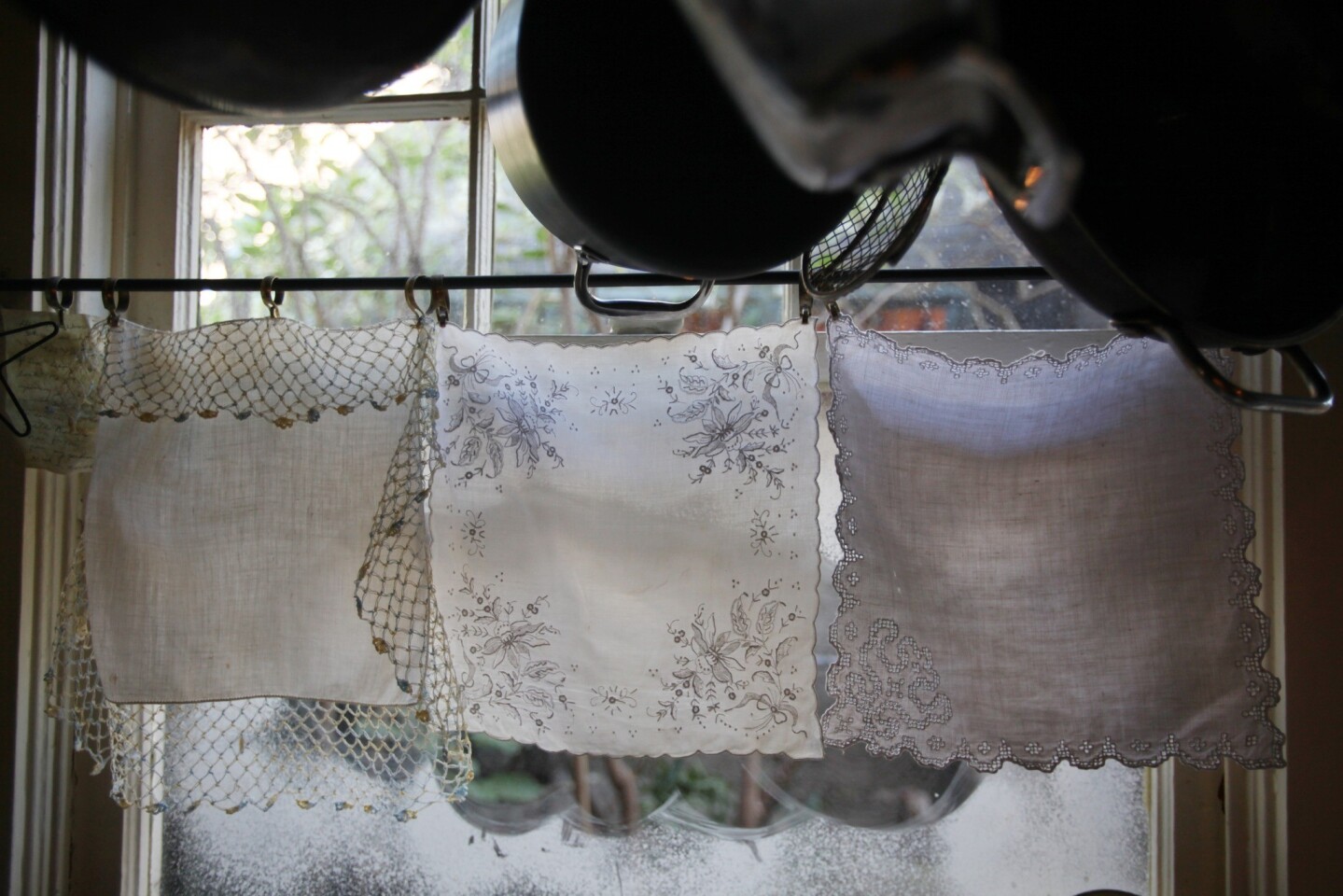 Hillary Danner turned a collection of delicate linen handkerchiefs, also from Grandmother Danner, into kitchen window coverings.
(Francine Orr / Los Angeles Times)
Inside the back door, an enclosed porch serves as a mud room. The house's original sink takes up space that Hillary Danner says could be used for other purposes, but she doesn't plan to change things. "I took a lot of the photographs for my cookbook here, because the light is so wonderful," she says.
(Francine Orr / Los Angeles Times)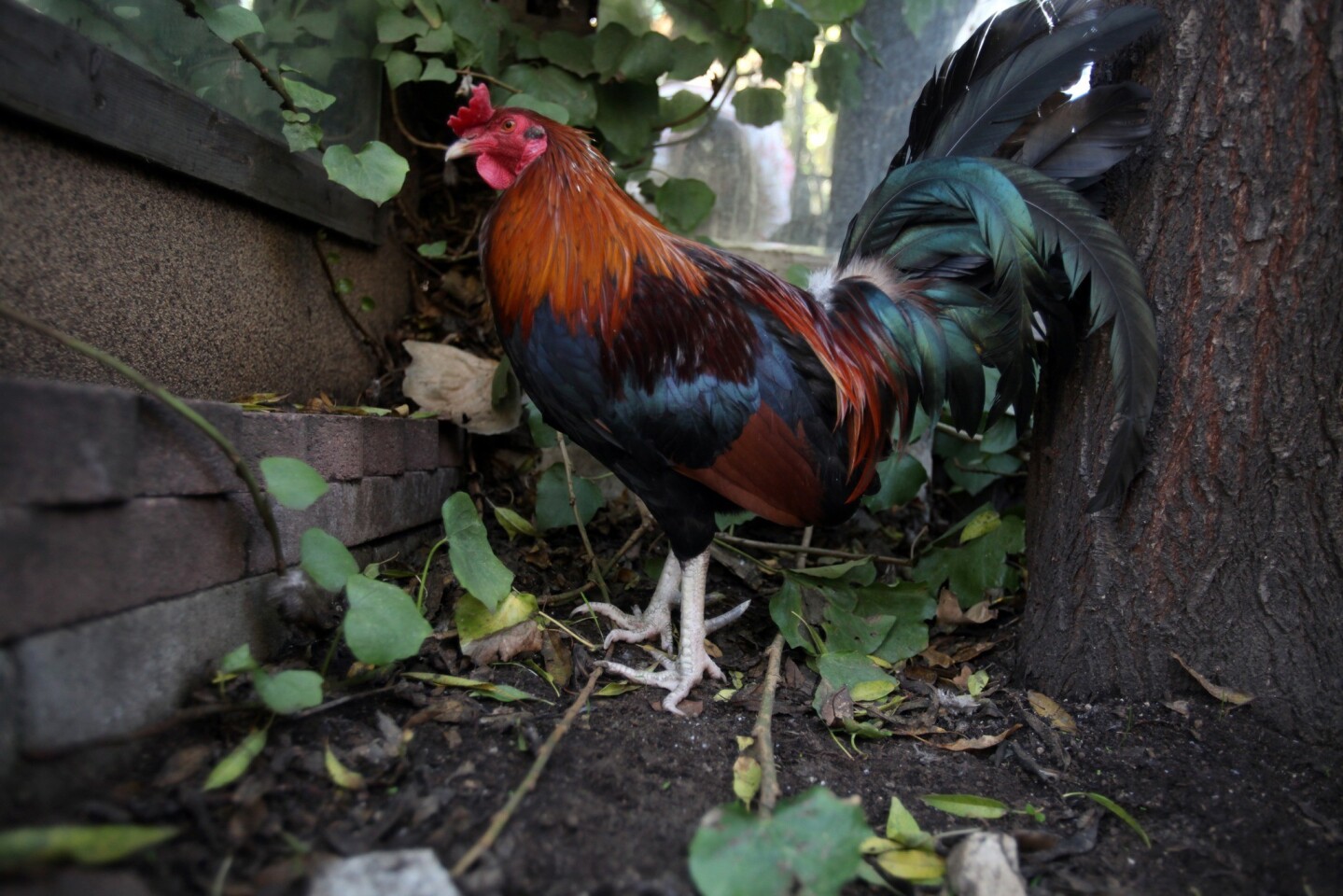 George is an ever-present character at Hillary Danner's house. "He's become quite our mascot and he likes to have his picture taken," she says.
(Francine Orr / Los Angeles Times)
A miniature painting of George, as rendered by neighbor Roderick Smith on the lid of a vintage tin. It was a birthday gift from the artist to Hillary Danner. The candlesticks came from her grandmother.
More design profiles:
California homes and gardens
(Francine Orr / Los Angeles Times)
It's fitting that Hillary Danner is raising her son and daughter in a century-old Arts and Crafts home in the Sycamore Grove area of Highland Park. Built in 1904, the timber-and-stone residence has a grand staircase, a huge covered porch and a curious pedigree, a hint of which comes in the giant "La Boheme" inscription on the wood panel of the living room fireplace.
PHOTO GALLERY: Hillary Danner's "La Boheme" house
The inscription has special meaning to Danner, who grew up in a 1869 Victorian home in Englewood, N.J., that was restored by her parents, actor Harry Danner and opera director Dorothy Danner. Harry, a tenor, coincidentally performed in productions of "La Boheme" all over the country, and when Hillary was young, she was cast in the opera, playing young Emma.
The Liddell "La Boheme" House, as it's called, will be one of six properties on the Highland Park Heritage Trust's bimonthly walking tour of historic homes Saturday.
Through her research, Danner discovered that her house was constructed a few years after "La Boheme" was first staged in Los Angeles. It's quite possible that the opera may have inspired the builder or the original residents to add the fireplace inscription.
Today the house is filled with family antiques, mostly from her paternal grandmother, Katharine Danner, who died at the age of 96 in 2006. Though some younger folks feel bogged down by heirlooms, trapped by the weight of family history and expectations, Danner's house feels very much like a celebration of the old -- at this time of year, a holiday home that glows with the presence of family, through keepsakes and memories.
Since Danner moved into the house in 2006, she also has planted an organic vegetable garden, installed a greenhouse, inherited a pet rooster named George and tended to the fruit trees that a prior owner planted on the hillside leading down to the street. Her 10-year-old son, Danner Renfro, and 5-year-old daughter, Emma Renfro, have been able to see their urban orchard yield figs, plums, Satsumas, Meyer lemons, guavas, apples, almonds and peaches, plus Concord and Thompson grapes.
To keep up with the ripening fruit, Danner taught herself how to make jelly and jam, working at a Viking range in an otherwise vintage-flavored kitchen. Her first batches were adapted from basic jelly instructions in the "Ball Complete Book of Home Preserving."
The former actress parlayed those early experiments into Jenkins Jellies, a line of spreads made with business partner Maria Newman. The company's most popular product, Hell Fire Pepper Jelly, is a blend of seven peppers that has an off-the-charts, hot-and-sweet flavor. Danner and Newman recently gathered their favorite hot-pepper jelly recipes into a cookbook, "Sweet Heat" ($15.95, St. Lynn's Press).
In the forward to the book, Danner's cousin Gwyneth Paltrow recalled the family gatherings of their childhood: "Hillary and I always had this in common, and do to this day ... cooking for people we love, eating, hanging out as a family. It's how we were raised. It's what we do."
HOME TOUR
What: The bimonthly Highland Park Heritage Trust walking tour, which explores the architectural and social history of one of Los Angeles' oldest neighborhoods
When: Guided tour runs 10 a.m. to 12:30 p.m. Saturday. The tours for 2013 are scheduled for Feb. 23, April 27, June 29, Aug. 24, Oct. 26 and Dec. 21
Tickets: $10
Where: Start at the band shell at Sycamore Grove Park, 4600 Figueroa St., Los Angeles
Information: (323) 908-4127, www.hpht.org
We welcome story suggestions at home@latimes.com. For easy way to follow the L.A. scene, bookmark L.A. at Home and join us on Facebook, Twitter and Pinterest.
---