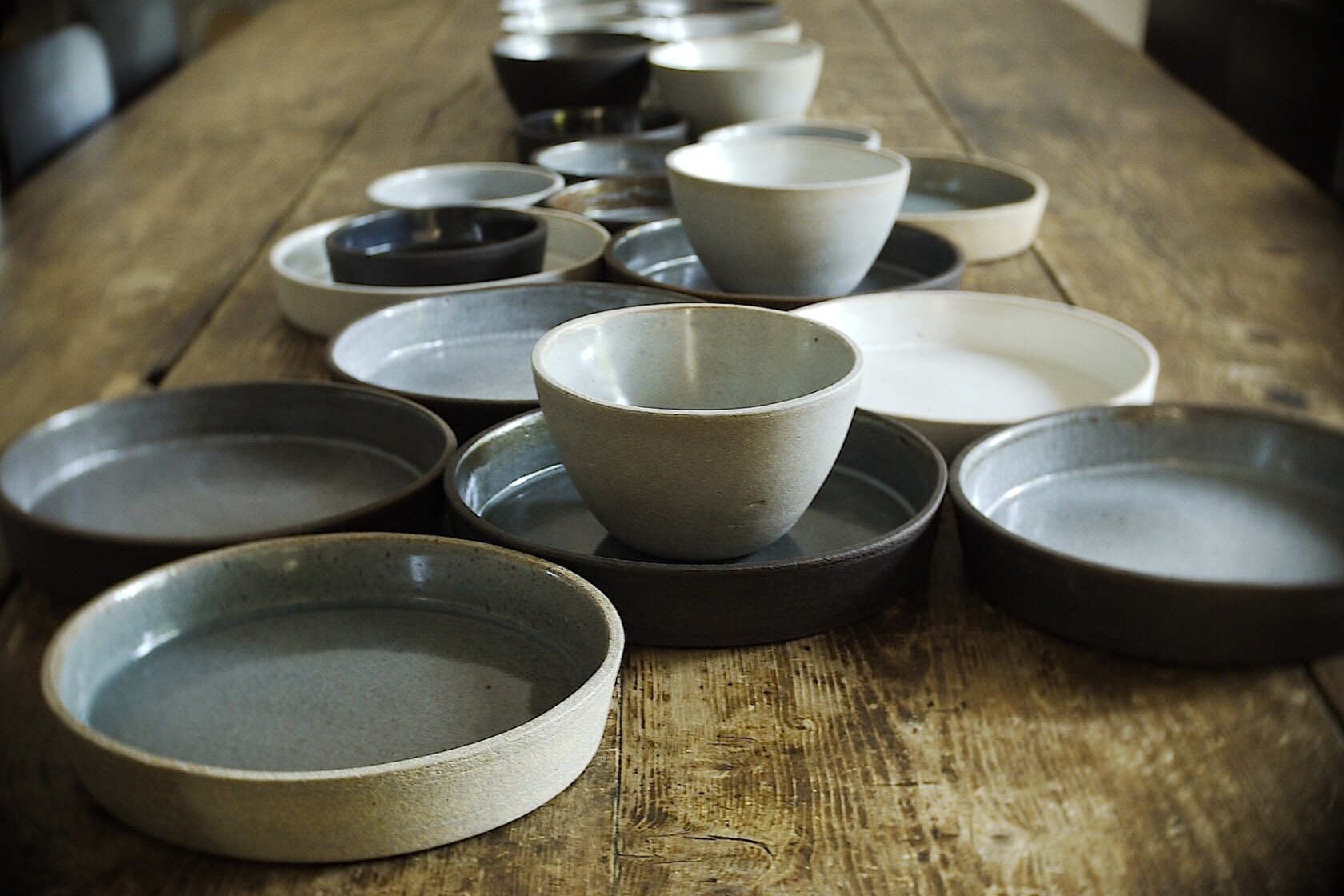 The larger cazuelas are in the foreground, shown with Enoki bowls and, in the distance, some smaller cazuelitas.
(Humble Ceramics)
Delphine Lippens' casuelas, raised-edge dishes in a pleasing palette of earthy tones.
(Humble Ceramics)
The Enoki bowls, centered on the small cazuelitas. We could see the small plates used to serve hors d'oeuvres, snacks or side dishes.
(Humble Ceramics)
For an artist who calls her studio Humble Ceramics, it's fitting that Delphine Lippens reduces all of her work to circles and rectangles -- a minimalist binary of O's and I's, she says, simple and clean forms that nevertheless have a complex beauty.
Last year we were drawn to her cork-lidded containers. This year we're all about her cazuelas and cazuelitas, which are something between dishes and bowls. Beyond the practical uses for such a piece, there is the lovely presence of the hand: Lippens fires up each piece at 2340 degrees to achieve the proper finish, leaving tiny air bubbles and warps as hints of their artist origins.
The cazuelitas are $30 to $40, and the larger cazuelas are $75 to $90. They are pictured here with Lippens' Enoki bowls, $40 to $45. Humble Ceramics is sold through Farmshop in Santa Monica, General Store in Venice and San Francisco, Poketo in downtown L.A., Twig & Twine in Silver Lake and the just-opened Primary Essentials in Brooklyn.
Lippens will be among 50 artists represented at the Xiem Clay Center's fall sale. The event runs from 6 to 9 p.m. Nov. 15 and 10:30 a.m. to 4:30 p.m. Nov. 16. The address is 1563 N. Lake Ave., Pasadena, www.xiemclaycenter.com.
Twitter: @cnakano | Email: craig.nakano@latimes.com
JOIN THE CONVERSATION:@latimeshome | pinterest.com/latimeshome | facebook.com/latimeshome | facebook.com/latimesgarden


---