At home with stylist Joey Tierney, event planner Tony Schubert
Tony Schubert and Joey Tierney found the vegetable-dyed patchwork rug in Turkey on their honeymoon. The couch was recovered in gray Belgian linen. They installed the built-in cabinet so the television didn't stand out so much; Schubert says he likes the contrast between the dark wood and the khaki walls. The dove oil painting above the fireplace is by Alison Van Pelt. The adjoining dining room has a narrow custom table and chairs by
Jecco Design
.
(Line 8 Photography)
Charcoal wood floors in the kitchen offset the sunny white Carrara marble counters and backsplash. The couple took down a wall, added doors that open to the deck and built a cozy nook, at right. "The idea was to create an open floor plan," Schubert says. "We wanted to keep it somewhat modern and clean with a bit of character." The couple added wood bar stools from
HD Buttercup
, a custom narrow dining room table and chairs from
Jecco Design
and accent pillows by
Madeline Weinrib
.
(Line 8 Photography)
Each slab of marble in the kitchen has a slightly different look, which adds a more natural feel, the couple says.
(Line 8 Photography)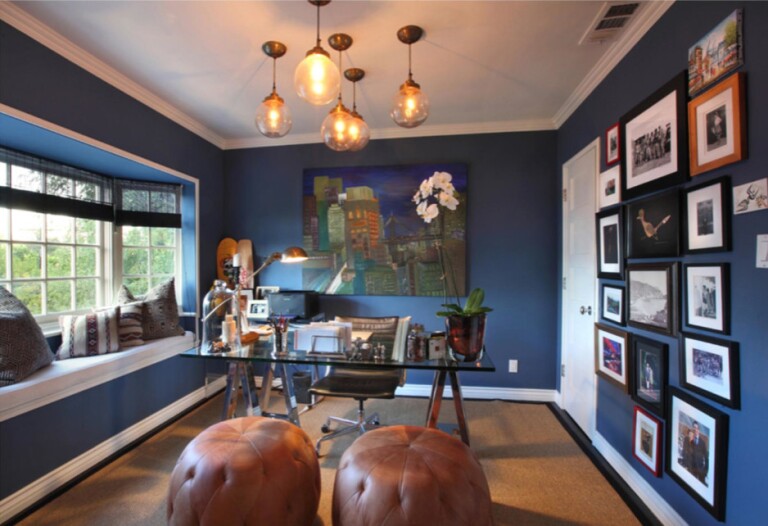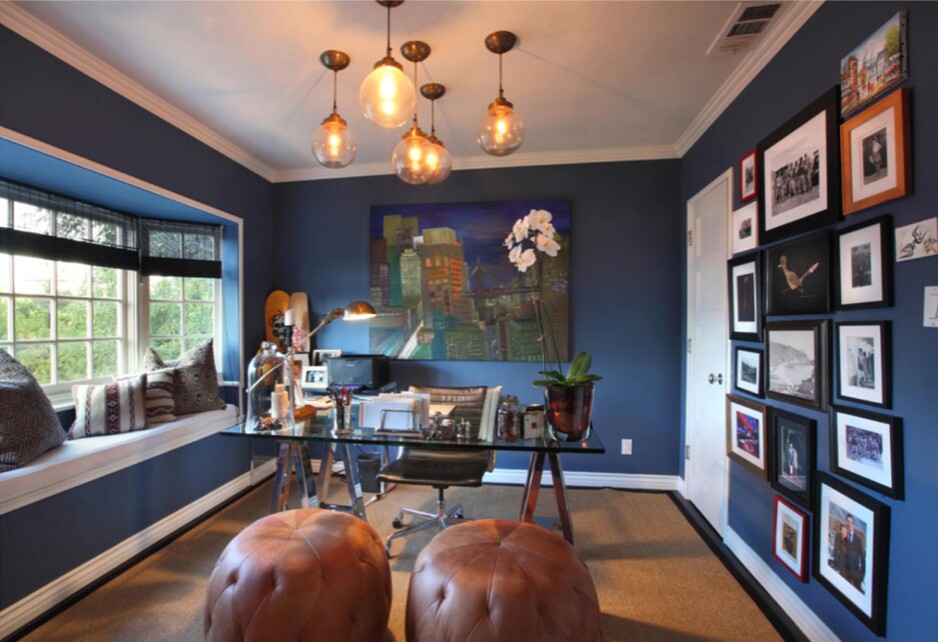 Schubert says he designed his office like his events. "I felt like we needed one room in the house that emulated that wow factor." Glass pendants from
Fantasy Lighting
have 40-watt Edison bulbs for a soft warmth. From his
Williams-Sonoma Home
desk, Schubert can watch TV in the living room. Photographs of friends and family together on the wall, so that when people enter the house, "they feel an immediate sense of home and family," Schubert says. The leather poufs are from
Cisco Home
.
(Line 8 Photography)
In the master, a bed designed by Schubert in mustard velvet and made by
Leija Designs
sits on a wool herringbone rug. Two dressers are vintage, and a green velvet chair adds a burst of color and comfort. The painting is by Tierney.
(Line 8 Photography)
The master bathroom was inspired by Schubert's childhood, growing up on the beach in Santa Monica. "I just wanted a bathroom that had seafoam green kind of vibe," Schubert says. "I wanted it beachy and no-nonsense." The rug is Turkish. The antique cabinet from
Berbere World Imports
almost didn't make it in the final design. "It would not make it around the corner from the master bedroom, so we had to bring it up around the side of the house and push it through the window," Schubert says, laughing. "It made it by one-eighth of an inch."
(Line 8 Photography)
What had been a guest room became Tierney's dressing room. A custom floor-to-ceiling wall unit accommodates Tierney's shoes, clothing and jewelry. "Because I'm a stylist, you would think my closets would be overflowing with racks of clothes," Tierney said. "But at home, I am a minimalist." If her husband Tony is watching sports in the living room, Tierney can go to her dressing room to watch her "Law & Order" reruns.
(Line 8 Photography)
In the guest bathroom, the couple installed opalescent Carrara marble tiles on the floor and walls. "They look like crystals," Schubert says. "You can see them sparkle." They also installed the smallest sink they could find and a sconce made of shells from
Orange
. Schubert considered adding a towel rack to the tiny space but says he prefers the bath's current "super clean" appearance.
(Line 8 Photography)
The couple added palms, succulents, agave and Spanish tile to the tiered backyard. "We are fortunate that the trees in the backyard are tall and give us us an amazing sense of privacy," Schubert says. "We spend our weekends out by the pool. It feels like a staycation."
(Line 8 Photography)
Inspired by a honeymoon trip to Santorini, the couple set out to create their own version of the Greek island with lush landscaping by the pool, a cozy daybed, an outdoor fireplace and a surplus of chaise longues.
(Line 8 Photography)
Tony Schubert and Joey Tierney at home in Sherman Oaks.
(Nadin Naumann )
For celebrity stylist Joey Tierney and event producer Tony Schubert, interior decorating at home isn't much different from handling fashion shoots or Emmy parties. "It's interesting how fashion trends and colors cross over to interiors," Tierney says.
PHOTO GALLERY: Inside Joey Tierney and Tony Schubert's house
Tierney may help Ashley Madekwe and Jaime Pressly look glamorous, but at home in Sherman Oaks with Schubert, she admits she is a bit more low key. "At home, I am a minimalist," Tierney says.
Schubert purchased the home before he met Tierney and says "it might have been intended to be a bachelor pad." He did a considerable amount of work, installing hardwood floors, gutting the kitchen and bathrooms and replacing crown molding and base boards. "It was my first home," says Schubert, chief executive of Event Eleven.
After the couple started dating, Tierney began spending time with Schubert at his home and began offering her input.
"It's not easy moving into someone's house," Tierney says. "But Tony's forte is design. It was a tender product. I was careful not to change much."
Schubert says the home needed a little warmth. The stylist's take? "It needed a woman's touch, honey," Tierney says, laughing.
The result is a testament to both -- a warm mix of charcoal woods and vibrant color, bold textiles and Tierney's own paintings, cozy nooks and a luxurious outdoor space inspired by a honeymoon trip to the Greek island of Santorini.
Email: lisa.boone@latimes.com
Twitter: @lisaboone19
Corrected: An earlier version of this post implied that Tierney's current clients include Kristen Bell. Bell is a former client.
ALSO:
'12 Years a Slave' actor Jay Huguley at home in Kesling design
Katherine LaNasa's Venice house: Big Easy style in a little bungalow
Suzy Amis and James Cameron's 100-acre mini farm near Santa Barbara
JOIN THE CONVERSATION:
@latimeshome | pinterest.com/latimeshome | facebook.com/latimeshome | facebook.com/latimesgarden

---