Refurbished Airstreams showcase small-space living as lodging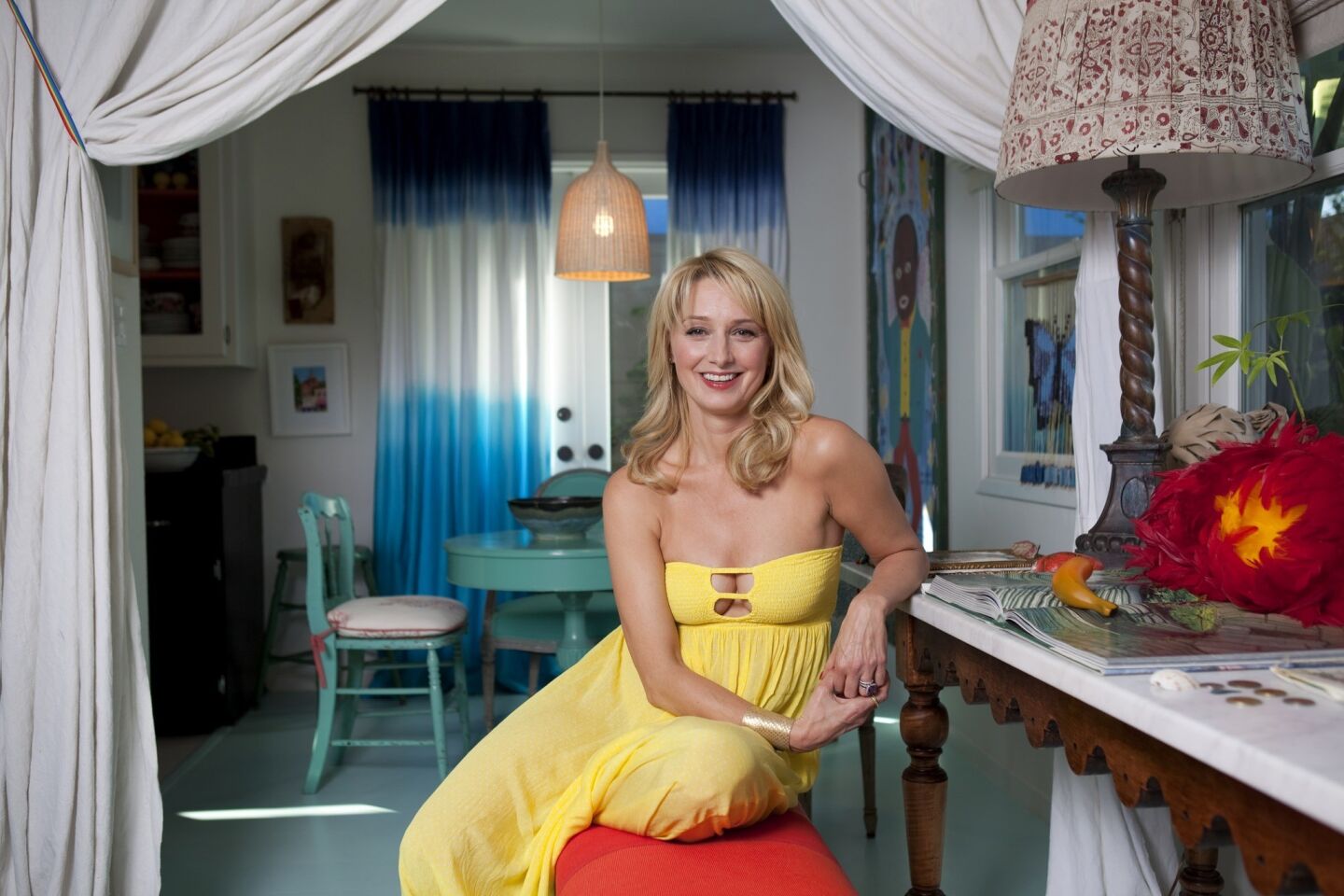 Katherine LaNasa sits in her entryway, which opens onto a dining nook. She separated the two areas with heavy vintage English sheets that she found at a flea market and turned into floor-to-ceiling drapes, which soften the hard edges of the space. "It makes it more inviting," she said. Behind her: an Ikea pendant lamp and dip-dye curtains, which she sewed from sheets, then dyed.
(Katie Falkenberg / Los Angeles Times)
An antique marble top table from Brenda Antin works as a serving table for parties or as an entryway catchall for Katherine LaNasa's travel treasures. "I really like having decorative objects that are personal," she said. "I like handmade crafts and vintage trinkets." The blinds, made from Indian fabric, came from her former Hollywood Hills house. "I collect textiles," she said. "If I see a textile at a great price, I pick it up. I've cut tablecloths in half and made drapes."
A lamp base from the Rose Bowl Flea Market is paired with a fancy shade from Lynn von Kersting. "Anthropologie is another great place to look for nice shades," LaNasa said. "Save money by using a vintage base and pair it with something nice. Or take an ordinary shade and wrap it in fabric."
(Katie Falkenberg / Los Angeles Times)
To give the curtains separating the entry from the kitchen area a more finished look, Katherine LaNasa tied them with a rope that served as a "do not disturb" sign in a hotel in Mexico. "I'm a bit of a thief when it comes to souvenirs from my travels. If you put your hotel name on an ashtray, you're asking for it," she said, laughing. The papier-mâche heart is from West Elm. Her suggestion: "Use old necklaces as curtain tie-backs," she said.
(Katie Falkenberg / Los Angeles Times)
To brighten up the antique French bench, Katherine LaNasa reupholstered it in a design from
Diamond Foam & Fabric
. The bench provides extra seating without interfering with traffic flow through the room, she said. "It's a good trick for a small space."
(Katie Falkenberg / Los Angeles Times)
Katherine LaNasa rests her feet on an antique chair she updated with two kinds of fabric. The seat and back are covered with simple $8-a-yard cotton fabric. She used a more expensive designer fabric for the accents seen on the arms. "I couldn't afford to buy six to eight yards of fabric from
Katerina Tana Design
so I bought one [yard] and used it as an accent on the arms and back." It's one way, she said, "you can take stuff handed down to you and make it relevant and modern and fun." The mahogany table is a thrift-store find that she sanded down and painted with leftover floor paint samples. "I use what I have," she said, noting that the table required only a quart of paint, and it was in the same palette as the hue she ended up using on the floor.
(Katie Falkenberg / Los Angeles Times)
Detail of the antique chair that Katherine LaNasa reupholstered.
(Katie Falkenberg / Los Angeles Times)
A portrait of Louis Armstrong by New Orleans folk artist Nilo Lanza can be seen from the kitchen. Katherine LaNasa chose not to open up the kitchen because she likes the separation. "I don't want to walk in to my kitchen when I walk in to my house," she said. "And I don't necessarily need to be cooking while my guests are having a glass of wine. I like a little separation." Because of the limited space, she moved the washer and dryer from the adjoining mudroom to the garage, so now that area can be used for storage and bar keeping.
(Katie Falkenberg / Los Angeles Times)
Katherine LaNasa painted the cabinets black to match the countertop, helping to camouflage the aging tile. "It gives it a retro chic look," she said. She also switched out old hardware with some inexpensive Belgian industrial pulls from
Anderson Moulding
in Culver City. In a funky move, she painted the interiors of the cabinets hot pink. "It is another trick: Pick up color from your pottery or china for a bright, fun look."
(Katie Falkenberg / Los Angeles Times)
In Katherine LaNasa's kitchen windowsill: a whale bottle opener, a piece of quartz, canisters for coffee and a tiny landscape painting from a Carmel junk shop. "It reminds me of my grandmother who used to grow avocado plants in her window," LaNasa said.
(Katie Falkenberg / Los Angeles Times)
In the dining room, Katherine LaNasa hung a full-length mirror on its side and painted it gray to make that corner feel like an intimate French bistro. The wood table from
Pampa
is surrounded by French antique bamboo chairs from
Indigo Seas
. "They are a guilty pleasure and add to the French feel," she said. She bought that table in '92, and though it had been in a dining room, she had used it as a desk. "Now it is back to being my dining room table." The antique chandelier is from Czechoslovakia. "Everyone said it was going to be too big, but it looks awesome."
(Katie Falkenberg / Los Angeles Times)
Shells from Katherine LaNasa's travels rest on the dining room table. Ceramic lanterns are from the Royal Hawaiian Hotel on Waikiki Beach. "I was lucky to be able to take my grandmother there, and now it's a really great family memory."
(Katie Falkenberg / Los Angeles Times)
Katherine LaNasa said her large artworks overpowered her small home, and she needed wall space for shelves, so instead she chose to hang smaller artworks, salon style. "Start with your biggest pieces and then just go for it," she said. Spread colors, mix media and keep trying different combinations. "I did these rooms a couple of times until they were right," she said.
(Katie Falkenberg / Los Angeles Times)
An elephant from a junk shop serves as a doorstop. The basket is a repository for shoes. "It feels good to be living in a small space," Katherine LaNasa said. "It forces you to constantly edit."
(Katie Falkenberg / Los Angeles Times)
In Katherine LaNasa's living room, "Dinah Shore Regency" chairs, as she calls them, were bought from a junk shop, lacquered white and covered in inexpensive orange cotton fabric from Diamond Foam & Fabric. An Isamu Noguchi coffee table and a modern couch from Brenda Antin mix with an antique chair from Syria and artworks by Charles Arnoldi and Robert Rauschenberg. "The Noguchi table is great for a small space because it's glass, it's a classic and it works with the French pieces," LaNasa said. White walls and a jute rug from what is now
Calypso St. Barth
help to balance the colorful elements in the room and continue the beach vibe. "I just couldn't have an end table that was an end table," she said. "I needed something functional for storage."
(Katie Falkenberg / Los Angeles Times)
Katherine LaNasa hung curtains in a doorway separating the living room from the two bedrooms and bath. "The house is so small, I needed to create privacy," she said. She used two single sheets to create the drapes, which were dip-dyed and decorated with beads.
(Katie Falkenberg / Los Angeles Times)
Floor-to-ceiling drapes covering the window and closet were meant to make the tiny bedroom feel like a sanctuary. The drapes were custom made for her former home in the Hollywood Hills; she cut them down in size for use in the Venice house. "It's an easy way to create luxury," she said of the switch from closet doors to drapes. Crystal fobs on the rods add a feminine touch.
LaNasa chose the
Matera bed
from Design Within Reach. It has three drawers on both sides for storage. The white coverlet is from Ikea. The pillows are from West Elm and Calypso St. Barth.
(Katie Falkenberg / Los Angeles Times)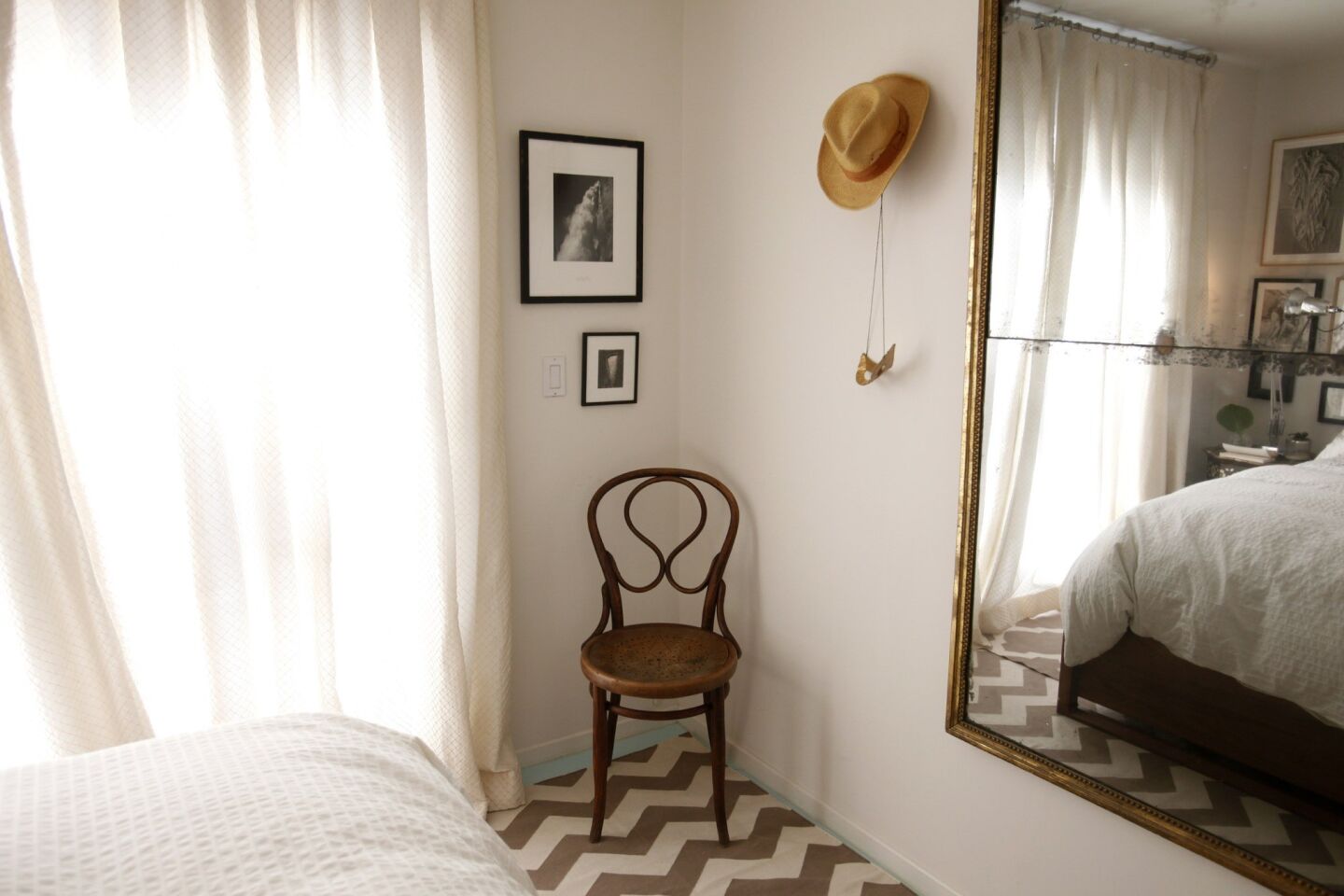 An antique Danish chair from
Lief
is one of the first antiques Katherine LaNasa ever bought. "I wouldn't paint it because it's a good antique," she said. The antique mirror is from
Indigo Seas
. "Those kinds of splurges are from when I have a TV series on the air," she said, laughing. LaNasa added a 3-by-5 rug and two 2-by-3 cotton zigzag rugs from Calypso St. Barth for softness on the floor. "Rugs are a huge expense," she said. Her strategy? "Find little throw rugs and repeat them."
(Katie Falkenberg / Los Angeles Times)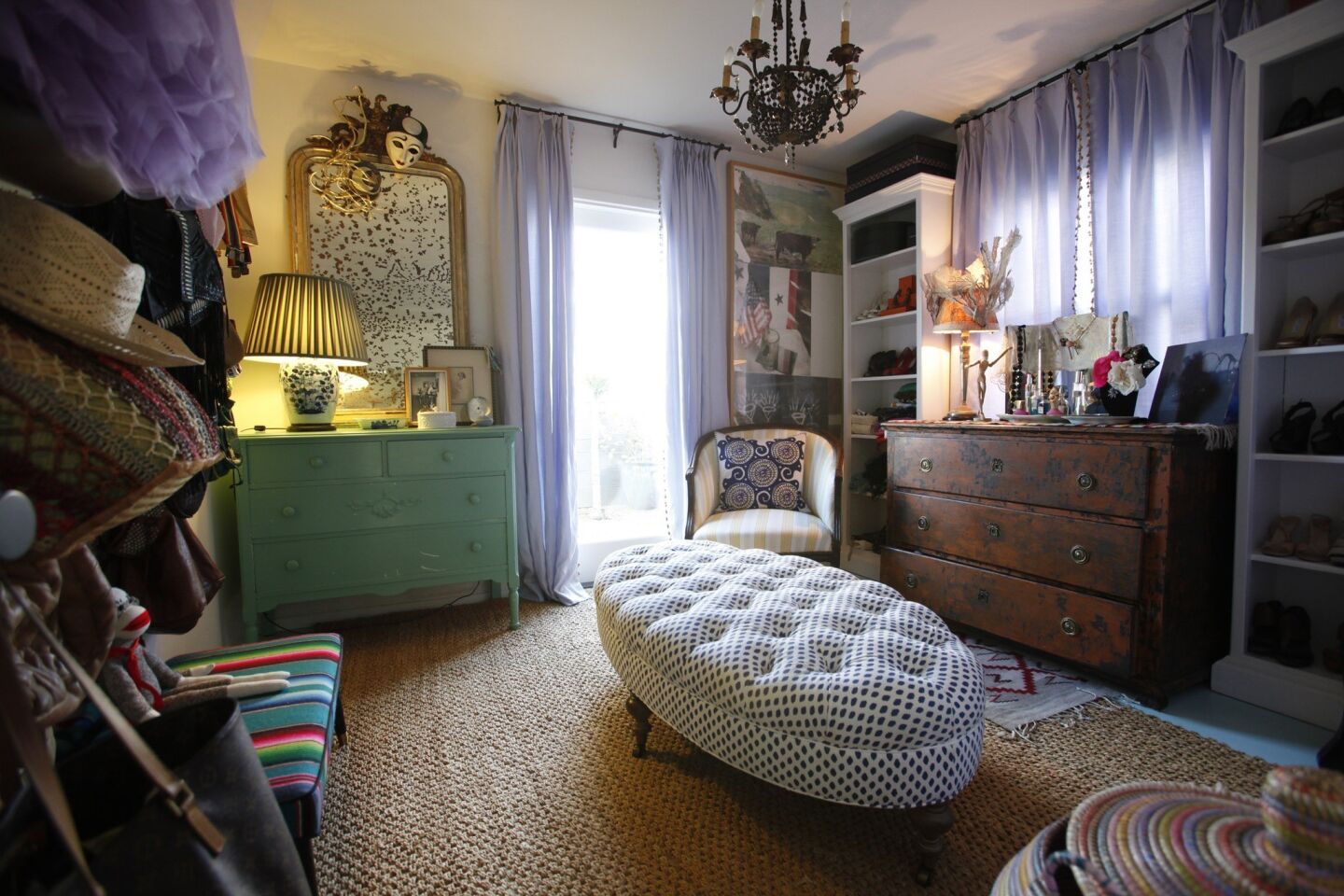 Katherine LaNasa acknowledged that for most people, a spare bedroom turned into a dressing room would be more than a luxury — it would be a fantasy. But as an actress, she finds her dressing room, pictured here with an ottoman from H.D. Buttercup, serves a practical purpose. "I need my clothes to be super accessible and functional," she said. "I can't be fretting. When I'm getting dressed for an audition, I need to feel like a million bucks. It's not a part of my life I want to be difficult. ... I want to have plenty of room and plenty of light." The lavender curtains in the dressing room are made from Belgian linen that LaNasa found for $7 a yard in a downtown Los Angeles fabric shop. She lined them with beads and added twine details at the top to give them a nautical touch.
(Katie Falkenberg / Los Angeles Times)
Katherine LaNasa uses pine bookshelves from Pampa as budget-minded shoe racks. "Paint them the same color as the wall color and they will blend in to the wall," she said. "In a small space, it's a great way to fake storage."
(Katie Falkenberg / Los Angeles Times)
Detail of a
John Robshaw
pillow and a chair reupholstered in cotton twill from
F&S Fabrics
. "It previously had a red-and-white striped wool blanket fabric that just didn't feel right," Katherine LaNasa said. "I wanted everything to feel lighter in this house. The wools didn't work."
(Katie Falkenberg / Los Angeles Times)
A coral sea fan lamp from Costa Rica in the dressing room.
(Katie Falkenberg / Los Angeles Times)
Hooks that hang purses and hats become part of the decor. LaNasa painted the antique dresser with yet another floor paint sample. The serape-covered bench is from
45 Three Modern Vintage Home
on Fairfax Avenue.
(Katie Falkenberg / Los Angeles Times)
Katherine LaNasa continued the home's color palette outdoors. "I wanted to integrate it with the interior," she said. "I picked the orange cushions because there are a lot of succulents and lavender in the yard."
(Katie Falkenberg / Los Angeles Times)
At the entrance to the guest house, Katherine LaNasa's installed an old desk with some Moroccan lanterns. "Why and go buy something that has way less character?" she asked."Go to your junk shop. Paint it if you have to."
Now that the actress is married to actor Grant Show, the question arises: Will there be more renovation in her future? "He has a gorgeous eye for detail and remodeling," she says. "I am looking forward to seeing what we can come up with together."
More profiles
Homes of the Times
(Katie Falkenberg / Los Angeles Times)
What is it about Airstream design that continues to engender such passion more than 80 years after the trailer first appeared?
Is it the alluring, streamlined aluminum shell? The cozy interiors? The nostalgia for a simpler era?
"It's a part of American culture that transcends time," said architect Matthew Hofmann, 29, who last month opened an Airstream hotel consisting of four tricked-out trailers parked midtown at the Santa Barbara Auto Camp off De La Vina Street. "It symbolizes style and adventure. There is something very fundamental about getting in your car and driving across country. It's in our blood."
PHOTOS: At Airstream hotel, classic trailers updated for modern living
On a recent afternoon, curious pedestrians repeatedly interrupted Hofmann and business partner Neil Dipaola to ask if they could take a peek inside the trailers. Upon entering, they found renovated interiors with hotel upgrades perfectly suited for "glamping" — mini-bars, wall-mounted flat-screen TVs, air conditioning and 1,000-thread-count sheets, all for $150 per night.
According to Airstream, about 70% of all the trailers ever manufactured by the company are still in use, so it is not surprising that Hofmann, as well as other entrepreneurs, would think to use them as lodging. Singer Kate Pierson of the B-52's opened her second vintage Airstream hotel — six trailers near Joshua Tree — in November.
But unlike Pierson's playful kitschy decor (think the B-52's "Love Shack" video), Hofmann's Airstreams stand out for their surprising elegance. The modern updates are no different than any home remodel, he said, and he viewed his trailers from the 1950s to 1970s as floor plans for small-space living.
How to create an open and airy feel in just 150 to 200 square feet? Cut the excess, Hofmann said.
"I tried to lighten them up and simplify them while maintaining their classicism," he said.
The architect used a few tricks to give them visual flow. Because the four trailers are used as hotel rooms, not for extended traveling or permanent living, Hofmann reduced the amount of storage, which made the interiors feel tight. Next he removed plastic accessories that created "visual noise," such as window coverings, valances and spice racks. Existing vents on the roof were doubled in size to create skylights, bringing in more sunshine.
"It's more than just painting the walls white," Hofmann said of the quest to brighten the interiors. "It's how the space feels as you move through it."
To add warmth, Hofmann installed strand bamboo and teak flooring. "You don't want to feel like you're in a tin can. Airstreams can have a Teutonic look."
Hofmann saved original shelving and all of the windows. In some kitchens he refinished the original cabinets, and in others he added new fronts to the existing frames.
The most surprising space in each Airstream is the bathroom, traditionally a utilitarian space the size of a closet. Hofmann expanded them and created a sense of luxury by installing colorful recycled glass tile and wraparound Corian counter tops. Full-size toilets are a plus. In one trailer, he even added a claw-foot tub.
For Hofmann, who grew up building treehouses in Mammoth, the challenge of designing on such a small scale has been exciting. He has renovated more than 20 Airstreams and now focuses solely on renovating vintage trailers with the hope of opening more Airstream hotels.
"It appeals to me because it is history, it's American and, as a LEED architect, I can make it sustainable," said Hofmann, referring to the U.S. Green Building Council's Leadership in Energy and Environmental Design program.
Pop culture humorist Charles Phoenix, author of "Americana the Beautiful: Mid-Century Culture in Kodachrome," said the continuing fascination with vintage Airstreams makes complete sense when you consider each is "a little cozy cabin on wheels that looks like a bright and shiny Twinkie. How could something so warm and cozy be so shiny and slick at the same time?"

We welcome story suggestions at home@latimes.com. For easy way to follow the L.A. scene, bookmark L.A. at Home and join us on Facebook, Twitter and Pinterest.
Get our L.A. Goes Out newsletter, with the week's best events, to help you explore and experience our city.
You may occasionally receive promotional content from the Los Angeles Times.