'The New Normal' house borrows its style from Diane Keaton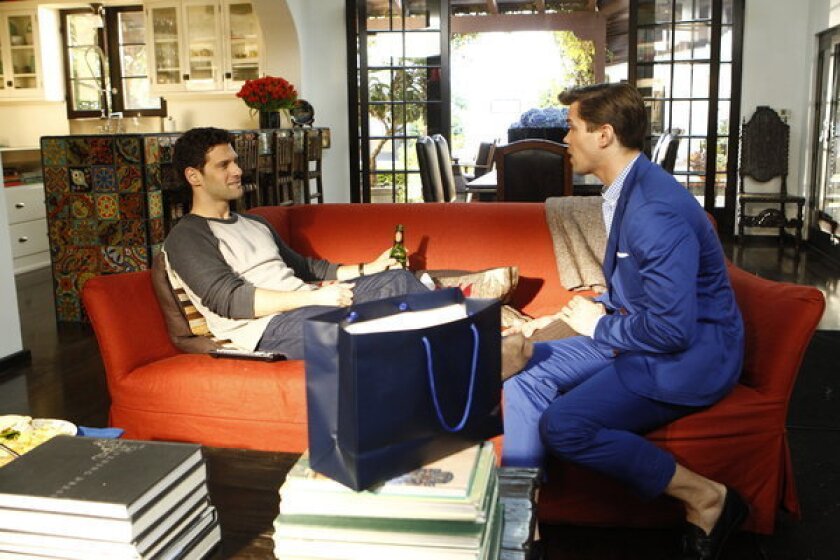 The Spanish Colonial interiors of the new comedy "The New Normal" evoke such romance -- the sculptural arches, the verdant courtyards -- that even those One Million Moms protesting the latest show from co-creator Ryan Murphy would swoon.
The classic California home of Bryan (Andrew Rannells) and David (Justin Bartha) is stunning, with good reason: The show's pilot was filmed inside a 1927 Spanish Colonial house in Bel-Air once owned and restored by Diane Keaton.
Production designer Tony Fanning said Keaton, a well-known preservationist, was a big factor on the Monterey-influenced interiors. "She inspired me," Fanning said. "Her book 'California Romantica: Spanish Colonial and Mission-Style Houses' really shows her love for, and understanding of, how clean and stark and minimal the interiors are meant to be."
Stark and minimal, however, doesn't necessarily translate to television comedy. So when Fanning went to replicate the Bel-Air home on the Paramount lot, Murphy (who owns another Spanish residence that used to be Keaton's in Beverly Hills) asked Fanning to add a sense of fun to the interiors.
Fanning achieved this by adding colorful details such as El Rancho pottery, Bauer pottery (including vintage, new and even some damaged pieces) and replicas of Maynard Dixon paintings. He also called for the back of bookshelves to be painted a dramatic blue-gray.
"It makes everything stand out," set decorator Bryan Venegas said.
Fanning said Keaton's Bel-Air house was so beautiful partly because she kept the walls a simple, monastic white and kept the floors and beams dark, and partly because "she brought her own whimical quirkiness to the house."
Trying to reproduce Keaton's mix-and-match tile kitchen island, however, proved too difficult for the production crew.
"We tried to purchase antique tile, but it was just too expensive," Fanning said. Instead of using real tile, Fanning photographed Keaton's original tiles close up and had them printed by Astek Wallcovering in Van Nuys. The photographic image of the tiles were then printed onto medium-density fiberboard; those MDF sheets were routed, then assembled, grouted and sealed to look like real tile.
Fanning duplicated the tile for the guest bathroom in the same way. In more ingenious movie magic, copies of the highly collectible -- and expensive -- Hillside pottery were made of foam and then finished to look like cement.
Due to the scarcity and cost of authentic Monterey-style furnishings, Venegas hired woodworker Ramon Ramirez of Ramon's Workshop in Los Angeles to make much of the furniture.
"Ramon is is the go-to guy for replicas," Venegas said. Ramirez made dining tables and chairs and a headboard, among other pieces.
Venegas shopped for tables, lighting and accessories at Pasadena antique malls that specialize in the period: Revival Antiques, the Monterey Garage at the Pasadena Antique Center, Roadside America and Michelle's Antiques in nearby Altadena. Other favorites for Spanish Revival and Monterey furnishings include the Bungalow Store in San Diego and Eric Berg's Early California Antiques in East Hollywood.
As is often the case with older architectural homes, finding affordable period lighting wasn't easy. Venegas had sconces and chandeliers for the main house made by Old Pasadena Vintage Lighting and fixtures in the guest house made by Fantasy Lighting. White milk glass pendants in the kitchen were purchased from Rejuvenation, and several sconces in the bedroom and hallway were bought at Crown City Architectural Salvage & Vintage Lighting.
To keep a distinctly California feel, Venegas bought dishes from Golden State institution Heath Ceramics, distressed contemporary rugs from Woven Accents and plants from Rolling Greens Nursery in Culver City.
Fanning said that ultimately the home's Spanish style is about contrast and drama. "I think it comes down to simplicity for Ryan. He has a very minimal take on design. I think it comes from how complicated his life is on a daily basis. This house is restful."

---