Architect William Krisel, who influenced the look of midcentury Palm Springs, dies at 92
William Krisel, an architect whose homes featuring butterfly roofs, patterned concrete block walls and post-and-beam construction put a Modernist stamp on Southern California's suburbs in the 1950s and '60s, died Monday at his home in Beverly Hills. He was 92.
Krisel designed the futuristic "House of Tomorrow" in Palm Springs, which was featured in Look magazine in 1962 and five years later came to be known as the honeymoon hideout of Elvis and Priscilla Presley. With his business partner, the late Dan Saxon Palmer, Krisel designed many other custom homes in Bel-Air and Brentwood, starting in 1949.
But it was Krisel's designs for thousands of tract homes built by the Alexander Construction Co. in the Coachella Valley, primarily as vacation or second homes, that cemented his career and shaped the image of Palm Springs as a mecca for Midcentury Modern architecture.
The firm of Palmer and Krisel found a way to make Modern design accessible to middle-class home buyers, according to architecture critic Alan Hess.
"They brought excellent and elegant modern design to mass-produced housing," Hess said in a 2008 interview with The Times. "That's significant because every big name in modern architecture at midcentury tried to crack into the mass-produced housing market. And they all failed. Palmer and Krisel, who weren't at all well-known, solved the problem."
Soon after Krisel graduated from USC in 1949, he and Palmer persuaded developers George and Robert Alexander to let them design tract houses in the west end of the San Fernando Valley.
The architects' clean and simple contemporary design and modular post-and-beam construction method allowed for expansive use of glass and open floor plans that melded indoor and outdoor living spaces.
"Before that, affordable tract houses were tacky, low-ceiling cracker boxes with holes poked out for windows," Krisel told The Times in 2008.
The houses in the 1953 Corbin Palms subdivision are clustered around Corbin Avenue along the Tarzana-Reseda-Winnetka border. The homes sold quickly and profitably, in part because they were built efficiently with newer, less-expensive materials and with easily replicated cookie-cutter fixtures such as lighting, doors and windows.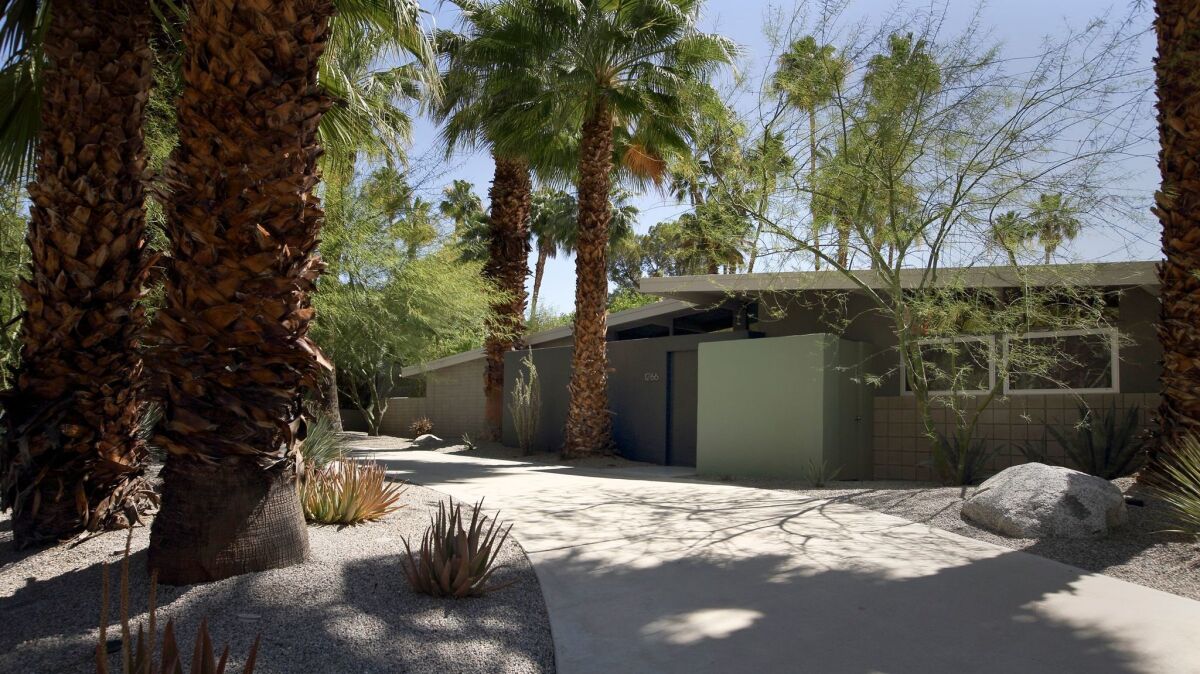 The Alexanders, a father-and-son team, saw their next opportunity in Palm Springs. They retained Palmer and Krisel in 1956 to design the Ocotillo Lodge motel on East Palm Canyon Drive and homes for the adjacent Twin Palms tract, one of the area's first major subdivisions.
The early houses were of modest size, about 1,600 square feet in a single story, featuring identical floor plans based on post-and-beam construction, floor-to-ceiling glass windows that provided views of the striking landscape, and large overhangs affording shade from the harsh climate.
To break up the sameness, different roof lines in angular sweeps were applied to the facades, and floor plans were flopped or skewed on the concrete slab lots.
Breezeways and carports constructed of modular, patterned concrete blocks, along with air-conditioning systems, swimming pools and palm trees, rounded out the package.
From that beginning in the mid-1950s, Krisel went on to design more than 2,500 tract homes for the Alexanders in the sprawling desert at the base of the San Jacinto Mountains. But the Palm Springs projects ended abruptly when nearly the entire Alexander family was killed in a plane crash in 1965.
That was also about the time the Palmer and Krisel partnership was dissolving. While Palmer had overseen operations in Los Angeles, Orange and Ventura counties, Krisel was covering San Diego and Riverside counties. The architects went their separate ways in 1964, and Krisel continued to design residential homes as well as high-rise condominiums and commercial buildings. Palmer died in 2007.
William Krisel brought architectural rigor and a sense of joie de vivre to tract housing. This Julius Shulman photo from 1957 shows a room in the Alexander Residence in the Twin Palms neighborhood.
(Julius Shulman / The Getty Research Institute)
A rendering of the preliminary design for the Alexander Residence, also known as "The House of Tomorrow," in Palm Springs' Vista Las Palmas neighborhood (1959).
(Gift of William and Corinne Krisel / Getty Research Institute)
A street elevation drawing for Model B-3 in Kings Point, an enclave of William Krisel-designed houses in south Palm Springs.
(Gift of William and Corinne Krisel / Getty Research Institute)
Renderings of William Krisel-designed residences at Racquet Club Road Estates in Palm Springs (1959). The book "William Krisel's Palm Springs: The Language of Moderism" contains a number of such images, as well as monographs about Krisel's work.
(Gift of William Krisel Architectural Archive / Getty Research Institute)
Krisel was born Nov. 14, 1924, in Shanghai to American parents who worked for the U.S. State Department. He and his family returned to the United States in 1937, and the teenage Krisel was inspired to become an architect after reading about Frank Lloyd Wright in Life magazine.
He enrolled at USC in 1941 but enlisted in the Army after the bombing of Pearl Harbor. Because he spoke Chinese fluently, he was assigned to be an interpreter for Gen. Joseph Stilwell.
When World War II ended, Krisel returned to USC and studied architecture and landscape design. He graduated in 1949, worked for a time for architect Victor Gruen and became an associate in Palmer's architectural office. In 1950 Krisel was made a partner in the Palmer and Krisel firm, which later became known as P&K.
In 1953, he married his wife. Corinne, who survives him along with their two children, William and Michelle.
In recent years, Krisel's work has enjoyed a resurgence in Palm Springs, where entire neighborhoods of homes designed by him and built by the Alexanders remain intact. Not only are Krisel's modernist designs being restored, they are being reproduced, half a century later.
"Desert Modernism and the iconic home design of Palm Springs are synonymous with William Krisel," said Lisa Vossler Smith, executive director of Modernism Week. "He was a prolific and innovative architect whose pioneering work has led him to become one of the most important figures in American Midcentury Modern architecture."
In 2006, new construction was under way on residences based on his original plans and marked by such retro touches as winged roofs, but upgraded to current building codes and featuring green technological features and luxury amenities.
"Bill was a pragmatist who believed in Modernism as a philosophy and held to his principles throughout his long career," said Sidney Williams, former curator of Architecture and Design at the Palm Springs Art Museum. "Designing houses that were affordable and handsome, he left an important mark on Palm Springs architecture. Even when he retired from active practice, he advised current owners on how to update their houses for the 21st century."
The architect had an explanation for Modernism's enduring appeal. "Midcentury Modernism is not a style, it's a language," Krisel said in 2006. "It stays the same whether it's spoken in 1955 or 2005. It's a language that will always be spoken."
An interview with architect William Krisel, the man who gave Palm Springs its signature look.
Staff Writer Lisa Boone contributed to this report.
Noland is a former obituary editor for the Times.
ALSO:
The man who gave Palm Springs its signature style -- and proved all his critics wrong
A William Krisel stunner in Palm Springs that's hip but kid-friendly too
In Palm Springs, a renovation to meld midcentury, modern, light and art
---