Where to dispose of e-waste in the L.A. area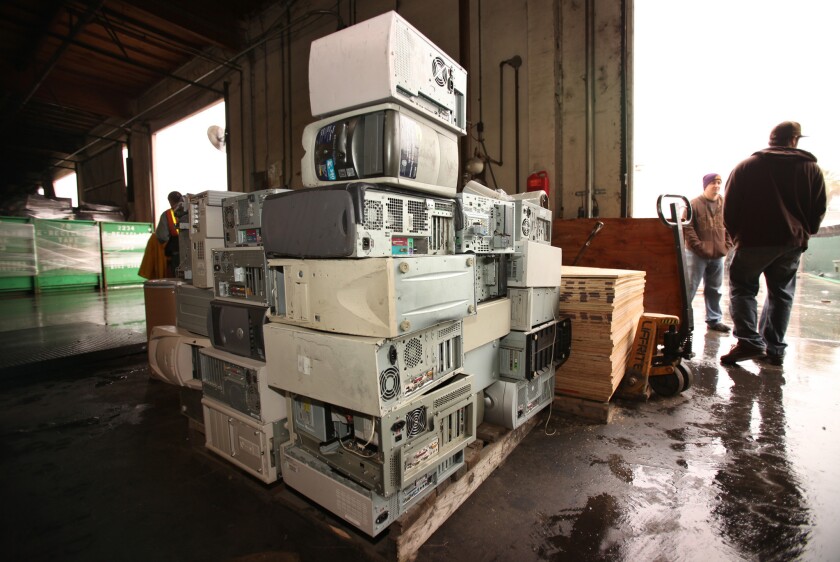 There's an ecological cost to staying connected and entertained.
Computers, printers, televisions, cellphones, stereos, game systems and other electronics may contain lead, copper or other heavy metals or potentially toxic substances. When electronics have outlived their usefulness, it's important to dispose of them properly rather than just toss them in the trash to be placed into landfills.
Los Angeles city and county residents may drop off their electronic waste free of charge at S.A.F.E. permanent collection centers, typically open 9 a.m. to 3 p.m. Saturdays and Sundays. Call or check the L.A. Bureau of Sanitation website first to confirm times and days. (800) 773-2489. www.lacitysan.org.
There are also mobile e-waste collection events throughout the year. Visit 888CleanLA.com for details.
Some charitable organizations, such as Goodwill Industries, also are authorized to collect e-waste. Info: (323) 539-2196. www.goodwillsocal.org.
S.A.F.E. permanent collection centers
Los Angeles
4600 Colorado Blvd.
2649 E. Washington Blvd.
Northridge
10241 N. Balboa Blvd.
Playa del Rey
7660 W. Imperial Highway, Gate B
San Pedro
1400 N. Gaffey St.
Sun Valley
11025 Randall St.
West Los Angeles
550 Charles E. Young Drive W.
UCLA campus
(8 a.m. to 2 p.m. Saturdays only)
ALSO:
Simplifying and opening up their new SoCal home
Artist's spirit takes wing at the Brecht house in Santa Monica
Is your home earthquake-ready? How to prepare for the big one
JOIN THE CONVERSATION: @latimeshome | pinterest.com/latimeshome | facebook.com/latimeshome | facebook.com/latimesgarden
---