20 Images
The Week in Photos: Jan. 7-13
As the sun rises Tuesday, firefighters work to extinguish the last of the fire that destroyed homes on Malibu Road Monday night. The flames were fanned by Santa Ana winds.
(Spencer Weiner / LAT)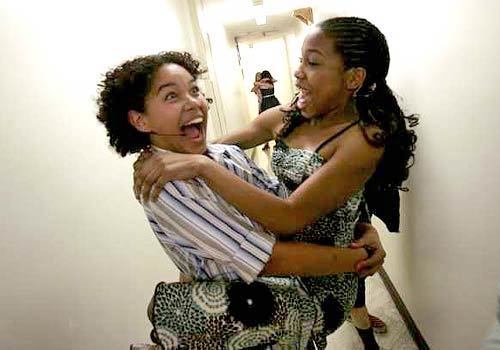 Ryan Ogburn (Ritchie), left, and Chloe Smith (Molly) are excited after a successful performance of the new musical comedy "13" at the Mark Taper Forum.
(Béatrice de Géa / LAT)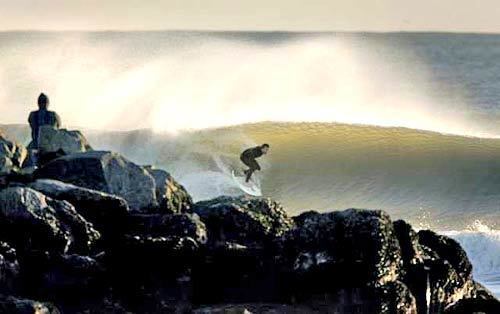 A beachgoer on the 32nd Street Jetty is close to the action of a surfer catching a tube ride. Gusty offshore winds and high surf made for excellent conditions in Newport Beach.
(Allen J. Schaben / LAT)
Venezuelan conductor Gustavo Dudamel, 26, leads the Los Angeles Philharmonic at Walt Disney Concert Hall.
(Lawrence K. Ho / LAT)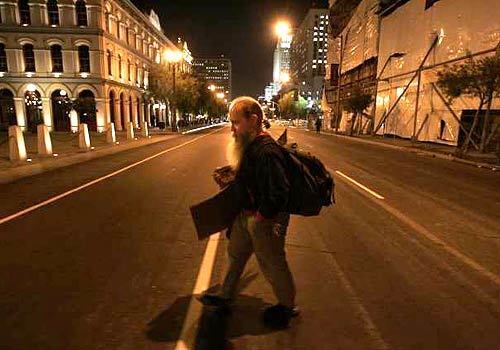 Homeless for about 10 years, Raymond Byrnes, 61, carries a cardboard mattress from La Placita church to the skid row street corner that serves as his bedroom in downtown L.A.
(Allen J. Schaben / LAT)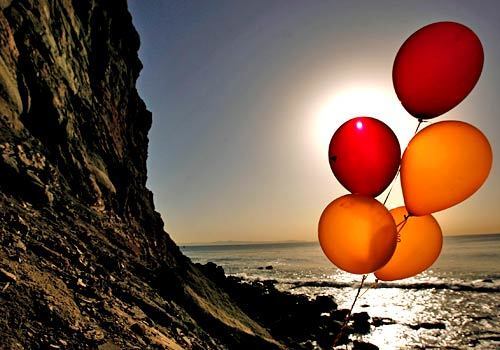 Balloons from a memorial to USC kicker Mario Danelo break free from a memorial at Point Fermin in San Pedro.
(Rick Loomis / LAT)
Eddie Ford, foreground, is a barber at Tolliver's Barber Shop in Los Angeles where a popular topic of conversation is the closed-door LAPD decision concerning the officer involved in the shooting two years ago of Devin Brown, 13. The man in the background is unidentified.
(Rick Loomis / LAT)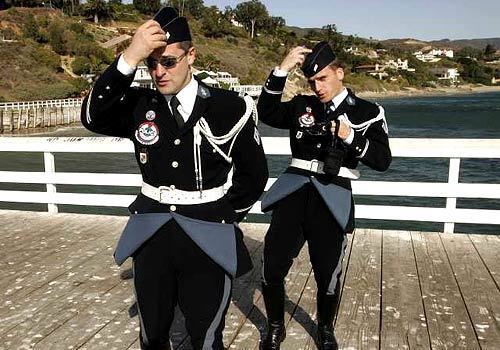 French motorcycle police officers Stephane Charroy, left, and Thierry Hameline fight a stiff wind in Malibu. They are among 30 French National Police in L.A. County for security training.
(Mel Melcon / LAT)
Florida defensive end Jarvis Moss stands over Ohio State quarterback Troy Smith after causing a fumble. Florida, which won the game 41-14, recovered the ball in the second quarter of the Tostitos BCS National Championship Game in Glendale, Ariz.
(Wally Skalij / LAT)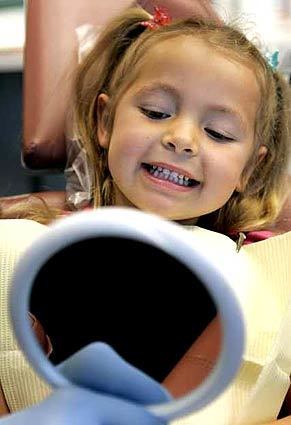 Jemma Waters, 5, checks out her newly cleaned teeth in the mirror. A new state law requires pupils to get a dental checkup within a year of starting kindergarten or first grade.
(Don Kelsen / LAT)
U.S. Army Sgt. Michael Gavin trains an Iraqi police cadet at a firing range in Ramadi, Iraq. President Bush's new plan for Iraq includes faster training of Iraq's security forces.
(John Moore / Getty Images)
A soldier from 42 Commando British Royal Marines sits in isolation at the forward operating base in Kajaki in southern Afghanistan. Kajaki base was set up in December to provide security for the the Kajaki Dam project.
(Manish Swarup / AP)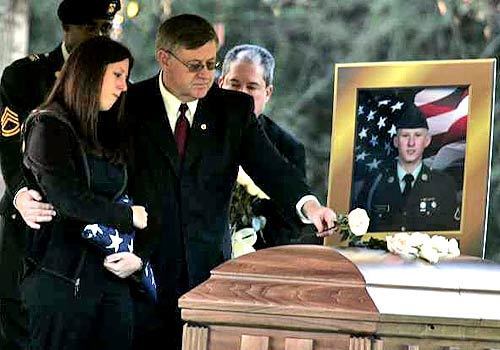 David Donica holds his daughter Courtney and places a flower on the casket of his son Spc. Dustin Donica in Tomball, Texas. The soldier was deemed to be the 3,000th U.S. military death in Iraq.
(Pat Sullivan / AP)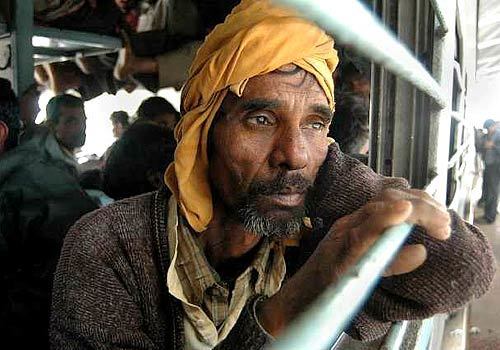 A migrant laborer from Bihar looks out from a train leaving Gauhati, India. Separatist rebels shot and killed two migrant workers in the remote northeastern state of Assam as authorities sought to improve security here for migrant workers.
(Anupam Nath / AP)
A riot police officer's shield protects him against paint thrown during a demonstration in central Athens. An estimated 7,000 people took part in the protest of government plans to end a state monopoly on university education in Greece.
(Petros Giannakouris / AP)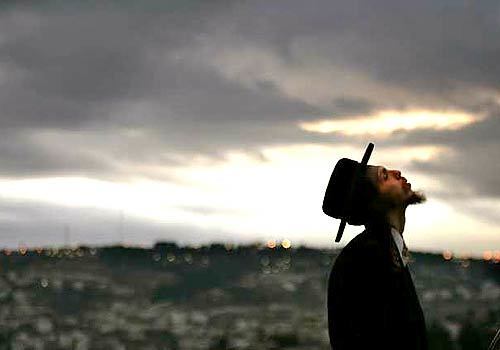 An ultra-Orthodox Jewish man prays during the funeral of Rabbi Leibish Alberstam, the leader of the Tzans Gimigrad Hassidic group, on the Mount of Olives overlooking Jerusalem's Old City.
(Kevin Frayer / AP)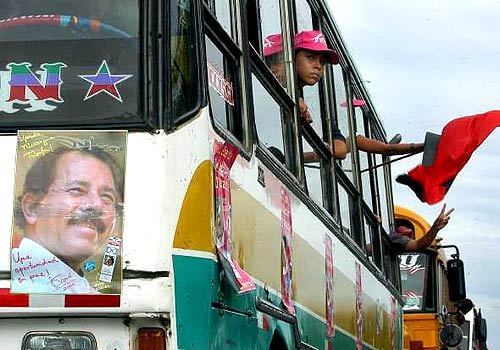 In Managua, supporters of Daniel Ortega celebrate his inauguration as Nicaragua's president.
(Ariel Leon / AP)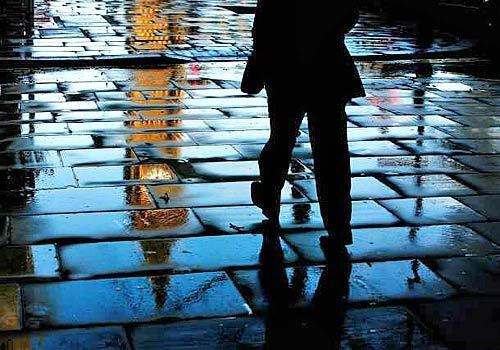 St. Stephen's Tower, commonly known as Big Ben, is reflected on the stormy London pavement.
(Daniel Berehulak / Getty Images)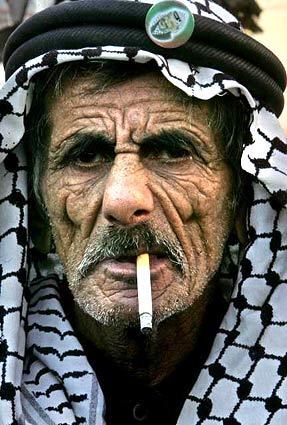 In the West Bank city of Ramallah, an elderly Palestinian man attends a rally to end violence between Hamas and Fatah in the Gaza Strip.
(Muhammed Muheisen / AP)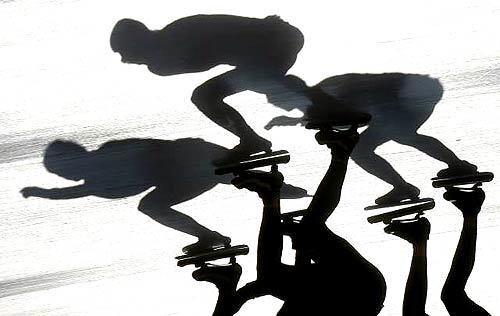 Members of the Polish men's speed skating team are reflected in the ice as they train for the European championships in Collalbo, Italy.
(Franck Fife AFP/Getty Images)