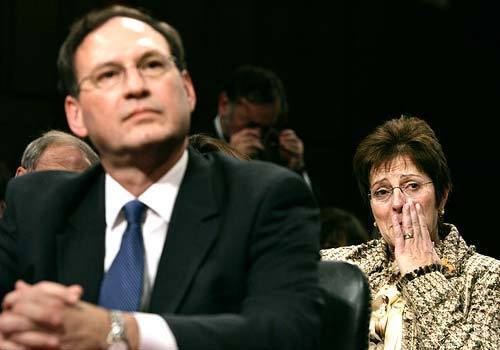 16 Images
The Week in Photos: January 8 - 14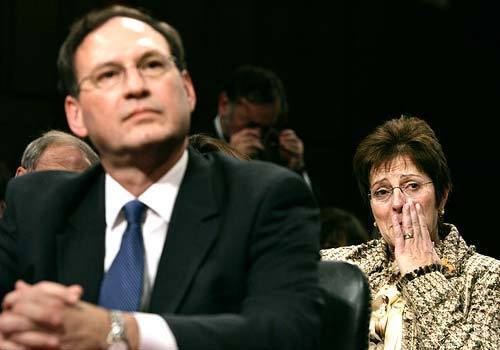 Martha Alito breaks down during a day of intense questioning of her husband, Judge Samuel A. Alito Jr. She left the hearing room for a time to compose herself.
(Charles Dharapak / AP)
Sen. Dianne Feinstein (D-Calif.) asked Alito why he provided expansive answers on a number of issues before the Supreme Court but refused when asked about abortion.
(Gerald Herbert / AP)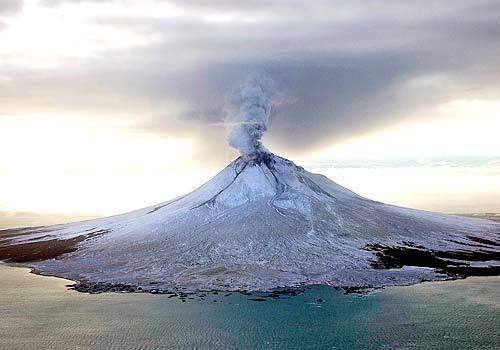 Augustine Volcano, southwest of Anchorage, simmers a day after two brief explosions spewed ash into the air. Scientists expect further eruptions of the volcano on an uninhabited island in the Cook Inlet.
(Scott Dickerson / AP)
USC running back Reggie Bush gets a hug from teammate Steve Smith after the Heisman Trophy winner announced that he would pass up his senior season. Bush and fellow tailback LenDale White are leaving early for the NFL, joining quarterback Matt Leinart, who stayed for his senior season.
(Wally Skalij / LAT)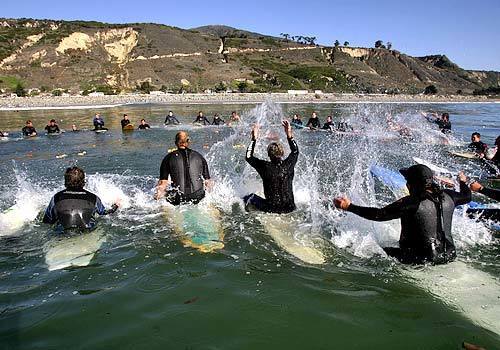 Relatives and friends of 10 people who died in a landslide that hit the Ventura County hamlet of La Conchita gather on surfboards to pay their respects Tuesday, the first anniversary of the disaster. They shared stories, tossed flowers and cheered before surfing back to shore.
(Spencer Weiner / LAT)
A bicyclist rides along the Potomac River near the Washington Monument which is wrapped in thick fog.
(Astrid Riecken / The Washington Times)
Vice President Dick Cheney, 64, leaves George Washington University Hospital after treatment.
(Kevin Wolf / AP)
Kobe Bryant, who made the winning basket, and Smush Parker (1), who had a key steal, celebrate Laker victory.
(Damon Winter / LAT)
Saudi security officers stand near the victims of a stampede in Mina, Saudi Arabia. A rush to complete one of the last events of the hajj resulted in the death of at least 345 people.
(Muhammed Muheisen / AP)
An employee from the Turkish Agriculture Ministry captures a chicken from a small village near Istanbul, Turkey. Government officials raced to contain an outbreak of bird flu after a preliminary tests showed at least 15 people were infected.
(Anja Niedringhaus / AP)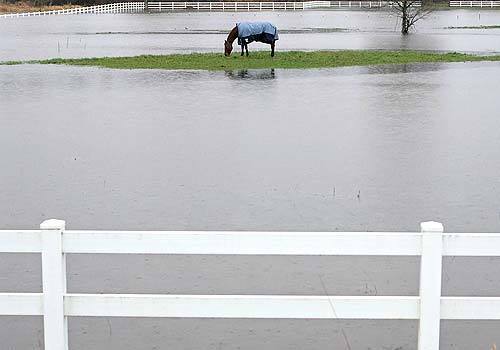 A horse eats grass on an island in a flooded pasture near Fall City, Wash.
(Patrick Hagerty / King County Journal)
People await news on the prime minister outside Hadassah hospital at Ein Kerem. Briefings are delivered by Dr. Shlomo Mor-Yosef, the no-nonsense director of the medical facility that is arguably Israel's most prominent.
(Brian Vander Brug / LAT)
Wrapped in a wool blanket to stay warm, Thomas George, 40, walks toward the Santa Monica Pier. George, who once worked for the city of Santa Monica, has been homeless for 20 years.
(Gina Ferazzi / LAT)
Kara Miller, 31, a mother of four on CalWORKs, breaks down over the possibility of being evicted from her home.
(Francine Orr / LAT)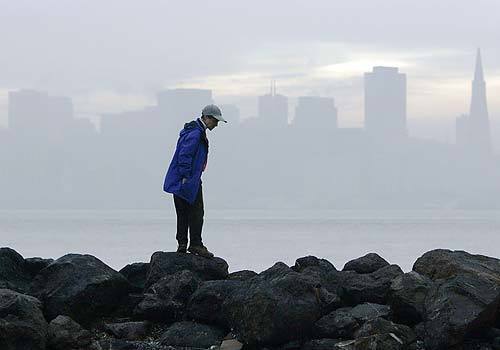 Environmental activist Ruth Gravanis pauses during a walk on Treasure Island in San Francisco Bay. After more than a decade of effort, San Francisco officials are preparing to unveil proposals to create a small city on the man-made island, a former naval station.
(Robert Durell / LAT)
Ed Velasquez of the California Department of Transportation checks a section of the Vincent Thomas Bridge to make sure paint crews didn't miss any spots. Maintenance crews work year-round on the L.A. bridge, the fourth-longest suspension span in the state.
(Bob Chamberlin / LAT)