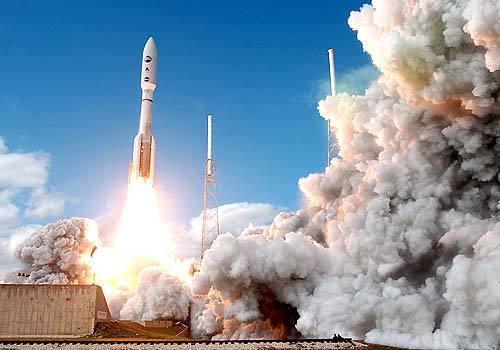 16 Images
The Week in Photos: January 15 - 21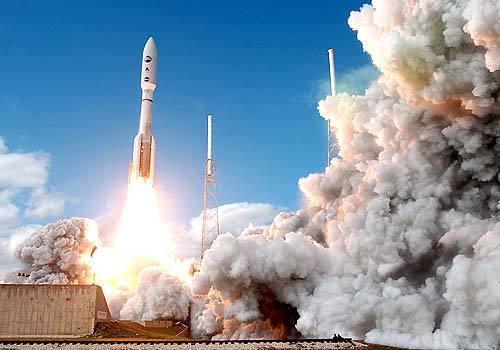 LIFTOFF:
NASA's New Horizons, the fastest craft ever built by the space agency, lifts off from Cape Canaveral in Florida. It's expected to reach Pluto in July 2015.
(Terry Renna / AP)
FLAME-UP:
A man in Nigeria ducks from the flames Wednesday as he walks near a gas flare at a Shell Utuorogun flow station in Otu-Jerenvwi, near Warri in the Niger delta, Oil climbed to its highest level in almost four months as militants continue to threaten more attacks on Nigeria's oil industry that could disrupt supplies from the world's eighth-biggest oil producer.
(Onome Oghene / EPA)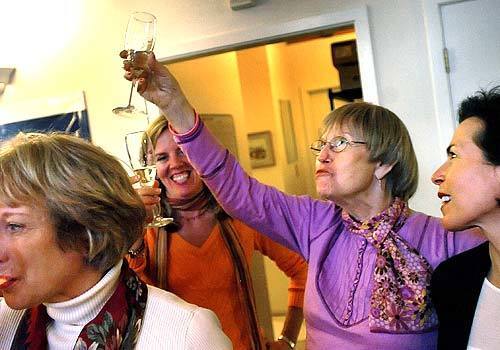 WELCOME NEWS:
Charlene Andrews, center, who is terminally ill with breast cancer and who was one of four patient plaintiffs in a right to die case, celebrates with supporters in Portland, Ore., after the Supreme Court ruled in her favor.
(Bruce Ely / The Oregonian)
THAT HURTS:
Czech pair Olga Prokuronova and Karel Stefl fall during the pairs free skating competition during the European Figure Skating Championships on Wednesday in Lyon. The pair abandoned the competition.
(Franck Fife AFP/Getty Images)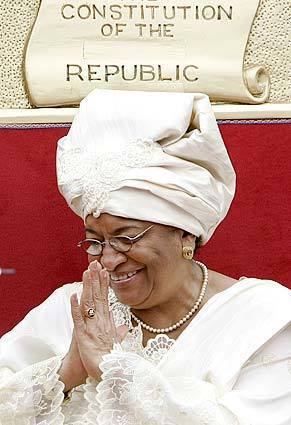 ELATED:
Liberian President Ellen Johnson-Sirleaf gestures shortly after being sworn in Monday at the Capitol Building in Monrovia, Liberia. Sirleaf became Africa's first elected woman head of state.
(Jim Watson AFP/Getty Images)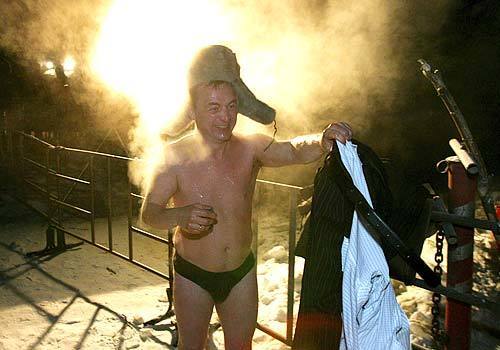 TRADITION:
A man reaches for warmer attire after swimming in the Lake Without Bottom in Moscow. Despite temperatures near minus 20 degrees, men and women took turns stripping to their bathing suits and jumping in over their heads.
(Sergei L. Loiko / LAT)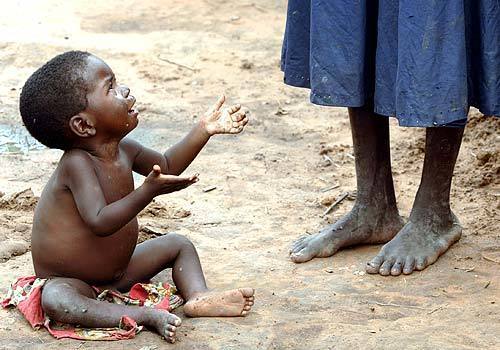 DESPERATE PLEA:
A child calls for his mother Tuesday in a refugee camp in Dubie, Katanga. Local people have fled Congolese Army operations against Mai Mai rebels to camps set up by Doctors Without Borders. The camps presently hold 18,000.
(Lionel Healing AFP/Getty Images)
ANTICIPATION:
Maryam Kehar reacts to the announcement that a plane carrying troops had landed at Sacramento International Airport on Monday.
(Robert Durell / LAT)
RAIN DAY:
Blaz Gallegos, framed by a river in a mural on Echo Park Avenue, shields himself from the rain during a late-morning walk in Echo Park on Saturday. The Pacific storm that moved through the Southland was weaker than expected, bringing only light rain and snow.
(Genaro Molina / LAT)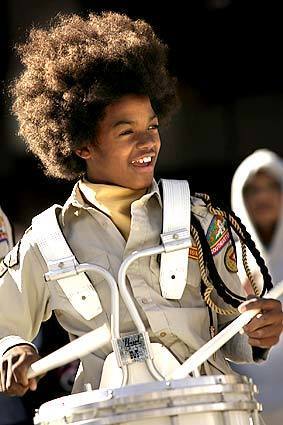 CELEBRATION:
Ross Lightford, 13, keeps time during a Martin Luther King Day ceremony in Riverside. A parade and gang truce honor King in Los Angeles.
(Irfan Khan / LAT)
REMEMBERING VICTIMS:
Assemblyman Dario Frommer (D-Glendale) offers comfort to Lien Wiley near the site of last year's Metrolink crash. Wiley's husband, Don, died in the Jan. 26 incident.
(Luis Sinco / LAT)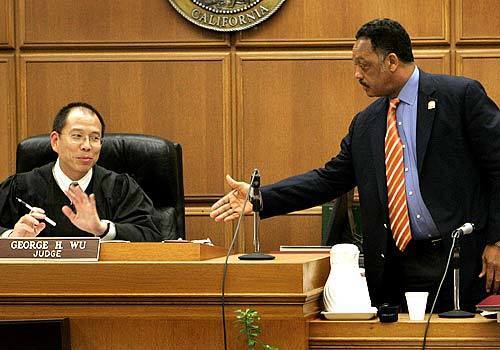 UNSHAKABLE JURIST:
Judge George H. Wu rejects the Rev. Jesse Jackson's offer to shake hands after Jackson testified in a suit filed by the Rev. Jesse Lee Peterson of L.A., who says Jackson and others roughed him up in 2001. After the jury was excused, Wu said he didn't want to prejudice the panel.
(Robert Gauthier / LAT)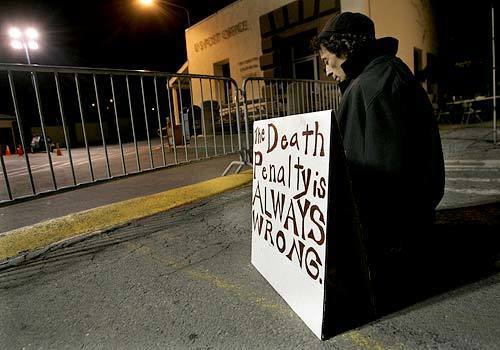 VIGIL:
Will Rogers of Petaluma, Calif., sits outside San Quentin State Prison's east gate in a protest against capital punishment prior to the execution of 76-year-old Clarence Ray Allen on Tuesday.
(Robert Durell / LAT)
BLOCKAGE:
A worker examines a cover where pressure in the backed-up system made 2 million gallons of sewage gush onto the beach in the South Bay. Officials say the backed-up wastewater short-circuited an electrical panel, causing the overflow.
(Luis Sinco / LAT)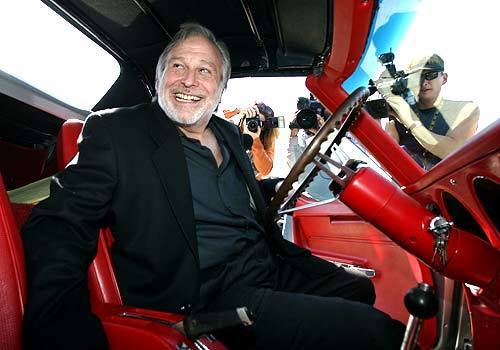 TOGETHER:
Alan Poster of Petaluma beams as he takes the wheel of his 1968 Corvette, stolen in New York City 37 years ago.
(Spencer Weiner / LAT)
RETURNING HOME:
Sgt. Mario Garcia hugs his granddaughter Taylor Delgado at a Los Alamitos facility.
(Mark Boster / LAT)