20 Images
The Week in Photos: Feb. 4 - Feb. 10
High atop ladders against the downtown L.A. skyline, firefighters direct water toward burning buildings at Broadway and Fourth Street. The blaze caused no injuries, but forced the closure of streets, snarling the Monday morning traffic.
(Spencer Weiner / LAT)
Ralph Baxter, 82, talks on a cell phone after examining the damage to his 1940 Waco biplane. The plane was struck in midair by another Waco UPF 7 biplane flying in close formation near the Ocean Trails Golf Course on the Palos Verdes peninsula. Neither pilot was seriously injured.
(Gary Friedman / LAT)
At the funeral in Thousand Oaks, Vicki Melia hugs the casket of her son, Marine Lance Cpl. Anthony Melia, 20, who was killed in Iraq.
(Anne Cusack / LAT)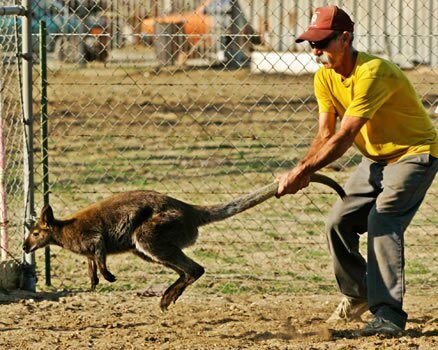 Animal handler Butch Abrams attempts to restrain a wallaby temporarily confined to a petting zoo after the marsupial was found bounding through a residential area in Fontana.
(Irfan Khan / LAT)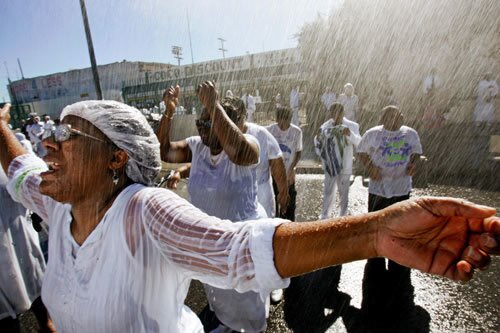 Congregants are baptized in south Los Angeles as part of the United House of Prayer's 80th annual Holy Convocation. "Water hoses were once used to hurt people. Our water hoses are used to save people," said Pastor Wilbert Swaringer, who oversees the church in Los Angeles.
(Genaro Molina / LAT)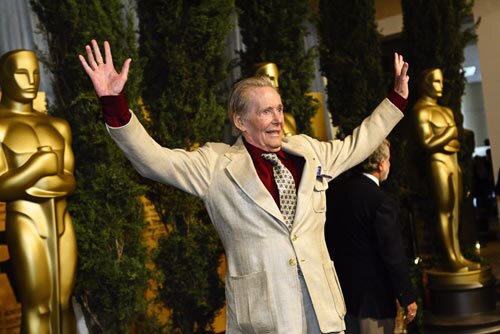 Peter O'Toole arrives for the 79th Academy Awards Nominees Luncheon on Monday. He is nominated for best actor for his performance in "Venus."
(Bryan Chan / LAT)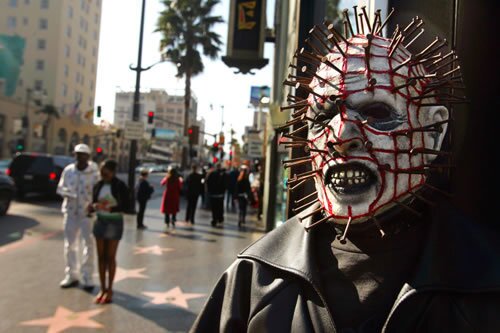 As "Pin Head," Marty Porter works for tips by having his photo taken with passersby at Grauman's Chinese Theater on Hollywood Boulevard.
(Mel Melcon / LAT)
Carlton A. Rhoden, center, partakes in the laying of the hands during his ordination ceremony as pastor of the First Baptist Church of Los Angeles. He is the first African American to fill that role since the church was founded in 1874.
(Richard Hartog / LAT)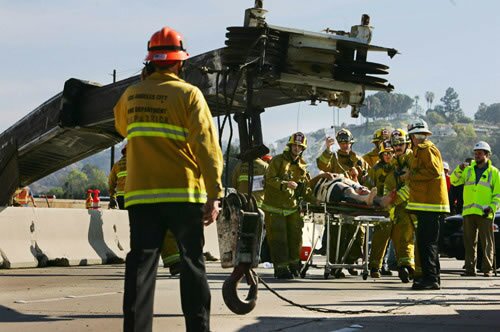 Firefighters prepare Matt Dinaso, 44, to be ferried to the hospital via helicopter after his construction crane collapsed onto part of the 405 freeway near Ventura Boulevard, pinning him in his cab. Dinaso was "very fortunate to be alive," said an L.A. Fire Department spokesman.
(Spencer Weiner / LAT)
Tesha Loutzenhiser helps her brother Seth dismount a fire engine in Cabazon. Their father, Fire Capt. Mark Loutzenhiser, and four other crew members of U.S. Forest Service Engine 57 died when their truck was overrun by flames in October's Esperanza wildfire. The new truck was the backdrop at a ceremony where Gov. Arnold Schwarzenegger signed a bill enabling the families of the firefighters who died to receive charitable donations directly from tax-exempt organizations without penalty.
(Irfan Khan / LAT)
An Iraqi comforts his mother, who suffered a panic attack following the questioning and near-detainment of her son by U.S. Army soldiers during the launch of Operation Arrowhead Strike Six in the Shaab neighborhood of northern Baghdad.
(David Furst / AFP / Getty Images)
A U.S. CH-46 Sea Knight helicopter in silhouette over Baghdad's fortified Green Zone. A similar craft crashed in Al Anbar province, raising the death toll in recent copter crashes in Iraq to 27 U.S. troops and civilians.
(Marko Drobnjakovic / AP Photo)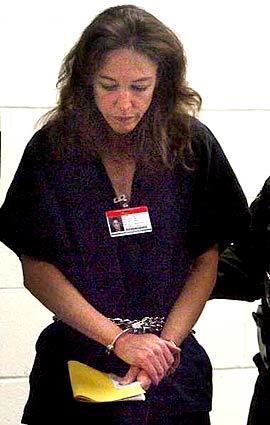 NASA astronaut Lisa Nowak arrives for her initial appearance in a Florida court. She was arrested at Orlando International Airport Monday on several charges, including attempted kidnapping, battery and destruction of evidence in a bizarre episode involving two other astronauts and a putative romantic triangle.
(Red Huber / EPA)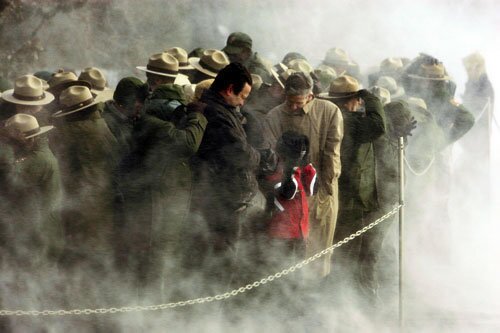 Park Service employees and guests are dusted with the snow blown up from President Bush's helicopter departing from the South Lawn of the White House. Bush was en route to Shenandoah National Park in Virginia to promote his spending plan for the parks system.
(Ron Edmonds / AP Photo)
Julie Bradish clears snow from Mexico Academy Central School buses in Mexico, N.Y.
(Julie Bradish / AP Photo)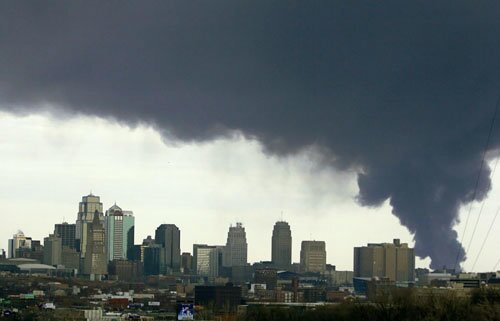 The billowing smoke from a chemical plant fire shrouds the downtown skyline of Kansas City, Mo.
(Cliff Schiappa / AP Photo)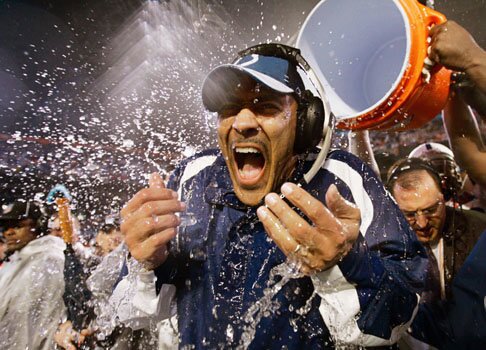 Indianapolis Coach Tony Dungy receives the traditional winner's baptism after the Colts defeat the Chicago Bears 29-17 in Super Bowl XLI at Dolphin Stadium in Miami.
(David J. Phillip / AP Photo)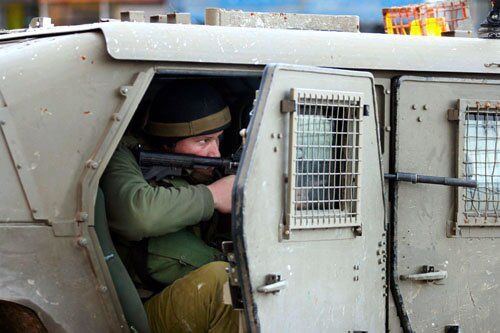 An Israeli soldier trains his weapon on Palestinians in Qalandiya, near the West bank city of Ramallah. Palestinians are protesting public works construction by Israel near an entrance to Islam's third holiest shrine, the Al-Aqsa mosque's compound in Jerusalem.
(Abbas Momani / AFP / Getty Images)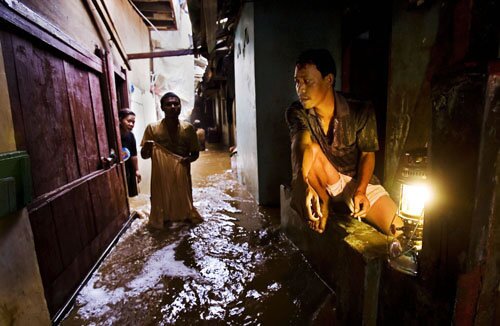 Indonesians work by lantern light to clean flooded homes in Jakarta. Residents navigated waist-high mud to salvage personal effects from washed-out neighborhoods as fresh rains compounded the misery for hundreds of thousands forced from their homes.
(Ed Wray / AP Photo)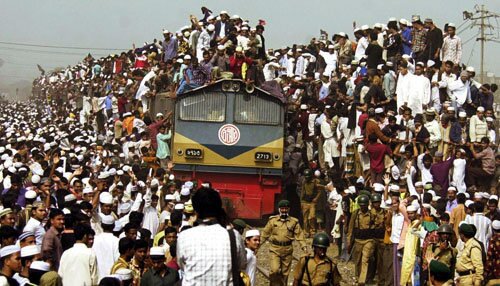 Bangladeshi Muslim pilgrims return home from a three-day Islamic congregation at Tongi. Millions of Muslims prayed together for peace and harmony at the event considered one of the world's largest Islamic gatherings.
(Pavel Rahman / AP Photo)