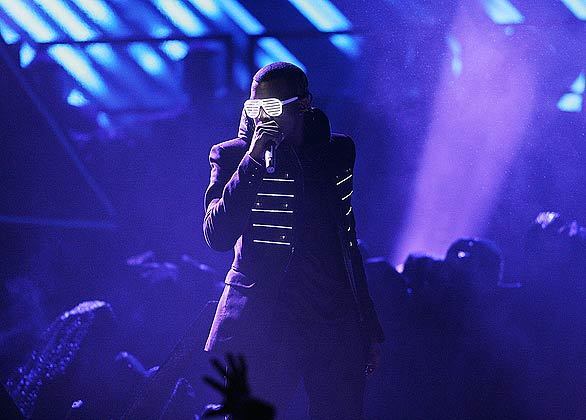 11 Images
In Focus: Staff photos from Feb. 10 to Feb. 16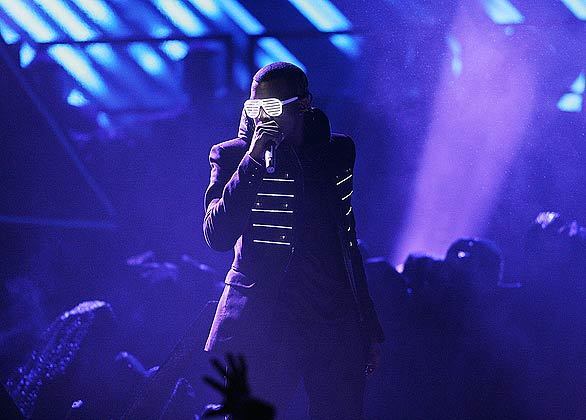 Kanye West performs at the 50th Annual Grammy Awards at Staples Center. West won four Grammys, including best rap album and song, but again was shut out in the album of the year category.
(Lawrence K. Ho / Los Angeles Times)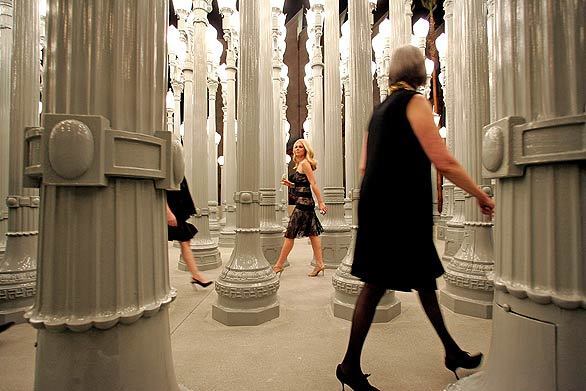 Guests walk through the "Urban Light" installation, a collection of 202 vintage street lamps outside the Broad Contemporary Art Museum in Los Angeles. The Broad museum debuted with a gala premiere last Saturday.
(Richard Hartog / Los Angeles Times)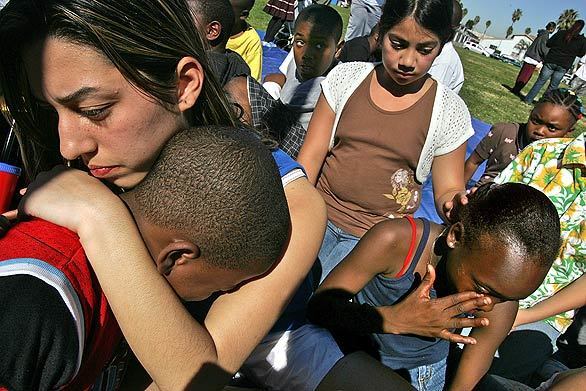 Barbara Sabo, left, comforts friend Eric Mack, 6, at the Scottsdale Townhouses in Carson while mourning the death of LAPD Officer Randal Simmons. Simmons regularly visited children in low-income neighborhoods as part of a church group he founded, bringing them gifts, guidance and friendship.
(Genaro Molina Los Angeles Times)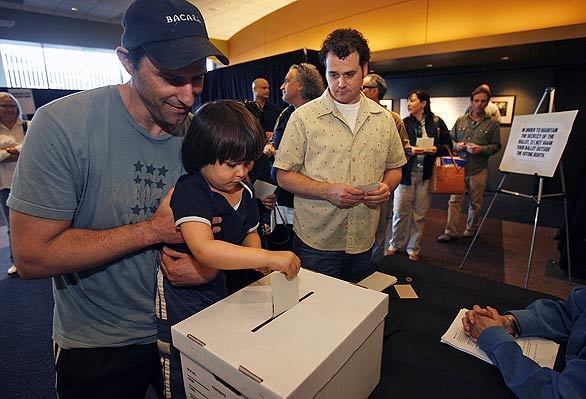 Writer Greg Fields lets his 3-year-old son Caelan cast his ballot at the Writers Guild of America Theater. Writers voted overwhelmingly to end their 100-day strike.
(Rick Loomis / Los Angeles Times)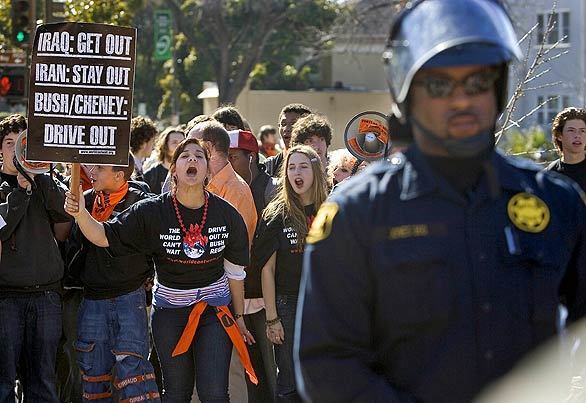 Antiwar protesters make their voices heard near Berkeley's city hall, where lawmakers debated -- and ultimately reversed -- a declaration that U.S. Marine Corps recruiters were "unwelcome intruders" in the city.
()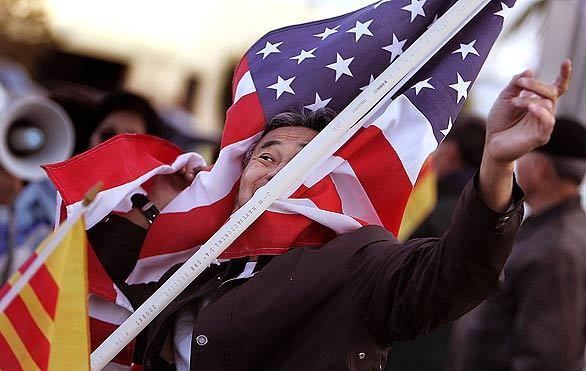 Protesters chant in the parking lot outside the Westminster offices of the Nguoi Viet newspaper. Many people were angered by the paper's publication of a photo of an art project that they considered disrespectful to the former nation of South Vietnam.
(Robert Gauthier / Los Angeles Times)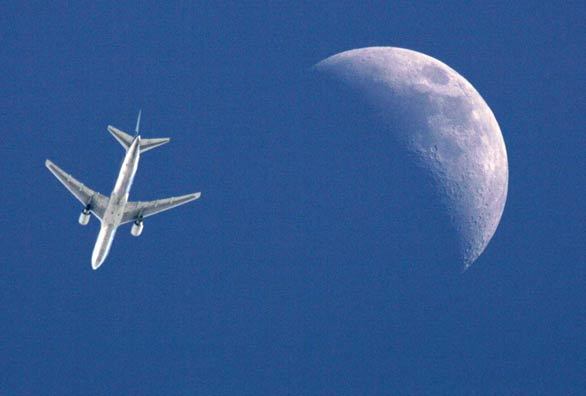 An airliner passing over Huntington Beach seems to hang just under a midday moon.
(Mark Boster / Los Angeles Times)
The Hollywood Sign is in the frame as Layla Yu gets her picture taken along Mulholland Drive. Cahuenga Peak, which is to the left of the sign, has been put up for sale for $22 million, raising fears from city officials and Hollywood residents that houses could be built on the property.
(Liz O. Baylen / Los Angeles Times)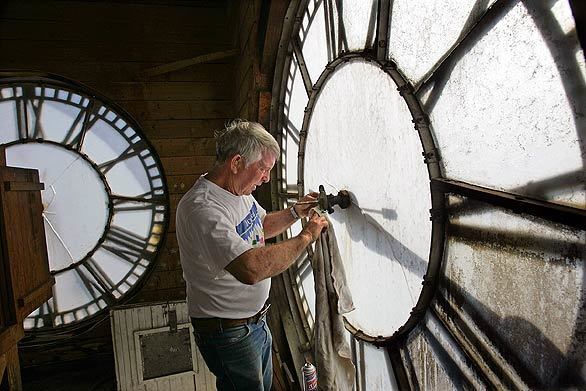 Clock doctor Larry Squires cleans hardened grease from a gear assembly of the malfunctioning Spurgeon clock in downtown Santa Ana. The 95-year-old clock, built by Santa Ana's founder and depicted on the city's seal, is being repaired after several months of spotty service.
(Don Bartletti / Los Angeles Times)
Mayor Antonio Villaraigosa, front, and ecologist Mark Hill lead a canoe tour of the Lower Owens River. Since 2006, the city has been diverting water back to the waterway in order to restore habitat destroyed by the L.A. Aqueduct.
(Brian Vander Brug / Los Angeles Times)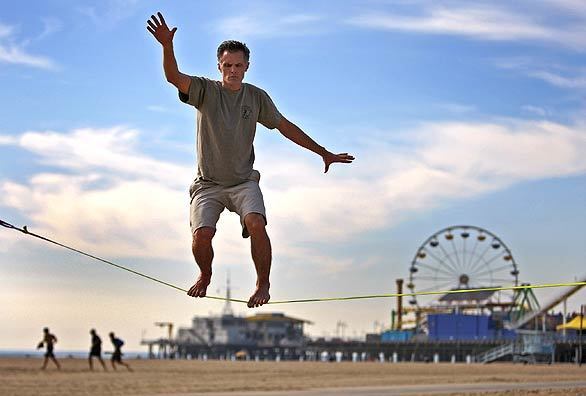 Clark Grubb of Brentwood concentrates on his balance as he slacklines on a warm day at Santa Monica Beach. Slacklining is an exercise to improve balance and strength.
(Allen J. Schaben / Los Angeles Times)