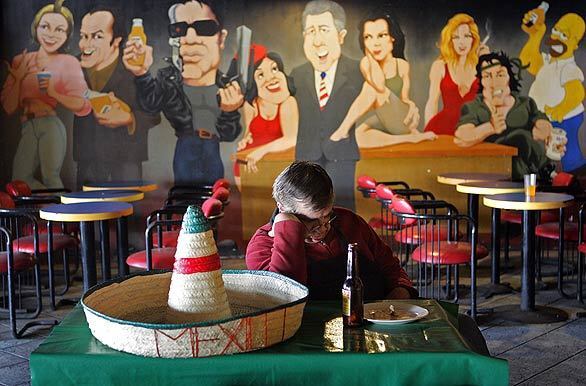 10 Images
In Focus: Staff photos from Feb. 17-23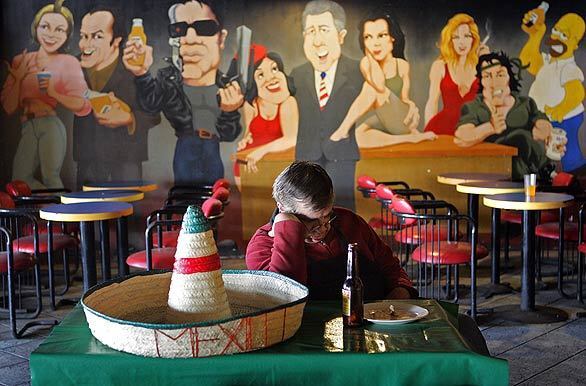 Jose Belaza, owner of Señor Maguey's in Tijuana, dozes while waiting for patrons. Since 2005, tourist visits to Tijuana have fallen 90% and a recent wave of violence has driven another nail into the coffin of the tourism industry. But merchants say beautification efforts and police crackdowns have left downtown safer and spiffier than in years.
(Don Bartletti / Los Angeles Times)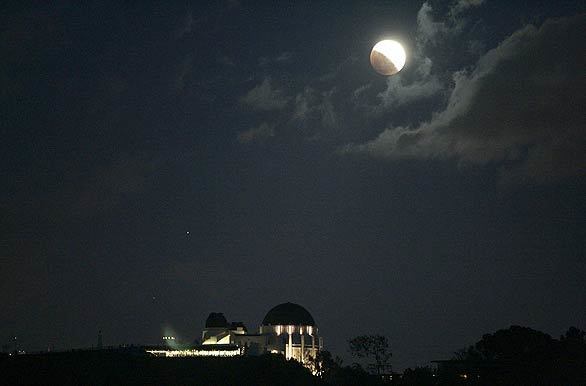 Clouds part long enough to permit a view of the Earth's shadow creeping across the full moon, with Griffith Observatory in the foreground, during a total lunar eclipse. The next one will be in 2010.
(Gary Friedman / Los Angeles Times)
Bopha Huo, 17, left, Manuel Vasquez, 18, and Natalie Santana, 19, join hands at Park Plaza in Oxnard as hundreds gather after a two-mile peace march in memory of slain junior high school student Lawrence King, 15, who was allegedly shot by a 14-year-old classmate.
(Michael Robinson Chavez / Los Angeles Times)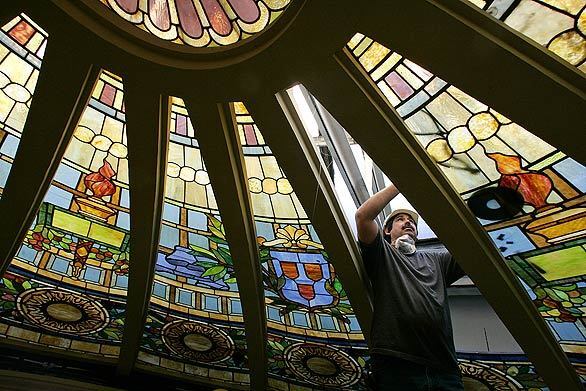 The Natural History Museum of Los Angeles County is restoring and seismically strengthening its original 1913 building. Hector Vargas, a worker for Judson Studios, which originally designed the skylight, repairs one of the panels.
(Annie Wells / Los Angeles Times)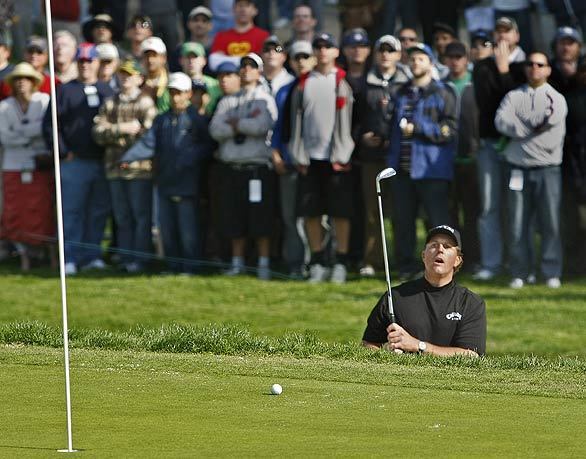 A large crowd gathers to watch Phil Mickelson chip out of the bunker on the 14th hole on his way to winning the Northern Trust Open golf tournament at Riviera Country Club in the Pacific Palisades.
(Allen J. Schaben / Los Angeles Times)
Dena D'Angelo covers Oscar statues with plastic to protect them from rain and fingerprints as they are prepared to be moved to locations in the Kodak Theatre in Hollywood for Sunday's 80th annual Academy Awards.
(Al Seib / Los Angeles Times)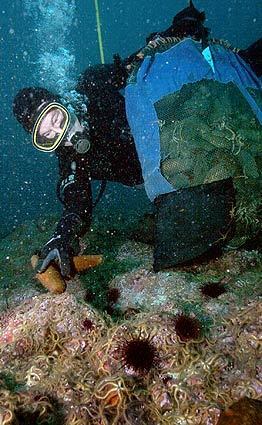 Terry Herzik collects a sea cucumber on the west side of Santa Barbara Island. After 36 years in the business, the 61-year-old commercial diver contemplates the future amid an overloaded sea urchin market that's not easy on an aging body.
(Bob Chamberlin / Los Angeles Times)
Tree sitters continue their 14-month occupation of a grove of oak trees on the site where UC Berkeley wants to build a new athletic training facility. The area is just west of a memorial football stadium on the campus. Police have removed some of the treesitters' platforms and some of the ropes used to move between the platforms in an effort to make things safer for the sitters. The protesters said the removal made it more dangerous.
(Robert Durell / Los Angeles Times)
Volunteer Michael Beime, front, and Walton Weaver, who is homeless, wait for the start of the Los Angeles Mission's eighth annual March for Human Dignity, which ran from the Richard J. Riordan Central Library to the mission's skid row facilities.
(Brian Vander Brug / Los Angeles Times)
Loyal fans lucky enough to be in the front row of a sold-out Iron Maiden concert at The Forum in Inglewood find space to be at a premium.
(Barbara Davidson / Los Angeles Times)