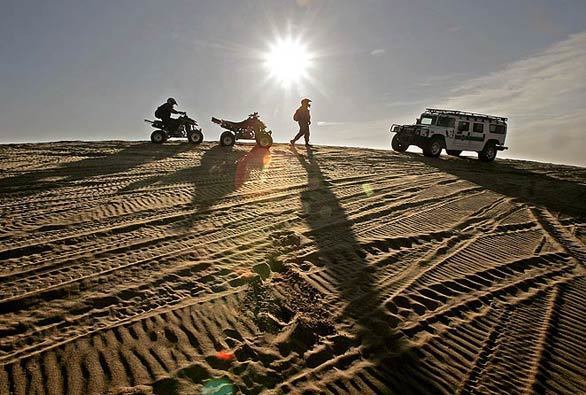 10 Images
In Focus: Staff photos from March 2-8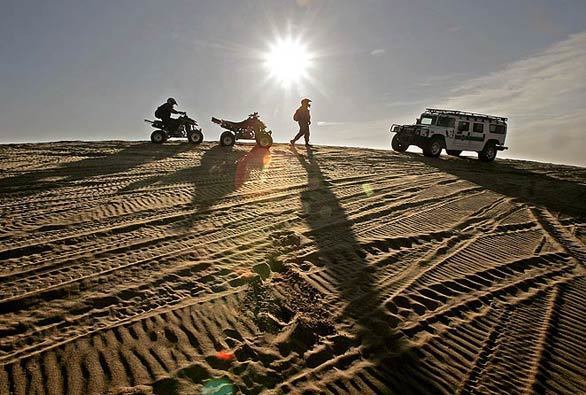 Border Patrol agents on all-terrain vehicles stop to talk with an agent in a Hummer at the Imperial Sand Dunes Recreation Area. The government has so far resisted calls, even from the agents' union, to close part of the dunes.
(Don Bartletti / Los Angeles Times)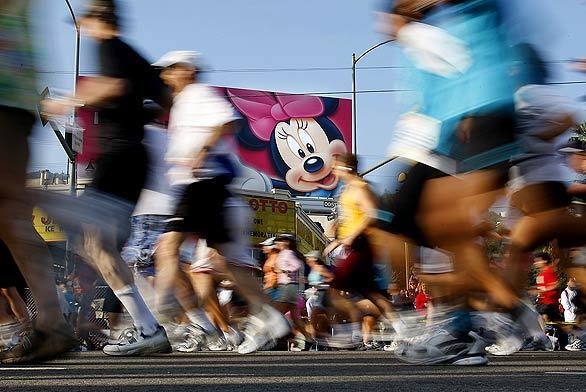 Runners take off at the start of the Los Angeles Marathon, where more than 25,000 wheelchair racers, bike riders, walkers, weekend joggers and more serious runners flooded the city's open streets for 26.2 miles.
(Wally Skalij / Los Angeles Times)
Fans line the streets of downtown as a group of runners heads toward the finish line during the 23rd annual Los Angeles event.
(Luis Sinco / Los Angeles Times)
Kobe Bryant, left, stealing the ball from Jason Terry, scored 30 of his 52 points in the fourth quarter during the Lakers' overtime win against the Dallas Mavericks.
(Lori Shepler / Los Angeles Times)
Pelicans take flight in Huntington Beach at sunrise as Santa Ana winds create offshore conditions.
(Allen J. Schaben / Los Angeles Times)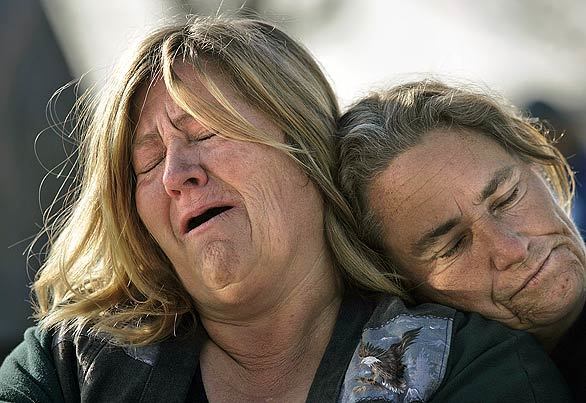 Tent City resident Cindy Duke, right, consoles Pattie Barnes, who was upset that Ontario police had towed the motor home where Barnes and her 19-year-old son had been living since her husband died more than a year ago. The police department is cracking down on trailer homes that are inoperable or lack updated DMV papers.
(Irfan Khan / Los Angeles Times)
William Osborn, 84, of Long Beach sits in the bombardier's seat of a restored B-17 bomber as it flies over Long Beach. Osborn, a WWII pilot, heard the distinctive sound of the plane's engines as it roared overhead, then raced to the airport and snagged a ride during a press flight.
(Francine Orr / Los Angeles Times)
Friends attend a vigil to honor Jamiel Shaw Jr., 17, a Los Angeles High School student who was fatally shot Sunday night. His mother, Anita Shaw, is an Army sergeant stationed in Iraq.
(Anne Cusack / Los Angeles Times)
Frank Gehrke of the state Department of Water Resources pulls gear to Gin Flat in the Sierra Nevada. The site's altitude makes it ideal to test whether a warming climate will bring more flooding and less snowpack to fill reservoirs in midsummer.
(Brian Vander Brug / Los Angeles Times)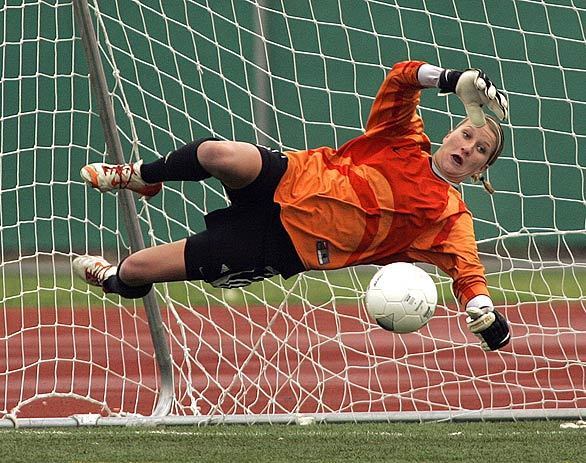 San Clemente goalie Hanna Turpen makes one of her seven saves against Long Beach Wilson. One of her saves preserved a 1-1 tie in the Division I final.
(Lori Shepler Los Angeles Times)